Stanford: Five Freshman for the Future
Mike Ehrmann/Getty Images
The college offseason is much like free agency in the NFL. Instead of money, though, schools use other methods, such as program prestige, to lure high schoolers to their campuses.
When recruiting, you must carefully evaluate the individual because each one is extremely vulnerable. An immature talent can bring a whole locker room down if the school doesn't have the proper leadership in place.
Stanford is coming off a Orange Bowl win against Virginia Tech. The Cardinal still have the best quarterback in the country, Andrew Luck, and now are looking forward to their new recruits hitting the field for them.
Here are a few freshmen who will be the future of Stanford football going forward.
Brendon Austin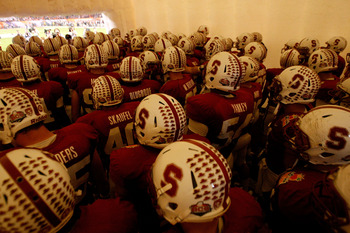 Streeter Lecka/Getty Images
Brendon Austin, out of Parker, Colorado, is a 4-star recruit, but he is rather small for an offensive lineman.
At this point, he is very muscular, but he has the frame to add the necessary weight.
He is very light on his feet and has no problem getting in and out of his stance. He will probably redshirt his first year at Stanford because of his size, but the school expects big things from him when he is ready.
Charlie Hopkins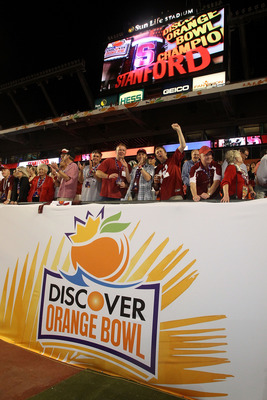 Streeter Lecka/Getty Images
Charlie Hopkins, out of Spokane, Washington, is a defensive end who could see playing time right away at Stanford.
He is quite the physical specimen already, coming out of high school. His wide shoulders should allow him to add more weight while maintaining his explosiveness.
Hopkins uses his long arms well to shed offensive linemen and get to the ball carrier. As far as potential, he has the ability to be one of the best defensive linemen in the country one day.
James Vaughters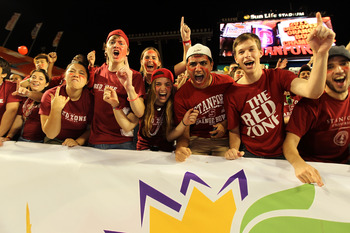 Mike Ehrmann/Getty Images
James Vaughters, out of Georgia, is one of the top linebacker prospects in the nation. He is a 4-star recruit who Rivals.com lists as the fourth-best linebacker in the country. ESPNU's top 150 recruits list has him listed at No. 44.
His stats during his senior year were impressive. He recorded 95 tackles and four sacks including 18 tackles for loss.
He is a finalist for the Franklin D. Watkins Award, which is given to the top African-American scholar-athlete in the nation.
He has been playing defensive end in high school, but he is expected to make the switch to linebacker in college. His talent and potential will earn him playing time even as a freshman at Stanford.
Remound Wright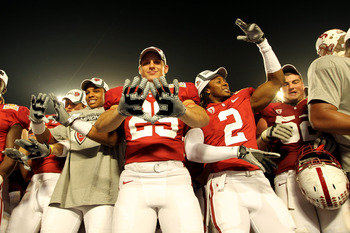 Mike Ehrmann/Getty Images
Remound Wright is another one of Stanford's highly-touted recruits coming in this year. He is a running back from Fort Wayne, Indiana and another Frankin D. Watkins Award finalist.
He is a powerful back with deceptive 4.4- 4.5 speed. He is rated as the 16th-best running back in the nation.
Wright is a high character athlete who Stanford coaches expect to develop not only into a good running back, but also a leader for the team.
Wayne Lyons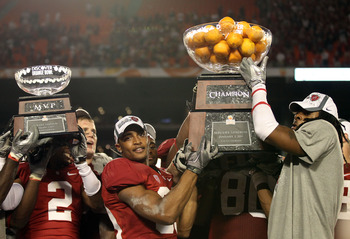 Streeter Lecka/Getty Images
Wayne Lyons, out of Ft. Lauderdale, Florida, comes in ranked as the sixth-best safety prospect in the nation by Rivals.com.
He is an excellent student as well as a player, as he has already earned 34 college credits at Broward College. Like Vaughters and Wright, he is also a finalist for the Franklin D. Watkins Award.
Stanford is known for a tough defense and adding Lyons, a 4-star recruit, will pay huge dividends for the secondary immediately.
Keep Reading

Stanford Football: Like this team?