College Football 2011: Previewing and Ranking the Big 12
This is the second installment in my series of conference previews for the upcoming 2011 college football season. Many things are subject to change, but early predictions are fun to read with the long summer lull in sports.
Which teams are on the rise? Which are declining? Who will be each team's impact player?
What's Changed in the Big 12?
Out with the old, in with the... well nothing, really.
Colorado has moved on to the new Pac-12, and Nebraska has left for the Big Ten. The North/South divisions have been done away with, leaving 10 teams to vie for the Big 12 crown.
How will teams respond to the new format? Can Texas return to national dominance? Will Oklahoma live up to the lofty expectations? Let me educate ya, folks.
No. 10: Iowa State, Projected 2-10 (0-9)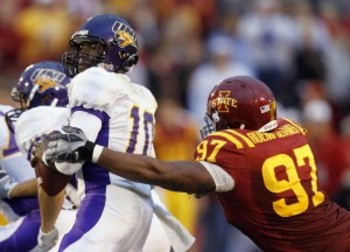 The Skinny
Iowa State played very poorly on offense last season, ranking 99th in total offense. Couple their recent history with a new QB and RB, and it should be another long year for Cyclones fans.
The QB competition appears to be between Jerome Tiller and Steele Jantz (Jantz should win by name alone).
The defense is led by LBs Jake Knott and AJ Klein, active linebackers who should help create mismatches for the D-line with their playmaking ability. CB Jeremy Reeves is the closest thing the Cyclones have to a shut-down corner.
Impact Player
Arguably the best player on the defense, DT Stephen Ruempolhamer will be counted on for a lot this season. He needs to occupy more than one lineman in order to free up blitzers. His name alone should strike fear into opposing blockers, except perhaps someone with a name like Magnus Ver Magnusson.
Oh, Really?
Although Iowa State's jerseys resemble USC's, their levels of play aren't similar.
No. 9: Kansas, Projected 3-9 (1-8)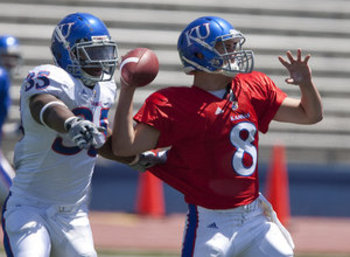 The Skinny
I am really rooting for Turner Gill to right the ship in Lawrence, but this year is going to be rough.
The Jayhawks were the only offensive team worse than Iowa State last season, ranking a gentlemanly 113th nationally. They also ranked last in the Big XII in scoring.
And scoring defense.
And rushing.
But I see a bright spot for the Jayhawks, and that is freshman QB Brock Berglund. He has some talent, but won't receive much help from his teammates it appears.
Impact Player
Toben Opurum, a defensive end convert, should provide a bit of a spark to the KU defense this season. He may not end up being the best player on the squad, or even the line for that matter, but he has a non-stop motor and the skills to make something happen.
He also provides further proof that the Big 12 is chock-full of awesome names.
Oh, Really?
The Jayhawks play in one of 15 "Memorial Stadiums" in the FBS.
No. 8: Texas Tech, Projected 5-7 (2-7)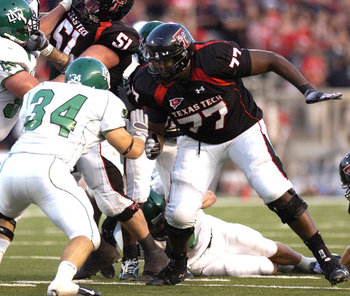 The Skinny
There seems to be a lot of excitement in Lubbock for this upcoming season, but I am not drinking the Kool-Aid.
The Red Raiders have little-to-no experience at QB, RB, WR and the entire defense. There are ZERO returning starters outside of the secondary on the defense. There is some talent on the offense, but the experience just isn't there this season.
Watch out for junior college transfer Leon Mackey to step in on the D-line in a big way.
Impact Player
There are five returning starters on the O-line for Texas Tech this season. That may be their only saving grace, as far as making a run in the newly-configured Big 12 goes. They're big, they're nasty and they are OC Neal Brown's best hope for a successful season in 2011.
Oh, Really?
Since 1997, Tommy Tuberville has failed to reach a bowl game only twice (his first and last seasons at Auburn).
No. 7: Kansas State, Projected 5-7 (3-6)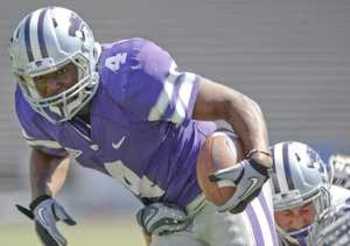 The Skinny
There is a very definitive line between the good teams in the Big 12 and the not-so-good teams.
Kansas State is below that line.
The quarterback situation remains unsolved, and the defense tackles act like they don't have hands. 119th in the country in rush defense? At least they beat out New Mexico.
I like Justin Tuggle to win the QB job (AKA, hand the ball to Bryce Brown).
Impact Player
If you look up "workhorse" in a college football dictionary, you will see a picture of Bryce Brown. He transferred from Tennessee and is going to be the second-best RB in the Big 12 this season behind Texas A&M's Cyrus Gray.
Book it.
Oh, Really?
If head basketball coach Frank Martin took over the football team, there is no doubt in my mind they would go undefeated.
No. 6: Oklahoma State, Projected 8-4 (5-4)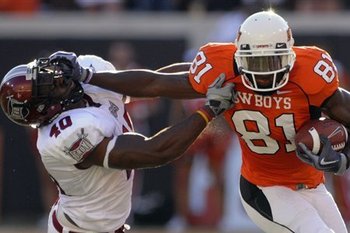 The Skinny
Oklahoma State is the first team we come to that will have a successful season in the Big 12.
QB Brandon Weeden is back to lead the Pokes, and he has a pretty good receiver on the outside to throw to in Justin Blackmon. RB Joseph Randle has star potential and should have pretty easy sledding considering the offense with which he runs.
The defense was a sore spot last season, but the talent has to improve. The schedule is a rough one with visits to Mizzou and Texas, and a non-conference tilt against Nick Foles and Arizona.
Impact Player
Blackmon is the best player in the Big 12.
He is the best WR in the nation.
He has NFL size, speed and strength—and he's only a junior. If he was a cruel man, he would return in 2012 for his senior season to destroy the conference yet again, but I think the NFL Draft will be his future.
Oh, Really?
This is purely a rumor, but word on the street is Blackmon once outran a Kia Optima then bench-pressed the vehicle in celebration.
Take that, Blake Griffin.
No. 5: Missouri, Projected 8-4 (5-4)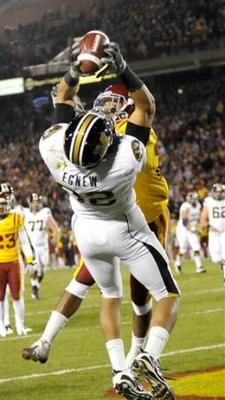 The Skinny
Sixteen of 22 starters return for the Tigers, but the ones they lost were crucial.
The quarterback battle will be between James Franklin and Tyler Gabbert—yes, that same Gabbert family. If T-Gabb is half as good as his older brother, Mizzou will have found their QB for the next four years. WR T.J. Moe is a stud who should have another fantastic season, regardless of who is throwing him the ball.
Replacing Aldon Smith on defense will be a tall task; as a unit though, Mizzou might be improved on defense overall.
Impact Player
TE Michael Egnew is making appearances on nearly everyone's preseason all-conference list, and I am no different. He is an NFL-caliber tight end and should be a nice target for whichever young QB wins the job.
Good tight ends have a way of making a young QB feel at home in the offense, like a grandpa. Look out for Papa Egnew to put up huge numbers this year.
Oh, Really?
Last season, the Tigers' pass-defense improved from 104th in the country to 37th.
No. 4: Baylor, Projected 8-4 (6-3)
The Skinny
I love what Baylor has going on in Waco.
They have a top-flight quarterback who doesn't show any signs of slowing down in Robert Griffin III. They have a ton of experience returning on offense around Griffin and some decent depth as well. The kicking game could be an s-factor this year with the return of Aaron "The Stork" Jones.
The defense needs some work, but the potential for improvement is there. MLB Elliot Coffey looks like the type of guy who can elevate his game and bring the Bears into the spotlight.
Impact Player
Griffin has game changing ability like only a few guys have. He is the team's leading returning passer and rusher from last year, and looks to do so again in 2011.
If the Bears can spring a couple of upsets, watch out for Griffin at the Heisman ceremony in December.
Oh, Really?
From my experience, a man named "Art" is someone you can trust; I would have to assume head coach Art Briles is no different.
No. 3: Texas A&M, Projected 10-2 (7-2)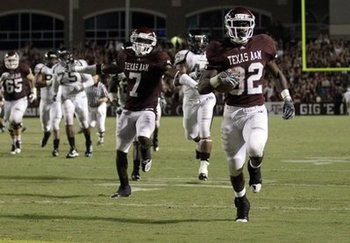 The Skinny
Eighteen returning starters is a good start to any season.
Having good players fill in the remaining holes is a great start to a season.
QB Ryan Tannehill and RB Cyrus Gray form one of the best pass-rush combinations in college football. Athletic WRs Jeff Fuller and Uzoma Nwachukwu are going to see the bulk of the passes, which makes the offense even more deadly than last year.
CB Coryell Judie might be the best corner in the conference, and his running mates in the secondary aren't too shabby either.
Impact Player
Gray may not see the 200 carries he did last season due to A&M's proficient passing attack, but he should have a dominant year. The Aggies should take leads late into many games this year, and there is no better Big 12 back at salting away the end of games than Gray.
Oh, Really?
The Aggies return 18 of 22 starters from last season. Gig 'em.
No. 2: Texas, Projected 10-2 (7-2)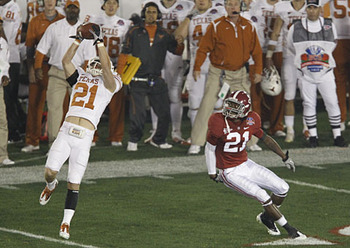 The Skinny
Well, who saw that coming last year? Ouch.
All of a sudden, the quarterback position is a question mark in Austin, the coordinators have left for greener pastures and the O-line only returns two starters.
So why do I have Texas at 10-2?
Oh that's right—because IT'S TEXAS.
Fozzy Whittaker and freshman phenom Malcolm Brown should lead the team on the right path running the ball. If Garrett Gilbert slips up like last season, expect to see either Connor Wood or Case McCoy take over.
The defense should take a gigantic step forward. The D-line should be dominant, the LB's are lightning quick and the secondary is loaded with playmakers.
Impact Player
The primary playmaker in that Longhorn secondary is safety Blake Gideon. He is a four-year starter, something that takes a ton of talent to do at a place like Texas.
I think this is the season he takes his game to the next level and takes the Big 12 by storm.
Oh, Really?
Texas lost seven of their last nine games overall last season, and their last five conference games.
No. 1: Oklahoma, Projected 11-1 (9-0)
The Skinny
The biggest non-conference matchup of the 2011 season involves the Sooners.
On Sept. 17, OU travels to Tallahassee to try taking out FSU for the second straight season, but a hungry, talented and motivated Seminoles squad will beat the Sooners this time around.
Landry Jones and company should be able to navigate the conference schedule unscathed though. The only weakness on the offense might be the running game, with unproven backs Roy Finch and Brennan Clay leading the charge.
LB Travis Lewis leads another solid OU defense. One or two lucky bounces may be the difference between a national title and disappointment in Norman though.
Impact Player
Star wideout Ryan Broyles should contribute to the bulk of Landry Jones' Heisman campaign.
But don't sleep on Broyles as a potential Heisman dark horse.
He clearly has the talent and production, so don't be surprised to see him on the list of finalists for the Biletnikoff award.
Oh, Really?
Thoughts and condolences go out to the Sooner family in the recent death of LB Austin Box. I for one will be rooting for the Sooners this year in his memory.
Next Time: Big East, Notre Dame, TCU and Boise State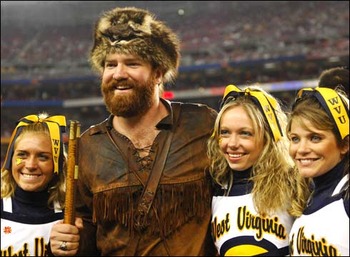 Can Dana Holgorsen handle the reins at West Virginia?
How will Pitt respond to a change in offensive scheme?
How will ND, TCU and Boise State do next season?
Why are these cheerleaders with that dude?
These burning questions (and more) will be answered in the next edition.
Keep Reading