Tennessee Football: 5 Best, 5 Worst Offseason Developments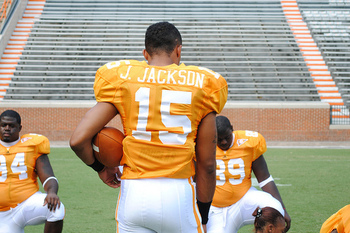 The best player leaves campus with no guarantee of returning, you get an early commitment from a stud RB but it also seems that the weight of the NCAA rests squarely on the shoulders of your beloved university. You think it can't get any worse, and much to the astonishment of all, the AD cries "uncle" and bolts for the door. But hey, is that really a negative?
What was good, and what was not so good? Let's review the worst and the best of everything that's happened since the Music City Bowl.
Worst: A Warrior Goes Home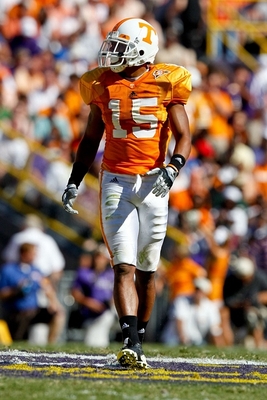 Amid swirling rumors and panic, Janzen Jackson departed campus Feb. 7 and went home after disclosing to head coach Derek Dooley that he had personal issues that needed addressing at home. Dooley later released this statement to the press. 
"We are continuing to support Janzen as he addresses his personal issues during this temporary withdrawal from school," said the head coach. "While he would still be eligible to compete if he enrolls this fall, nothing is more important than Janzen's personal well-being."
To date it is still unclear whether or not Jackson will return in time for his junior season. But with so much youth on the team and his superior level of experience and talent, it is essential that he returns.
Best: Georgia RB Commits to Vols Early
Despite the fact that the Vols are currently in last place in the SEC for verbal commits, Tennessee lands a solid runner in Imani Cross.
Terry Joseph is by all counts bringing up the rear, but when Imani Cross expressed an interest in being a Vol, Joseph jumped on the wagon and didn't let go. Since February, no less than nine colleges have come a calling trying to sway the heavy-legged youth. Cross is well known in Hall County, Georgia as a punishing RB who leaves LBs on their butts and safeties eating his dust.
Late in April there were whispers that UNC might sway the 6'1" 220lb senior to de-commit, but luckily for the Vols, he has stayed true to his word; with seven months to go and only two commitments on the table every beating heart counts.
Worst: Tennessee and a Vol Part Ways
On Sunday Feb. 6, Coach Dooley informed the media that Chuck Smith's tenure would be cut short by mutual decision.
As usual, rumors quickly milled. The most significant was that Smith and defensive coordinator Justin Wilcox had met with some unspecified altercation. Although the rumor was never verified, Smith was visibly embittered when mentioning the staff and omitting his direct superior in Wilcox.
The whole affair was a bit of a surprise when you consider that Smith and Dooley are close friends, having known each other since high school.
Dooley had signed Smith to a two-year deal for $475,000, and was already being heralded as a major factor in signing high-end defensive recruits. The fact is no one really knows what happened between Smith and Wilcox...if anything, but it was quick and very, very hush-hush.
Best: Tennessee Welcomes a New Vol
Just as an old Vol departs, a new Vol steps up.
Former LB to the Tennessee Titans and LB coach to Central Washington University, Peter Sirmon found his services under the watchful eye of Derek Dooley and DC Justin Wilcox in 2009. As a graduate assistant, Sirmon helped Wilcox shape the Vol's young, undersized LB into speed freaks who out-tackled their opponents 4-2.
The move was necessary due to staffing changes from the departure of former DL coach Chuck Smith. Current DL coach Lance Thompson vacated his position as LB coach to make room for Peter Sirmon. The move is considered by many SEC coaches assistants as a step in the right direction for the Vol defense. While with the Titans, he was lauded as one of the smartest LBs of that decade for his ability to run the defense and decipher offensive schemes making the defense flow efficiently.
Currently he has been praised for simply understanding the brand of defense that Wilcox is trying to instill. Though the season has yet to prove whether or not Sirmon is a good acquisition in his role, the rest of the SEC see it as great addition to Dooley's staff.
Worst: The Roster Takes a Hit
During the first week of June, the No. 2 leading tackler Herman Lathers broke his ankle so severely that surgery will be required to help mend the Jr. LB's ankle, benching him for at least four games.
This in itself doesn't seem like too terrible of a hurdle to get by when the roster is vast....wait who said vast? The Vol LB squad is still under-experienced compared to the rest of the SEC. The only upside to this is the incoming freshman will get a lot of experience quickly. The Vols also have to wait on the Greg King to be evaluated for play, as his knee recovery may still be in question.
Yet again, Dooley will have to place his trust in a very young team.
Best: Orange and White Game Shows Small Improvements
It was really difficult to label this as a "Best" slide.
The receivers were most often not where they were supposed to be, the RBs rushed like it was the fourth quarter against Vanderbilt with a 20-point lead and the starting QB Tyler Bray seemed unresponsive and and slow. The defense missed tackles by the dozens, and coach Dooley stood in the backfield like a mother hen waiting for the fox. As a whole, the entire team didn't seem to take the game seriously. Even the fans seemed to forget where they were.
The upside was no one was hurt. A lot of young players were on the field and got a fractional glimpse of what a gameday was like. The gameball should have went to special teams coach Eric Russel, who was doing a fine job of tearing into the young players when they were bobbing instead of weaving. And in all honesty, it's the special teams that needs the most tweaking, but Russel seems on track to have special teams markedly better than last season.
The biggest positive was the fans got to see the Vol players have some fun and bring the kids to see some of the new renovations at Neyland Stadium.
Worst: Dark Words from the NCAA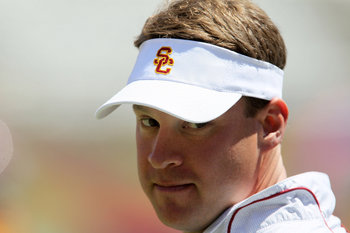 The Vols knew it was coming. It wasn't a matter of if, but when.
On Feb. 22 Tennessee received a 26-page packet describing the detailed allegations left lingering about by former head coach Lane Kiffin. The majority of the document listed the infractions committed by himself and several other of his assistants. It specified this, "failure to promote an atmosphere of compliance within the football program and failure to monitor the activities regarding compliance of several assistant coaches."
AD Mike Hamilton was quick to respond. "Receipt of the NCAA's Notice of Allegations by the University of Tennessee is another step in bringing this matter to a conclusion."
....and everybody by now knows how Hamilton deals with job pressure.
Best: The Vols Face the Music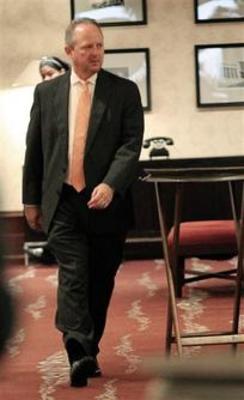 June 11, Saturday. A host of Volunteer athletic personnel made their way to Indianapolis to answer to the allegations delivered to Tennessee in February. Former Tennessee head coach and current USC coach Lane Kiffn accompanied by USC AD Pat Haden were on hand to answer the NCAA's questions about his role in the violations committed under his watch. Current head coach Derek Dooley was also in attendance, along with Mike Hamilton and UT president Jimmy Cheek.
Now this may not seem a positive, but it is. Considering that the allegations were being compiled well in advance of the Music City Bowl, it might have actually come sooner. However, had former basketball head coach Bruce Pearl not been thrown into the mix, this might have been cleared up six months ago.
Regardless, it is a positive when you consider how fast the NCAA moves. It may still be anywhere from nine to 13 weeks before Tennessee learns of its punishment, but the fact that it is close at hand means closure and moving ahead on the Dooley path.
It's tough to say how the NCAA will deal with Tennessee, but if you go by the way the NCAA dealt with the Trojans it could be severe. Whatever the punishment may be the the Vols now have some idea of how much further the program will fall. I think the biggest question is whether or not Kiffin will shoulder the impact or let Tennessee suffer?
Honestly though, I think everyone already knows the answer to that.
Worst: The Loss of Family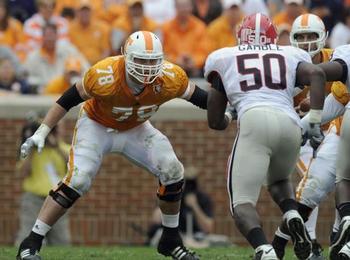 The worst offseason development without a doubt was the loss of Aaron Douglas. On a Thursday morning in early May, Fernandina Police informed the college football world that former Tennessee and current Alabama offensive tackle Aaron Douglas had been pronounced dead at the scene.
Douglas it seemed had finally found a home and was listed as a starter for Alabama's offensive line. He had departed Tennessee almost two years earlier and under Coach Dooley's specific requests, journeyed "an eight-hour drive" from the Knoxville campus to attend school at Arizona Western Junior College after requesting a transfer. He fulfilled that requirement, and after a season at AU, he found his way to Tuscaloosa. Nick Saban welcomed the freshman All-American and in no time earned himself a starting role as LT.
Alas, after enjoying a few days at the beach, Douglas attended a house party with friends on May 11, that Wednesday night. He was found the following morning on the house balcony, where he was pronounced dead at the scene.
The tragic news spread quickly among Tennessee and Alabama fans and rivalries were quickly forgotten. Nearly 2,000 mourners were on hand at the funeral, where Alabama and Tennessee foes joined hands to mark the passing of a young man who was taken much too soon. I would imagine that on Oct. 22, in Tuscaloosa both the Tide and the Vols will be wearing some token of remembrance on their uniforms.
A final note: The only reason I didn't put Aaron Douglas's picture on the front page of the article was to prevent sensationalism for the sake of reads and to respect the family. Lastly, I apologize to any of the family or friends if offense is taken.
Best: Mike Hamilton Faces the Music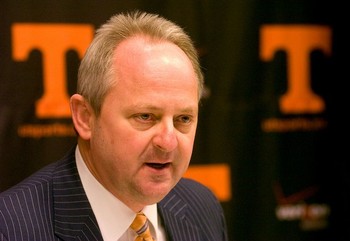 June 7, Tuesday Mike Hamilton called a late morning news conference to announce that he would be resigning as athletic director from the University of Tennessee. This also a positive because of the direction that follows this announcement and what was said during his speech. It must be recognized that at the end of it all, he acknowledged some of the blame for the hardship that befallen the athletic program.
Although during his tenure at Tennessee, he was responsible for over $120 million in renovations to the athletic facilities, he was also the man in charge that led to the hiring of Lane Kiffin, which turned out to be what may go down in history as the worst head coach hire ever.
Before that he was heavily criticized by fans and opponents alike for his handling or mishandling of then-head coach Phillip Fulmer. Opponents of Fulmer blasted that his dismissal was too long overdue and his $6 million buy-out was uncharacteristically "stupid business."
Fans of Fulmer revved up their calls for Hamilton's resignation when Fulmer made a tearful farewell in front of cameras in the Vol press room. Fulmer advocates began complaining of only two losing seasons while Fulmer was at the helm.
Much later after Kiffin departed for the West Coast, he hired Derek Dooley, son of former Georgia coaching legend Vince Dooley. The confusion surrounding his hire is still evident after carrying the Vols to a bowl appearance and 6-6 season. If Dooley succeeds, it may be Hamilton's only legacy. Regardless, there are more happy to see his resignation than not.
Like or don't like what you read? Let me know.
-Godspeed
Keep Reading

Tennessee Volunteers Football: Like this team?