Auburn Football: Why 2004 College Football Season Proved Need for Playoffs
June 12, 2011
Grant Halverson/Getty Images
n the protracted history of college football, 2004 was a landmark season. For the first time since the WWII, the sound of pigskin hitting grass turf was not heard in autumn.
Wait. You say there was a college football season in 2004? Yeah, right.
What? USC was national champion? No way!
Other universities finished undefeated!?! Heck, there could have been a playoffs for the ages!
Obviously, many folks are forgetting an imperative fact. USC's title was ransacked by the NCAA due to running back Reggie Bush's reception of improper benefits. Southern Cal proved itself as national champions by bulldozing the previously undefeated Oklahoma Sooners. By not giving the Coaches' Trophy to another eligible team, the NCAA essentially discredited the entire 2004 season.
As you can see, it is ridiculous that there is no national champion to take the place of the Trojans' vacated title game triumph. The point of college football is competition: one team is supposed to rise above the rest in performance on the field. Ultimately, the season is played to determine a champion.
Now please don't misunderstand me: USC failed to maintain an atmosphere of compliance and should have been penalized. But just because one of Pete Carroll's players made a self-serving decision doesn't mean that an entire year of workouts, injuries and thrilling moments should be ignored. Other teams were able to keep their victories, yet the "Year Without a Champion" was a disgrace for the sport.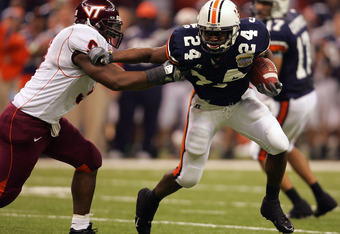 Matthew Stockman/Getty Images
Many argue that Auburn should logically be champion, since Tommy Tuberville's team presented a 13-0 from the nation's premiere conference. Surely there are others, though, who would advocate considering Urban Meyer's Utah Utes to be national champion. Their less talented squad also went undefeated (winning each contest all year by at least two touchdowns) and obliterated BCS team Pittsburgh and its Heisman caliber star, Larry Fitzgerald.
In total, five football teams finished the regular season with perfect records. In addition, three other teams only had one blemish all year long.
To make 2004 a year of respectability, Auburn should be the new No.1. Tommy Tuberville has a right to campaign for a once-in-a-lifetime chance those Tiger players were robbed of (assuming that Auburn didn't commit any violations six seasons ago; and for the sake of argument, Utah too).
But let's take it a step further. Having eight teams with one or fewer losses meant that there could have been a colossal playoff in '04. It doesn't make sense that five undefeated teams—USC, Oklahoma, Auburn, Utah and Boise State did not take on each other in a playoff scenario. This elite group, along with the triad of Texas, Cal and Louisville would have made primetime television.
Most importantly, it would have left an irrefutable result of which troop had the best credentials on the field. The ambiguous results leave something for pro-BCS fans to consider. Would have it been best to not have had a playoff? Even if USC won the tournament, the runner-up could at least have a just case to the crowned team. Instead, we have another year with murkiness as to who really should have been top dog.
2004 may be infamously known as the "Year Without a Champion," but we should have never let it been the "Year Without a Playoff."