Jim Tressel Resigns: 5 Reasons Ohio State Needs to Hire Rich Rodriguez as Coach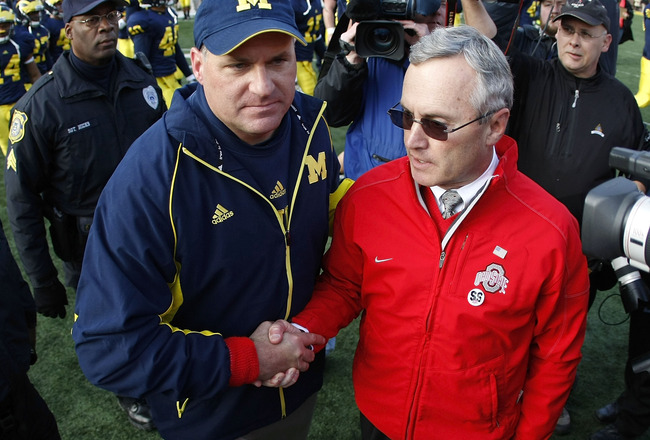 Gregory Shamus/Getty Images
Jim Tressel is out as coach of the Ohio State Buckeyes, it was announced on Monday.
And while I admit to a significant amount of schadenfreude in seeing the rival of my beloved Michigan Wolverines struggling through NCAA violations, suspensions, rumors of sanctions and the like, I also admit to a significant amount of respect for the man with the sweater vest—at least before all of the latest information came out in recent months.
All of that said, though, Ohio State must find a new coach.
And while former Tressel assistant Luke Fickell will seemingly be the head man in Columbus for at least the 2011 season, I have the perfect man for the Buckeyes: Rich Rodriguez.
Here are five reasons why RichRod would be perfect for Ohio State.
RichRod's Spread Offense
Jamie Sabau/Getty Images
In 2010 under Rodriguez, Michigan quarterback Denard Robinson ran for 1,799 yards and 14 touchdowns while also passing for 2,570 yards and another 18 scores through the air.
Just imagine how well RichRod's spread offense would work under Terrelle Pryor and with better running backs, better receivers and a better offensive line.
Well, OK, so Pryor, tailback Daniel Herron, wide receiver DeVier Posey and offensive lineman Mike Adams will each be missing the first five games of the season...but still. Those last seven or eight games would be fun to watch if you're a Buckeyes fan.
Relaxed Approach to NCAA "Rules"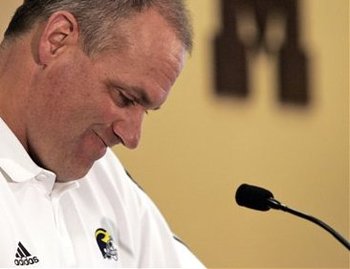 AP
Rodriguez would be able to hit the ground running in Columbus since he's already very relaxed with the NCAA's so-called "rules."
At Michigan, RichRod is to blame for an NCAA investigation into allegedly having too many coaches on the field during practice and for exceeding the allowed number of practice hours per week. And he was also responsible for similar violations at West Virginia, which brought self-imposed sanctions against the Mountaineers football program.
It seems like he'd be the perfect candidate to step right in with the Buckeyes and keep the same kind of lenient atmosphere flowing with regard to the rules.
Experience With Recruiting Struggles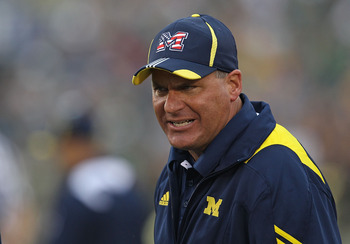 Jonathan Daniel/Getty Images
With the recruiting struggles Ohio State might soon be facing in the wake of potential violations and NCAA sanctions, who better to handle things than Rich Rodriguez?
Even after three years at the helm at Michigan, RichRod continued last fall to make ridiculous excuses for his lack of success on the recruiting trail.
"We've got to have a couple of recruiting classes to develop our needs, and it's going really well," he told AnnArbor.com in October.
"This recruiting class will help us get toward that end. We'll still be young, but at least we'll have the bodies there. We feel there's another nine, 10, 11 spots that we have to recruit with, and we're looking for certain positions where we're lacking depth or [getting] the types of guys we need to win championships."
Blah, blah, blah. Are you getting the point?
"The last couple of years have kind of been drama, negatively filled-type of recruiting, where I thought our coaches did a really good job bringing some talented players in, but I thought we fought through a lot of issues," he continued.
Now you're seeing it.
"There's just things that happen. It'd be nice to have a nice, positive, going-forward recruiting year where there's not all that negativity.…I think it backfires in a lot of cases."
Hmm, I'm starting to think that he could just re-read this quote next fall for what will doubtlessly be a crummy Buckeyes recruiting class.
Josh Groban Is Coming to Columbus!
Everyone remembers how emotional RichRod got during a Michigan football banquet last December. He fought back tears and quoted from the Bible as he discussed the difficulties inherent in being a big-time football coach and blathered on about how much he loved his players.
The official jump-the-shark moment came when he talked about how Josh Groban's song "You Raise Me Up," inspires him. Shortly thereafter, Rodriguez, his wife, athletic director David Brandon and players "stood on risers with their hands held above their heads as the song blared in the ballroom."
Good news, RichRod! Your shtick might not have worked in Ann Arbor, but the folks in Columbus will love it!
In fact, guess who's performing on Aug. 5 at Value City Arena in Columbus on the OSU campus?
None other than Mr. "You Raise Me Up" himself, Mr. Josh Groban!
Get your tickets here, RichRod. (Though it would stand to reason that if you get the Ohio State job, a local ticket broker would hook you up.)
Experience Destroying Michigan Football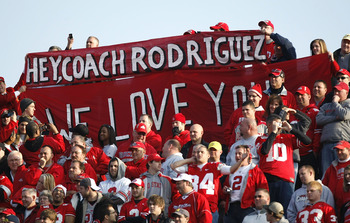 Gregory Shamus/Getty Images
In his three years at the helm of the Michigan football program, Rodriguez went 15-22, including 6-18 in the Big Ten.
He won zero bowl games.
He won zero games against Ohio State.
He brought about the football program's first NCAA violations in recent memory.
In three short years, he went a long way toward ruining the Michigan football program. Don't you think that the decision-makers at Ohio State would see that as a positive thing on his resume?
Instead of ruining it from the inside-out, like he did while coaching in Ann Arbor, he could do it legitimately as part of his job in Columbus.
Keep Reading

Michigan Wolverines Football: Like this team?