Georgia Football: According to UGA, Mark Richt Is Not on the Hot Seat After All
May 30, 2011
Streeter Lecka/Getty Images
It was this time last year that sport radio's version of Howard Stern, Paul Finebaum, got the whispers started that Mark Richt, coming off an 8-5 record, was now on the hot seat at UGA. Without any validity or named sources the rumor picked up steam. Before long it was everywhere and people were buying into it.
Then the unthinkable happened. A once promising season got off to a disastrous start, in part because of the unexpected suspension of AJ Green, and the Bulldogs got off to an unprecedented 1-4 start under coach Richt. Things looked disastrous but the coaching staff made some adjustments and made the season more respectable by winning five out of their last seven games.
Despite the improvement, UGA would finish the season with perhaps the most embarrassing loss in the Mark Richt era in the 2010 Liberty Bowl. Many of the Bulldog players looked uninvolved and disinterested in being in Memphis, TN. The result was a shocking 10-6 loss to Conference USA opponent Central Florida.
Prior to this game, the Bulldog offense that had averaged 41 points per game in their prior seven games. However, in this game, they did not score a single touchdown. As a result, the hot seat talk was louder than ever. SEC fans were now speaking with certainty that 2011 would be Coach Richt's final season at the University of Georgia.
Just three seasons earlier, people were singing his praises as his team finished No. 2 in the nation and won a share of their fourth divisional crown in seven seasons. Now the same ones who were praising him are now criticizing everything from his coaching ability to his demeanor.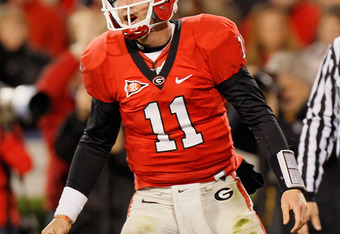 Kevin C. Cox/Getty Images
With that said, I will state what I have been saying for the last few months and it was proven to be factual this week: Coach Richt is not on the hot seat. However, he is no longer on the honeymoon either. Regardless of whether you feel like he should be on or should not be on the hot seat is not the point.
The reality is the executive board, the president and the athletic director feel like he has earned the right for a few bad seasons. Mark Richt is no longer the most beloved man in Athens. However, he is still the man in Athens in the eyes of the people that matter most.
This past Friday, the Atlantic Journal Constitution ran an article written by Chip Towers. In this article he interviewed perhaps the four most important people in this discussion. He spoke to UGA president Michael Adams, UGA athletic director Greg McGarity, 29-year executive board member Bob Bishop and board member emeritus Gary Hill. Here are a few of the quotes from Chip Towers interview:
"I think you look at a person's whole body of work. And I think the whole body of work by Mark Richt the last 10 years is very strong. We have very high expectations at the University of Georgia. We didn't meet them last year. But I'm pretty confident that we're going to spring back, that he made the kind of adjustments in staffing that needed to be made."—Michael Adams
"Our first requirement is to run the program properly. You will get in trouble at Georgia more for failure to do that rather than for having a bad season once a decade. But we do think with our resources, with our recruiting base, with our fan base, it's not unreasonable to expect us to have a winning football program. And we have for 13 of the 14 years I've been here. I fully expect we will for 13 of the next 14." —Michael Adams
"I remember back when Bear Bryant was coaching, he had a bad year and everybody was saying the game has passed him by. Biggest joke I've ever heard. He had a few bad years, but he had a few good years, too. All we need is one more point than Boise State and we'll be on the road." —Bob Bishop
"He's not in my hot seat; he's still in my lap. I love him. I don't think you can find a better human being anywhere and he's a fine football coach. He's proven that time and time again. But we all know it goes in cycles. He had a bad cycle last year, and he made a lot of changes to improve on that. If you have a real bad season again there's going to be a lot of turmoil all over the state and on campus and behind the scenes." —Bob Bishop
"I'm firmly in Mark Richt's corner. I want him to succeed. Everything is in place for him to succeed and I'm pulling for him to do so. Who wants to go through the turmoil of changing coaches and changing staff?"—Gary Hill
I think we got off to a wonderful start in January, I've said many times, how you perform in September and October comes down to what you do in January. You set the tone, you set the expectations, you say this is the way we're going to run our operation. There's no question–and I think Mark would acknowledge this and I think the players would acknowledge it—that they've gotten off to a good start with nutrition and strength and conditioning."—Greg McGarity
In all those quotes there is a common theme, and that is Coach Richt's body of work. Prior to his arrival in Athens, the Bulldogs were walking in a land of SEC famine. They had been 20 years without an SEC championship, and there were no signs pointing to things changing. However, in just his second season, he took UGA back to the promise land as they reached and won the SEC championship game.
In his third season they would return back to the SEC championship game but would lose to the eventual national champions, LSU. However, his hot streak would continue as the Dawgs marched back to the SEC championship game for the third time in four seasons where they won their second SEC championship under Richt.
Richt's critics point to the fact that he has never one a national championship. The last six national championships have been won by SEC schools and none of them were the Georgia Bulldogs. With that said, a closer look reveals that circumstances not coaching have kept them out of the BCS national championship game.
Three of the six SEC teams that won national championships during that period have done so with 13-1 records. Richt posted a 13-1 record in 2003 but the Dawgs were left out because of an undefeated Ohio State and Miami. If any of those 13-1 SEC teams had finished with that record when two BCS teams were undefeated they would have been left out of the game as well.
A fourth championship was won by LSU with a 11-2 record. Richt has three times had a record with two losses or less. The bottom line is four of those six championship winners could have easily been left out of the game like Richt was with similar records. It has not been coaching but timing that has hurt Richt.
Is Mark Richt on many fans' hot seat? Sure. However, Gary Hill made it clear that the fan dissension does not play into it. When asked about unhappy fans he stated the following, "You've got to listen; that's why we serve on the board. But most of that doesn't play into it. You evaluate the program independently and how the program is progressing. We've had a couple of down years. It will be very nice if he can improve that 6-and-7, at least modestly. But I think our program is in good shape."
In other words, we are not going to allow the shallow part of our fanbase, who only want to look at a small sample of this program under Coach Richt, to dictate our decision. Like it or not. Richt is not on the hot seat with the people that matter.