2011 College Football Preview: Montee Ball and the No. 20 Wisconsin Badgers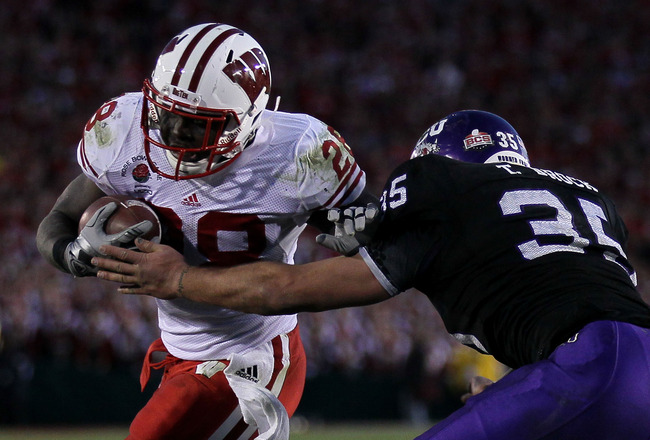 Stephen Dunn/Getty Images
In the final three weeks of the 2010 regular season, Wisconsin outscored Indiana, Michigan and Northwestern by a combined score of 201-71. Two hundred one. The 83 points that Paul Chryst's offense put up vs. Indiana was more than the Badger basketball team could manage in all but three of their 34 contests.
At times—and by "times" I mean, basically, the full month of November—there appeared not to be a more dominant team in all of college football. And, yes, that includes the University of Nike and Cam Newton's traveling circus.
Then came the Rose Bowl.
TCU's defense poured water over the Badger offensive pyrotechnics, and—in one of the better played bowl games of the season—handed Wisconsin their first loss in three months. It was a sour ending to an otherwise brilliant season.
In the after math, Brett Bielema and Co. lost a total of 13 starters, including quarterback Scott Tolzien, All-American tackle Gabe Carimi and All-Big Ten defensive end J.J. Watt.
Still, with the Ohio State University in shambles, Wisconsin faces less resistance than in any other season in recent memory. The question is, will they have enough coming back to seize the opportunity?
Offense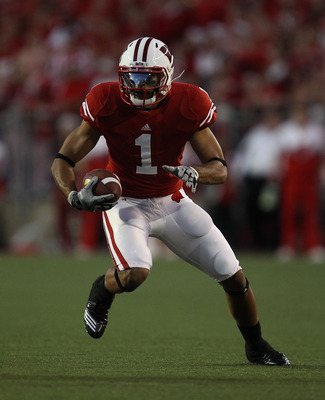 Jonathan Daniel/Getty Images
We have more than enough evidence to support the notion that John Clay's presence in the backfield was exceedingly irrelevant. As for Scott Tolzien? Well, we're about to find out.
The Badgers may have the best one-two tailback punch in the country, in Montee Ball (996 yards, 18 touchdowns in 2010) and James White (1,052, 14).
They better live up to the expectations.
Sophomore Jon Budmayr will require the luxury of leaning on the running game while he gets acclimated to his starring role in the offense. Tolzien was easy to overlook during his tenure with the Badgers. But, the two-year starter won 21 games, completed 69 percent of his throws and kept the offense out of trouble over the course of his final two seasons. With a running game of this caliber, Chryst doesn't need big plays from the quarterback position—he just needs the little ones.
The losses of Gabe Carimi and John Moffitt means the loss of the entire left side of the offensive line. But, the Badgers return seven players with starting experience, and should be very good up front once again.
Senior wide receiver Nick Toon must stay healthy if Wisconsin hopes to have any semblance of a consistent passing game.
Defense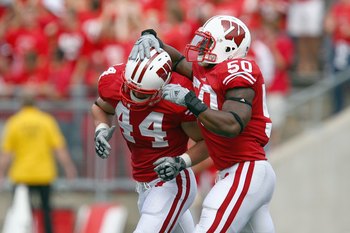 Jonathan Daniel/Getty Images
The loss of J.J. Watt hurts worse than any other. He headlines a list of five former starters who have since bid Madison adieu.
Sophomore David Gilbert steps in for Watt. Opposite him, senior Louis Nzegwu will need to account for a considerable portion of the lost productivity. Senior Patrick Butrym will lead an interior that is very good against the run.
The linebackers are decent. They can be good if Chris Borland can stay healthy. The sophomore middle linebacker should be the best player on an otherwise average defense. Keeping him on the field is paramount.
The secondary was inconsistent in pass coverage in 2010. Antonio Fenelus and Aaron Henry are back, but cornerback Niles Brinkley is not. Senior Devin Smith will replace him in a defensive backfield that looks to be average at best.
Special Teams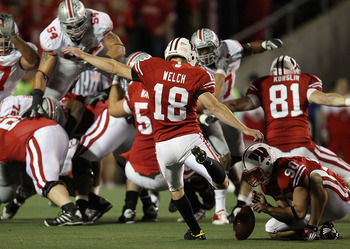 Jonathan Daniel/Getty Images
The kicking game should be a strength for the Badgers, with seniors Philip Welch (17-of-22 on field-goal attempts in 2010) and Brad Nortman back in the fold to handle the kicking and punting, respectively.
Freshman burner Kenzel Doe appears to have first dibs at replacing David Gilreath as Wisconsin's universal return man.
Game of the Year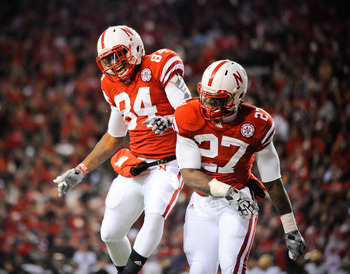 Eric Francis/Getty Images
Oct. 1 vs. Nebraska
This would have been the Badgers' Oct. 29 visit to Columbus, if not for the self-destruction taking place at Ohio State right now.
With that game getting smaller and smaller, the Big Ten opener with Nebraska just keeps getting bigger and bigger. Sure, there is also a visit to East Lansing and the regular season finale vs. Penn State. But, the early season matchup with the Cornhuskers could serve as a preamble to the first Big Ten championship game.
More importantly, a win here would give the Badgers a legitimate shot at running the table.
Fantasy Effect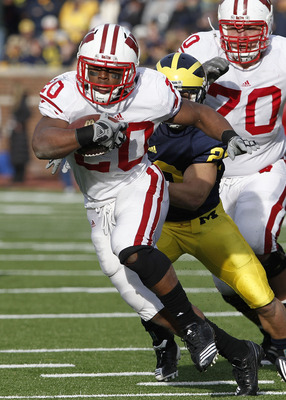 Gregory Shamus/Getty Images
If it's running backs you want, you need look no further than Madison, Wis.
With John Clay skipping his senior season to play in the CFL (...or something) and a new quarterback in place, the focus of the offense falls squarely on two players.
Montee Ball (5'11", 236 lbs.) will be listed as the starter, and is primed for a 1,200-yard/18-touchdown type of season in 2011. In the last five games of 2010, Ball rushed for 777 yards and 14 touchdowns—an average of over 155 yards and nearly three touchdowns per contest. The full list of running backs that I'd take before him? LaMichael James, Marcus Lattimore, Trent Richardson, Knile Davis. That's it.
His "backup" is James White (5'10", 198 lbs.) but the time share will be close to dead even. Add Ball and Virginia Tech's David Wilson to that list I just gave you, and those are the only backs I'd draft ahead of White. He won't get the red zone touches that his backfield mate will, but he won't need them. The sophomore scored 14 times in 2010.
Both will be gone by the end of the second round.
On, Wisconsin! Final Forecast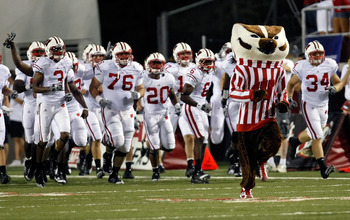 Ethan Miller/Getty Images
In case you've missed it, Tolzien is long gone, along with half of the team's starters from 2010. But, Wisconsin remains a contender for four reasons:
1) I've mentioned it. I'll re-mention it. The Badgers have the best backfield tandem in college football. Which, you know, is nice to have. But, it's even nicer when your quarterback attempted 10 passes last season.
2) Brett Bielema and Paul Chryst.
3) Courtesy of Jim Tressel and Terrelle Pryor, the Leaders Division is wide open.
4) Having a conference championship game will provide the Badgers with a "winner-take-all" mulligan vs. Michigan State or Nebraska—just in case.
Projection: 10-2 (6-2)
Keep Reading

Wisconsin Badgers Football: Like this team?