SEC Football: Top 10 SEC Fall Positional Battles and Predictions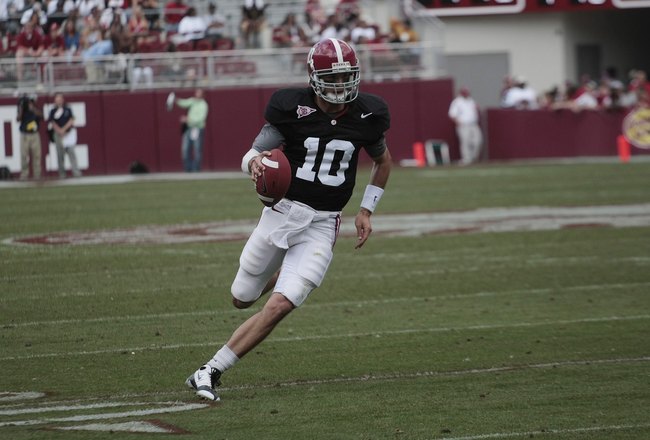 Dave Martin/Getty Images
Spring practices have recently concluded and the 2011 season is now quickly approaching. One thing has become certain about the 2011 SEC rosters and that is that there still remains a lot of uncertainty. Several key positions are still up for grabs even for teams that are expected to compete for the SEC championship.
Many positions were expected to be filled during the spring session. However, in some instances, they just added another player to the competition. Other positions seemed to be filled prior to the spring but post-spring, there is no clear leader.
In this article I will list 10 crucial positional battles that will continue through fall practices and my prediction on who will win them.
South Carolina Quarterback: Stephen Garcia Versus Stephen Garcia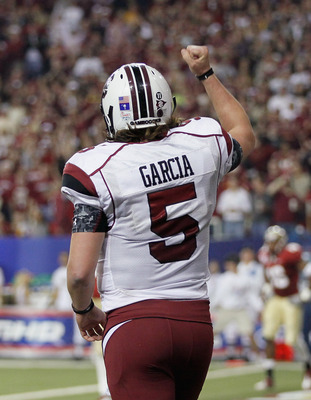 Kevin C. Cox/Getty Images
This slide title might sound comical but it is the sad reality. The success of the South Carolina football team this season is resting on the shoulders of their quarterback who is currently serving his fifth suspension as a Gamecock.
The battle Garcia is currently facing, and will face in the fall as well, is not with backup Connor Shaw. Instead, it is his battle with his personal demons. I understand, in a college town, how easy it is for him to believe he is just being another college kid. However, when someone repeats the same cycle so many times it is more than the status quo.
Unfortunately, Garcia is the SEC's version of the NBA's Ron Artest. Garcia, like Artest, is a tremendously gifted but undeniably immature athlete. Each time you think there is no way he is stupid enough to get in trouble again, he does.
Garcia, when focused, can be a dominant football player. He has shown flashes of brilliance on the field and should only get better with another year of experience now under his belt, but the inward battle is still unpredictable.
Prediction:
This is more than football, this is a young man's life. So regardless of what I fear might happen, I am going to believe the best for him. I am going to believe that he is going to win this inward battle and finish his college career on a positive note.
Alabama Nose Tackle: Josh Chapman Versus Jessie Williams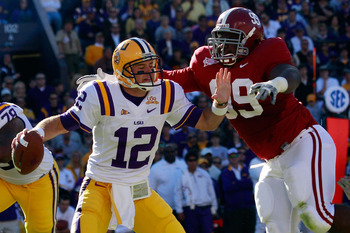 Chris Graythen/Getty Images
The most difficult part of running a 3-4 defense is finding a dominant nose tackle to anchor the line. The player must be incredibly strong because he is required to hold the nose against constant double teams. He must also have enough lateral agility to be able to play the two gaps as well. This position can make or break a 3-4 defense and finding a dominant nose tackle is a difficult task. However, Alabama has perhaps two that are good enough to play on the NFL level.
Opinions of Josh Chapman's first season as a starting nose tackle vary depending on who you ask. However, he is currently projected to be a first round pick on several mock drafts. The 6-1, 310-pound nose tackle completed the 2010 season with 31 total tackles, one sack, and 3.5 tackles for loss. While those numbers might not seem overwhelming, it is not the job of a nose tackle to pile up stats. Instead, his job is to hold down the nose which allows his defensive teammates to pad their stats.
Jesse Williams, on the other hand, spent last season dominating the JUCO ranks. At 6-4 and 320 pounds, he destroyed everything in his path on the way to being ranked as the No. 2 prospect in all of JUCO football. He has all the attributes you would want from a nose tackle.
Prediction:
It is quite possible that both of these players will end up as first round draft picks in the next two years. However, Josh Chapman will remain the starter for 2011. Jessie Williams will get plenty of snaps as well and will emerge as the anchor of the defense for the 2012 season. Both players are freakishly strong and tremendously talented. However, Chapman's time in Saban's system will be the difference.
Georgia Bulldogs Nose Tackle: "Big" John Jenkins Versus Kwame Geathers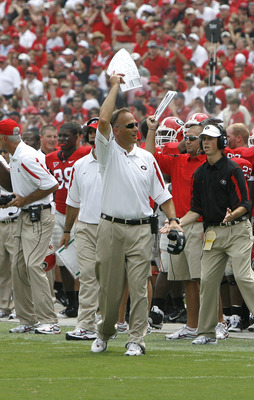 Mike Zarrilli/Getty Images
During his first season as UGA defensive coordinator, Todd Grantham had to implement his 3-4 defensive scheme without a true nose tackle on the roster. As a result, he made it his main objective to find a true 3-4 nose tackle of the Terrance Cody mold. He decided to look in the most obvious location, Cody's old junior college. What he found was a 350-pound nose tackle nicknamed "Big" John Jenkins.
When his junior college coach, Steve Campbell, was asked about the comparison of the two big tackles he had coached, he replied "I'd say John is a real similar football player, I think he'll be the same kind of impact player at Georgia that T.C. was at Alabama." He went on to say, "John is quicker, a little more mobile than Terrence," Campbell said. "Terrence may be just a tad – just a tad – stronger. I'd say what Terrence had in weight, John makes up for with his added mobility."
The UGA coaching staff would convince Jenkins to make the switch from Oklahoma State to the University of Georgia. Then, out of nowhere, the perfect problem arose. Current Georgia Bulldog player Kwame Geathers dedicated himself to the new strength and conditioning program and gained 25 pounds of good weight while losing upwards of ten percent of body fat. Not only was he stronger, but he was quicker and had better stamina as well. He also worked diligently on his technique in the offseason and the result was being named the defensive MVP of the spring and ushering in a true nose tackle competition.
Prediction:
Both players will play close to equal minutes. Moreover, against strong running teams, like South Carolina and Georgia Tech, expect to see both Jenkins and Geathers on the field at the same time. However, after watching Geathers dominate All-SEC center Ben Jones during the spring I give him the slight edge heading into the fall but it is still a coin flip at this point.
Florida Gators Center: Sam Robey Versus Jonotthan Harrison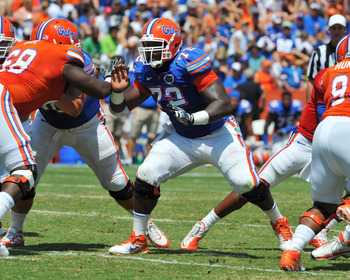 Al Messerschmidt/Getty Images
For the second consecutive season, the Florida Gators are looking to replace one of the Pouncey Brothers at the center position. With a new coaching staff, and an inexperienced offensive line, this replacement is more crucial than ever before.
The battle, to replace now Miami Dolphin Mike Pouncey, was supposed to be a battle between junior Sam Robey and rs sophomore Nick Alajajian. However, this spring, unexpectedly, Jonotthan Harrison announced that the coaches were moving him from offensive guard to center.
Sam Robey never earned significant time under former Coach Urban Meyer and this move indicates that new coach Will Muschamp might not have faith in him either. Florida fans realize the risk that comes with the center position. Despite finishing well, Mike Pouncey and John Brantley struggled early with bad snaps and turnovers. However, he was able to finish strong toward the end of the season.
Prediction:
For a player who has not played center since his freshman year of high school, Jonotthan Harrison played very well this spring. As a result, I expect him to take over at center this fall. Currently he is listed as the starting OG but that will soon change. Unfortunately for Robey his patience while waiting behing the Pouncey twins will not pay dividends.
Arkansas Offensive Guard: Brey Cook Versus Jason Peacock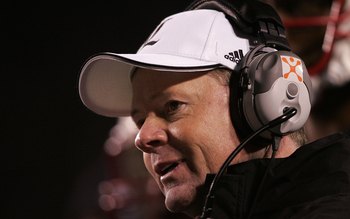 Andy Lyons/Getty Images
The Arkansas Razorbacks have very few questions on the offensive side of the ball heading into the fall. However, the few question marks they do have are large ones. The Razorbacks lost three linemen from last season and will need to successfully patch-up those spots if they want to compete for their schools first ever SEC championship.
While there are several battles going on along the Razorbacks offensive line, none are more intriguing than that of Brey Cook and Jason Peacock. Cook is a 6-7, 318-pound early entry freshmen. While Peacock recently arrived from the junior college ranks.
Neither has played a down of football in the SEC but Peacock has played junior college ball. While junior college football is not on the level of the SEC it is far greater gauge of a players ability than someone throwing around a 15 year old that is half their size like they do on the high school level. Cook on the other hand, is not only coming directly from the high school ranks but he is also only 17 years old.

Prediction:

Despite his age and lack of experience, Cook is a special player. As a result, I think he ultimately wins the starting position during fall practices. I am not sure if that is a compliment of his talent or a warning of the state of the Razorback offensive line. More than likely it is a little of both. Cook will need to progress quickly because playing in Tuscaloosa and Baton Rouge this season is going to be far more difficult than regional playoffs in the Arkansas high school division.
Tennessee Vols No. 1 WR: Justin Hunter Versus Da'rick Rogers
Streeter Lecka/Getty Images
Tennessee fans are excited, heading into fall practices about the potential of the Volunteer offense. But there is one major hole that has to be filled. Someone must step up and become the No. 1 option at wide receiver. In 2010, Tennessee signed one of their better wide receiver classes in recent memory with the addition of Justin Hunter, Da'rick Rogers and Zach Rogers.
With the lost of Denarius Moore and Gerald Jones, all three receivers will need to step up immediately. Jones was an efficient possession receiver and Moore, who led the SEC in yards per reception, was one of the best deep ball threats in the SEC.
All three of these young freshmen had their moments. Hunter had the best season of the three with 415 yards receiving and seven touchdowns. Rogers, on the other hand, only had 167 yards and two touchdowns but he did average over seven yards per carry on 16 rushing attempts.
Prediction:
Rogers had a good spring, maybe the best of all the UT receivers. However, since high school he has had a propensity for disappearing in the big games. I remember reading all the hype surrounding him at the All-America game his senior year. He was dominating all the competition, according to the reports, in the practices leading up to the game. However, during the game he had seven dropped passes and looked more nervous than dominant.

I am not convinced he will ever have the mental toughness to be the number one guy, but he could be a great No. 2. Fortunately for Vol fans, Hunter does have the needed mental toughness. He is a playmaker in every sense of the word and should have over 1,000 yards receiving this season.
Auburn Tigers Quarterback: Barrett Trotter/Clint Moseley/Kiehl Frazier
Finding a new quarterback in the SEC is never an easy task. Moreover, when that team is the Auburn University and you are replacing a Heisman Trophy winning quarterback, who was also the No.1 overall pick in the NFL draft, that task can seem daunting.

Coming into the spring, there seems to be two favorites to win this positional battle—Barrett Trotter and Clint Moseley. But neither separated themselves and neither were generally impressive during the spring. As a result, this has opened the door for highly touted, incoming freshman Kiehl Frazier to compete for the job as well.
Auburn is in a unique situation. They have two quarterbacks, in Trotter and Mosley, who have the potential to be adequate quarterbacks but they are unlikely to ever be great. Neither one of the players were highly regarded coming out of high school and haven't showed anything that would make you believe they will be any better than their original rankings.
Frazier, on the other hand, is one of the prize recruits of the 2011 signing class. He can make any throw you ask of him and has elite athleticism as well. He also has tremendous leadership skills. Watch the video on this page as his Shiloh Christian team was down 35-0 to undefeated Nashville team. Frazier takes over the game on way to his third straight state championship and his third straight championship game MVP.
Few question if he is the quarterback of the future. The question is not if, but when will this become his team.
Prediction:
News broke today that former North Carolina State quarterback Russell Wilson was on the Auburn campus and was discussing a possible transfer. This would change things considerably but I will not add him into my prediction since he is not yet enrolled. I believe that the Auburn staff will start the season with Trotter. However, they will use Frazier in a Chris Leak-Tim Tebow type of playing time scenario. The difference is that this will not last the whole season.
Look for Frazier to get a great deal of playing time against Utah State and Florida Atlantic and meaningful snaps in the other games as well. Circle the date October 29th on your calendar because this will be the start of the Kiehl Frazier era. By that time, Auburn will be out of the SEC race after a brutal month of games in October. This will give Frazier four regular season starts and a bowl game to serve as preparation for the 2012 season.
Georgia Bulldogs Running Back: Caleb King Versus Isaiah Crowell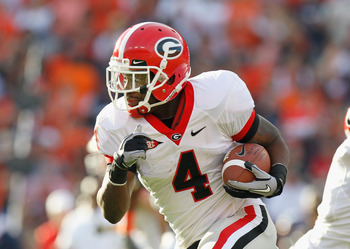 Kevin C. Cox/Getty Images
If the Bulldogs want to return to being one of the nation's elite teams they must be able to establish the run this season. This is something they have not been able to do over the last two seasons and it has resulted in a 14-12 overall record.
The two leading candidates to become the Bulldogs featured back are senior Caleb King and incoming freshman Isaiah Crowell. Crowell, the No. 1 ranked high school running back in the nation, has been labeled the savior of the UGA running game. But Caleb King once wore that title as well. King has been productive throughout his career, when healthy, but has battled several injuries from hamstrings to a broken jaw. King is a good runner but excels at pass blocking and receiving out of the backfield. It should be mentioned, however, that he was also arrested last season for a failure to appear on a speeding ticket and later suspended for the Bulldogs bowl game for not meeting UGA academic requirements.
Crowell, on the other hand, has all the physical tools. He is the home run threat UGA has been missing for the past two seasons after the departure of Knowshon Moreno to the NFL. He has great vision and can change direction without losing any speed. He too, however, was hampered last season by small nagging injuries during his senior year at Carver High School.
Prediction:
Caleb King, if academically eligible, will start in the Bulldogs first game against Boise State. I believe this because his blocking abilities will be needed as their young offensive line progresses. However, by week four Isaiah Crowell will be the new starting running back at the University of Georgia.
LSU Tigers Quarterback: Jordan Jefferson Versus Zach Mettenberger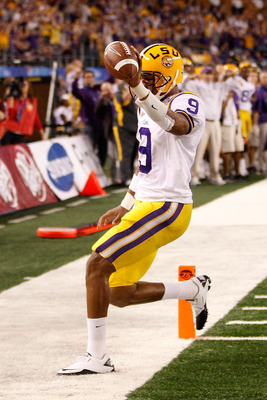 Chris Graythen/Getty Images
If you have read my previous article on this quarterback competition, I do not want to sound like a broken record. However, this cannot be one of those Coach Les Miles decisions where you are left scratching your head wondering what was he possibly thinking. Instead, this must be one of those decisions like his 4th-and-1 play call against Alabama that led to the go-ahead touchdown.
Jordan Jefferson's erratic play, but winning record, bring a tough decision to the table for Coach Miles. Jefferson has consistently under preformed but has shown just enough flashes of excellence to make you wonder if he is about to turn the corner.
Then you have Zach Mettenberger who is a quarterback coaches dream. He is 6-5 and 250 pounds and is surprisingly mobile in the pocket for a quarterback of his size. He has unbelievable touch on his deep ball and can make the short to medium passes as well.
Prediction:
In Mettenberger's first spring game, as an LSU Tiger, he looked the part. Mettenberger completed 5-of-8 passes for 86 yards and a touchdown. Jefferson, on the other hand, completed only 4-of-14 passes with an interception, two fumbles and two sacks.
After the game, Miles tried to reiterate that Jefferson was still the clear number one. I believe that LSU will start Jefferson the first few games of the season and use Mettenberger sporadically during that time. However, coach Miles will see the light and start Mettenberger as the season goes on. However, will it be too late?
Alabama Crimson Tide Quarterback: AJ McCarron Versus Phillip Sims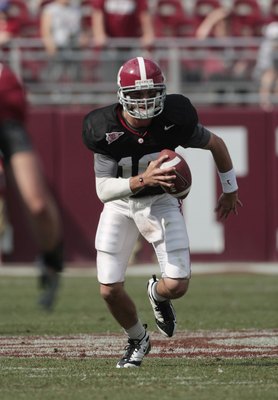 Dave Martin/Getty Images
After the Crimson Tides bowl game most outsiders, including myself, figured that the Alabama quarterback competition was just for show. That AJ McCarron had already been anointed as the heir apparent to Greg McEroy. Yes they had former 5 star recruit and redshirt freshman Phillip Sims on the roster but AJ McCarron looked the part of a Nick Saban coached Alabama quarterback. However, during the spring, Sims begin to prove that perhaps the high school hype was legit.
During the spring game, both players had their moments and their disappointments. Sims completed 20 of his 30 passes for 225 yards, three touchdowns, and two interceptions. McCarron completed 18 of his 33 passes for 189 yards, three TDs and one interception.
Sims was more efficent in every category but perhaps the one that matters the most to coach Saban and that is interceptions. However, even in that, McCarron had an additional fumble that was returned for a touchdown.
Prediction:
This is a true competition that will probably lead into the season. I expect Coach Saban to use both quarterbacks early on. However, I am going to go with the upset and choose Phillip Sims to be the starter by the end of the season. Both quarterbacks have tremendous tools but Sims appears to be the more accurate passer and was considered such coming out of high school.
Coach Saban doesn't need or desire a gunslinger at quarterback. He wants a quarterback that will make the proper play and the accurate pass. If Sims can do this, as I think that he will, he is the future of the Alabama quarterback position.
Keep Reading

Alabama Crimson Tide Football: Like this team?