Ohio State Football: Deconstructing Ray Small's Comments on OSU's Problems
May 26, 2011
Gregory Shamus/Getty Images
The latest shot to the Ohio State program was fired by a guy that may never have had credibility to begin with, former WR Ray Small.
Small, a player whom Ohio State fans were glad to see go and spent time in Jim Tressel's doghouse for the majority of his senior season in 2009, claimed that not only did he sell his Big Ten championship rings, but "everyone was doing it," as he told The Lantern Thursday.
These comments Small made may have opened up a Pandora's box about the scandal that Tressel and Ohio State find themselves in.
But can people really take Small's words at face value?
Fans will remember Ray Small for dropping balls on punt returns and making poor decisions once he caught the ball.
Fans will remember Ray Small for being suspended from the 2010 Rose Bowl, his final game of his collegiate career, for academic problems.
Fans will remember Ray Small and his father for threatening to leave the team after an indefinite suspension in 2008.
In short, Ray Small has no credibility to the fans or anyone in Buckeye Nation.
And it's not like he was given one shot. Tressel offered him multiple chances to fix himself, which he never did.
He left Ohio State a disgruntled player, and it was all his fault as well.
But in reality, every school at one time or another will have that one player that festers like a cold sore, and just won't stop being stubborn.
And Small actually comes out of this situation looking more like a hypocrite.
Back in 2008 when Ohio State traveled to Los Angeles to face USC, Small had these comments before the game:
"Here at Ohio State, they teach you to be a better man," Small told the Cleveland Plain Dealer on September 8, 2008. "There (USC), it's just all about football." 
Apparently, Small never caught believed in his own words as he admitted to selling his own merchandise.
But some rumors, including Sports by Brooks, believes that Ray Small was "Player G," otherwise known as the mystery player, in the Notice of Allegations sent to Ohio State on April 25.
If that's the case, then Small's words about him selling his merchandise are old news.
And apparently, he has drawn the ire of dozens of Buckeyes, both current and former, on Twitter in the past few hours. This article from The O-Zone has plenty of Buckeye tweets aimed directly at No. 82.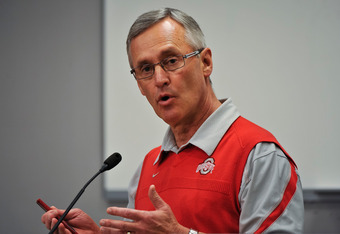 Jamie Sabau/Getty Images
All this hate to Ray Small aside, Buckeye fans need to start accepting that there are going to be some heavy penalties aimed at Ohio State. But unless some more incredibly brutal stuff comes out, there will be no death penalty.
This case comes nowhere to SMU, where the roster in the 1980s literally had a payroll like a professional football team.
But Ohio State is going to be punished pretty heavily, and it's time for Buckeye fans to take off the glasses and acknowledge that something bad could happen.
Expect the worst, but hope for the best. That's the best advice that Buckeye fans should heed in the next few months.
There will be Ohio State football this year. Whether Jim Tressel survives what has happened is a question that only time can answer.
For more college football news and updates, visit The BCS Blitz and follow me on Twitter @bielik_tim.