2011 Cal Golden Bears: Transfer QB Zach Maynard Named Starter for Crucial Year
May 18, 2011
Last Saturday after the completion of spring practice, Cal Bears head coach Jeff Tedford named recent transfer from Buffalo Zach Maynard the starting quarterback for what will be an important 2011 season for the Cal program, as it hopes to rebound from recent underwhelming seasons.
Cal had its worst season of the Tedford era in 2010, going 5-7 without a bowl appearance, and it was largely due to inadequate and inconsistent play from the quarterback position, marking a significant string of years underachieving at a position which Tedford is known for handling players well. 
Not only is newcomer Maynard the key to this season, but it highlights the disappointment in the pro style, more highly-recruited pocket quarterbacks Tedford has recruited to Berkeley.
Kevin Riley, the starting QB the last two seasons, was rated a 4-star prospect by Rivals.com out of high school in Oregon, but after an impressive start to his Cal career, his play tanked along with the team's.  His lack of accuracy, pocket awareness and reading coverage contributed to what was in many ways a regression in his last season at Cal.  
Brock Mansion, a 3-star prospect by Rivals.com, did not play well in brief stints filling in for Riley, and Beau Sweeney, who battled Mansion for the backup position the last two years, has transferred after not making the cut for the top three spots at quarterback. Allen Bridgford, another pro-style and 4-star recruit according to Rivals.com, also lost out in spring competition.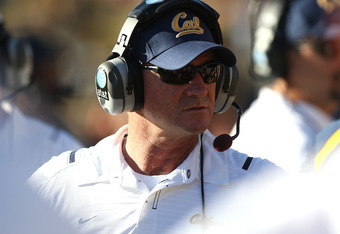 Jed Jacobsohn/Getty Images
Tedford's choice to appoint Maynard the starter is an intriguing one and will be the overarching narrative of the team this year.
Considered a dual-threat-type quarterback, Maynard was not heavily recruited coming out of high school in North Carolina, but does offer Cal a dimension at quarterback it has lacked for many years.
Tedford said that Maynard gives Cal "another dimension at [the quarterback] position that we haven't had in awhile."
And after quarterbacks the last few years were either immobile or lacked pocket awareness and authoritative decisiveness that resulted in both injuries and ineffective play, Tedford may be enthralled with being able to set up game plans and schemes for a quarterback who can both run and pass. 
Tedford will be working more closely with the offense and QB this season, after leaving those responsibilities, including play calling, to assistant coaches the last few years.  With the most salient flaws on the team the last few years being the quarterback play and offense in general, Tedford may have realized he needs to take responsibility for the offense. 
Maynard will be first real dual-threat QB Tedford has played at Cal.  His track record in recruiting shows that he targets pro-style quarterbacks, yet they have, by and large, been disappointing.
Tedford's teams have largely depended on the quality of play at the quarterback position, and outside of improving Kyle Boller for one year and Aaron Rodgers' one-and-a-half-year run as Cal's starting QB, the team's quarterback play has been underwhelming. 
Nate Longshore, who started at QB beginning in 2005, had decent overall numbers, but he was a statue in the pocket, he was inconsistent in part because of injuries, and against good teams he disappeared. 
Joseph Ayoob, one of the highest-rated junior college quarterbacks in 2005, fell flat in his opportunity to fill in for Longshore.
Tedford said that Maynard gives Cal the best chance to win games, and this season is crucial to the Bears.
There will be parity in the conference, and if Cal repeats the mediocrity of last season, Tedford will start to lose support. 
After recent years of compiling top recruiting classes, particularly on defense, Cal has struggled mightily on offense and still gets dominated at times defensively. 
In both 2011 and 2010, Cal's recruiting classes were ranked in the top 20, which included many 4-star and 5-star defensive recruits.  Though even these types of players redshirt their freshman years or play limited roles, the defense should start to become formidable this season.  Some of those high-impact, heavily-recruited stars on defense will start to play bigger roles, making the Maynard-run offense so crucial.
Maynard, who rose up the depth chart in spring practice, but had so-so numbers at Buffalo, has been given the keys to the offense in what will be one of the most intriguing and uncertain seasons for the Cal football program in recent memory.