College Football Rankings: Notre Dame and 10 Top 25 Teams with Most To Prove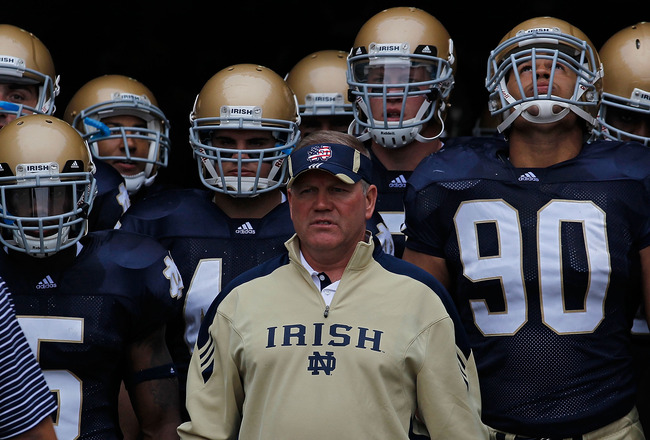 Jonathan Daniel/Getty Images
Signing day is over, spring football is over and now it is simply time to speculate.

As the earliest of preseason polls continue to pop up, there are plenty of familiar faces and a few surprises. The thing that all these schools have in common is that nobody has been given a chance to prove themselves yet.

However, some schools have more to prove than others.

These are the schools in the preseason top 25 that have the most to prove in the 2011 college football season.
Arizona State Sun Devils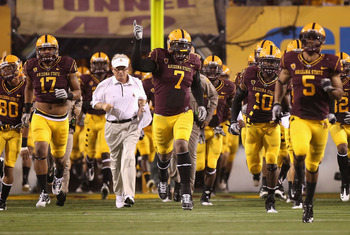 Christian Petersen/Getty Images
The Arizona State Sun Devils have not made a bowl game since the 2007 season. However, they find themselves ranked in nearly every single top 25 preseason poll .

The reason being that the Sun Devils are returning 18 starters from a team that nearly beat Stanford, Wisconsin, USC and Oregon a season ago. The talent is there, but the Sun Devils have a history of not closing out games.

The key players on Arizona State's roster are linebacker Vontaze Burfict and quarterback Brock Osweiler. Burfict is one of the best linebackers in college football. While Osweiler appears to be one of the rising stars of the Pac 12.

The Sun Devils will prove their worth when Missouri comes to visit Tempe in Week 2. It is a Friday night game that is nationally televised, so it will be a golden opportunity for Arizona State show the nation they are for real.
They are considered early favorites to win the Pac 12 in 2011. If they are going to do so, then they first need to prove that they can finish games.
Auburn Tigers
Kevin C. Cox/Getty Images
It is hard to believe that the defending National Champions have to prove anything. But when a team only returns eight starters from a season ago, it is tough to be confident in them.

The Tigers are losing Heisman Trophy Winner Cam Newton, defensive tackle Nick Fairley and numerous other key players from their 2010 BCS title winning team. They are going to rely on plenty of new faces to step up and contribute in 2011.

Auburn plays an absolutely brutal schedule. They have tough road matchups against Arkansas, South Carolina, LSU and Georgia. If they want to have another big season, they will need to step up in these games.

Some key returners from last year's squad include running backs Michael Dyer, Onterio McCalebb and linebacker Eltoro Freeman.
Florida State Seminoles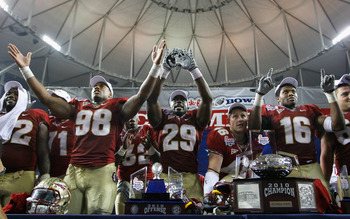 Kevin C. Cox/Getty Images
There might not be a team with more to prove than the Florida State Seminoles. They find themselves ranked in the top five in many preseason polls.

Last season, they finished with a record of 10-4 and a bowl win against a very good South Carolina squad. However this year, they are looking to be one of the elite teams in college football.

The quickest way the Seminoles can prove they deserve their lofty ranking is by defeating elite teams. The top two teams on Florida State's schedule last season, Oklahoma and Virginia Tech, abused the Seminole defense.

For me to be a believer in Florida State, I need to see them have a better showing against Oklahoma than last year's 44-17 beat down.

However, I have little confidence in a turnover-prone quarterback, E.J. Manuel, and a below-average offensive line to defeat the top ranked Sooners in 2011.
Georgia Bulldogs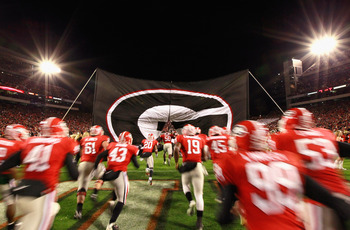 Kevin C. Cox/Getty Images
The Georgia Bulldogs are in a similar situation as Arizona State. They showed promise last season and need to turn the corner in 2011.

The Bulldogs are led by one of the most talented young quarterbacks in the country, Sophomore Aaron Murray. He has the potential to be a Heisman candidate in the near future

On defense last season, the Bulldogs were inconsistent. Most of that inconsistency was due to the lack of a true nose tackle. However, JUCO transfer Jonathon Jenkins could be an instant answer to that problem.

The Bulldogs have a chance to challenge South Carolina for the SEC east title due their surprisingly weak SEC schedule.

In Week 1, the Bulldogs square off against Boise State. This could be Georgia's breakout game that puts them back on the national scene.
Michigan State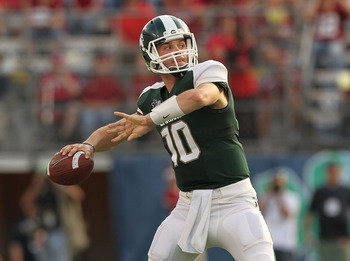 Mike Ehrmann/Getty Images
Last season Michigan State Spartans had a memorable 11-1 regular season, but it was spoiled in their bowl game by way of a 49-7 beat down by Alabama.

With all the controversy surrounding Ohio State, Michigan State is starting to become one of the front runners to win the Big Ten. They now must prove that 2010 was no fluke.

Most of the key pieces from the 2010 run are returning. Quarterback Kirk Cousins and running back Edwin Baker lead their offense, while defensive tackle Jerel Worthy anchors their defense.

Losing middle linebacker Greg Jones is devastating for the Spartans and he will be impossible to replace. Expect sophomore Max Bullough to get the first crack at the job.
Mississippi State Bulldogs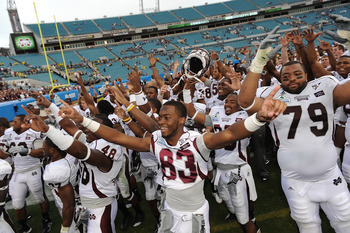 Rick Dole/Getty Images
Head coach Dan Mullen shocked the college football world when they pulled off a 9-4 record last season and are out to prove that it was more than just a lucky season.

It is going to be tough for the Bulldogs in 2011, who are losing their two best offensive linemen in Derek Sherrod and J.C. Brignone. On defense, the Bulldogs are also losing all three of their starting linebackers from a season ago and star defensive end Pernell McPhee.

That's enough about what Mississippi State doesn't have, now lets look at the team that remains.

The Bulldogs biggest stars entering the season are quarterback Chris Relf and running back Vick Ballard. Both players are being dubbed dark horse Heisman candidates from time to time.

Regardless, Mississippi State is stuck in the toughest division in college football: the SEC West. It will be nearly impossible for the Bulldogs to follow up with another big season in 2011.
Nebraska Cornhuskers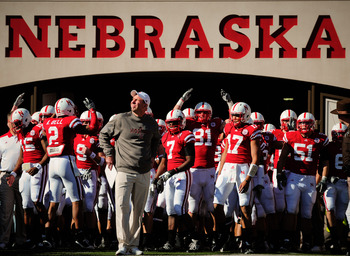 Eric Francis/Getty Images
After a 9-1 start for the Cornhuskers in 2010, all signs pointed toward a berth in a BCS bowl game. Then they dropped 3 of their last 4 games, including an embarrassing 19-7 Holiday Bowl flop to Washington.

The Cornhuskers now find themselves in the Big Ten Legends Division, looking to show that they intend to dominate their competition like they did in the Big 12 north.

Nebraska returns arguably the best defense in the country. It is filled with All-American candidates, such as Lavonte David, Jared Crick and Alfonzo Dennard.

Their offense has proven they can be explosive, but was wildly inconsistent last season. They depend heavily on speedy quarterback Taylor Martinez.

When he is playing well, he is a Heisman candidate and his Huskers are one of the toughest teams in the nation.
Notre Dame Fighting Irish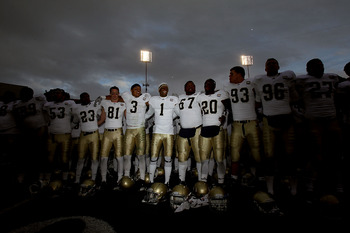 Ronald Martinez/Getty Images
The Notre Dame Fighting Irish have often been criticized for underachieving while playing a schedule full of cupcakes. Nobody is going to say that about the Irish this season.

Nine of the 13 games next season are against teams that made a bowl games next season. Trips to Stanford and Michigan and visits from USC and Michigan State will show what this squad is made off.

It is one of the most hyped Notre Dame teams in recent years. They return 19 starters from a team that went 8-5 last season, including a bowl win against Miami.

Their offense is loaded with talent at the skill positions, but there is plenty of doubt about who will start at quarterback. Head coach Brian Kelly is not expected to name a starter until just before their season opener. The battle between Dayne Crist, Tommy Rees, Andrew Hendrix and Everett Golson will be fun to watch.

The Irish defense was much improved last season and looks to take another step in the right direction in 2011. The main reason to be confident is Manti Te'o.

Te'o is one of the most dominating inside linebackers in the country and his defense will be key in the improvement of the Irish.

Notre Dame fans are thinking BCS bowl in 2011, and it may not be totally out of the question.
Stanford Cardinal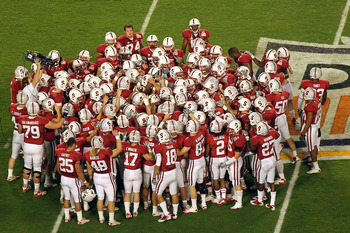 Mike Ehrmann/Getty Images
Stanford needs to prove that they can win despite losing so many key players and that they can win without former coach Jim Harbaugh.

Most preseason polls have Stanford in the top 10, that is a lot of confidence in a team that only returns 11 starters from a season ago.

A lot of weight rests on quarterback Andrew Lucks shoulders. Luck is losing three of his starting offensive linemen and his top two receivers from a season ago.

On defense the Cardinal only return three starters from their front seven, but do bring back most of their talented defensive backfield.

I do not feel that Stanford will be a bad team in 2011, but I doubt that they compete with Oregon again for the Pac 12 title. They need to prove critics like myself wrong.
Texas A&M Aggies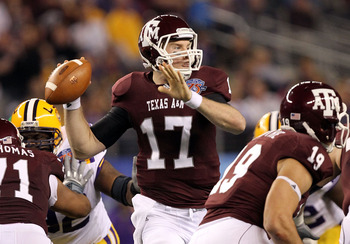 Ronald Martinez/Getty Images
After a 30-9 loss against Missouri in their sixth game of the season last year, the Texas A&M Aggies did not have a lot to be confident about. However, everything changed the very next week.

Ryan Tannehill became the starting quarterback and the Aggies did not lose another game for the rest of the regular season. The Aggies look to challenge Oklahoma for the Big 12 championship and prove that the way they ended last season was no joke.

Other than linebacker Von Miller, the Aggies return just about everyone from their 2010 squad. Along with Tannehill, running back Cyrus Gray and cornerback Coryell Judie are the biggest impact players on the team.

Last year, A&M proved they can beat elite teams with wins over Oklahoma and Nebraska, and they will need to do it again in 2011.
Keep Reading

Notre Dame Football: Like this team?