USC Football: 10 Expectations for Lane Kiffin's Second Year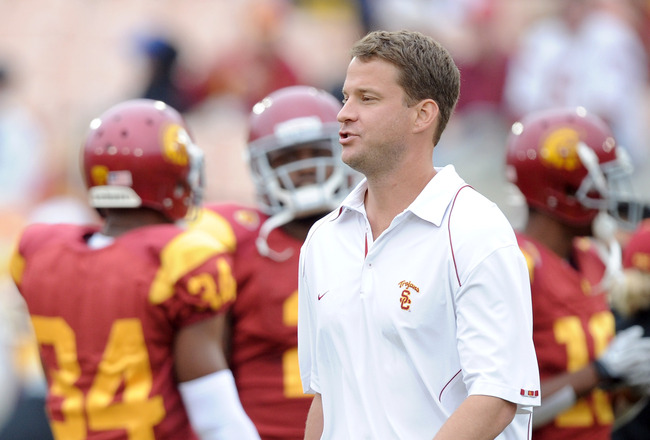 Harry How/Getty Images
Heading into Season 2 for Lane Kiffin and the USC Trojans, there are some specific objectives to be accomplished for Coach Kiffin and his staff.
Overall improvement from last season's 8-5 team is the primary hope, of course, but within that general goal are some specific benchmarks that fans of the men of Troy would like to see achieved.
The expectations that Trojan nation have for Kiffin are probably many of the same that he and his staff also have for the upcoming year, and meeting these expectations will make both camps very happy for 2011.
So let's take a look at some of these expectations that Trojan fans will have for the 2011 version of the USC Trojans…
No. 10: Take Advantage of the Trojans' Strengths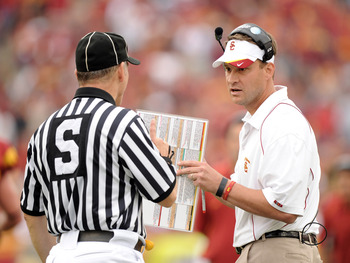 Harry How/Getty Images
This slide will look at some of the Trojans' general strengths and will elaborate on these stronger parts of the Trojans later in the piece.
We know that the Trojans have a fine quarterback in Matt Barkley and a slew of fine receivers.
Take advantage of that talent, Lane.
Of course, in order to do this, the offensive line must be in good working order—more on that later.
If the "big uglies" are meshing, then the Trojans' stable of running backs can also be effective.
This is another area that the coaching staff can take advantage of.
On defense, expect the Trojans to see versions of the spread throughout the season. When they do, Trojan fans expect a much better showing from the defense.
With a roster replete with fine defensive backs, let's get a quicker team out there and a scheme that takes advantage of that speed.
No. 9: Improved Defense Against the Spread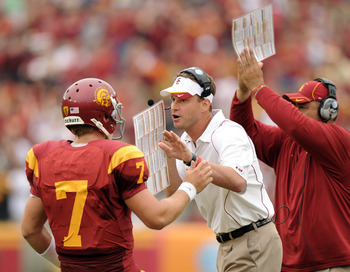 Harry How/Getty Images
As stated in the prior slide, the Trojans have inherently had problems against the spread, and fans of the Trojans expect improvement in this area in the upcoming year. But how can this be accomplished?
To combat ineffectiveness against the spread, you have to practice against it.
Now, it should be noted that USC did practice against it last year but only half-heartedly with the scout team doing the honors, sometimes not very effectively.
This year, let's change it up.
Get the starters out there and open things up.
By doing so, not only will the Trojans get their stacked defensive backfield some valuable experience against the spread, but there is another advantage.
The Trojans can add another wrinkle to their offense.
Which brings us to…
No. 8: Open Up the Offense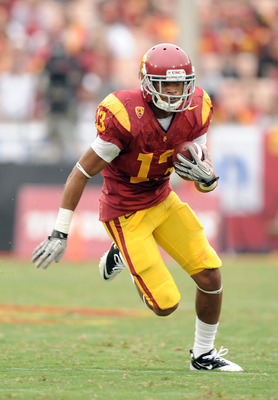 Harry How/Getty Images
At the risk of sounding redundant, the Trojans are blessed with a ton of great playmakers at the receiver position.
Robert Woods, Brandon Carswell, Kyle Prater (if he ever gets healthy) and Markeith Ambles (if he ever gets serious about class and football) are just a few of these fine pass catchers.
And in the fall, George Farmer Jr., Victor Blackwell and Junior Pomee will join those already mentioned.
In addition to those fine players, the Trojans had some great young talent at tight end and some guy named Dillon Baxter.
This core has the makings of a fine "quick strike" unit, and Trojan nation expects you to take advantage of that, Coach Kiffin.
In doing so, you also take some of the pressure off the thin offensive line, who won't have to hold their blocks nearly as long.
All in all, the installation of a modified spread helps all concerned.
No. 7: Rein in Gimmicks on Special Teams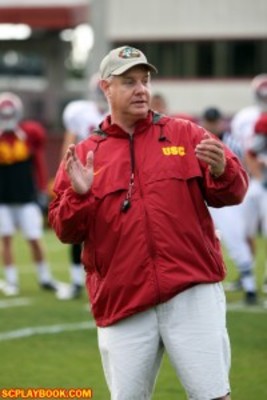 You gotta love John Baxter.
In 2011, Baxter will enter his second year as the Trojans' special teams coach after developing a reputation at Fresno State as one of the more innovative unit coaches in the nation.
During his first year at USC, Baxter introduced a new and thrilling formation on extra points to probe opposing defenses in an effort to see if two points could be garnered instead of one.
Most of the time, Baxter would bring the Trojans back to the standard point-after configuration and simply kick for that point.
But sometimes he wouldn't. Instead, he would attempt to get that second point via a passing play (or if that failed, a run).
And more often than not, it would fail.
While Baxter's innovative approach is certainly exciting, Trojan fans should expect a bit more restraint from their brilliant mad scientist special teams coach.
No. 6: Start Developing Replacement for Matt Barkley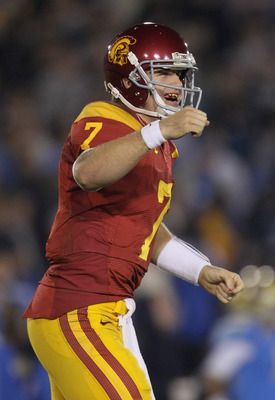 Jeff Gross/Getty Images
While this may not be a revelation to most Trojan fans and certainly it weighs on Lane Kiffin's mind, no one should expect quarterback Matt Barkley to return for his senior season in 2012.
In fact, some publications have Barkley already as a top-five signal-caller in 2011, and with a good junior campaign, he will be very attractive to the pros after next year.

Which brings us to our expectations for Coach Kiffin.
Jesse Scroggins, the redshirt freshman from Lakewood High School, will most likely enter the upcoming season as Matt Barkley's backup.
Cody Kessler and Max Wittek, the two heralded freshmen the Trojans signed this year, will also be heard from.
How loud they are and the development of Scroggins will be key for the 2012 season and critical should Barkley decide to take his ample talents to the next level.
Coach Kiffin needs to accelerate the development of the next Trojan signal-caller, and fans of USC expect he will.
No. 5: Develop the Running Game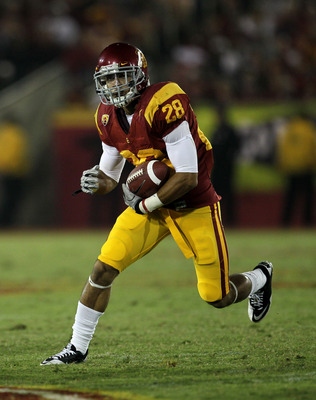 Stephen Dunn/Getty Images
Admittedly, the Trojans running game has not been horrible in recent years.
On the contrary, at times it has been exceptional.
But it has not been consistent and USC, home of "Running Back U," has not struck fear into the hearts of many of their opponents in the last few years.
Of course, developing a running game is highly dependent on a good offensive line to open holes, and that phase of the Trojans attack certainly has question marks (more on them later).
However, if USC can cobble together a decent O-line, then Trojan fans should expect Lane Kiffin to develop a running game that focuses either on a featured runner or a rotation of two backs that can develop a rhythm.
With Marc Tyler being a senior, it is important that one or more of the backups (Dillon Baxter, Curtis McNeal or DJ Morgan) start preparing for 2012.
And let's not forget that the Trojans also have Buck Allen and Amir Carlisle coming in the fall.
No. 4: Develop the Linebackers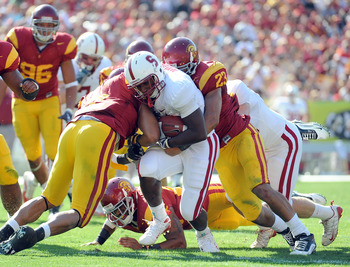 Harry How/Getty Images
For years, the Trojans have been a linebacker factory.
From Richard (Batman) Wood in the '70s to Clay Matthews, Brian Cushing, et al in more recent times, USC has been blessed with incredible 'backers.
Until recently, that is.
The last couple of years have seen a dip in the unit as Devon Kennard, Chris Galippo and company have decidedly underperformed as the Trojans defense has struggled along with them.
While Kennard and Galippo have an opportunity to make amends this year, the good news for Trojan fans is that Kiffin and the recruiting department have landed some real good ones in last year's class.
Lamar Dawson, Anthony Sarao and Tre Madden all have star potential, and Trojan fans expect Kiffin and his crew to develop this trio into a solid unit as USC moves forward.
No. 3: Develop the Offensive Line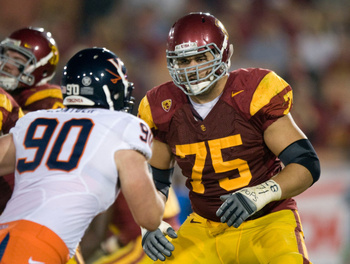 Trojan fans have to tip their hat to Lane Kiffin and offensive line coach James Cregg.
Given the circumstances, both guys have done a fine job cobbling together a serviceable line for the spring camp.
Now they will have to build on what they started in the spring to get it done in the fall.
While the offensive line featured in the spring will certainly take on a different look in the fall, it will be critical that the guys who were hurt for the last camp mesh with the new studs coming in the fall.
Fans of the program will expect Kiffin and crew to put together a good offensive line by no later than the second or third game, so they can gel when the conference games start and things get tough.
The good news is that the Trojans recruited well and the influx of young O-linemen should be fixtures for years to come.
No. 2: Overall Defensive Improvement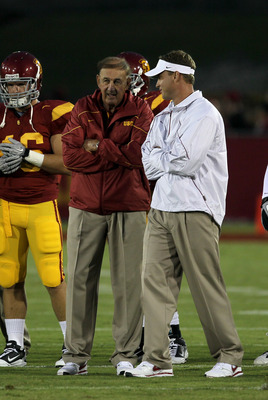 Stephen Dunn/Getty Images
Recently Monte Kiffin, Lane's dad, said the Trojan defense will be markedly better in 2011 after a year of experience under their belt in the system.
Trojan fans hope so.
After being shredded two years in a row by Oregon and after having given up excessive points throughout the last couple of campaigns, the Trojans need to get back to their salad days of defensive prowess.
To be fair, USC's defense did show improvement towards the end of last season and they were solid in the spring.
Trojan fans will expect Lane Kiffin (and his dad) to continue this improvement and carry it on throughout 2011.
No. 1: A Better Record in 2011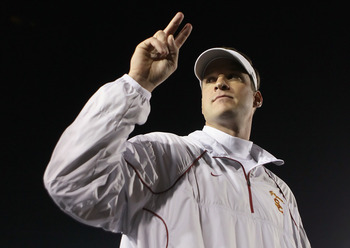 Jeff Gross/Getty Images
This just in from the department of the bloody obvious: Trojan fans expect Lane Kiffin to improve significantly on last year's 8-5 record.
The good news for these same fans is that so does Kiffin himself.
After saying last year that a repeat of the 2010 record was "not acceptable," Kiffin vowed not to repeat it.
And fans of the men of Troy believe him.
Now it's up to Kiffin to prove it.
Conclusion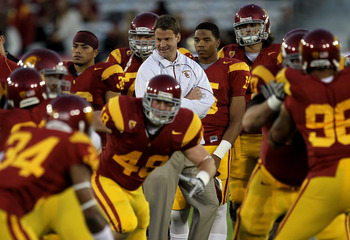 Stephen Dunn/Getty Images
In all fairness, Trojan fans must realize that Lane Kiffin was dealt a bad hand when he took the USC job.
Mired in the NCAA sanctions, he has had to somehow both rally the players he inherited and attempt to attract quality prep players through recruiting.
In both cases, he has succeeded admirably.
Now Trojan fans expect Kiffin, with his system going into the second year, to show significant improvement in all facets in 2011.
Kiffin has very high expectations for both himself and the program.
And Trojan fans share those high expectations.
Lane Kiffin would have it no other way.
Keep Reading

USC Football: Like this team?