College Football Top 25 Predictions: Potential Upsets Looming for Each Team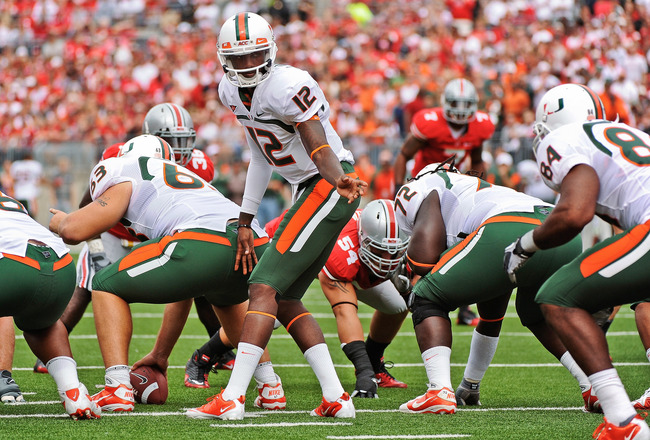 Jamie Sabau/Getty Images
Upsets are what makes the college football season like nothing else. There isn't anything more exhilarating in sports than rushing the field after your team beat a highly ranked opponents.

In this list, I have pointed out the dates in which each Top 25 team is most likely to be upset. Many, if not most, of these predictions will not come true. They are merely speculations.

So get ready to start the overrated chant and to tear down some goalposts because these are the possible trap games that each Top 25 team could be upset in.
25. Texas Longhorns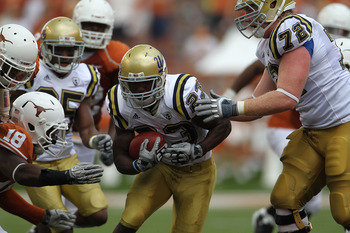 Ronald Martinez/Getty Images
Sept. 9 at UCLA

It is hardly fair to call this an upset since the Bruins beat the Longhorns 32-12 last season in Austin.

However, last year's matchup was more of a lost by Texas than won be UCLA. The Longhorns committed five turnovers, four of which were in the first half.

Both of these teams finished the season 5-7 last year, but Texas is definitely the more promising squad for 2011. They return seven starters on each side of the ball. While UCLA returns the same amount, they are losing most of their stronger players like kicker Kai Forbath, linebacker Akeem Ayers and safety Rahim Moore.

I expect Texas to win this game, but it could get crazy again. Plus, UCLA will have the home field advantage at the Rose Bowl this time around.
24. Florida Gators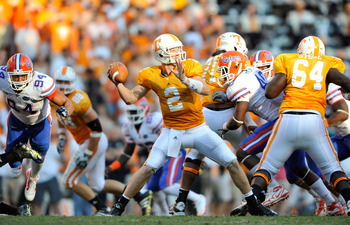 Grant Halverson/Getty Images
Sept. 17 vs. Tennessee

The Gators took care of Tennessee last year by a score of 31-17, but that was before quarterback Tyler Bray was starting for the Volunteers.

Bray took over for Matt Simms for the last four games of the regular season. In those games he was undefeated and proved that he is the quarterback of the future.

In the meantime at Florida, John Brantley was doing his best replacing the legendary Tim Tebow at quarterback. Unfortunately, he could only manage to lead his Gators to a disappointing 8-5 season.

This game is scary for Florida because it is their first true test of the season. Tennessee will be greatly improved from a season ago and could pull off the shocker here.
23. Auburn Tigers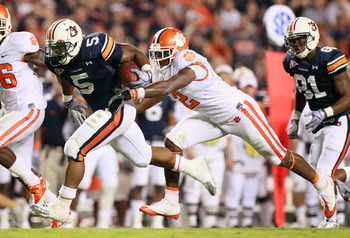 Kevin C. Cox/Getty Images
Sept. 17 at Clemson

Clemson came as close to defeating the eventual BCS champions as any other team in the country. In overtime and down by just three points, Clemson dropped a touchdown pass and then missed a field goal that would have sent the game into a second overtime.

Last season, Clemson running back Andre Ellington ran for 140 yards and a touchdown against Auburn. He will be back and so will nearly the entire offensive line he ran behind last season.

Auburn on the other hand is losing NFL prospect after NFL prospect. Without their Heisman winning quarterback, Cam Newton, the Tigers are not a top caliber team.

I believe that this upset will actually happen. Auburn has a lot to prove early next season, and I will not have confidence in them unless they beat a quality team like Clemson early.
22. Arizona State Sun Devils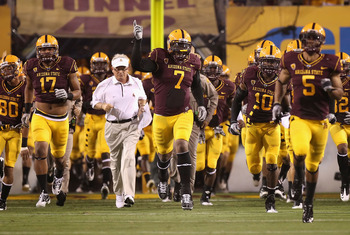 Christian Petersen/Getty Images
Sept. 17 at Illinois

As a Sun Devil fan it hurts me to even pick a game like this for my team, but this game against Illinois scares me.

I could see this Arizona State team beating Missouri at home in Week 2 and then throwing away their national respect by being upset by the Illini in Week 3.

Arizona State is returning all of their key players from a season ago, including All-American linebacker Vontaze Burfict.

Illinois on the other hand is losing most of their key guys like running back Mikel LeShoure and linebacker Martez Wilson.

On paper, this looks like a Sun Devil victory. I hope that is how it plays out.
21. Virginia Tech Hokies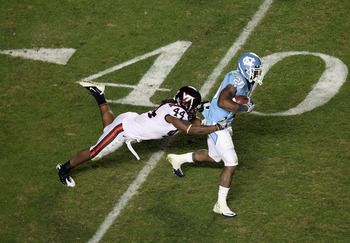 Streeter Lecka/Getty Images
Nov. 17 vs. North Carolina

This late season matchup will be one of the most important games of the season in deciding the eventual ACC champion.

Expect this to be a defensive battle because both teams lost their starting quarterbacks and running backs from a season ago. Both teams are loaded with defensive talent and have coaches that are known for their defensive focus.

This should be a close game. However, I feel Virginia Tech will have their team figured out by the end of the season and should run away with this.
20. Georgia Bulldogs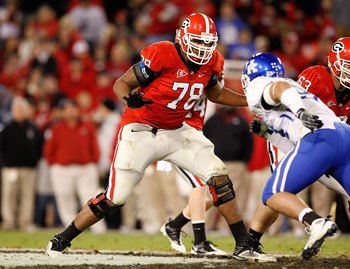 Kevin C. Cox/Getty Images
Nov. 19 vs. Kentucky

The Georgia Bulldogs are finding themselves ranked in most preseason polls this season, even though they were just 6-7 a season ago. Do not be surprised if they drop a few games they should win in 2011.

Kentucky is a scary opponent because they are a very experienced defensive team. They are returning their entire secondary from a season ago and also one of the best linebackers in the country: Danny Trevathan.

Georgia is led by true sophomore quarterback Aaron Murray and a 3-4 defense that has struggled with the scheme.

Last season, Georgia beat Kentucky in a 44-31 slugfest.

If Kentucky can force Murray to make some mistakes this year, the Wildcats will have a shot. I would not put money on them though.
19. Mississippi State Bulldogs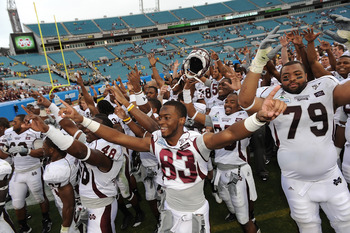 Rick Dole/Getty Images
Oct. 8 at UAB

UAB was dangerously close to upsetting Mississippi State last year. The Bulldogs ended up pulling out a 29-24 win by causing UAB to commit three costly turnovers.

Last season's 9-4 finish for Mississippi State was a surprise to most people. Quarterback Chris Relf and running back Vick Ballard are returning and what to prove that last season was not a fluke

This battle against UAB is a trap game. It is stuck in between tough showdowns against Georgia and South Carolina.

If the Blazers can secure the ball, they might be able to pull off the upset against the Bulldogs.
18. Nebraska Cornhuskers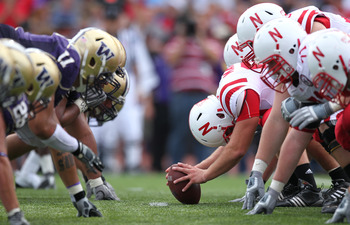 Otto Greule Jr/Getty Images
Sept. 17 vs. Washington

The last game the Cornhuskers played was an embarrassing 19-7 loss against the Washington Huskies.

The once potent Nebraska offense was awful, only gaining a total of 189 yards against a subpar Huskies defense.

It is sometime hard to call a game like this an upset, but I believe Nebraska is a superior team. They are returning quarterback Taylor Martinez and numerous key defensive players, like defensive tackle Jared Crick, from a season ago.

The Huskies are returning 16 total starters from a season ago, including running back Chris Polk.

I might be more hesitant picking the Huskers if this game were not at home, so I expect Nebraska to win. However, I also expected them to easily win in the Holiday Bowl.
17. TCU Horned Frogs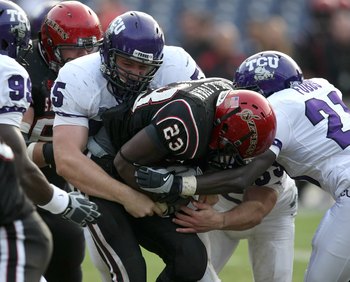 Stephen Dunn/Getty Images
Oct. 8 at San Diego State

Some preseason polls are under the illusion that this will be the same TCU team that won the Rose Bowl last season, but they are considerably weaker.

Last season, one of the toughest games that had was their 40-35 defeat of the San Diego State Aztecs. This should be a close game once again in 2011.

The Aztecs return eight starters from their potent offense, including quarterback Ryan Lindley and running back Ronnie Hillman. While TCU only returns 10 total starters and loses key leadership from quarterback Andy Dalton.

Unless TCU linebackers Tank Carder and Tanner Brock can dominate this game, I predict a San Diego State victory. Their offensive talent is much better than that of the Horned Frogs.
16. Missouri Tigers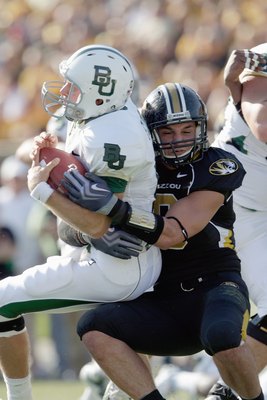 Jamie Squire/Getty Images
Nov. 5 at Baylor

Due to the departure of Nebraska and Colorado from the Big 12, Missouri will now be forced to play the full Big 12 schedule. This means tougher games and no more hiding in the lesser division.

One of the more underrated teams from the old South division is Baylor. They are led by one of the most talented quarterbacks in the country in Robert Griffin III.

Missouri returns most of their offensive starters from a season ago, but lose their field general Blaine Gabbert. James Franklin appears to be the early favorite to become the new starting quarterback, but has not separated himself yet in spring ball.

This will be a really fun game to watch, expect a lot of scoring. Missouri might be a little banged up by this game after a rough stretch in the previous two weeks that feature Oklahoma State and Texas A&M.
15. Notre Dame Fighting Irish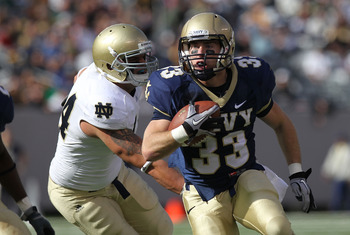 Nick Laham/Getty Images
Oct. 29 vs. Navy

This rivalry is getting ridiculous. Notre Dame has lost to Navy three times in their past four meetings. That is ridiculous.

Last season, Navy embarrassed the Irish by a score of 35-17. For some reason, the Midshipmen just have their number.

Notre Dame is returning 19 total starters from a season ago and are enjoying the most preseason hype they have received in years. Meanwhile, Navy is losing their superstar quarterback: Ricky Dobbs.

I feel like the yearly Navy "upset" over Notre Dame is less likely this season, but don't be too stunned if history decides to repeat itself.
14. Michigan State Spartans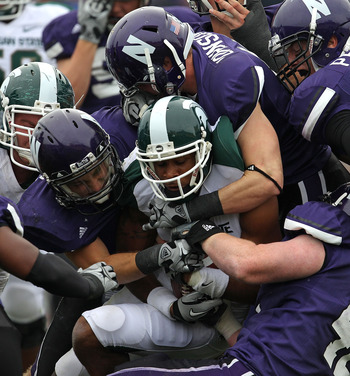 Jonathan Daniel/Getty Images
Nov. 26 at Northwestern

Last season, Michigan State had to score two touchdowns in the final two minutes of the game to beat pesky Northwestern 35-27.

Michigan State enjoyed a magical season in 2010 in which they went 11-2 and won a share of the Big Ten crown. However, they could be in danger of losing some of that magic next year.

The Spartans are losing a lot of key players including star linebacker Greg Jones.

Northwestern is one of the most underrated teams in the country, and this game may not be considered an upset by November depending on how the season plays out. They are led by quarterback Dan Persa and had a 7-6 record last season.

This game should go down to the final two minutes like it did last season. Instead this time, I think Northwestern has what it takes to pull it out.
13. Wisconsin Badgers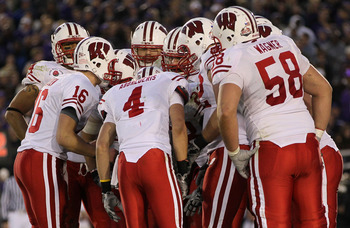 Jeff Gross/Getty Images
Sept. 10 vs. Oregon State

In Week 3 last season, Wisconsin was nearly upset by Arizona State at home by a score of 20-19. The Sun Devis were much faster than the Badgers and exposed some weaknesses on the team.

I feel Oregon State will have a chance to upset Wisconsin just as the Sun Devils did last season.

The Beavers will be led by a young quarterback named Matt Katz, whom has shown progress and looks to be one of the breakout stars in college football next season.

Wisconsin is losing many key players on the offensive line, at quarterback and on defense, but one thing still remains the same. The Badgers have a dynamic duo of running backs in Montee Ball and James White.

Wisconsin should be able to control this game with their rushing attack, but do not underestimate Katz if he gets hot.
12. Florida State Seminoles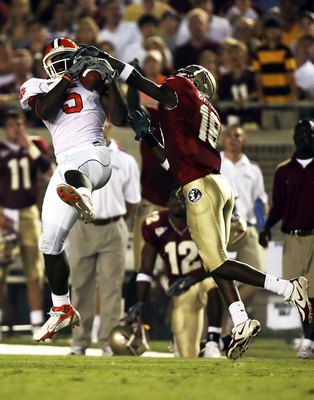 Doug Benc/Getty Images
Sept. 24 at Clemson

Florida State won this matchup last season in dramatic fashion by kicking a 55-yard field goal with time expiring.

The Seminoles are getting a lot of preseason attention this season, but I am not ready to buy into the hype. They were lit up by elite teams and didn't couldn't grab any marquee wins.

This game is right after Florida State's showdown with top-ranked Oklahoma. Assuming they lose to Oklahoma, the Seminoles might carry over their disappointment into this game against Clemson.

Death Valley is a brutal place to play, especially if your team is still dwelling on their previous loss. This is a trap game for Florida State.
11. Stanford Cardinal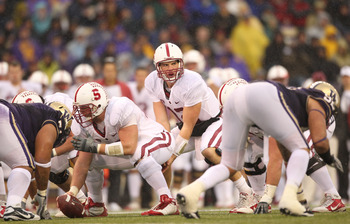 Otto Greule Jr/Getty Images
Oct. 2 at Washington

I feel like I am one of the very few people who is not a believer in the 2011 Stanford Cardinal football team. Yes, Andrew Luck is the best quarterback in the nation, but don't overlook the loss of impact players this team has had.

Washington on the other hand, lost their start quarterback in Jake Locker but returns most of their other key players. Running back Chris Polk is becoming a household names and the Huskies are a program on the rise.

This game is the week prior to Stanford's visit to USC, so the team could look ahead to the Trojans and over look Washington. If that happens, Polk and the Dawgs will run away with this one.
10. South Carolina Gamecocks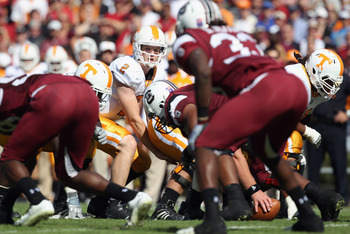 Streeter Lecka/Getty Images
Oct. 29 at Tennessee

This is my second Tennessee selection of the list, but this one is far less likely than the previous one.

South Carolina would be a BCS title contender if they did not play in the SEC and have a very solid football team.

They have one of the strongest front sevens and one of the best running backs in the country with Marcus Lattimore. If the Gamecocks want to make a run for the SEC title, they will need Lattimore to be dominant.

This game poses a threat for South Carolina for two reasons. The first is that the game is on the road and Tennessee is one of the hardest places in college football to play at. The second reason is that this game is scheduled just before the Gamecocks matchup with Arkansas.

They cannot get complacent and overlook this game against Tennessee.
9. Arkansas Razorbacks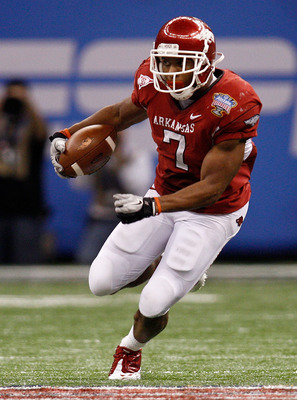 Chris Graythen/Getty Images
Oct. 22 at Ole Miss

The Arkansas Razorbacks are one of my favorite teams coming into the 2011 season. Their defense is very experienced, quarterbacks Tyler Wilson looks like superstar and Knile Davis is one of the best athletes in college athletics.

But if there is anything I like more than Arkansas, it is a team that returns their entire offensive line from a season ago. Ole Miss is one of those teams.

Last season, Ole Miss played Arkansas tough but lost to the Razorbacks 38-24.

They will get another crack at the Razorbacks this season at a favorable time of the season. Arkansas has a rough three-game stretch, that includes Alabama, Texas A&M and Auburn in consecutive weeks just before their meeting with Ole Miss.

Catching Arkansas after that gauntlet will give the Rebels a golden chance to upset them.
8. Boise State Broncos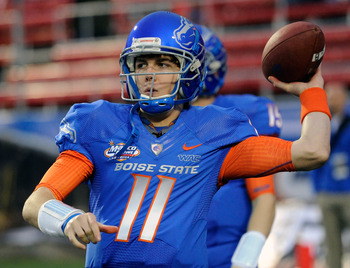 Ethan Miller/Getty Images
Nov. 19 at San Diego State

I am not a fan of the mid-majors busting the BCS and proudly root against Boise State throughout the entire season, but this may be the year the Broncos bust the BCS again.

One of our only hopes of someone beating Boise State is their late season meeting with San Diego State. Like I mentioned in a previous slide, San Diego State is a tough team. They have a very potent offense featuring Ryan Lindley and Ronnie Hillman.

This game should be a slugfest in which Boise State slugs just enough to win. I can dream, but I cannot shake the reality that the Broncos are a better team in this matchup.
7. Oklahoma State Cowboys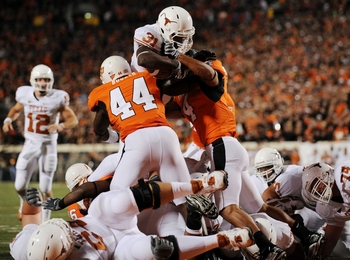 Ronald Martinez/Getty Images
Oct. 15 at Texas

Oklahoma State returns the most potent offense in the country with quarterback Brandon Weeden and wide receiver Justin Blackmon. Their defense however, is a different story.

Last season, the Cowboys beat Texas 30-16, but don't expect the Longhorns to be as bad as they were a season ago.

Texas quarterback Garrett Gilbert should improve with another year under his belt, and head coach Mack Brown has surrounded the program with an almost entirely new staff of assistants.

Playing a road game at Texas is never easy. If Texas's offense can improve and OSU's defense is as miserable as last season, this is a very likely upset.
6. Texas A&M Aggies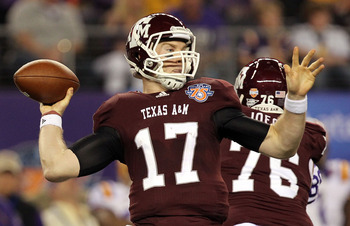 Ronald Martinez/Getty Images
Oct. 8 at Texas Tech

The Texas A&M Aggies return a total of 18 starters from a team that ended the 2010 seasons one of the hottest teams in college football. In 2011, they are looking to prove that their hot finish was no fluke.

The return plenty of offensive fire power with quarterback Ryan Tannehill and running back Cyrus Gray. Their defense is very experienced but will miss linebacker Von Miller greatly.

Anytime you play your rival on the road, it is a little scary. That is exactly the case in this game against Texas Tech.

Texas Tech moved the ball against A&M last season but could not stop the Aggies offense. If the Red Raiders want to beat their rivals, they will need to find an answer on the defensive side of the ball.
5. Ohio State Buckeyes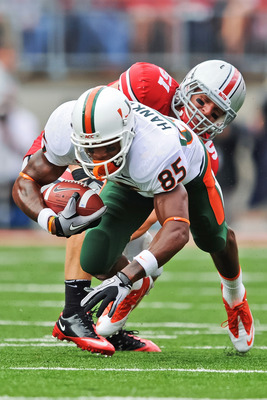 Jamie Sabau/Getty Images
Sept. 17 at Miami (FL)

So here it is, the upset that everyone is expecting. All the cards are stacked in Miami's favor in this one.

In this game, Ohio State will have five of their top players and their head coach suspended. Miami is a tough team at home, and there will be plenty of hype entering this game.

Other possible upsets on Ohio State's schedule during these suspensions could be against Michigan State or Colorado. I guarantee that the Buckeyes will lose at least one of these three games.
4. LSU Tigers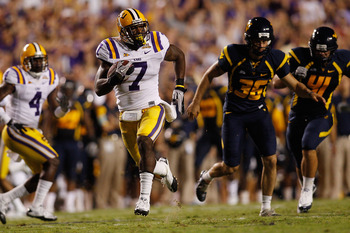 Chris Graythen/Getty Images
Sept. 24 at West Virginia

The LSU Tigers are one of the toughest teams to play in non-conference regular season games, they have not lost one since 2002 against Virginia Tech.

Last season, LSU beat the West Virginia Mountaineers by a score of 20-14. It was a game in which neither team's offense played well, and it was ultimately decided by the play of the special teams.

The Bayou Bengals need to improve their passing game, which ranked 102nd in the country last year. However, their defense and running game should be world class as usual.

West Virginia has a chance to win this game because it is at home. If quarterback Geno Smith wants to be an elite quarterback, he will have to prove it against LSU in this early season game.
3. Oregon Ducks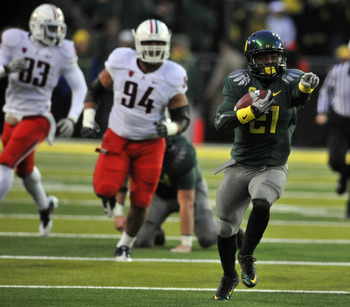 Steve Dykes/Getty Images
Sept. 24 at Arizona

Oregon has historically had trouble at Arizona, so this pick for the Ducks is a no-brainer.
,
In 2009, it took two overtimes for the Ducks to defeated the Wildcats 44-41, and in 2007 Arizona stunned the second ranked Oregon 34-24. For some reason, Ducks die in the desert.

On paper, this game looks like a blowout. Oregon is returning most of their key players, including quarterback Darren Thomas, running back LaMichael James and safety John Boyett. While Arizona is returning star quarterback Nick Foles, they are also losing their entire offensive line from a season ago.

The Ducks need to fear the Wildcats in Tucson. Bad things tend to happen when they go down south.
2. Alabama Crimson Tide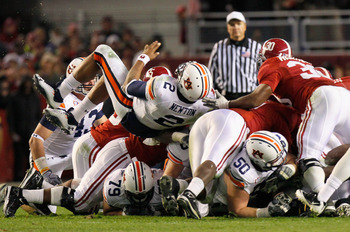 Kevin C. Cox/Getty Images
Nov. 26 at Auburn

I do not believe that Auburn will be anywhere near as good as they were in 2011, but they always have a chance against their hated rivals Alabama.

The Iron Bowl is one of the very best rivalries in all of sports. As we all know, anything is possible in a rivalry game.

The teams could not appear more lopsided as of right now. Alabama returns 17 starters from a season ago, while Auburn only returns eight. Both teams are losing a Heisman winner as well, Mark Ingram of Alabama and Cam Newton of Auburn.

The only other thing that could fuel this rivalry anymore is the incident regarding Toomer's Tree. Auburn will have a lot to play for regardless of standing.
This will be yet another classic Iron Bowl.
1. Oklahoma Sooners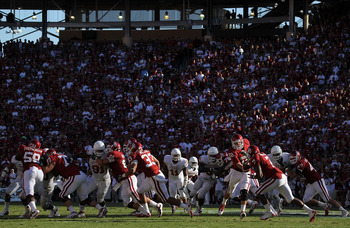 Ronald Martinez/Getty Images
Oct. 8 vs. Texas (at Dallas)

Oklahoma comes into the 2011 season with the top ranking in the nation, but I cannot imagine them making it through the entire season with out a loss. The Big 12 is just too good this year.

One of the toughest games the Sooners have to play every season is the Red River Shootout against Texas. Regardless of how good the teams are, this year will be no different.

Oklahoma is returning the best quarterback/receiver combo in Landry Jones and Ryan Broyles along with a star studded defense led by linebacker Travis Lewis.

Texas is looking to bounce back from a disappointing 5-7 season, and nothing would be better than shocking the Sooners and crushing their BCS title hopes.

It is always tough to pick an upset for a team as good as Oklahoma, but this is as good a chance as any team has to knock off the Sooners.
Keep Reading