NFL Draft 2011: Breaking Down the Six Iowa Players Picked in the 2011 NFL Draft
May 2, 2011
Chris Trotman/Getty Images
When the last phone had rung in the 2011 NFL Draft, six former Iowa stars had gotten "the call". 
Adrian Clayborn, Christian Ballard, Karl Klug, Ricky Stanzi, Julian Vandervelde and Tyler Sash all have the distinct honor of taking their Hawkeye experience to the NFL. 
Some will succeed.  Some may rarely see the field.  All have won the first challenge in the next stage of their career.  They got the call.
Round 1: Adrian Clayborn, Tampa Bay Buccaneers, 20th pick overall
There were some questions surrounding Clayborn.  His Erb's Palsy (a condition that caused nerve damage to the right side of his body), brought up concerns that he wouldn't be strong enough to play at either end of the line.  He's likely confined to playing right end at the pro level.
His decrease in production through the 2010 season may have also hurt his stock a little.  Adrian was once predicted to be a top-10 pick, but fell slightly to 20th overall.
Still, he was a sure deal in the first round and Tampa Bay got a tough, physical player that will likely see action very early in his career and will contribute solidly to their defensive line.
Round 4: Christian Ballard, Minnesota Vikings, 106th pick overall
Ballard was less predictable than Clayborn.  A solid contributor throughout his career at Iowa, he was largely in the shadow of Clayborn and DE Broderick Binns during his senior season. 
Minnesota needed a strong DT to bolster their line though, and felt Ballard was their guy.  There's a solid chance that he could see action as a rookie, if he ever gets a chance to work out with the team, that is.
Round 5: Ricky Stanzi, Kansas City Chiefs, 135th pick overall
Stanzi was projected to go sometime in the third or fourth round, but as Friday flew by and Saturday pushed along, he sat waiting.  He watched as Cam Newton, Jake Locker, Blaine Gabbert and Christian Ponder all went in Round 1. 
He watched Andy Dalton and Colin Kaepernick went in Round 2.  He saw Ryan Mallet go to his hero's team (Tom Brady) in Round 3.  Then, no quarterbacks were taken in the fourth round.
He had to be a little nervous by that point.
Kansas City got a better deal than they may realize.  Certainly, Stanzi has some work to do in order to compete for a starting job in the NFL.  His numbers were good during his senior season, but there are questions about his arm strength and some of his decision making.
However, Ricky is well known for his work ethic, his determination to learn and his leadership on the field.  He will have to prove quite a lot to his new team, but if he continues to bring his exceptional work ethic to Kansas City, there's a real shot he could work his way onto the field and challenge for the starting role.
Round 5: Karl Klug, Tennessee Titans, 142nd pick overall
Klug was another player that was hard to predict.  Listed on the draft tracker as a DE, Klug played DT in college, but was up against the likes of J.J. Watt, Robert Quinn and his teammate, Adrian Clayborn on the draft boards. 
Klug led the Hawkeyes in tackles-for-loss, but that's something of a dubious distinction considering the team finished dead last in the Big Ten in that same category. 
The Titans liked what they saw in Klug and picked him up in the fifth round.  Don't expect to necessarily see him starting in Tennessee this September though.  He'll likely be competing for third or fourth on the depth chart. 
Still, Klug is a fighter.  Don't be too surprised if he eventually works his way into the rotation and sees a little playing time in his career.
Round 5: Julian Vandervelde, Philadelphia Eagles, 161st pick overall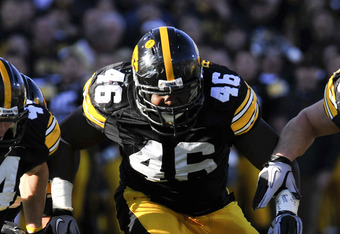 David Purdy/Getty Images
Vandervelde was a rock on Iowa's strong offensive line in 2010.  Still, he had to sit through eight offensive linemen going off the draft board in Round 1.  Five more got the call in Round 2.  Four more went in Round 3 and still four more in Round 4.  Two more offensive linemen were called ahead of him in Round 5. 
What does that mean for Vandervelde's future career?  Nothing.  He was the 479th ranked prospect (by Fox Sports), yet was taken No. 161.  What does that tell you?  Predictions and projections at this point are somewhat futile.
His arm length is below average for an NFL lineman and his overall size at 300 pounds is a little light.  Still, he was somewhat impressive at the combine and could work his way into a back-up role early and see time as a reliever. 
From there, it's all up to him and the Eagles.
Round 6: Tyler Sash, New York Giants, 198th pick overall
Sash was a great pick for the Giants, but Iowa fans know that.  No safeties were taken in the first round, but Sash watched as 14 other safeties left the draft board before him.
Hawk fans also know that Sash's greatest attribute is an "intangible".  You can't place a number on how he seems to sniff out the ball and know where to be, when he needs to be there.
Sash may start out as a "depth player", adding strength behind the starters, but it's difficult to think that, given his tremendous instincts, he won't eventually find his way into the mix somewhere.
Undrafted Free Agents (UFA):
Ryan Donahue, P:  It's a shame Donahue didn't get his name called.  Then again, no punters were taken in the draft at all and only two kickers heard their phones ring.   
Donahue has a great leg, averaging 44.59 yards per punt.  He could still end up vying for a spot on someone's roster, if training camp ever gets started for the pros.
Jeremiha Hunter, LB: Once a part of the fearsome trio that included A.J. Edds and Pat Angerer, Hunter was never really expected to be picked up in the draft.  Undersized, he also suffered by serving in a Norm Parker system that rarely blitzes. 
Hunter's finding a team that is willing to take him on during training camp seems remote at this point.  Unfortunately, his choices are now NFL-Europe, the CFL or the Arena Football League.  Perhaps from there, he can maybe put detractors to rest and eventually earn a spot on an NFL roster.  It seems remote, though.
Derrell Johnson-Koulianos, WR: This is possibly the saddest tale of the draft.  DJK left Iowa as the all-time leading receiver in terms of receptions and yards.  Unfortunately, an arrest at the end of the regular season cost him dearly.
Because of that arrest, Johnson-Koulianos was not at the Combine and didn't participate in Pro Day.  Those all-important tangibles that scouts use as a measuring stick (speed, vertical jump, etc.) were unavailable to potential prospectors who may have been interested in seeing him in person. 
More importantly, his character was called strongly into question. 
What should have been a mid-round draft call for DJK ended up being a no-call.  Now he'll have to hope he can impress some team with his speed and agility enough so to convince them to take a chance on him. 
Brett Morse, FB:  Morse's stats are paltry, if you're looking for tangible evidence of his NFL worth.  As a fullback in a pro-style system, Brett was largely asked to block, block and block some more. 
While he was an integral part of Iowa's success in the ground game, he didn't have the statistics that could show NFL General Managers that he was worth burning a pick on.  He's likely played his last competitive down in football. 
At least it was as a Hawkeye.
Allen Reisner, TE:  Iowa seems to have a knack for developing NFL tight ends, what with Dallas Clark and Tony Moaki both playing key roles for current teams (Indianapolis and Kansas City, respectively).  Reisner doesn't appear to be joining the crew.
Reisner doesn't have Moaki's speed or Clark's hands.  While he was one of Stanzi's favorite targets in 2010, he just wasn't as flashy as some of his predecessors. 
That's not to say that Reisner won't eventually be playing on Sundays.  It's still possible, but he'll have to get there the long way around.  He'll have to earn it the UFA route.
While I personally thought Stanzi and Sash might go a little higher, few can deny that it was a good 2011 Draft for Hawkeye fans.  Six former players are moving on and moving up.  Some of them may well see playing time just as soon as this nasty lockout is over.
Guess I'll have to go purchase some new jerseys.