Auburn Football 2011: Are the Tigers a Dirty Team?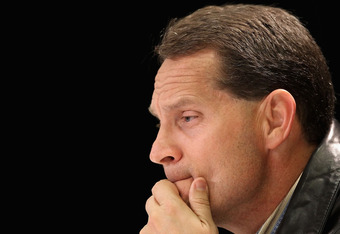 Christian Petersen/Getty Images
This week the Auburn University athletic program will have multiple players drafted very high in the NFL Draft. This will likely bring to an end the saga of media bombardment the program has faced over the last year.
The NCAA hunted the Tigers like bloodhounds after the media went on a frenzy reporting some truth mixed in with an overwhelming flow of lies and speculation. One year later, there is still nothing to report about any violation by Auburn University.
It is very doubtful that there ever will be any violation uncovered with the program. In truth, the NCAA was pushed by special interests to investigate incidents that likely should have simply been left alone.
The Cecil Newton investigation turned out to be a colossal waste of NCAA time and resources. No money was ever proved to have changed hands, and the entire incident consisted of a speculative conversation between Cecil Newton and three Mississippi State boosters. While the men did talk about breaking NCAA rules, they never carried through with the conversation.
Since that time, an overzealous and often unscrupulous media pushed the NCAA to investigate the recruitment of almost every big-name recruit that came to Auburn University. These investigations have also resulted in no finding of even the most minor of violations.
While the NCAA wasted time and resources on these fruitless investigations, new problems have been exposed at Ohio State, Alabama, LSU and Oregon. It would seem the mice did play while the cat was away.
Is Auburn any worse at following NCAA rules than most college football programs?
Auburn fans should not be concerned about the NCAA or any of the "reported" investigations. The NCAA is ready to simply back away from the Auburn fiasco that cost so much money and manpower only to uncover that the Auburn athletic program really resembles so many other athletic programs across the nation that try hard every day to conform to the letter and spirit of NCAA rules.
While the NCAA was wasting resources on these investigations, other habitual violators have been using the preoccupation of the NCAA to do what they do as well. Does anyone really believe that Ohio State would have risked attempting a cover up and being less than truthful with the NCAA if the organization were not so preoccupied elsewhere?
Would programs like Alabama, LSU and Oregon have been so quick to pay for the services of known street agents like Baron Flenory if they did not think the NCAA was so preoccupied with a fruitless witch hunt? While the missteps of these programs has already been caught or will be soon, how many other programs used the preoccupation of the NCAA, on a media driven dive down the rabbit hole, to try and gain a little advantage?
So far the only results the NCAA has from thousands of man hours of investigating over the last year is that Cecil Newton committed a minor violation of NCAA rules long before Cameron Newton was considering Auburn as his final destination to make college football history. The NCAA has not even released any finding against Mississippi State, the program that was involved with Cecil Newton and this violation of words.
While the NCAA was on this determined goose chase, some other programs seemed to be taking advantage.
Alabama: Three major NCAA infractions in the last 15 years and multiple secondary violations.
Tennessee: One major infractions case in the last 15 years and one currently pending.
LSU: One major infractions case in the last 15 years and one pending.
Ohio State: One major infractions case in the last fifteen years and one pending.
Oregon: One major infractions case in the last 15 years.
UCF: One major infractions case in the last 15 years.
Southern California: Two major infractions cases in the last 15 years.
Georgia: Two major infractions cases in the last 15 years.
Texas Tech: Two major infractions cases in the last 15 years.
Iowa: No major infractions cases in the last 15 years.
Arkansas: One major infractions case in the last 15 years.
While all or none of these "reported" stories might be true, it sure brings into focus just how obsessed and misdirected the media has been for painting a picture of Auburn as a violator of NCAA rules. Some of these programs seem to be in the repeat offender category.
The list above is by no means complete, but simply a sample of college football programs that could have NCAA problems currently or pending in the near future. No one should assume any of these programs is dirty like the nations media has done with Auburn this year. Fans should wait on actual proof that a violation has occurred before assuming any rules were broken.
This brings up the point of one program turning another into the NCAA to gain advantage. It has long been a problem for some programs to use the NCAA as a weapon to cripple or damage the reputation of a rival program. Did this occur in the Auburn NCAA Inquisition of the last year?
While we will likely never know for sure, there is little doubt that the right elements were in place for this to have occurred. It could be that everything these people leaked to reporters was true, but there is always the possibility that there was an ulterior motivation of damaging the public image of a rival as well.
Auburn University is not, and has not been squeaky clean with regard to the NCAA in the last 15 years; they have endured one major infractions case against their basketball program. Fans can see from the sample above that this is the rule and not the exception with programs and the NCAA.
Fans can make up their own minds as to the status of Auburn University when it comes to compliance of NCAA rules, but it is obvious that they have done no worse than some other very high profile programs in that respect.
This article is
What is the duplicate article?
Why is this article offensive?
Where is this article plagiarized from?
Why is this article poorly edited?

Auburn Football: Like this team?