College Football 2011: Tennessee Football's Two-Deep at Every Position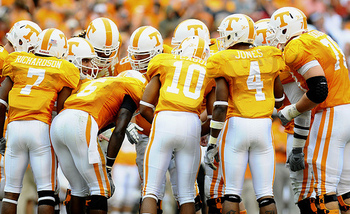 Don't start if you can't finish
As spring winds down, the coaches have evaluated who they want at each position going into summer practice. These will be the guys getting the majority of attention and one-on-one reps from the coaches, but with 22 athletes on the way, things could change with the blow of a whistle.
In all honesty, it might me a little early to start pointing fingers and wondering why him instead of him. No matter: Barring injuries, disciplinary issues, academic suspension or a summer phenom spreading his wings, these are your starting Vols.
Punting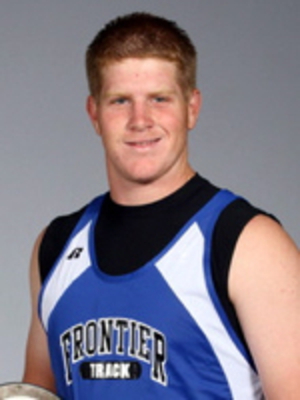 A versatile athlete.
First Punting: Freshman Matt Darr, No. 3, 6'2" 221 lbs
Second Punting: Sophomore Michael Palardy, No. 1, 5'11" 172 lbs (Coach's option: Derrick Brodus)
Darr is expected to get the starting nod come fall. Palardy is a more accurate punter but Darr has better techniques getting the ball downfield. Add in Darr's versatility at LB and it's a no-brainer. Palardy could end up as a primary if Darr gets benched for any reason, while Brodus could assume PAR duties.
Kicker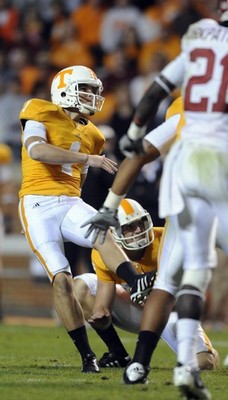 Right between the up-rights.
First Kicker: Sophomore Michael Palardy, No. 1, 5'11" 172 lbs
Second Kicker: Freshman Derrick Brodus, 6'2" 180 lbs
Palardy will most likely finish the summer strong and make improvements on his wind kicking. Last year, he finished with a 71.4 percent K rating and had 28 points on the season.
I don't think we have seen the real Michael Palardy yet. Unless Palardy continually misses through a couple of starts, we should expect him to handle the PAT, FG and an occasional KO. KO duties will most likely be split with Palardy and Brodus, Palardy favoring the first three quarters.
Long Snap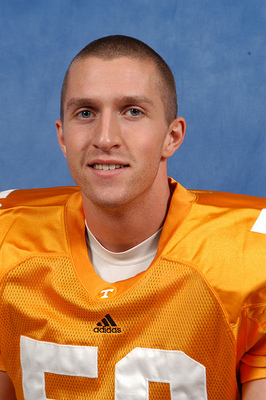 Better late than never.
First Long S: Senior Nick Guess, No. 58, 6'3" 230 lbs
Second Long S: Junior Willie Bohannon, No. 86, 6'2" 251 lbs
Due to Guess' size, there could be a change by summer-end. If Bohannon improves his technique, it would be desirable to put a stronger and heavier man up front. Size is easily exploited when matchups can quickly exceed 50-70 lbs.
I think this is a coin-flipper.
Punt Return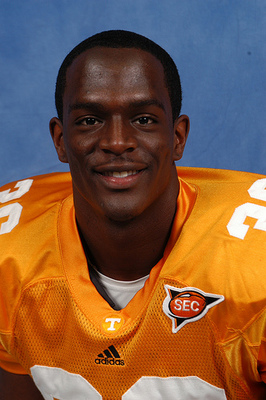 It's time to step up.
First Punt R: Senior Anthony Anderson, No. 36, 5'11" 185 lbs
Second Punt R: Sophomore Justin Hunter, No. 11, 6'4" 191 lbs
Last season, Anderson only managed to catch five returns for a marginal report. With the speed and catching ability of Hunter teasing from the bench, it will be hard to keep Anderson on the field for anything except short punt coverage. Incoming ATH Izauea Lanier could be a factor by summer-end deciding depth.
Kick Return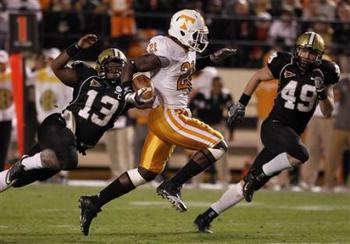 Run Rogers run !
First Kick R: Sophomore Da'Rick Rogers, No. 21, 6'3" 215 lbs
Second Kick R: Sophomore Rajion Neal, No. 20, 5'11" 205 lbs
This a safe bet. Rogers managed 298 yards on 12 KRs last season. I don't suspect he has lost any speed so he should be there. Neal might have compiled better numbers had he been utilized more; with 58 yards on three KRs, the potential was there.
Expect Neal to be replaced so he can concentrate on backing Poole at RB.
Defensive End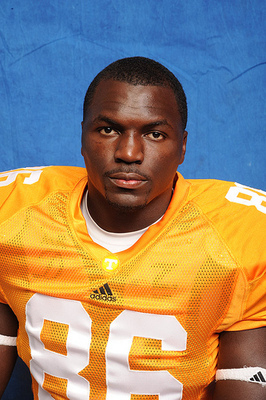 Ongoing process.
First Defensive End: Junior Willie Bohannon, No. 86, 6'2" 251 lbs
Second Defensive End: Sophomore Marlon Walls, No. 58 6'4" 281 lbs
Not much to dispute here. Bohannon continues to improve and is learning the mechanics of leverage. He is expected to add another five pounds before the close of summer camp, which will only add to his ability to shrug off OL.
Marlon Walls can make or break himself this year with the added depth; he will need to impress early to keep second man.
Defensive End Weakside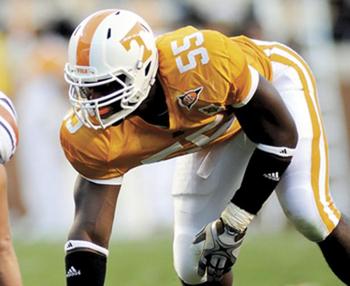 A loaded gun.
First Defensive End: Sophomore Jacques Smith, No. 55, 6'2" 245 lbs
Second Defensive End: Junior Stephen Folkes, No. 90, 6'5" 250 lbs
Smith could be the best at his position. He has the mobility and speed to beat the protection, and the strength to wrestle out of offensive spins. In terms of build, think Reggie White—leaner and stronger.
Folkes will want to use every opportunity he has or he may end up behind a freshman. Strong and fast as most are, he gets beat easily under the pads and has a hard time escaping.
Defensive Tackle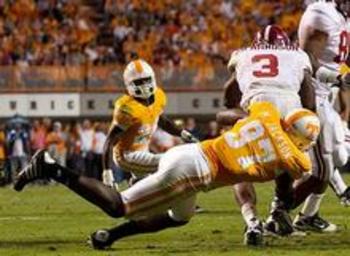 Already a senior?
First Defensive T: Senior Malik Jackson, No. 97, 6'5" 270 lbs
Second Defensive T: Sophomore Corey Miller, No. 80, 6'3" 255 lbs
With 67 tackles last season, Jackson is indeed versatile and could be switched if injuries plague the defensive line. He is most productive at DE, but has the size and strength to succeed at DT as well.
Miller only netted 13 tackles last year, but he played four games fewer than Jackson. Expect to see Miller a lot more in the second half throughout the season.
Defensive Tackle/Nose Guard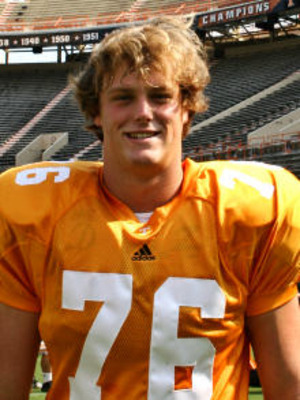 Break-out star.
First Defensive T: Sophomore Daniel Hood, No. 76, 6'5" 300 lbs
Second Defensive T: Junior Montori Hughes, No. 93, 6'4" 327 lbs
No one wants to keep hearing the same thing, but Hood has the size, the power and the speed. Add stamina to those attributes and that's the only reason he will edge out Montori Hughes.
Expect to see Daniel Hood at nose—a lot. This young man will surprise everyone come fall.
Linebackers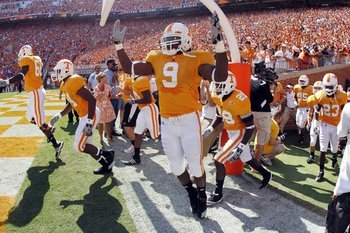 Scary fast.
First Linebacker: Senior Daryl Vereen, No. 9, 5'11" 215 lbs
Second Linebacker: Sophomore Raiques Crump, No. 50, 6'2" 220 lbs
Let me start by saying that linebacker's coach Peter Sirmon will adjust and re-adjust the LB positions throughout the summer. So even though it's in print, it isn't written in stone.
To confuse the situation even more, you have three incoming LB in a matter of weeks, two of which happen to be projected competition for the depth chart and the third in Christian Harris is rumored to be heavily underscored in the star ranking system.
On point, Vereen managed 22 tackles in seven games; for his experience and ability to read offenses alone he will be needed to start. Crump is a natural leader and should be resting Vereen through the game. Crump sits behind Vereen because of experience.
Linebackers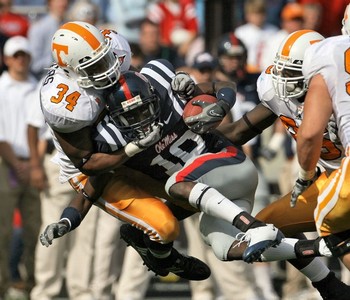 Tenacious.
First Linebacker: Junior Herman Lathers, No. 34, 6'0" 220 lbs
Second Linebacker: Junior Greg King, No. 48, 6'2" 235 lbs
Compiling 44 tackles and 30 assists Lathers stayed busy last season trying to fill voids that Eric Berry left open; and yes, Berry was fast enough to read and defend out of position. As long as Lathers stays healthy, expect that he will be on the field all season.
If King can stay away from extracurricular activities off campus, he should see end-game time.
Both have had a good spring and are getting stronger with McKeefery.
Linebackers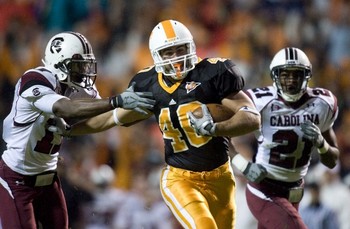 Working hard.
First Linebacker: Senior Austin Johnson, No. 40, 6'2" 235 lbs
Second Linebacker: Sophomore John Probst, No. 51, 6'0" 224 lbs
Johnson will hold onto the first position without falter. Last season, he finished with 22 solos and 22 assists. Not impressive by SEC standards, but he is a smart player and doesn't make stupid decisions. He will be one of those LB that makes other defensive guys look way better than they are.
John Probst may have some serious competition coming in a few weeks. He looked okay in the spring game but the added reps may prove too much too taxing on latent injuries when competing for position.
Cornerback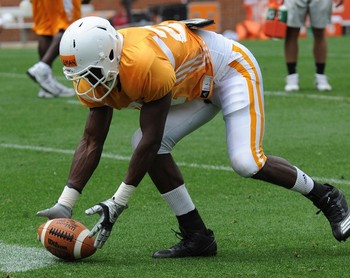 New talent.
First Cornerback: Senior Anthony Anderson, No. 36, 5'11" 185 lbs
Second Cornerback: Freshman Justin Coleman, No. 27, 5'10" 185 lbs
Justin Coleman, by all rumor mills and reports, will take over as starter come fall. Anderson is being groomed for special-team duties to make room for incoming signees. Coleman showed glimpses of potential in the Orange and White game and may be on his way to a true-freshman start should he finish strong during the summer.
Cornerback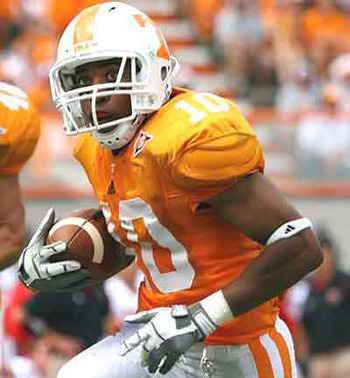 Eyes for the game.
First Cornerback: Junior, Marsalis Teague, No. 11, 5'10" 177 lbs
Second Cornerback: Sophomore, Eric Gordon, No. 24, 5'9" 185 lbs
Teague is safely set in his position and won't find any competition for his spot. However, I see Art Evans as backup more than Eric Gordon. Gordon by all rights is a decent athlete that should compile good numbers, but Art Evans is a better spy and can read routes better. I think this will be re-evaluated mid-summer.
Safety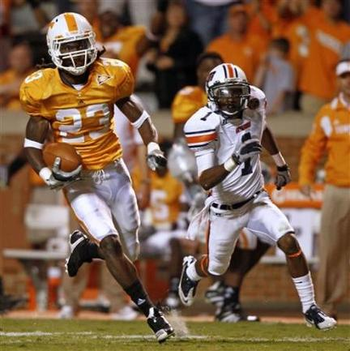 Easy catch.
First Safety: Junior Prentiss Waggner, No. 23, 6'2" 181 lbs
Second Safety: Junior Rodrigues Wilks, No. 22, 6'0" 214 lbs
Waggner will need to have his leg amputated before Wilks takes a rep.
Waggner played in every game last year. He netted 63 tackles and snatched five interceptions—three of those made it across the goal line. For now, he is the Vols' answer to Eric Berry, and he will stay put.
Wilks will see reps when the Vols have a 20-point lead late in the fourth quarter.
Safety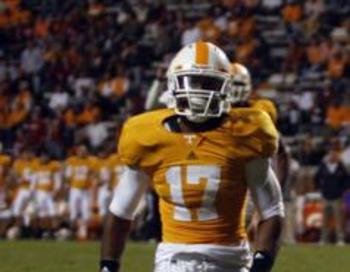 Baseball?
First Safety: Sophomore Brent Brewer, No. 17, 6'2" 210 lbs
Second Safety: Sophomore Dontavious Sapp, No. 41, 6'2" 215 lbs
Despite not having played the first six games, Brewer attained respectable numbers at 30 tackles with five solos against Ole Miss. Though Brewer and Sapp share the same class, Brewer is a more polished safety, knowing where the ball is and why it's there. Sapp is just a tad bit slower than Brewer but should still see plenty of playing time.
Center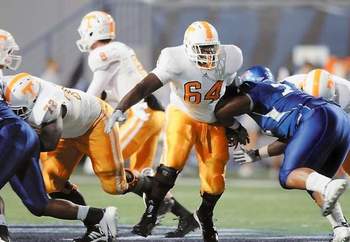 You shall not pass!
First Center: Sophomore James Stone, No. 64, 6'3" 308 lbs
Second Center: Sophomore Alex Bullard, No. 78, 6'2" 309 lbs
Is right or left, by now it could be either. They made Stone switch hands and style, but it's for the better.
Really?
This is one of those positions you don't screw around with. Bullard is just as capable but with the early arrival of an honest-to-goodness real center in Mack Crowder I'd have to take my chances with the freshman, and he did a really good job in the Orange and White game.
Offensive Guard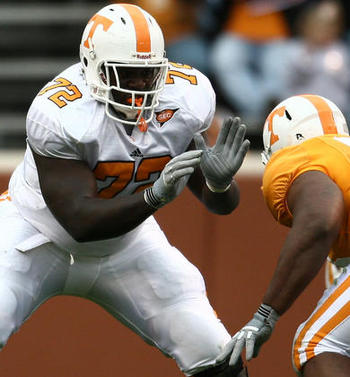 Good form.
First Guard: Sophomore Zack Fulton, No. 72, 6'5" 330 lbs
Second Guard: Junior Darin Gooch, No. 73, 6'2" 301 lbs
This comes down to size and power; both are athletic and strong but Fulton is a little better under the pads and handles his weight like he was 40 lbs lighter. If Fulton can get lower in his stance, he will be a brick wall. Gooch will handle fourth-quarter play and breathers.
Offensive Guard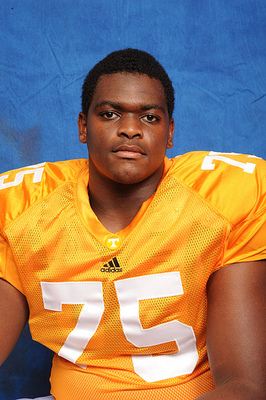 He will be better this year.
First Guard: Sophomore JerQuari Schofield, No. 75, 6'6" 333 lbs
Second Guard: Freshman Marcus Jackson, No. 68, 6'2" 315 lbs

Schofield is young but has incredible power and can easily push 300-lb DL around without trying. Harry Hiestand has been concentrating technique on the big man. Expect accolades early. Jackson will see limited time, but should be adequate should injury press him into action.
Offensive Tackle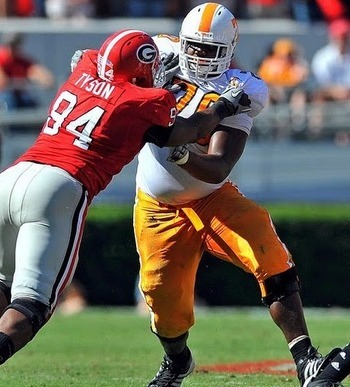 Blindside.
First O Tackle: Freshman JaWaun James, No. 70, 6'6" 324 lbs
Second O Tackle: Junior Carson Anderson, No. 60, 6'1" 280 lbs
James is the prototypical blindside tackle. He is one of the few things Lane Kiffin left behind that we wanted to keep. Harry Hiestand has an easy job coaching James, however, I don't see Anderson being backup for James. Expect the No. 2 position to change by summer-end.
Offensive Tackle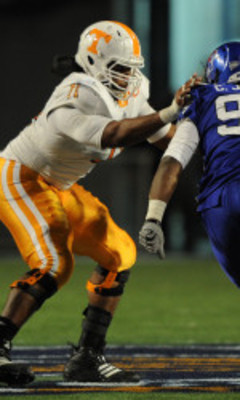 No, no, no.
First O Tackle: Junior Dallas Thomas, No. 71, 6'5" 301 lbs
Second O Tackle: Freshman Marques Pair, No. 66, 6'5" 310 lbs
Thomas is strong and has good size, but I see him slower off the snap than many his size. Hiestand needs more time before Thomas can really become that great tackle that is stereotypical of an OL. Pair is learning quickly and does a good job opening holes; he'll be ready to assume a starting role next season.
Tight End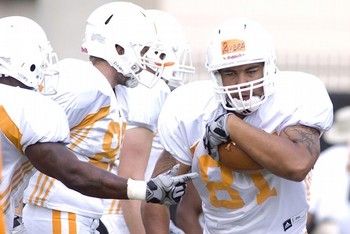 Running the gauntlet.
First Tight End: Junior Mychal Rivera, No. 81, 6'3" 254 lbs
Second Tight End: Freshman Brendan Downs, No. 84, 6'5" 230 lbs
Rivera saw limited playing time last year simply because Luke Stocker was still in the picture. But Rivera had a decent reception in the spring game and managed to see the field for 112 yards receiving last season. Brendan Downs proved he wasn't made of glass, getting pummeled on a screen pass and getting right back up. Welcome to the SEC, right?
With the arrival of Cameron Clear, there may be a fight on hand for either position. Don't be surprised to see this depth upside down.
Wide Receiver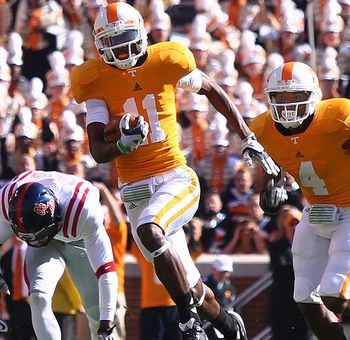 Extremely talented.
First Wide Receiver: Sophomore Justin Hunter, No. 11, 6'4" 191 lbs
Second Wide Receiver: Freshman Vincent Dallas, No. 6, 5'11" 173 lbs
Hunter was simply hot last season with 16 receptions, 415 yards and seven TDs; coming out of summer camp he will be renewed and forget about the long jump. Dallas will rest Hunter after long yardage and pop in if the Vols manage a blowout.
Wide Receiver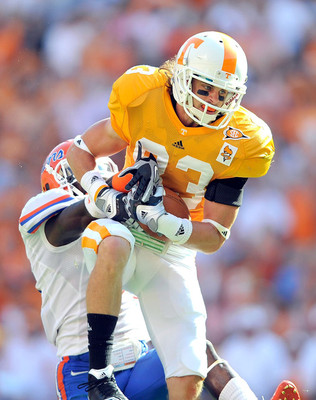 An A for effort.
First Wide Receiver: Sophomore Da'Rick Rogers, No. 21, 6'3" 215 lbs
Second Wide Receiver: Junior Zach Rogers, No. 83, 6'0" 175 lbs
Da'Rick Rogers compiled mediocre numbers last year and many Vols were wondering if he was the phenom everybody thought he was: 11 receptions with 167 receiving and two TDs. It's entirely possible to see this change as well with incoming 5-star DeAnthony Arnett and Cory Eicholtz's eager performance at the Orange and white game.
I am waiting to see who will emerge this summer; roll the dice and you could probably guess better than I. Still, D. Rogers should emerge from camp as the one of the top dogs.
Fullback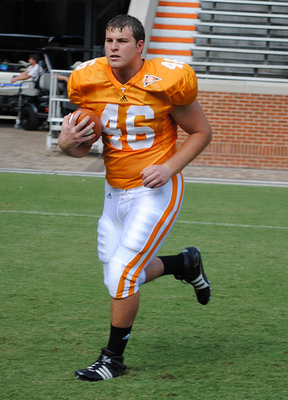 Fugate can power through the line with ease.
First Fullback: Sophomore Channing Fugate, No. 46, 6'1" 245 lbs
Second Fullback: Junior Ben Bartholomew, No. 39, 6'2" 250lb
Both men are untested on the field if you take away the spring game. Fugate will have to make plays early or the FB position will just be ugly frosting. He has downhill speed that you want at the position. But if he isn't playing, I expect play-calling to negate the need.
Look for tricks off the I-formation this season.
Tailback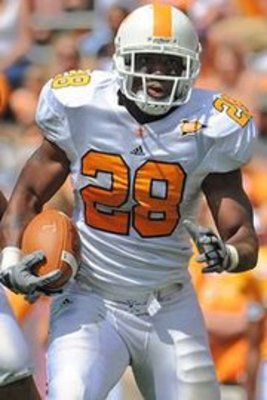 This is my job.
First Tailback: Senior Tauren Poole, No. 28, 5'10" 210 lbs
Second Tailback: Sophomore Rajion Neal, No. 20, 5'11" 205 lbs
Producing TBs always seem to win favor.
If Poole is producing, expect him to carry and vice versa for Neal. With the arrival of Marlin Lane and Toney Williams' big scamper runs in the spring game, there could definitely be some changes in the lineup. Poole should start and the No. 2 runner is up for grabs, no matter what it says on paper.
Quarterback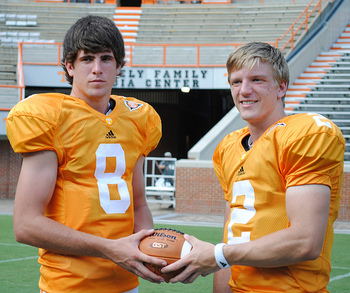 Who? Uh Bray?
First Quarterback: Sophomore Tyler Bray, No. 8, 6'6" 205 lbs
Second Quarterback: Senior Matt Simms, No. 12, 6'3" 210 lbs
Are you tired of this spectacle yet? I am.
Bray will have to sit on his hands not to win the starting job. Simms would have to pull a Nancy Kerrigan hit job to start, which is sad because he is a decent QB. He reminds me of Rick Clausen: always there but the receivers aren't.
Bray has the numbers and that will probably continue because he will get the most reps. And before season-end, Worley will probably step into the No. 2 behind Bray. Here's how: Bray leads the Vols to a hefty lead and Dooley sends Simms in to lead the second string and he gets hurt.
God forbid this doesn't happen, but you never know.
As always, if you like or don't like what you're reading let me know.
Godspeed
John White
Keep Reading

Tennessee Volunteers Football: Like this team?