College Football Rankings: Manti Te'o and the Nation's 10 Best Linebackers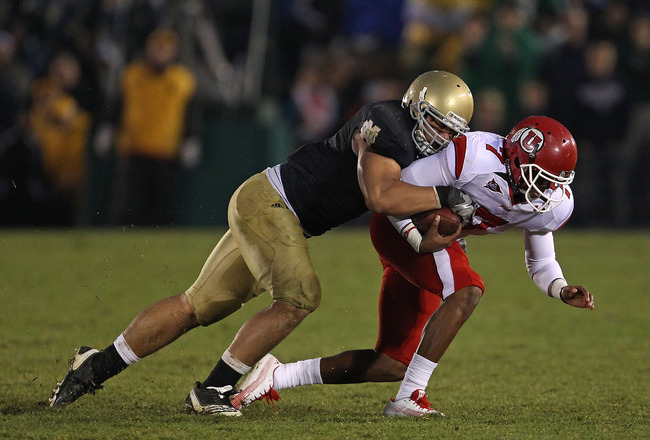 Jonathan Daniel/Getty Images
Game changers at linebacker can transform a good defense into a great defense. They can take over games and often act as the quarterback of the defense.

Linebacker might be the most rich position in all of college football. It was very difficult to narrow this list down to just 10 players.

There are at least 20 linebackers that deserve to be considered the best of the best in the nation.

The following is one writers opinion of the 10 best linebackers in college football.

Please comment below and give me your input.

Who do you think I missed?

Who is underrated or overrated?
10. Danny Trevathan (Kentucky)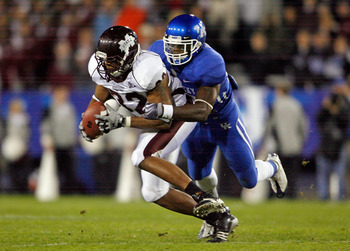 Andy Lyons/Getty Images
Danny Trevathan is relatively unknown outside of the SEC. He is not the prototypical size of a big time college linebacker at 6'1" 230 pounds, but he makes up for it with his incredible speed.

He has great instincts and can truly dominate a game.

Last season, Trevathan was a first team College Football Nation All-American and statistically was one of the best linebackers in the country.

He recorded an SEC best 145 tackles last season with four forced fumbles as well.

The greatest strength of Trevathan is his consistency. He recorded a double digit tackle total in all but one of his conference games last season.
9. Shayne Skov (Stanford)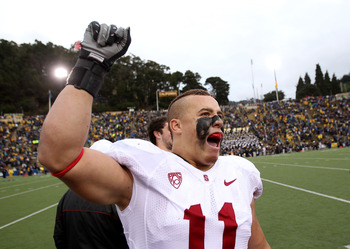 Ezra Shaw/Getty Images
Shayne Skov is the kind of linebacker that your grandfather is a fan of. He isn't necessarily looking to light up the wide receiver cutting across the field, and he isn't about flash.

Skov is the kind of guy that is always in the right spot and plays with unparallel intensity.

A junior in 2011, Skov is ready to become one of the best linebackers in the country. He is a reliable tackler and one of the stronger pass rushers at linebacker.

Last season he recorded just 84 tackles along with racking up eight sacks. I expect these numbers to improve for the rest of his career at Stanford.
8. Dont'a Hightower (Alabama)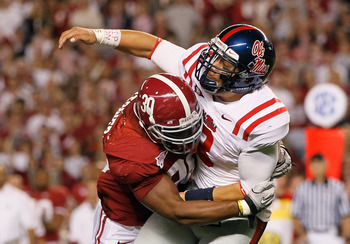 Kevin C. Cox/Getty Images
Any of Alabama's three starting linebackers could have easily been included on this list. I chose Hightower because he is the backbone of the Alabama offense for the 2011 season.

At 6'4" 260, he is one of the most intimidating guys in college football. He is an absolute nightmare for any opposing offensive player.

Along with his incredible size and strength, Hightower is equally as quick.

Last season he recorded 70 tackles, but that is a misleading statistic. He would probably get well over 100 tackles on a lesser team, but his team is so good that they don't need him to make every play.
Sean Spence (Miami)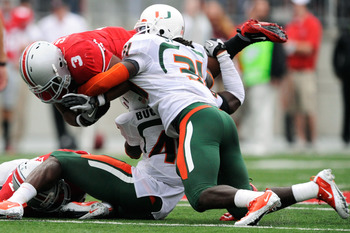 Jamie Sabau/Getty Images
He looks like a safety at just 6'0" 220, but don't let his size fool you. Spence is on of the most reckless linebackers in college football.

With possibly the best speed at the linebacker position, Spence is a game changer as soon as he steps on the field. He throws everything he has into hits and has the ability to make big plays.

Despite being a reckless player, Spence has still been reliable. He record 110 tackles last season with three sacks and two forced fumbles.

Spence is a throwback to the Miami linebackers of yesterday. He is fast, vicious, and has that "U" swagger.
6. Tank Carder (TCU)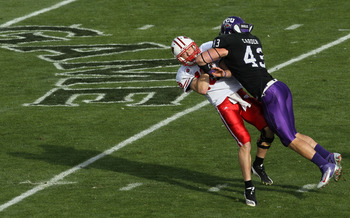 Stephen Dunn/Getty Images
I remember watching the Rose Bowl last year and making fun of Tank Carder for having all those ridiculous arm bands. But after I watched him dominate Wisconsin, my opinion drastically changed.

This guy is exactly what his name implies, a tank. Carder doesn't just hit people, he goes through them.

Last season he only recorded 61 tackles with four sacks, but he made a name for himself late in the season. He earned All-American honors from both AFCA and ESPN.

Due to his domination in the Rose Bowl, he is earning plenty of preseason American Honors this season.
5. Travis Lewis (Oklahoma)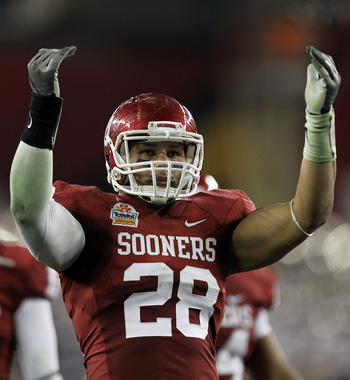 Ronald Martinez/Getty Images
Travis Lewis is Mr. Consistency for the Oklahoma.

Over his three seasons with the Sooners he has recorded 343 tackles and eight interceptions. He surprised and elated his fans when he decided to return for his senior season.

Lewis, the weak side linebacker for Oklahoma, is the best player on the Sooners defense. If they want to live up to the BCS title hype, then they will need another great season from their leading tackler.
4. Manti Te'o (Notre Dame)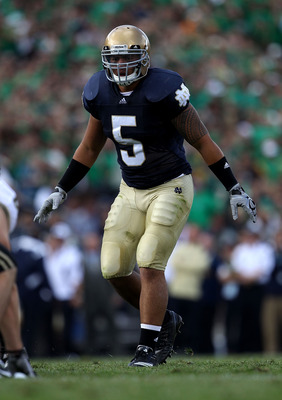 Jonathan Daniel/Getty Images
For years, Notre Dame has been criticized for lacking toughness and having a soft team. The solution has arrived in way of Manti T'eo.

T'eo is a hard hitting inside linebacker that is a big reason Notre Dame is a team on the rise. Last season he recorded 129 tackles as a sophomore, including a 21 tackle game against Stanford.

He is exactly what you look for in an inside linebacker. Te'o is the kind of player that feels like he should make every single tackle.

Not given any All-American honors in 2011, I expect Te'o get more national recognition as Notre Dame becomes relevant again.
3. LaVonte David (Nebraska)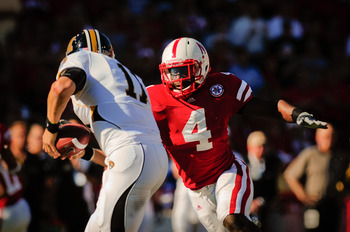 Eric Francis/Getty Images
LaVonte David played his first FBS season last year as a junior and was dominant from day one. He recorded a Big 12 high 153 tackles last season.

He earned All-American honors from Rivals.com and CBS last season.

Now a senior, David is the cornerstone of Nebraska's dominant defense. He is undersized at just 6'1" 210 pounds, but tackles like a 6'3" 250 pounder. Along with his great tackling ability, he also possess exceptional speed.

David is the kind of player that is good enough to enough to be an unanimous All-American next season.
2. Vontaze Burfict (Arizona State)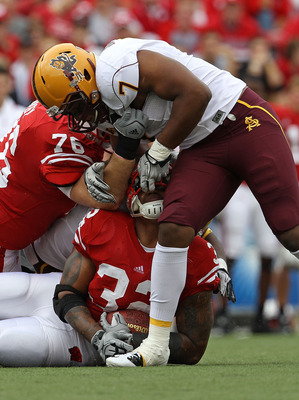 Jonathan Daniel/Getty Images
Vontaze Burfict could be the most dangerous man in the nation. He is a punishing hitter that plays with no regard for human life.

If I were judging solely by physical talent, Burfict would probably get the top spot on this list. He is 6'3" 245 pounds, but can outrun most running backs.

According to Oregon running back LaMichael James, the Burfict led Sun Devils had the best defense he had ever faced.

He has often been criticized for his on field behavior and his knack for getting personal foul penalties, but this could change in 2011. The Pac 12 fired most of their referees from a season ago, who Burfict claimed "targeted" him for personal fouls.

If these penalties become less frequent, Burfict will be one of the top players in college football next season.
1. Luke Kuechly (Boston College)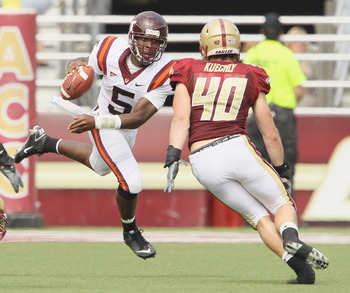 Elsa/Getty Images
Nobody is more deserving to top this list than Luke Kueckly. He is the only returning consensus All-American from a season ago and is a tackling machine.

When I say tackling machine, I mean he record 183 tackles last season.

He is not a bone crushing hitter, nor his he the best athlete on the field. Kuechly just makes plays on a consistent basis.

Boston College quietly had the best defense against the run last season, Kuechly has to be the cited as the main reason for that.
Keep Reading

Notre Dame Football: Like this team?