Florida State Football: Winners and Losers from the Spring Game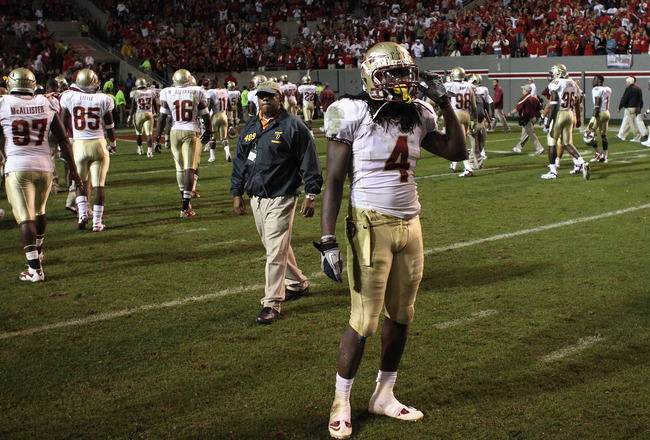 Streeter Lecka/Getty Images
Florida State's spring game has come and gone, and while it wasn't flashy, there is still plenty to be happy about and plenty to be weary about.
There were a lot of injuries that seemed to be the glaring fact of the game. The offensive line was depleted and the defensive line looked like an NFL front four.
The offense never found their stride and for most of the game they weren't able to move the ball on the defense.
The defense was stifling and showed a level of improvement that was much needed in the offseason.
The good thing is that it's only April and the top recruiting class isn't even on campus yet, although they were all in attendance licking their chops at their opportunity that will surely come in the summer.
With that being said, here are the winners and losers from the spring game.
Winner: Mark Stoops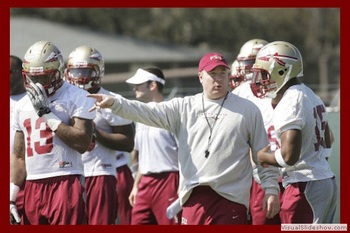 Mark Stoops is a winner because of the game plan he drew up and the way it was executed. The defense looked like a brand new unit and while Greg Reid, Christian Jones, Tank Carradine and Bjoern Werner did not get to play with the rest of their first team teammates, they still performed admirably.
The offense could not move the ball to save their lives for most of the first half and although that is due in part to the injuries on the offensive line, it's hard to downplay just how good this defense looked.
The front seven coming into the game was the heart of the unit, but it was the secondary with the most question marks, and they were all answered. I know it's hard to say that because of the competition and given the fact that it was just a spring game, but Reid was impressive. LaMarcus Joyner showed why he's the free safety. Mike Harris looked much improved and Terrance Parks looked like he might hold on to his job a little longer.
This unit still has some improvements to make, they aren't perfect, but Stoops can rest easy that this unit is going to be one of the best in the country next fall.
Loser: E.J. Manuel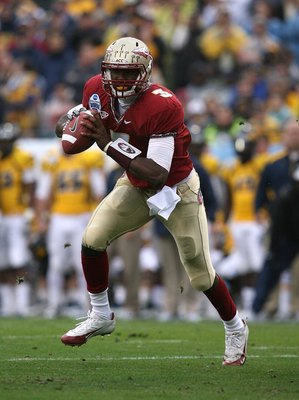 Doug Benc/Getty Images
Now this may be a little harsh, but there was a never-ending basket full of expectation for Manuel coming into the game. He has a lot riding on his shoulders. Taking over for Christian Ponder. Living up to the hype. Carrying this team to a BCS bowl, possibly the national championship.
For that reason, he had to have been a little rattled and it showed. Manuel was overthrowing receivers, misreading the routes and trying too hard to rush things.
Again, the injuries to the offensive line does come into play, but let's be real. Andrew Datko and Zebrie Sanders will probably miss time in the regular season as will David Spurlock. Manuel will need to be prepared for whatever gets thrown his way and if he's to lead this team to greatness, he will need to over come the obstacles thrown his way.
Some things that Manuel did do well, however, was his ability to throw on the run, roll out with ease and run the naked bootleg plays with perfection. He has a strong arm and he's got great size so he has all the elements to be great; he just needs to realize it.
Winner: Terrance Parks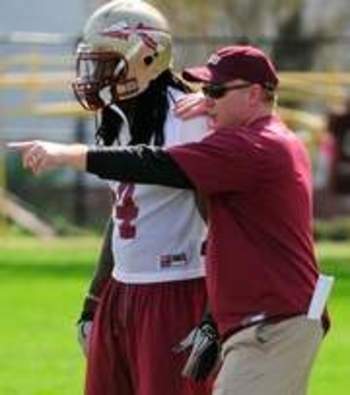 I'm going to be brutally honest and say that Terrance Parks had some high hopes around him when he first came to Florida State and up until this point, he has been an average player. He started at safety all of last year and his play was very inconsistent.
That all changed on Saturday. He looked comfortable in the defense for the first team. He was energized and was everywhere. He seemed to be involved in almost ever defensive play and his coverage looked to improve.
He was responsible for a three pass break-ups including one that landed in the hands of Telvin Smith. He added three total tackles and a fumble recovery.
His performance gives 'Noles fans high hopes that the secondary will finally be able to be a strength instead of a weakness.
Loser: Jermaine Thomas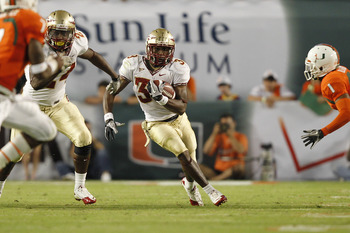 Joel Auerbach/Getty Images
Jermaine Thomas was lucky to be accepted back on the team. Dealing with discipline problems, he was kicked off for a short while.
Thomas was great as a freshman and has been battling injuries ever since, but his play has never really accelerated like it was supposed to. Now Thomas is falling farther down the depth chart and it doesn't look like he's going to be able to find a way back to the top.
Chris Thompson and Ty Jones are above him right now and true freshman Devonta Freeman has seemingly passed him up as well. Not to mention that when James Wilder Jr. arrives in the summer, he might be at the very bottom.
His performance in the spring game certainly didn't raise eyebrows either. He had four rushes for 26 yards. While that is a five yard per carry average, he didn't showcase the type of play that he's used to.
Winner: Greg Reid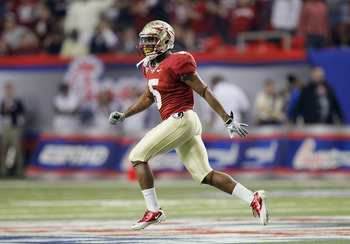 Kevin C. Cox/Getty Images
Greg Reid entered the spring game as one of the top corners in the country and he showed exactly why. He had five tackles, a forced fumble, a pass break-up and an interception returned for a touchdown, but what made his performance stand out was his ability to lock down receivers on every single play.
In Reid's short two seasons as a defensive back for the 'Noles he has improved on something every year. As a freshman he didn't have a total grasp of the defensive schemes, then last season as a sophomore he found himself losing coverage, but his hitting improved.
Now it appears like his total game has come full circle and he looks like the total package at corner. He looks like he will be a Jim Thorpe finalist, if not the winner. Even though he's small in size, he makes up for it with his ability to cover and hit.
We can't leave out his punt returning ability either and even though he didn't get to showcase it during the spring game, 'Noles fans will get to see plenty of it during the season.
Loser: Willie Haulstead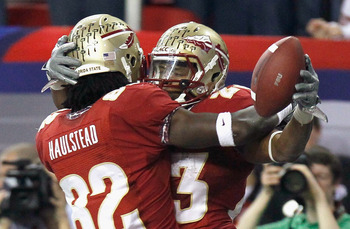 Kevin C. Cox/Getty Images
Florida State absolutely needs a go-to receiver. They need someone to step up and take over this unit and be a playmaker and to be reliable on every single play for Manuel. Many believed that Willie Haulstead would be that guy.
In his defense, he did not get to take any snaps with Manuel, instead he was running routes for Clint Trickitt and Will Secord. Haulstead never found a rhythm and he had just one catch for eleven yards.
There is still plenty of time for Haulstead to step up and e the guy. He has a boat load of talent and has the speed of a much smaller receiver. Now he just needs to build up some chemistry with Manuel and the rest will even itself out.
Winner: Greg Dent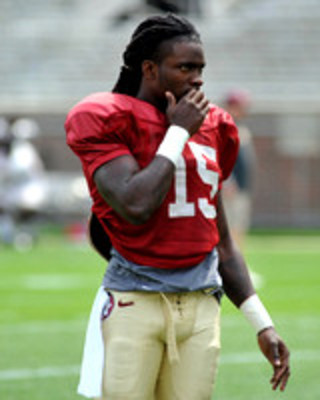 While Haulstead didn't step up during the spring game, Greg Dent certainly did. He was basically the only offensive player paired with Manuel to actually do something. He was a safety valve for Manuel on a lot of broken plays and his route running was impressive.
Dent had seven catches for 72 yards, but it was his ability to get open that showed that he is capable for being a big-time receiver.
Dent is young, he's only a sophomore so he still has plenty of time to make an impact, but judging by his performance on Saturday; he doesn't want to wait any longer.
Loser: Offensive Line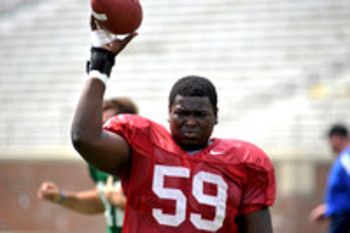 Of course this unit is a loser from Saturday, but it's an easy fix. Injuries are the scapegoat and they have to be. Both starting tackles and the starting center were injured. The offense would have ran so much smoother had they been healthy, but that does mean that the depth of this unit needs improvement.
There were plenty of new faces playing different positions all because of the injuries and most of them failed to impress. Newcomer Jacob Fahrenkrug did have a great day switching between guard and center, but the rest of the unit did not show any signs of chemistry and the defensive line was just far too much for the youngsters.
This unit is going to have to get better no matter what for the simple fact that Andrew Datko has never made it through and entire season. David Spurlock still has head issues from concussions and Zebrie Sanders has experienced injury problems himself.
The depth of this unit will need to step up and be ready to play right away in every single game.
Winner: Defensive Line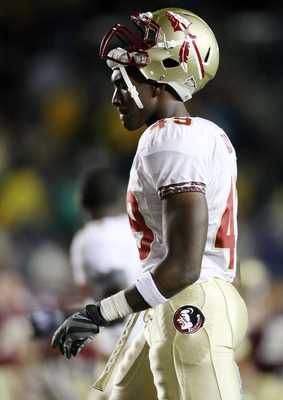 Elsa/Getty Images
Brandon Jenkins is the star of this unit, but there wasn't one player that was better than the other. Bjoern Werner looked like a seasoned veteran. Dan Hicks showed so much improvement there is no way he won't be in the rotation come time for the season. Tank Carradine showed much more promise than former Seminole and JUCO transfer Markus White.
Then there's the defensive interior. Everett Dawkins looked like a man possessed. He has shown so much improvement over the offseason that there is no question he will be the anchor to this defensive line, but Anthony McCloud and Cameron Erving showed a lot of promise. Jacobbi McDaniel and Moses McCray will also be back and hopefully healthy.
This unit has the potential to be the very best in the country next year. If they continue to show promise like they did in the spring game, there is no way they won't be outstanding in the fall.
With an entire summer together, this unit should be poised for a great year.
Keep Reading

Florida State Football: Like this team?