College Football 2011: Power Ranking Chip Kelly and the Pac-12's Coaches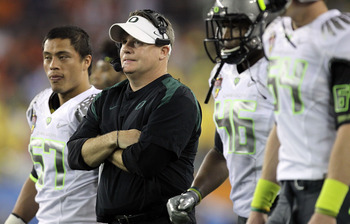 Ronald Martinez/Getty Images
Day by day the 2011 college football season draws closer. As the season draws closer, the realization of change sets in out west. This will be the first season that the Pac-10 expands to the Pac-12 and welcomes Utah and Colorado.
With the addition of two more teams, coaches in the Pac-12 will have to compete even harder on and off the field. As the 2011 season draws closer, this is how the coaches stack up against each other.
No. 12: Dennis Erickson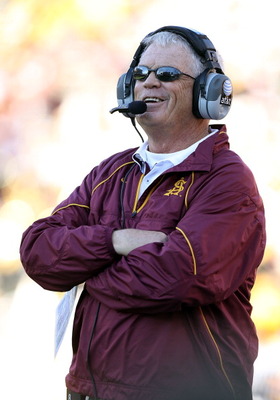 Christian Petersen/Getty Images
Dennis Erickson is a coach that seems to have nine lives at Arizona State. Since arriving on campus in 2007, it has all been downhill from there. Erickson started out in 2007 with a terrific year going 10-3. After that season, Erickson has a combined record of 15-21.
While the out of conference schedule does not offer any serious threats, the Sun Devils will still have to contend with most of the major conference powers. If Erickson is unable to lead Arizona State back to a bowl game this year, you will see him looking for a new job come next year.
No. 11: Rick Neuheisel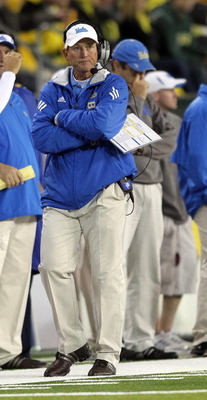 Jonathan Ferrey/Getty Images
Since arriving at UCLA in 2008, Rick Neuheisel has often found himself over-promising and under-delivering. Through three seasons, Neuheisel is 15-21 and the hot seat may get even hotter after the 2011 season.
UCLA's out of conference schedule is highlighted by a home game with Texas. When turning their attention to the in-conference games, UCLA has road dates at Stanford, Oregon State, Arizona, Utah and USC, not a recipe for success.
No. 10: Jon Embree
Ronald Martinez/Getty Images
Jon Embree takes over this year at Colorado and it could be a ugly year for them. To start the year, Colorado will take on Hawaii, Cal, Colorado State and then head to Ohio State.
Colorado will join the Pac-12 South, which means games against Stanford, Oregon and Washington.
Last year, Colorado went 5-7. If Embree were able to get Colorado into a bowl game with the schedule he faces, this will be considered a very successful season.
No. 9: Paul Wulff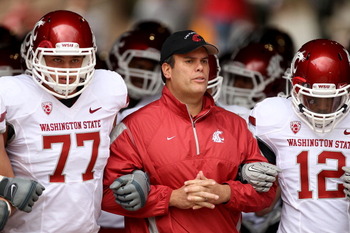 Ezra Shaw/Getty Images
5-32 is not have you want to enter your fourth season at a school but Paul Wulff has the Cougar fans feeling like things may be ready to turn around. This past year, Washington State competed at a different level than they had the past few years. They were able to hang in games with both Stanford, Cal and Oregon, while also upsetting Oregon State.
In 2011, the non-conference schedule is not as difficult as it has been but they will still have games against Oregon, Stanford and Washington. If Wulff can get this program up to around a .500 record, he will continue to move the program in the right direction and extend his time at Washington State.
No. 8: Mike Stoops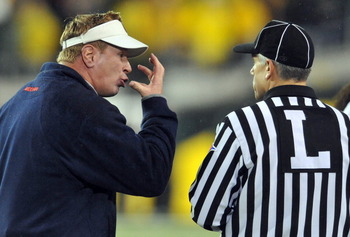 Steve Dykes/Getty Images
Mike Stoops and Arizona will have their hands full with a tough schedule coming up in 2011. In 2010, Arizona ended the year 7-6, which included a loss in the Alamo Bowl.
With the new format of the conference, Arizona still has to face Stanford, Oregon, USC and a rivalry game with Arizona State. To add to the worries, Mike Stoops will lead the Cats into an early season game at Oklahoma State.
No. 7: Steve Sarkisian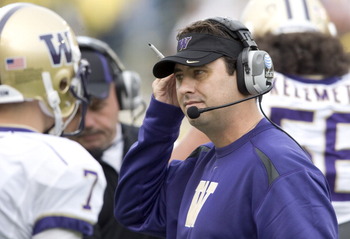 Steve Dykes/Getty Images
Last year was definitely a move in the right direction for Steve Sarkisian and the Washington Huskies. In the 2010 season, Sarkisian took the Huskies to a 7-6 record including a Holiday Bowl victory over Nebraska.
This year, Sarkisian will have his hands full in the Pac-12 north. He has an out of conference game at Nebraska and will still have to contend with Oregon and Stanford. Dawg fans are hopeful that the program will continue to take another step forward this year.
No. 6: David Shaw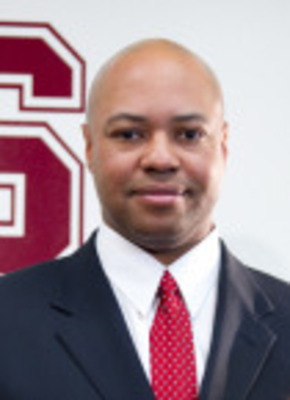 After Stanford went 12-1 and capped off the year with a win in the Orange Bowl, former coach Jim Harbaugh bolted for the NFL but starting quarterback Andrew Luck returned for another season.
With Harbaugh leaving the program, former offensive coordinator, David Shaw, will step in and take over. Shaw steps into a great situation with Luck returning and a relatively easy schedule in front of them. The season and the shot at the conference championship may come down to a late season matchup with Oregon.
No. 5: Jeff Tedford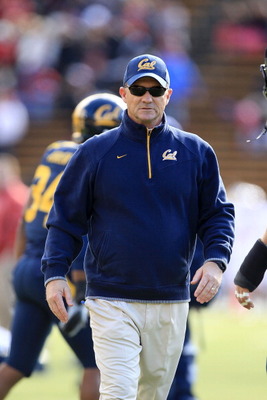 Ezra Shaw/Getty Images
Jeff Tedford and the Cal Golden Bears will get a great view of the entire Pac-12 this year. Due to scheduling, Colorado will take on Cal as an out of conference game. Last year, Tedford had his first sub .500 season at Cal and will look to rebound in 2011.
Outside of the non-conference schedule, things do not get easier for Cal as they head on the road to take on both Oregon and Stanford. These games will ultimately decide Cal's fate and if they are able to make a serious run at winning the Pac-12.
No. 4: Lane Kiffin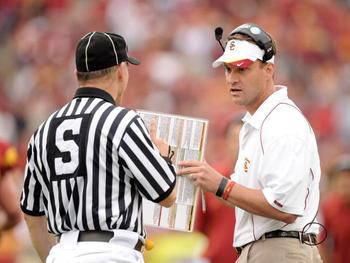 Harry How/Getty Images
The most talked about and most controversial coach in the Pac-12 will not change with the conference adding two new teams. Lane Kiffin has always been a hot topic and will continue to be so in 2011.
Last year, the Trojans went 8-5 and did not head to a bowl due to NCAA violations. While the out of conference schedule has no legitimate threat, USC still has to play Stanford and head back up to Autzen to play Oregon.
USC will be hungry to try and regain their spot above the Pac-12 rankings but this may not be the year.
No. 3: Mike Riley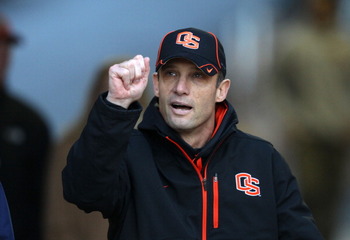 Ezra Shaw/Getty Images
Mike Riley may be one of the more underrated coaches in the nation. The problem he has gone up against is that Oregon State does not shy away from their out of conference schedule but it often is the main reason they do not find themselves in the top 15.
In 2011, the Beavers and Riley take another crack at a challenging out of conference schedule when taking on BYU and going on the road to Wisconsin. Not only is that a tall order but the Beavers also have Stanford at home and a trip to Eugene to take on in state rival, Oregon.
No. 2: Kyle Whittingham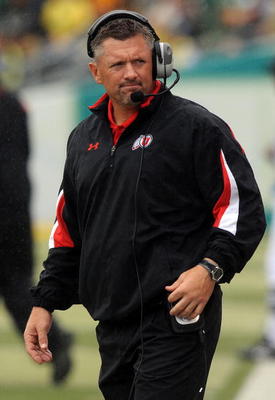 Steve Dykes/Getty Images
Kyle Whittingham leads the second new team entering the conference, the Utah Utes. Since taking over at Utah, Whittingham has had tremendous success. He has never had a season under 7-5 and has led the Utes to six bowl victories, including two BCS games.
The interesting part of the 2011 season will be seeing how the two new teams adapt to the wide open offenses often found in the Pac-12. I expect Whittingham will help Utah make a seamless transition and help them contend for the conference championship.
No. 1: Chip Kelly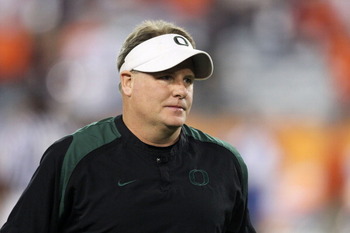 Jonathan Ferrey/Getty Images
Since taking over in 2009, coach Chip Kelly has taken the Ducks to back-to-back conference championships. Not only has Kelly had the Ducks repeat but he also is 17-1 in conference games, his only loss coming on the road at Stanford.
In 2011, Coach Kelly will enter a newly formatted Pac-12. With being placed in the North Division, Kelly's main competition for the time being will remain Stanford. It will be interesting to see if Kelly and his high scoring offense can lead the Ducks to a third straight conference championship.
Keep Reading

Oregon Ducks Football: Like this team?