Auburn Football 2011: The 25 Most Beloved Figures in Tigers History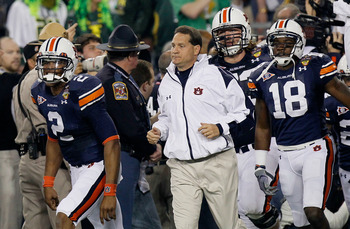 Kevin C. Cox/Getty Images
Auburn completed one of the most memorable seasons in their history just a few months ago. Winning the national championship is the goal of every college football program every year but few attain the ultimate goal and lift the crystal ball.
For all the memories that were forged this past season there were many Tigers that built the house that hosts the reigning national champions. Looking to the past there are many players and coaches that have left lasting memories on the fans and institution.
With many players that have forged so many roads in the history books narrowing down a list is a difficult task in and of itself. There is no way to mention every Tiger that has made a lasting difference in the history of the storied program but these 25 will surely never be forgotten in time.
Ralph "Shug" Jordan – Head Coach 1951-75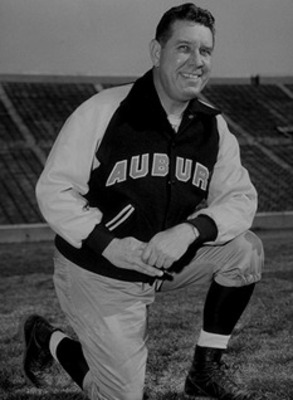 courtesy of collegefootball.org
Coach Jordan will forever be the most beloved coach in Auburn history. His long lived 24 year tenure seems to be a thing of the past in modern college football. Watching coaches come and go is the new way of college football. Coaches don't receive the same grace they did 40 years ago.
Jordan has the most victories of any coach in Auburn football history as well. From 1934-1945 Jordan also served as an assistant on the Auburn coaching staff. After his career was finished, Jordan spent 35 years in total service to Auburn.
Ralph "Shug" Jordan not only served Auburn for the majority of his professional career but he also became the first active coach to have a stadium named in his honor. Jordan was a true Auburn man in every sense of the word and will always be remembered for his love of everything Auburn.
Ed Dyas – FB 1958-60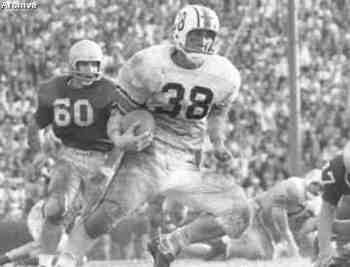 Courtesy of trackemtigers.com
Dyas played the fullback and linebacker position at Auburn during late 50's. While at Auburn he was one of the most prolific kickers as well. Dyas finished his career at Auburn with 1,298 rushing yards. His final season as a Tiger was an All-American season in which he led the Tigers in rushing and scoring and was elected as the best back in the SEC for that season. In 2009, Dyas was inducted into the college football hall of fame.
Freddie Smith – LB 1976-79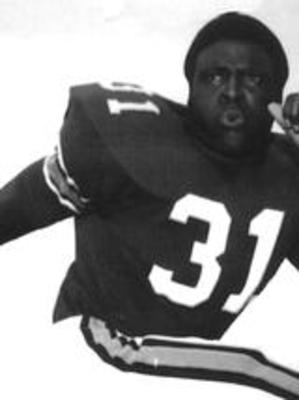 Courtesy of enewscourier.com
"Fast" Freddie Smith was a special player. As a freshman he made an instant impact. Smith holds the records for most tackles in a career and tackles in a season. His sophomore season he set the record with 193 total tackles. Smith finished his career with 528 total tackles which is a number that will likely remain untouched.
Zeke Smith – DE, G 1957-59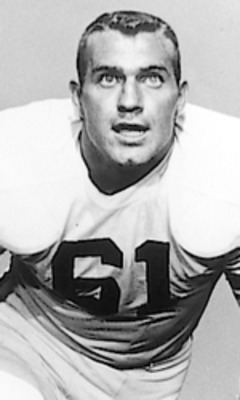 Courtesy of bleacherreport.com
Zeke Smith was a member of Auburn's first national championship team in 1957. Smith won the Outland trophy the following season and became the first Auburn Tiger to win a major national award. Not only did Smith win the Outland but at the end of the '58 season he was voted as the best offensive guard in the SEC. Smith also earned All-American honors in the '58 and '59 seasons.
Cliff Hare – 1892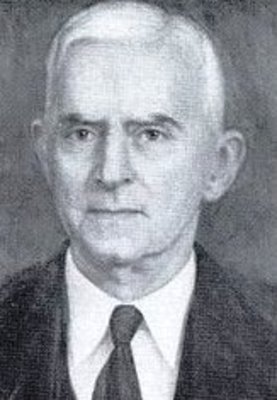 Courtesy of waudradio.com
Cliff Hare was a member of Auburn's first football team in 1892. Jordan-Hare Stadium bears the name of the former player and faculty member. Hare also served as the chair of the Auburn Faculty Athletic Committee.
One of his many accomplishments and contributions was not only to Auburn but to football in the south as well as he served as president to the Southern Conference in 1906. The Southern Conference became the Southeastern Conference in 1932.
Cliff Hare served Auburn University and its athletics programs, specifically football, for 56 years. Like coach Jordan, Hare will always be in the memories of Auburn people.
George Petrie – Head Coach 1892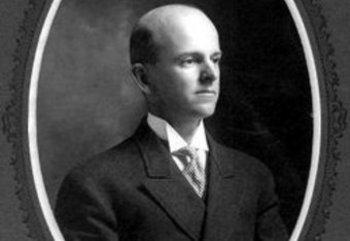 Courtesy of bleacherreport.com
George Petrie did not have a lasting impact because of his wins at Auburn as he only served as the head coach for one year, the first Auburn football team. His biggest contribution is one that Auburn fans subtly overlook every time they garner their orange and blue colors.
Petrie has the honor of being the first coach for Auburn and settling on the orange and blue colors for the team. As the story goes, Miss Allie Glenn wanted to convince Coach Petrie to use the colors from his Alma Mater, the University of Virginia. Miss Allie knitted a sweater with an orange "A" and brought it along to one of the first team meetings as a gift to the players.
The letterman sweater stuck and so did the colors.
Travis Tidwell – HB 1946-49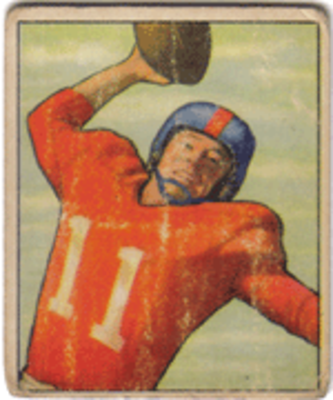 Courtesy of jaygtate.blogspot.com
Tidwell was the Cameron Newton of his day. Tidwell had a reputation to play hard and with reckless abandon. In 1946, Tidwell became only one of two freshmen to ever lead college football in total offense. Tidwell was also a two time All-American at Auburn.
Tidwell left his mark on history with one of the most memorable wins Auburn has ever attained over arch rival Alabama. In 1949, one year after restarting the series, Tidwell led the Tigers to a 14-13 victory and the first victory over Alabama in over 40 years.
Pat Sullivan – QB 1969-71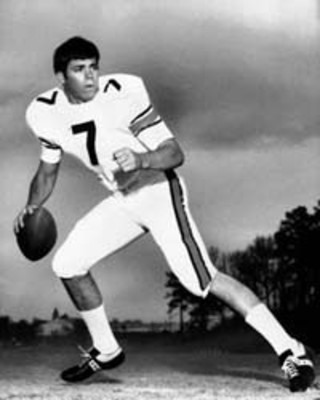 Courtesy of jaygtate.blogspot.com
Pat Sullivan was a part of one of the most dangerous tandems in Auburn history. Sullivan to Beasley was called for touchdowns 22 times in '70 and '71. Sullivan was also the first Heisman Trophy winner for Auburn when he took home the award in 1971.
Sullivan led the Tigers to a 26-7 record in his time at the helm. Sullivan held the record for most touchdowns in a season with 20 until Jason Campbell tied the record in 2004 and later Chris Todd took the number one spot with 22 touchdowns in 2009. Sullivan still holds the record for most touchdown passes in a career with 53.
Terry Beasley – WR 1969-71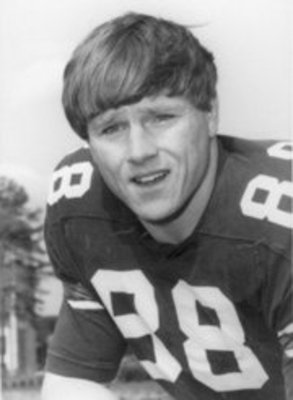 Courtesy of facebook.com
The second half of the deadly duo Sullivan to Beasley, Terry Beasley is forever emblazoned in Auburn lore. Beasley still holds three major receiving records at Auburn. With 29 career touchdowns, Beasley has a comfortable lead and likely hold that record for many more years to come. Beasley also holds the record for career receiving yards and the most touchdowns in a single season.
David Langner – DB 1971-73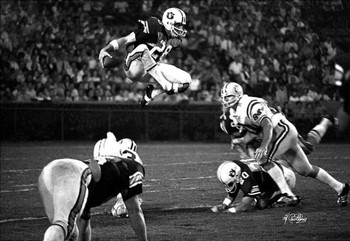 Courtesy of Herb Cawthorne, Camera 1, Columbus, Georgia
David Langner played with some of the best talent in Auburn history. He also played in one of the most amazing games in college football history. Langner actually made his own path to history in 1972. After Alabama rolled up 235 yards on the ground and 16 points, the game looked to be in the hands of the Tide.
Langner attempted to help the Tigers make a splash by snatching two interceptions, but his greatest moment was yet to come. With less than 5:30 on the game clock, Auburn forced two punts. Both punts were blocked by Auburn's Bill Newton and both blocks were returned for touchdowns by none other than David Langner.
Langner racked up eight interceptions in 1972 and still ranks second for interceptions in a season at Auburn. No matter what records he holds however his legacy will always be Punt Bama Punt.
**photo courtesy of Herb Cawthorne, Camera 1, Columbus, Georgia**
Pat Dye – Head Coach 1981-92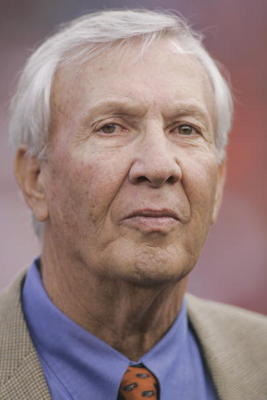 Chris Graythen/Getty Images
Pat Dye left a lasting mark on the Auburn football program in many ways. One of the more favorable was the first Iron Bowl to be played at Auburn happened under his tenure in 1989. Dye has the honor of having his name on the field in Jordan-Hare Stadium forever linking his coaching legacy to the school.
Dye ended his career tied for the second most wins in school history with 99. Unfortunately, Dye did leave his post at Auburn under less than favorable conditions and NCAA sanctions. Despite this, his contribution to the school and football program lives on today.
Vincent "Bo" Jackson – HB 1982-85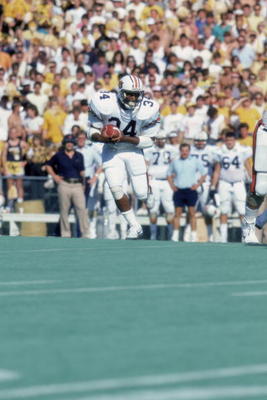 Scott Cunningham/Getty Images
Bo Jackson will always be in the memory of Auburn fans. For those who had the joy to watch him play, to the generations that have YouTube, everyone can see his talent. Jackson was a quiet person but he spoke volumes with his play.
In 1985 Jackson ran for 1,786 yards and picked up the Heisman Trophy along the way. Bo was a phenomenal athlete and played for the Tigers baseball program as well. Bo Jackson brought a new wind to a defeated fanbase and team as Auburn had lost time and again to Bear Bryant in the Iron Bowl.
In 1982 Jackson made his famous leap into the end zone and Auburn broke the 9 game losing streak that the Tide had once enjoyed. For all that he gave fans on the field, he continues to give to the community and football program today.
Tracy Rocker – DL 1985-88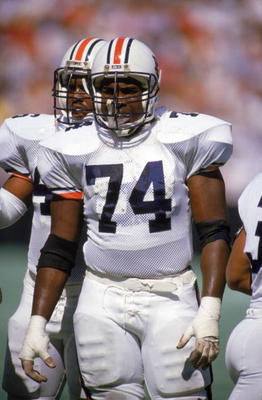 Allen Steele/Getty Images
Tracy Rocker finished his Auburn career with 21 career sacks and 354 tackles. Rocker ranks 4th in sacks and 7th in tackles for the Tigers. Most recently remembered for his time as the defensive line coach at Auburn, Rocker had quite the career as a player.
Rocker won the Outland and Lombardi Trophies in 1988, his senior season at Auburn. He returned to Auburn to be a part of the staff that Gene Chizik put together when he got the job as the coach at Auburn in 2009. Rocker went on to coach Nick Fairley to his own Lombardi award and also to be the first winner to coach a fellow Lombardi award recipient.
Stan White – QB 1990-93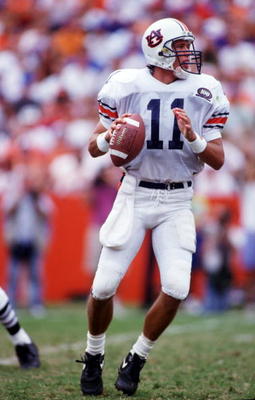 Scott Halleran/Getty Images
Stan White is one of the few quarterbacks that have led the Auburn Tigers to an undefeated season. Despite being on probation and a bowl ban, the White led Tigers finished 11-0. White holds two of Auburn's career passing records with 8,016 career passing yards and 659 passing completions.
Frank Sanders – WR 1991-94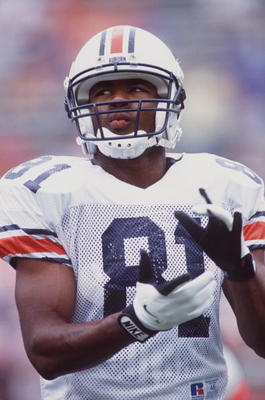 Scott Halleran/Getty Images
Sanders will forever be etched in time with his catch over the Florida Gators in 1994 to give the Tigers the lead and help earn the Tigers the eventual win. Sanders had a great career at Auburn finishing 5th in receptions and yardage and 4th in touchdowns. His legacy will live on and will forever be timeless with his catch over Florida.
Dameyune Craig – QB 1994-97
Brian Bahr/Getty Images
Craig entered the '94 season as a backup to Patrick Nix. He played sparingly for two seasons before becoming the starter for the Tigers in '96. In 1997 is when Craig led the Tigers back to the top of the SEC West with his record setting season of 3,277 passing yards.
In winning the West in '97 the Tigers faced the Peyton Manning led Tennessee Volunteers in the SEC Championship game. Despite a great effort from the heavy underdog Tigers, the Volunteers won the game 30-29.
Even though winning the SEC was not in the books for Craig, he will forever be remembered for his electric play and leadership.
Jason Campbell – QB 2001-2004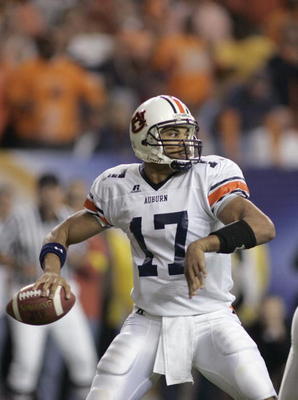 Grant Halverson/Getty Images
At the height of every good team there is good leadership. Campbell had led the Tigers in seasons prior to '04 but the hiring of Al Borges made the difference in the offense and its quarterback. Campbell had already played his way into the history books but 2004 was special.
With the most talented backfield in college football Campbell passed for 2,700 yards and 20 touchdowns his senior season and ended his Auburn career with the highest completion percentage of any quarterback on record. Campbell led the Tigers to their 2004 undefeated season.
Carnell Williams – RB 2001-2004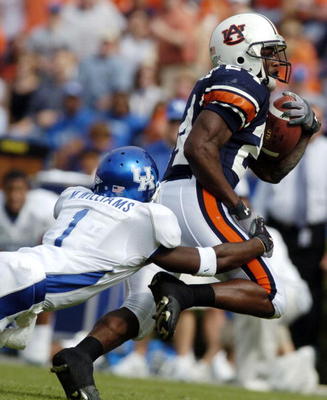 Chris Graythen/Getty Images
Running back-U is a nickname that sticks to Auburn like tar. So many talented backs have called Auburn home but there are a few who still stand above the rest. Carnell Williams walked into Auburn as one of the most highly sought after prospects in the state.
Williams played from the time he was a freshman but battled a multitude of injuries along the way. Despite losing playing time Williams finished his career second all-time in rushing yards and first in rushing touchdowns with 45. "Cadillac" Williams is one of the best to have played in orange and blue.
Ronnie Brown – RB 2000-2004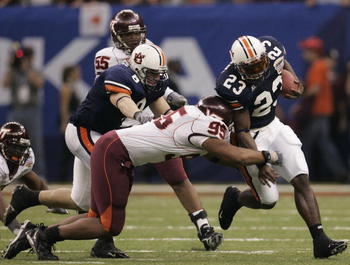 Chris Graythen/Getty Images
Despite playing the backup role to Williams in the beginning, Brown found his niche in the Auburn offense by 2004. With Williams going down to injury in the 2002 season it opened the door for Brown to step in. When 2003 rolled around both backs were looking for playing time but Brown injured his hamstring and missed the majority of the season.
With his return to the offense in 2004, the tandem that Williams and Brown created was unstoppable. Brown finished his career 8th in total rushing yards with 2,707.
Courtney Taylor – WR 2003-2006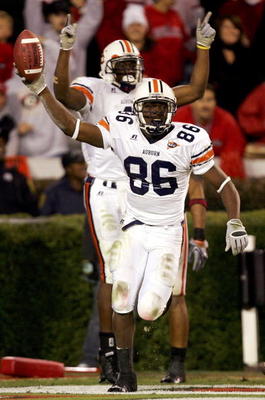 Streeter Lecka/Getty Images
Taylor was a steady receiver for the Tigers and an extremely reliable target. Taylor leads the Tigers in career receptions with 153. The most memorable of those has to be his winning touchdown reception against LSU in 2004. With Auburn trailing 9-3 in the fourth quarter Jason Campbell found Taylor in the end zone for the winning catch. Despite his steady career and reliable hands, that moment will be remembered as the moment that turned the corner for the undefeated '04 Tigers.
Brandon Cox – QB 2004-07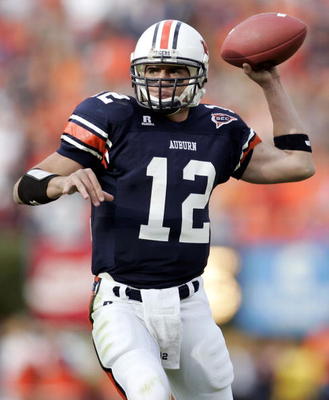 Chris Graythen/Getty Images
Brandon Cox has to be one of the most over achieving football players to have ever played the sport. As a freshman in 2003, Cox entered Auburn as a highly coveted recruit. A muscle disorder that was inflamed by a car crash put his season and career on hold. Despite the severe pain of the disorder and its flair ups, Cox played 3 straight years as a starter.
Cox returned to the team and earned the starting nod for the 2005 season and led the Tigers to a 9-3 record that year. Cox finished his career 29-9 as a starter and was a part of the winningest recruiting class in Auburn history that finished with 50 total wins. Cox always seemed to take a beating, get up and go right back to work. Cox also finished with 6,959 passing yards placing him 3rd on the all-time list.
Quentin Groves – DE 2004-07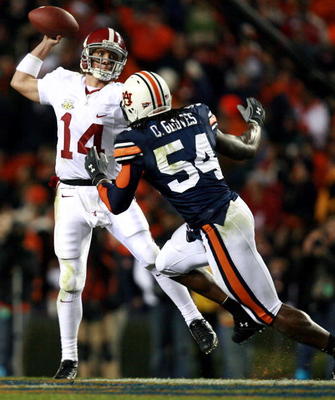 Doug Benc/Getty Images
Quentin Groves was a player that was electric and covered a ton of ground despite playing from a line position. Groves seemed to reinvent the pass rush techniques for Auburn in his time there as his speed rush was one of the best in college football. Groves finished his Auburn career tied for 1st in all-time sacks with 26. Groves also earned consecutive All-American honors in '06 and '07.
Kodi Burns – ATH 2007-2010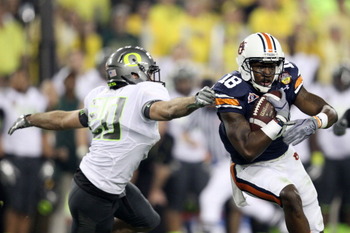 Christian Petersen/Getty Images
Burns came to Auburn listed as the number two dual threat quarterback in the country. In the Mississippi State game he saw playing time as a freshman. Splitting time with Brandon Cox in 2007, Burns also ran for the winning touchdown in the Chick-Fil-A Peach Bowl.
After an abysmal 2008 campaign, the Tigers shifted gears and when Coach Gene Chizik and Co. arrived one of the first orders of business was to find a quarterback. Malzahn settled on Chris Todd as the starter and Burns moved to receiver for the remainder of his career and going on to serve in a limited statistical role.
One thing that Burns will always be remembered for however is his character. During his time at Auburn Burns did everything he could to make his team better, not just himself. His leadership went a long way in assisting Auburn in achieving their second National Championship.
Nick Fairley – DL 2009-10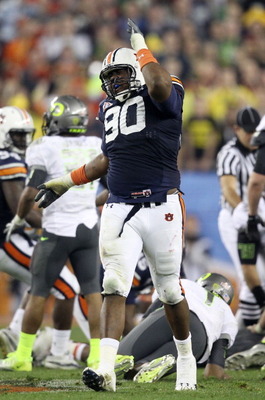 Christian Petersen/Getty Images
After initially signing with Auburn out of high school, the talented Nick Fairley took his skills to Copiah Lincoln Community College. After his small stint in JUCO, Fairley returned to the Tigers for the '09 season. Fairley played sparingly in '09 as he searched for consistency in his play.
When the 2010 season rolled around Fairley looked the part of a special player. He was seemingly unblocked in '10. Fairley became a fan favorite early in the season with his on field antics and love for destruction as he sought out the opposing quarterback. Despite the reputation of dirty play that haunted his reputation, Fairley was a fun player to watch and will be remembered by fans for his passion for the game.
Fairley became the second Lombardi award winner for Auburn in 2010 and the only winner to ever have been coached by a previous Lombardi recipient.
Cameron Newton – QB 2010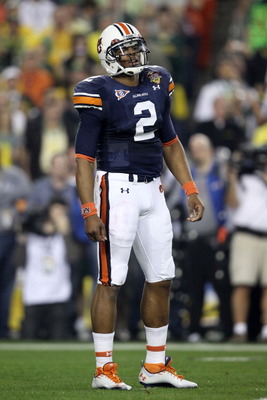 Christian Petersen/Getty Images
Cam Newton entered the 2010 season with many questions and very few answers. Newton had his answers ready. Becoming the third Heisman winner for Auburn was a huge accomplishment. Newton going on to win the Maxwell, Walter Camp, Davey O'Brien and Manning awards seems absolutely ridiculous. Newton did just that in 2010.
The Tigers fans may have only had one year with Cameron Newton as quarterback but the Auburn faithful were able to see one of the best if not the best quarterback to ever play the college game take the snaps for their team.
His ability to run and pass will never likely be emulated in the game as he not only joined the 20 passing and 20 rushing touchdown club to which there are only two other members but he also led Auburn to its largest upset victory in history over Alabama.
The 24 point deficit was the largest comeback in Auburn history and the most points any opponent had ever overcome to defeat the Crimson Tide. Newton will be remembered not only as a Heisman, but the quarterback of "The Comeback".
Keep Reading

Auburn Football: Like this team?