College Football: The 20 Coolest Pregame Traditions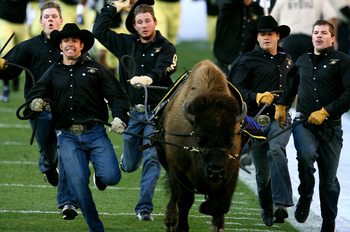 Garrett Ellwood/Getty Images
It requires more patience to be a fan of football than any other sport.
Football fans need to wait the longest in between games and even longer in between seasons. A loss sits with you for days and a below .500 season feels like decades.
With this extra time available, fans and players have produced traditional ways of hyping each other up for the next game.
These pregame rituals come in all shapes and sizes. Some of these traditions start minutes before kickoff, others are put together days prior to a game.
All are very interesting, adrenaline inducing and excellent ways to get absolutely pumped for college football, no matter how many hours we are from the next game day.
Let's take a look at 20 of the coolest game-day traditions in college football.
No. 20: Marching Band Pregame Concert, Wisconsin
The Badgers' marching band serves up a pregame concert an hour before kickoff to inspire that college football spirit into fans. When "On Wisconsin" as well as other foot-tapping ditties can be heard blaring from Union Square, fans instinctively know to chug their drink and finish their sausage, because game time nears.
No. 19: Tailgating at the Grove, Ole Miss
There is tailgating and then there is Tailgating at the Grove.
Proclaimed by many as the best tailgate location in the country, fans jam-pack the 10-acre patch of grassy land known as The Grove, mimicking a vivacious festival where everyone looks like they ordered from an Abercrombie and Fitch catalog.
No. 18: Tiger Tailgate, LSU
Described by some as college football's Mardi Gras, the Tiger Tailgate explodes with energetic music, exquisite dining and enough alcohol to probably kill a herd of goats.
Partying with friends is the original pregame ceremony and LSU's certainly does it justice.
No. 17: Tiger Walk, Auburn
This tradition stems back to the 1960s when players strolled from Sewell Hall to the stadium and fans would line the streets to send luck their way.
The path has stayed the same but the amount of fans attending the Walk has grown exponentially through the years. The Walk starts about two hours prior to kickoff, with diehard fans waiting hours before that, creating an unmatchable, party-like atmosphere.
No. 16: The Tunnel Walk, Several Teams
While the Tunnel Walk is a staple for most pregame celebrations nowadays, Miami and Nebraska put special touches to this simple tradition to make it their own.
The Hurricanes, in order to match the flair of their outspoken team, produced smoke for their players to run through.
The Cornhuskers used the JumboTron to follow players from inside the locker and all the way through the tunnel to provide their fans with a more intimate feel of the emotion-filled tunnel.
No. 15: 2001: Space Odyssey, South Carolina
Like Virginia Tech's, this pregame tradition probably did not take a ton of brain energy to spawn the idea, but it works nonetheless.
The theme to 2001: Space Odyssey builds up to a tense peak and releases with the Gamecocks rushing onto the field. The music then moves seamlessly back to a raucous marching band as the players reach the sideline, getting everyone pumped for kickoff.
No. 14: Painting Helmets, Notre Dame
Volunteer students paint fresh coats of Golden Goodness on the Irish's helmets the Monday before every game. Supposedly, this paint actually contains flakes of real gold in the mixture.
This begs the question: If a player keeps a game-day worn helmet, does it mean that player is getting paid in gold by the school? Maybe the NCAA should do another pointless investigation.
No. 13: Tommy Trojan, USC
Like most things that come out of Southern California, USC's pregame ritual lacks true originality.
Towards the end of USC's pregame ceremony, Tommy Trojan rides his horse, Traveler (the official mascot for USC), to midfield and supplies a drum major with a sword to plunge into the field.
Many believe it is awfully similar to the Seminoles pregame tradition, but that doesn't necessarily take away the tradition behind the Trojans' version.
No. 12: Tapping the Sign, Multiple Teams
Truly made famous by Notre Dame, the tapping of a sign with a team quote has become a tradition that schools across the nation have installed into their program.
Performing this act before entering battle definitely seems to bring a sense of unity to any team. However, the Irish's version still tops all.
No. 11: Enter Sandman, Virginia Tech
OK, this might not be the most original pregame tradition in the world since it is really just a stadium bumping a really good song from a really good sound system.
But, the discordant mood that this song produces with the introduction of the home-town Hokies ignites a feeling that can only be matched by watching this song performed live by Metallica.
The energy built up by the Virginia Tech players and fans overflows the stadium walls and can practically be felt states a way.
No. 10: Yell Practice, Texas A&M
On the night before game day, Texas A&M's Yell Leaders orchestrate one of the largest and loudest yell sessions produced by any school.
At times, more than 40,000 Aggies fans will pack the stands of Kyle Field to watch a practice and then run through several Texas A&M cheers, which gets the fans extremely pumped for the next day's game.
Watching these stands of unison-yelling Aggies fans is really a sight to see.
No. 9 Flaming Spear, Florida State
Before each home game, a student dressed as Chief Osceola rides in on Renegade, an Appaloosa horse, and launches a flaming spear into the grass at midfield.
The ceremony first took place in 1978 after Coach Bobby Bowden supported the idea of Bill Durham, a Florida State graduate who came up with the idea over a decade prior.
Although the ceremony has gained a great deal of controversy, Durham continues to supply FSU with the horse that runs as Renegade, keeping the spectacular show alive for several generations of Seminoles fans to come.
No. 8: Script Ohio, Ohio State
Although it is not always performed during the pregame by Ohio State's marching band, when it is performed, it is a memorable and historic tradition that every college football fan should see at least once.
In fact, if you haven't seen this performed before, stop reading this slide right now and watch the clip. If you have seen it before, watch the clip anyways.
No. 7: Oklahoma Schooner, Oklahoma
A horse-drawn schooner with a member of an all-male pep squad at the reins just seems like a recipe for disaster. This potential for calamity forces the focus on Oklahoma's official mascot during pregame and in-game ceremonies.
While the ride usual ends properly, there have been issues with the cart toppling over or getting stuck on the field in the past.
No. 6: Husker Power Chant, Nebraska
Just before Nebraska's players start their tunnel walk, the fans swimming in the Sea of Red perform a classic, fan-based tradition.
Half of the stadium chants "Husker!" and the other half replies with "Power!" It's simplistic, yet effective, and definitely gets Big Red primed for kickoff.
No. 5: Cadets and Midshipman March, Army-Navy
If you don't get a chill from watching the Army and the Navy march into the stadium, then you might want to check with a doctor to see if you are still alive.
The Army and Navy represent something so much bigger than football and this memorable march should remind every American about the people who risk their lives for our freedom.
No. 4: Running Through the 'T,' Tennessee
In a tradition that started in the 1965, the Tennessee football players run out of the locker room towards their sideline through the middle of a 'T' formed by the Volunteer's marching band.
This Power T with the players flowing inside of it can be mesmerizing.
No. 3: The Haka Dance, Multiple Teams
Originating from a Polynesian tribe called Maori, the Haka Dance first started popping up as a pregame tradition with a New Zealand rugby team.
University of Hawaii was the first college football team to adopt the bone-chilling dance, although other WAC teams are also using its "mystical powers" to pump up their players and fans.
Due to the tribal nature of the dance, Hawaii's version just seems a little more authentic.
No. 2: The Running of Ralphie, Colorado
It has to be a little bit unsettling to see a buffalo running at close to 25 miles per hour, only 50 yards down the field, with five pimple-faced college students in control.
Ralphie, which is actually always a girl buffalo, has the best contract in the business. While Ralphie's trek is scheduled to occur at the beginning of each half of every home game, if she seems nervous or upset, the running gets cancelled.
Colorado is on its fifth Ralphie since introducing the tradition in 1966.
No. 1: Howard's Rock and the Hill, Clemson
The most exciting 25 seconds in college football may not seem like too much to brag about until you witness it in person.
Amongst the reverberating cheers of 85,000 Clemson fans plastered in orange, the players enter the field from the east end zone, touch Howard's Rock, and then run down the hill into the field.
As Coach Howard once said: "If you're going to give me 110 percent, you can rub my rock. If you're not, keep your filthy hands off of it."
Keep Reading