College Football 2011: Stanford and 8 Teams Doomed to Fail Next Season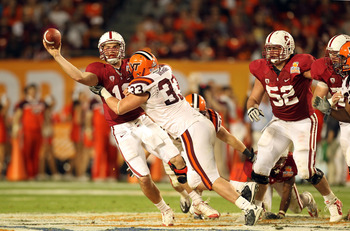 Mike Ehrmann/Getty Images
Every year, there are teams that prove the preseason rankings wrong and have surprisingly strong season. Just as often, there are teams that have down seasons despite their lofty predictions.

The teams on this list are entering the 2011 season with high expectations. However, these expectations may be too high.

Losses to graduation, NFL draft, unfavorable schedules and coaching changes can all be too hard to overcome at times.

The following are the eight teams that are doomed to fail in the 2011 season.
Auburn Tigers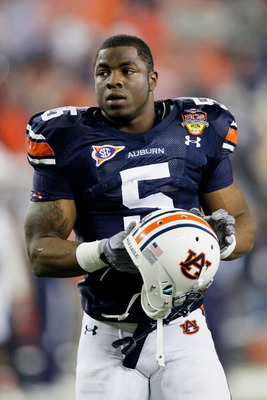 Kevin C. Cox/Getty Images
It is never easy to be confident in a team that lost their best offensive player and their best defensive player from a season ago.

Heisman quarterback Cam Newton is moving on to the NFL and will be irreplaceable. He was undoubtedly the motor that made Auburn's offense roll in 2011.

While on defense, the Tigers will be losing talented defensive tackle, Nick Fairley.

With only eight total starters returning from a season ago, there might be too many holes to fill.

Preseason rankings have come out with Auburn ranked as high as in the top 10. They will probably finish the season no higher than 20th in the country.
Florida State Seminoles
Kevin C. Cox/Getty Images
An ACC championship and an appearance to make a BCS bowl game is not out of the question for the Seminoles, but being a BCS title contender is.

Head coach Jimbo Fisher has done an exceptional job at Florida State thus far. His program is definitely improving and BCS title hopes might be in the near future, but not for 2011.

The team is currently led by a turnover prone quarterback, E.J. Manuel, and was lit up against elite opponents last season.

Returning 18 starters from a season ago, Florida State could roll through a very weak ACC, but will be blown out in an early season matchup against Oklahoma.
Mississippi State Bulldogs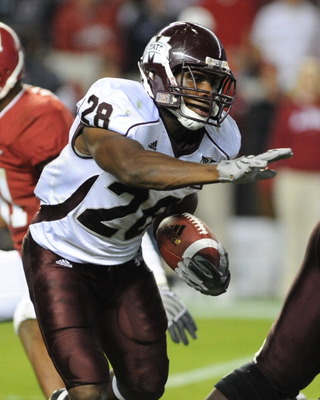 Al Messerschmidt/Getty Images
The Mississippi State Bulldogs are returning two great offensive play makers, quarterback Chris Relf and running back Vick Ballard. They also had one of the best breakout seasons of 2010.

However, this was a team led by defense last season. Without a strong defense, Relf and Ballard probably will not be able to lead the Bulldogs to another surprising season.

They are losing all three starting linebackers from a season ago.

Unless the new starters can fill the shoes of the three linebackers from a season ago, a step back seems inevitable for Mississippi State.
Nebraska Cornhuskers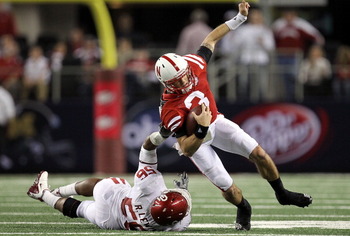 Ronald Martinez/Getty Images
Did anybody end on a worse note than Nebraska last season?

The Huskers return one of the best defenses in the nation, but their offense might be questionable in 2011.

They are losing their workhorse running back Roy Helu and four starting offensive lineman from a season ago. So a lot will rest on the shoulders of their inconsistent quarterback, Taylor Martinez.

Martinez was amazing at the beginning of the season last year, but burnt out down the stretch.

To make matters worse, this will be Nebraska's first year in the Big Ten. With tough games against Wisconsin, Ohio State and Michigan State, it might be a rough transition year in Lincoln.
Ohio State Buckeyes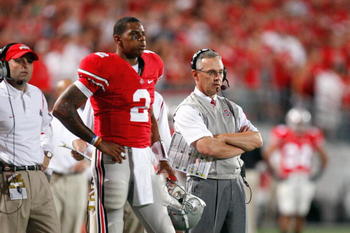 Gregory Shamus/Getty Images
The reason Ohio State could fail in 2011 has nothing to do with talent. The sole reason I am not confident in this squad is suspensions.

Head coach Jim Tressel, starting quarterback Terrelle Pryor, starting running back Dan Herron and three other players will be suspended for the first five games of the season.

These are not easy games either. They play a tough road games against a very talented Miami (Fl) team and an even tougher home game against a Big Ten championship contender, Michigan State.

The Buckeyes will need to rely on quarterback Joe Bauserman to lead them to victories in these games.

Anything short of a BCS bowl is deemed failure in Columbus. A season like that might be on the horizon for Ohio State.
Stanford Cardinal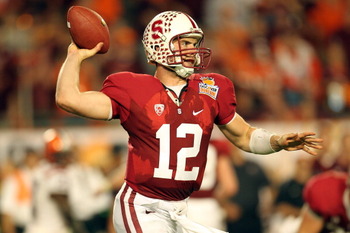 Mike Ehrmann/Getty Images
Stanford did win the Orange Bowl last season and returns their two best players, quarterback Andrew Luck and running back Stepfan Taylor.

But what else does Stanford have to be excited about?

They are only returning 11 starters from a season ago, lost their head coach and are stuck in the same division as Oregon.

Those who have Stanford ranked as high as in the top five are still in love with last season's team. People need to realize that this is a new season, and the team will have to deal with new problems.

The biggest issue with the Stanford team is that they will need to replace three starters from an offensive line that only allowed five sacks last season.

Protecting Andrew Luck is the main priority for Stanford. Unfortunately, it may be easier said than done.
TCU Horned Frogs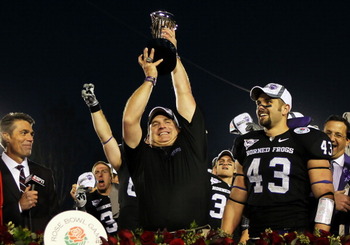 Jeff Gross/Getty Images
It says a lot about head coach Gary Patterson that not making a BCS bowl game would mean an unsuccessful season for the Horned Frogs. Patterson has demanded excellence from his players, and he has gotten it in recent years.

Although, 2011 might be the end of his little BCS run. TCU plays a tough schedule next season and the team has more holes than Swiss cheese.

TCU's worst loss of all is that of their quarterback and leader, Andy Dalton. He did so much for his team, and is irreplaceable.

Their whole season will probably come down to their game at Boise State. Most likely, the winner will run the table and make a BCS game. However, Boise appears to be a much stronger team heading into the season.
Utah Utes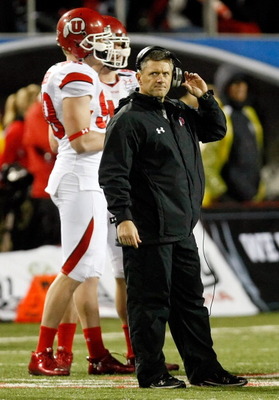 Ethan Miller/Getty Images
Coming into the Pac-12 season, Utah seem confident that they could win the Pac-12 south. However, I think the Utes might be a little cocky considering they have yet to play a conference game.

Starting September 9, Utah is about to find out what big boy football is all about. They will take on USC in the inaugural game of the Pac-12 conference.

They may win this game, but I do not feel Utah has the depth to handle a full Pac-12 season.

Utah's starting running back is currently a mystery and their defensive back field might be one of the weakest in the conference.

Don't expect Utah to be much more than a middle of the road Pac-12 team
Keep Reading

Stanford Football: Like this team?