College Football Predictions: 10 Unknown Players Who'll Be Heisman Candidates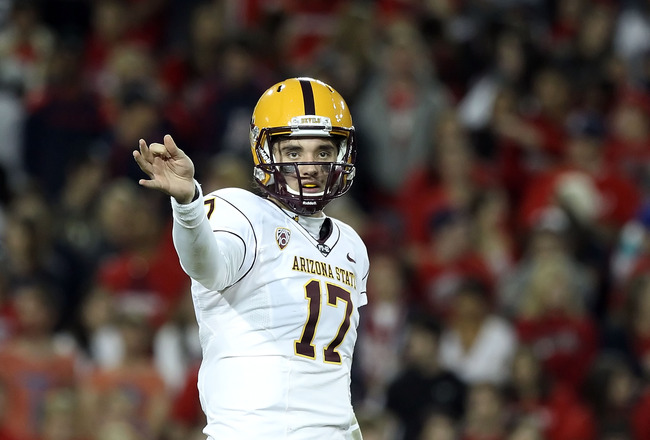 Christian Petersen/Getty Images
Andrew Luck, LaMichael James, Kellen Moore and Landry Jones.
These are all names that have grown to be synonymous with the Heisman Trophy, as the widespread expectation is that one of these four guys will take home college football's most coveted individual prize in 2011.
But as we learned last season with Cam Newton, there's always the chance that a player comes from the depths of the unknown to take college football by storm.
Whether he's just flown under-the-radar or has never been given a chance, he'll go from having no one know his name to having an entire stadium chanting it.
Here are 10 college football players you may not know much about now but could be called a Heisman Trophy candidate come this season.
10. Robert Woods, WR/KR, USC
Harry How/Getty Images
USC has had some great wide receivers in recent years—Mike Williams, Dwayne Jarrett and Steve Smith come to mind—and the next Trojan great could very well be Robert Woods.
As a true freshman in 2010, Woods caught 65 passes for 792 yards and six touchdowns, and had six rushes for 50 yards. He also excelled as a kick returner, where he averaged 25.6 yards per return and took one kickoff to the house.
Now that Woods is a bit more mature physically and has a year of college football under his belt, we could see him explode onto the scene in 2011.
If Matt Barkley continues to play well, that'll improve Woods' chances of being in contention for not just the Biletnikoff Award, but the Heisman Trophy as well.
9. Zach Mettenberger, QB, LSU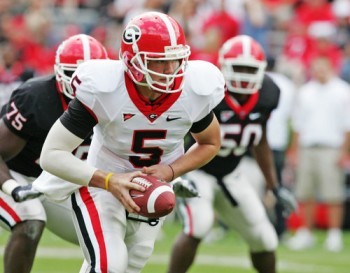 Tell me if you've heard this storyline before: An SEC quarterback leaves his school, plays a season of junior college ball, then returns to a different SEC school and wins the Heisman Trophy.
It's called "The Cam Newton Story," and Part Two features LSU's Zach Mettenberger.
Mettenberger, who had seemingly won the starting quarterback job at Georgia over Aaron Murray last spring, was dismissed from the team after pleading guilty to two counts of sexual battery. He then found his way to Butler Community College, where he led his team to a No. 1 national ranking and the National Junior College Championship.
It's expected that the 6'5", 247-pound Mettenberger will be the Tigers' starting quarterback in 2011, and he has the talent—both in himself and in his supporting cast around him—to pull a Cam Newton by making a triumphant return to the SEC.
8. Quinton Coples, DE, UNC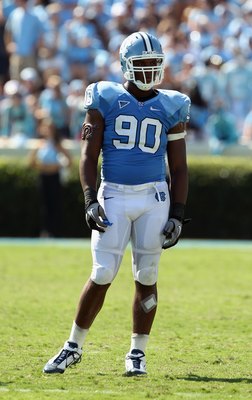 Streeter Lecka/Getty Images
Defensive players generally don't find themselves in the Heisman conversation, but then again, they usually aren't as good as Quinton Coples either.
The latest dominant defensive presence from North Carolina, Coples is a 6'6", 275-pound defensive end who might be the Da'Quan Bowers of next year's draft class.
Coples, who's just 20 years old, was an incredible presence off the edge for UNC last season, racking up 59 tackles and 10 sacks. He's as explosive of a pass rusher as you'll find in college football in 2011, and now he's the No. 1 defender on the Tar Heels defense.
With Robert Quinn, Marvin Austin and Quan Sturdivant all headed to the NFL, Coples has a chance to shine even more this season.
It wouldn't be a surprise to see him rack up 60-plus tackles and 15-plus sacks on his way to becoming the best defensive lineman in the FBS.
7. Davin Meggett, RB, Maryland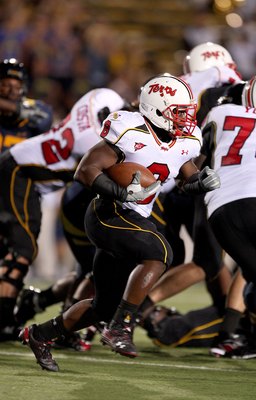 Ezra Shaw/Getty Images
What do Randy Edsall-coached teams have in common? They like to run the football.
More specifically, they rely on one back to get the job done. Evidence of that is the fact that Connecticutt's Donald Brown rushed for 2,083 yards in 2008 and Jordan Todman ran for 1,695 yards in 2010.
So, in Edsall's first year at Maryland, we should see big things from the Terrapins' leading rusher in 2010, Davin Meggett.
The 5'9", 215-pound bowling ball of a back had a mediocre 2010 campaign, with 720 rushing yards and four touchdowns, but he did average an impressive 5.7 yards per carry.
It's likely Edsall will use Meggett as Maryland's featured back this season, and that could bring him into the Heisman chatter as a darkhorse candidate.
6. Jeffrey Godfrey, QB, UCF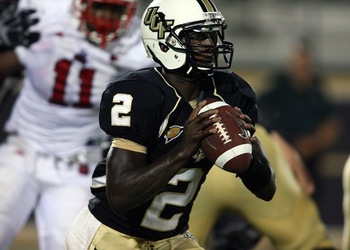 The Conference USA freshman of the year last season, UCF's Jeffrey Godfrey should be one of the nation's best dual-threat quarterbacks in 2011.
In 2010, he completed 66.8 percent of his passes for 2,159 yards, 13 touchdowns and eight interceptions. He also had 152 rushing attempts for 562 yards and nine touchdowns, while leading the Knights to a very impressive 11-3 record and a bowl win over Georgia.
Godfrey will likely continue to put up very solid numbers for a constantly improving UCF team, but it remains to be seen how much he will mature as a passer.
If Godfrey can throw 20-plus touchdowns, run for another 10-15 and lead the Knights to double-digit wins, look for him to get a lot of love from the Heisman voters.
5. Lamar Miller, RB, Miami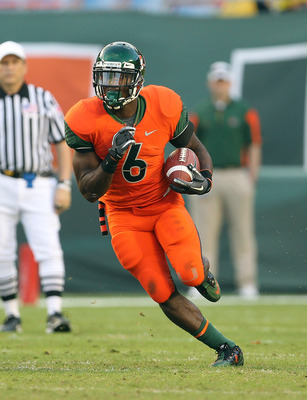 Mike Ehrmann/Getty Images
Even though he missed two games and carried the ball just 108 times last season, Miami's Lamar Miller was nothing short of beastly when he was on the field.
The freshman running back racked up 646 rushing yards while averaging six yards per carry, and is now poised to be one of college football's breakout backs in 2011.
Miller will be the No. 1 back for the Hurricanes this season, and he should see his touches double, at the very least.
If that's the case and Miller indeed sees 20-25 carries a game, then he could be a 1,500-yard, 20-touchdown guy.
Heisman, anyone?
4. Stepfan Taylor, RB, Stanford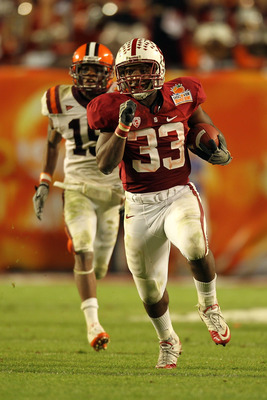 Mike Ehrmann/Getty Images
Lost in all the hoopla surrounding Andrew Luck last season was Stanford running back Stepfan Taylor, who might be well known to Cardinal fans but isn't a household name in college football.
Maybe he should be, though.
The 5'11", 200-pound back quietly put together a very productive season in 2010, with 1,137 rushing yards, 266 receiving yards (on 28 catches) and 16 total touchdowns.
That's not bad for a guy whose name was hardly mentioned last season and will continue to get less publicity than one of his teammates, Luck, all season long.
However, I would expect you to hear the name Stepfan—how great is that name?—Taylor a lot more often in 2011.
3. Brock Osweiler, QB, Arizona State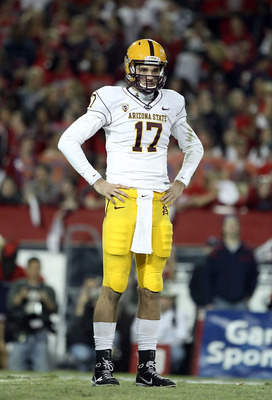 Christian Petersen/Getty Images
A former Gonzaga basketball recruit, the 6'8", 242-pound Brock Osweiler started the final two games of the 2010 season at quarterback for Arizona State.
And the results were very impressive.
Osweiler, who's very mobile for such a big guy, combined for 647 passing yards, five touchdowns and zero interceptions in those two starts, giving Sun Devil fans a reason to be excited about the future of the rising junior and Arizona State football in general.
Though the game tape on Osweiler isn't lengthy, it is very impressive and should only get better this season. He has a very good supporting cast at Arizona State and is playing on a team that many analysts are expecting to compete for a Pac-10 title.
If the Sun Devils can do that, it'll be largely because of the play of Osweiler, who should skyrocket to the top of the Heisman talk.
2. David Wilson, RB, Virginia Tech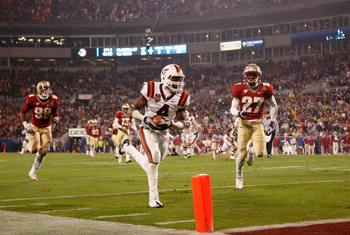 Streeter Lecka/Getty Images
In 2010, David Wilson wasn't anything to write home about, as the Virginia Tech running back totaled just 619 rushing yards, 234 receiving yards and nine touchdowns.
But he was stuck in a three-back rotation then, and now he won't have to split carries with Ryan Williams and Darren Evans, who've both moved on to the NFL.
And that means that big things are on the horizon for Wilson, who will see a huge increase in his workload now that he'll be the Hokies' featured back in 2011.
If his 5.5 yards per carry average stays put, Wilson could rush for 1,500-plus yards, with 20-25 total touchdowns.
Not to mention that Wilson is an electrifying kick returner who took two kickoffs to the house last season.
1. Geno Smith, QB, West Virginia
Mike Ehrmann/Getty Images
I'm not sure anyone really noticed, but Geno Smith played incredibly well for the Mountaineers last season.
Though he's no Pat White when it comes to running the football, Smith proved to be a pretty good gunslinger, completing 64.8 percent of his passes for 2,763 yards, 24 touchdowns and just seven interceptions.
And now Smith has some help at West Virginia in former Oklahoma State offensive coordinator Dana Holgorsen, who helped develop one of the nation's most prolific passing attacks last season with the Cowboys.
If Holgorsen can do at WVU what he did at OSU, then Smith could go from college football afterthought to college football's best player.
Keep Reading

WVU Football: Like this team?