Texas Longhorns: 8 Reasons Why Mack Brown Can Turn Texas Around in 2011
Ronald Martinez/Getty Images
Mack Brown Will Turn Texas Around for 2011
Many football fans around Austin (and for that matter, around the country), have begun to wonder whether the Texas Longhorns' 2010 season was an anomaly, or an ominous sign of things to come.
The Longhorns played well below expectations en route to a 5-7 finish, missing an opportunity to compete in the postseason for the first time since 1997.
With a newly-minted, young coaching staff and an even younger group of players, a quick turnaround won't be easy for the Longhorns.
Make no mistake, however, the right man is at the helm.
Mack Brown's experience, knowledge of the game and persistence will ensure a Texas turnaround in 2011.
The Longhorns may not win the National Championship next January, but you can count on the fact that things will be looking up.
Begin Slideshow

»
Ronald Martinez/Getty Images

As the story goes, one of the first things Mack Brown asked Texas coaching legend Darrell K. Royal when arriving on campus was how to handle a losing season.
Royal's response was, "I don't know. Never had one."
This typifies the expectations of Texas fans and the pressure placed on Mack Brown's staff to win year in and year out, and how he and the team will be expected to recover after 2010's poor performance.
Brown cannot and does not take losing lightly.
This alone will be a motivating factor in his daily activities and the driving force behind his success in leading the 2011 Longhorns back to form.
Brian Bahr/Getty Images
Brown's Senior Leader Will Be Emmanuel Acho
When a student-athlete makes the decision to play at Texas, they are well aware of the tradition the logo and the uniform represents.
Mack Brown and his staff make sure of it.
Recruiting a student-athlete to the Forty Acres is as much about football as the university's traditions and legacy.
As players arrive at the practice field each day, the faces of Derrick Johnson, Tommy Nobis, Earl Campbell, Kiki DeAyala and other Texas greats stare at them from the padded walls.
While these faces can't speak, the glares say all they need to say.
The Eyes of Texas are upon you.
Sam Acho, Texas' recently departed senior leader, informed the Austin press that players were chatting on the sideline during the Texas A&M loss that "this won't happen again."
Given the storied history of Texas football, the players understand the role they play in a winning tradition, and it would be hard to believe that history will repeat itself in 2011.
Bryan Harsin Brings Great Energy to the Texas Longhorns
It's rare you see a high-profile traditional Division I program place trust in 30-somethings, especially when money and the reputation of the team are at stake.
Major Applewhite, Bryan Harsin, Darrell Wyatt, Bo Davis, Stacy Searels and Manny Diaz are sure to inject some great energy and enthusiasm into the program.
Mack Brown was very deliberate in hiring each of the new pieces of the reshaped coaching staff.
A unified plan was in place from day one, regardless of the rumors, which were plentiful during Brown's own period of silence with the public and local press.
If a coach balked at working long hours or putting in unlimited effort, they were dismissed as a serious candidate for the openings, which were created with all of the offseason shakeups.
The new staff will approach each day with energy, enthusiasm and effort.
The players who share these same attributes will see the field more often than not.
If this is the case, the Longhorns cannot help but improve by purely playing hard on every down.
Hard work creates opportunity, especially in a conference like the Big 12 (10), where the separation between talent at each position is negligible.
Eric Francis/Getty Images
Will Garrett Gilbert Keep Mack Brown's Confidence?
Texas' losses in the 2010 season were rarely blowouts.
Garrett Gilbert often had to throw under pressure due to lack of protection from an inexperienced offensive line.
Balls were tipped at the line of scrimmage which turned into the lion's share of his interceptions.
The line must improve regardless of whom emerges under center for the Longhorn offense to again be productive and rise to expectations.
A young, but athletic receiving corps including Mike Davis, Marquise Goodwin, DeSean Hales, Malcolm Williams, Darius White and newcomer Jaxon Shipley must run aggressive and technically-sound routes for Texas to be effective on the offensive side of the ball.
Mack Brown's hire of Darrell Wyatt at receivers coach shows he is serious about developing good athletes into great receivers. This is Wyatt's calling card.
The running back committee severely underachieved in 2010.
Fozzy Whitaker, D.J. Monroe, Tre Netwon and Cody Johnson each showed flashes of brilliance but none of them could carry the load every Saturday.
With the arrival of Malcolm Brown (and the premature departure of Newton), Texas again could have a running back which will demand the attention of opposing defenses and prevent them from playing soft zones to take away the passing game.
The Texas offense, in short, has nowhere to go but up.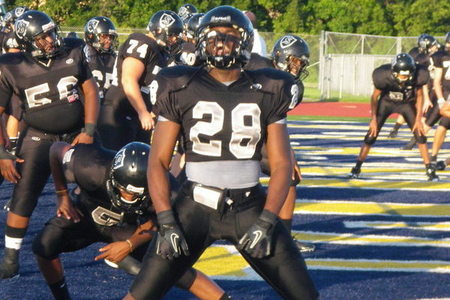 Cibolo Steele's Malcolm Brown Should Make an Instant Impact
Cibolo Steele (HS) running back Malcolm Brown makes his way to Austin as one of the most hyped running backs in recent Texas high school history.
Texas desperately needs a feature back to carry the load, and Brown should be the guy. Cody Johnson and Fozzy Whitaker have had plenty of time to prove they could be this type of back, and time has passed them by.
While it is doubtful Brown will be the starter on opening day against Rice, he will be given every opportunity to become the Longhorns' feature back by the start of conference play, and could easily go down as one of the greats if his work ethic equals his natural talent.
Mack Brown and his coaching staff are banking on it.
Freshman QB David Ash is Impressing Mack Brown
Texas is fully engaged in an open quarterback competition.
Garrett Gilbert's job is far from secure, as new co-offensive coordinators Bryan Harsin and Major Applewhite will take a close look at Case McCoy, Connor Wood and newcomer David Ash.
At this point, the depth chart is a little murky, but David Ash has certainly impressed the Longhorns staff with his tight spirals, great touch, and poise in the pocket.
Connor Wood and Case McCoy have been less impressive and appear to be falling behind Ash in the race for the most popular person on campus—the backup quarterback.
Ultimately, it is probably Garrett Gilbert's job to lose, but Mack Brown is definitely going to crosscheck and double-check to make sure the right signal caller takes the field in September.
Nothing is more important to Texas' success in 2011.
Brian Bahr/Getty Images
Blake Gideon Will Lead the 2011 Longhorns Defensive Unit
New Texas defensive coordinator Manny Diaz has already been nicknamed "Coach Doom" around Austin for his no-nonsense, stern personal demeanor.
It is well established his teams take on this same attitude.
Diaz's unlimited energy and drive are already garnering him praise among the Texas faithful.
They are undoubtedly on his side.
If the Texas defense plays with a chip on its shoulder, and with heart, it could be one of the most explosive and intimidating in all of college football.
Senior leaders like Blake Gideon, Emmanuel Acho and Keenan Robinson hold the defense's destiny in their hands and will be looking to leave their mark prior to departing the Forty Acres.
Ronald Martinez/Getty Images

Odds are Texas will not have back-to-back losing seasons:
The last time the Texas Longhorns suffered through back-to-back losing seasons on the gridiron were in 1988 and 1989 under head coach David McWilliams.
Mack Brown's only two consecutive losing seasons were early in his tenure with the North Carolina Tar Heels in 1988 and 1989 in which the team went 1-10 both seasons.
As a competitor, Mack Brown never wants to experience another losing season again and will do everything he can to ensure that the 2011 Longhorns are successful.
His job, livelihood and the reputation of one of college football's most storied and successful programs depends on it.