College Football Rankings 2011: Most Explosive Special Teamers from Top 20 Teams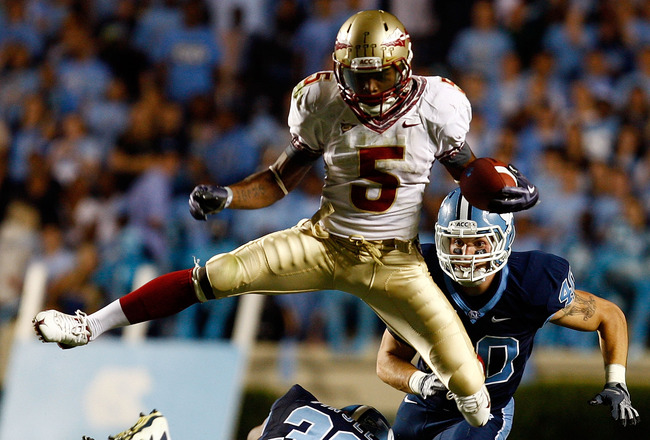 Scott Halleran/Getty Images
As positions like quarterback, running back and linebacker get all the hype coming into a new season; one of the most underrated positions is the special team's returner.
While the Top 20 college football ranking is not yet official, we can make an educated guess as to who will be in it and for most, special team's will be a huge part of their success.
Coaches and fans alike love watching a speedy player return a kick for great field position or better yet, a touchdown, so here is college football's ranking of the Top 20 most explosive special team's players from the unofficial Top 20.
20. Nebraska: Rex Burkhead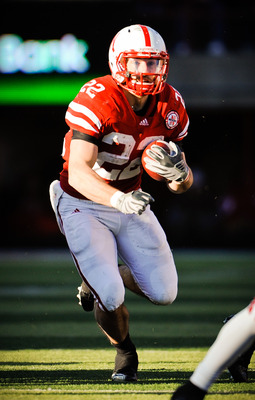 Eric Francis/Getty Images
Taking over the punt return duties after senior Niles Paul graduated, Rex Burkhead will need to use his quick feet to make an impression on Nebraska's special team's coaches.
Burkhead, doubling as a running back for the Huskers, uses his high football IQ and agility to explode around the corner on returns and will can put on a show for fans.
Burkhead should have a slight edge to capture the punt return duties as he has impressed so far with his running ability.
19. Texas A&M: Coryell Judie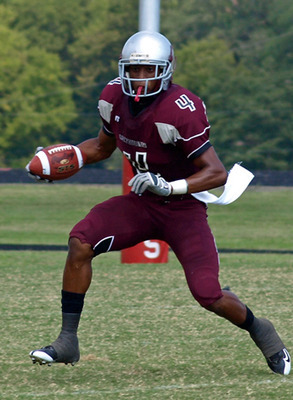 from a bleacher report article
A senior JUCO transfer, Coryell Judie will be in a fierce fight for the returner's job, but I eventually see him winning it with his explosive speed.
A tremendous competitor, Judie goes after the ball in the air and makes sure he shakes defenses with his 10.9-second 100-meter dash speed.
Texas A&M has many things going for them in 2011 and Judie may just be one of their best "diamonds in the rough."
18. Missouri: Marcus Murphy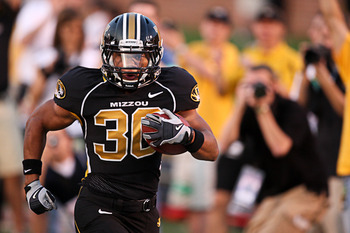 http://www.google.com/imgres?imgurl=http://www.mizzourahblog.com/images/stories/bcpl8098.jpg&imgrefurl=http://www.mizzourahblog.com/Page-10.html&usg=__oeGv6udGwXRI5yvO9YUQXNE5jY8=&h=400&w=600&sz=256&hl=en&start=0&zoom=1&tbnid=M-xkEbwLrKVGUM:&tbnh=134&tbnw=179&ei=1hWBTfWXGoO5tgesoPDOCA&prev=/images%3Fq%3Dmarcus%2Bmurphy%2Bmizzou%26um%3D1%26hl%3Den%26client%3Dsafari%26rls%3Den%26biw%3D1280%26bih%3D552%26tbs%3Disch:1&um=1&itbs=1&iact=hc&vpx=361&vpy=234&dur=1411&hovh=183&hovw=275&tx=131&ty=60&oei=1hWBTfWXGoO5tgesoPDOCA&page=1&ndsp=21&ved=1t:429,r:9,s:0
As a freshman on the Missouri squad, Marcus Murphy showed why he belongs in the long-term plan of the Tigers.
Receiving 24 kicks, Murphy averaged 19.8 yards per carry and was a legitimate concern for the opposing team.
Murphy is a potential touchdown threat every time he gets the ball and secures it nicely in his strong hands. Being one-year wiser will help him win the full-time starting job.
17. Florida State: Greg Reid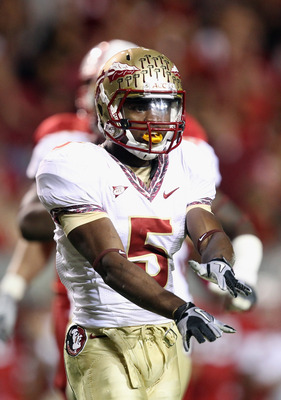 Streeter Lecka/Getty Images
Greg Reid is flat out good…scary good.
In his first two seasons at FSU, Reid has received 57 total kicks for 1,406 yards while also playing lock-down defense on any receiver he's matched up with.
Despite standing at just 5'8", Reid plays a lot bigger than he actually is and is a consistent threat to return a kickoff for a touchdown.
As Reid continues to shine in a Seminoles uniform, look for his explosiveness to be on full display in the upcoming 2011 season.
16. Virginia Tech: Jayron Hosley
Kevin C. Cox/Getty Images
Despite being a first year starter in 2010, Jayron Hosley was one of the bright spots on the Hokies special teams and secondary.
"He's probably, right now, one of our more consistent players in his technique and fundamentals of anyone on the football field," said Va. Tech's defensive coordinator Bud Foster of Hosley (CollegiateTimes.com).
If Hosley continues to put up solid numbers, expect him to lock the starting job in the return game.
15. Mississippi State: Ladarius Perkins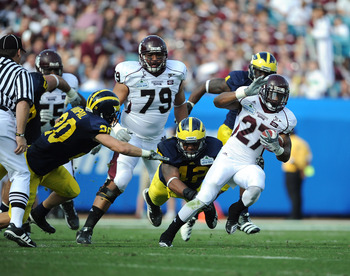 Rick Dole/Getty Images
As a back, freshman Ladarius Perkins is as solid as they come and as a return specialist, Perkins uses his explosiveness to cut the corners and make big plays.
Averaging 20.1 yards per return in 2010, Perkins received 14 kicks and accumulated 281 yards in the process.
Expect Perkins to use his big body to do work on the special teams side of the ball while also being a key piece in Miss. State's offensive attack.
14. Michigan State: Keshawn Martin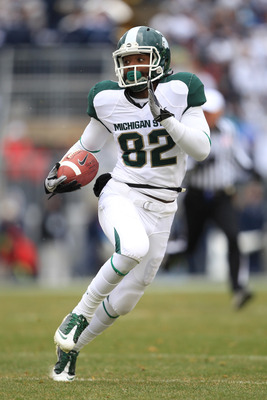 Hunter Martin/Getty Images
A 5'11", 185-pound senior, Keshawn Martin will once again man the job that has been his at Michigan State for some years now.
With 45 career returns to his name, Martin averages 23.8 yards a carry and eclipsed the 1,000-yard return mark in 2010.
"Keyshawn's an excellent return man and anytime he gets his hands on the ball, something is going to happen," Head Coach Mark Dantonio said of his star returner.
"He's very calm under pressure and plays within himself. He's one of our most explosive players who does so many things for us" (MSUSpartans.com).
13. Oklahoma State: Justin Gilbert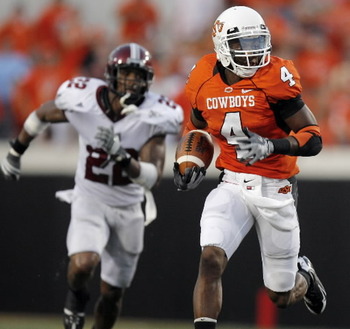 http://www.google.com/imgres?imgurl=http://blog.newsok.com/osu/files/2010/10/JustinGilbertTROY.jpg&imgrefurl=http://blog.newsok.com/osu/2010/10/03/baptism-by-fire/&usg=__9retMEVMUT01nZBo2P2TvBe0TFQ=&h=481&w=512&sz=50&hl=en&start=0&zoom=1&tbnid=-E-jkslOFNSHRM:&tbnh=128&tbnw=131&ei=oBWBTajtN9OCtgeCgp3kCA&prev=/images%3Fq%3Djustin%2Bgilbert%2Bosu%26um%3D1%26hl%3Den%26client%3Dsafari%26sa%3DN%26rls%3Den%26biw%3D1280%26bih%3D552%26tbs%3Disch:1&um=1&itbs=1&iact=hc&vpx=229&vpy=77&dur=1770&hovh=218&hovw=232&tx=114&ty=110&oei=oBWBTajtN9OCtgeCgp3kCA&page=1&ndsp=22&ved=1t:429,r:1,s:0
Returning two kickoffs for touchdowns in his freshman season, Justin Gilbert has a promising college career ahead of him for the Oklahoma State Cowboys.
Garnering Big-12 special teams player of the week during 2010, Gilbert ranked second in the Big-12 on kickoff returns with 26 opportunities and will continue to be a threat in OSU's special team game plan.
12. Arkansas: Joe Adams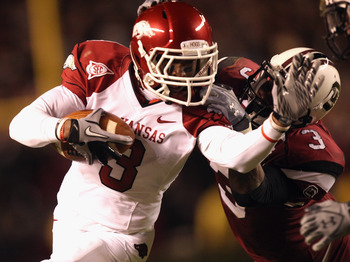 Streeter Lecka/Getty Images
Making Arkansas' special teams duty an offensive game, Joe Adams carried the Razorbacks return game in 2010 with 16 returns for 249 yards.
"I Want them to understand that it's an offensive play," offensive coordinator Garrick McGee said as he took over the group of kick returners. "The first play of the offense is the punt return."
With this new philosophy and coaching style, expect big things from the 2011 Razorback returning attack.
11. Nevada: Mike Ball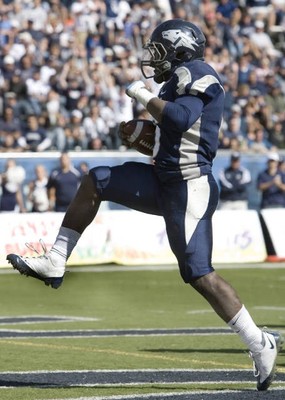 http://www.google.com/imgres?imgurl=http://www.xtrapointfootball.com/images/stories/mike_ball.jpg&imgrefurl=http://www.xtrapointfootball.com/20091224123/2009-articles/december/what-to-watch-for-hawaii-bowl-nevada-vs-southern-methodist.html&usg=__OH4bZhTMfayiMVGmT4bqeUZI2tE=&h=640&w=456&sz=66&hl=en&start=0&zoom=1&tbnid=zOHziTALJrUo1M:&tbnh=126&tbnw=90&ei=aBWBTdvROouctwfL6I3kCA&prev=/images%3Fq%3Dmike%2Bball%2Bnevada%26um%3D1%26hl%3Den%26client%3Dsafari%26sa%3DN%26rls%3Den%26biw%3D1280%26bih%3D552%26tbs%3Disch:1&um=1&itbs=1&iact=hc&vpx=119&vpy=52&dur=496&hovh=266&hovw=189&tx=79&ty=160&oei=aBWBTdvROouctwfL6I3kCA&page=1&ndsp=24&ved=1t:429,r:0,s:0
Having not returned a kickoff for a touchdown since 1998, Mike Ball of the Nevada Wolf Pack almost ended that drought last year against Hawaii when he returned a kick 84 yards down to Hawaii's 16-yard line.
Ball has enjoyed a successful career thus far for the Wolf Pack, averaging 24.6 yards per return, but not having returned one for a TD yet.
Ball can secure the starting spot if he keeps his consistency up, but expect other names to be thrown into this mix as the opening kickoff looms near.
10. Alabama: Marquis Maze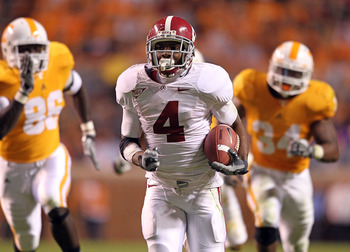 Andy Lyons/Getty Images
After losing lead returner Julio Jones to the NFL Draft, Marquis Maze will get the chance to step up in his place.
Maze has returned 80 career kickoffs, averaging 15.2 yards per carry on 1217 total yards.
His seven career returns for a touchdown bode well for a successful 2011 campaign for the Crimson Tide.
9. Boise State: Chris Potter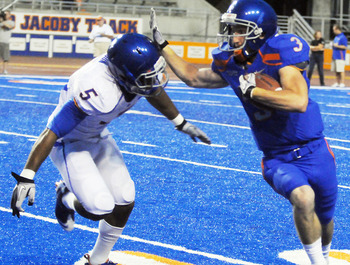 http://www.google.com/imgres?imgurl=http://bloximages.chicago2.vip.townnews.com/idahopress.com/content/tncms/assets/editorial/c/a2/b26/ca2b268e-adb7-11df-8850-001cc4c002e0-revisions/4c70c5c11a334.image.jpg&imgrefurl=http://www.idahopress.com/collection_559cac56-adb8-11df-907d-001cc4c002e0.html&usg=__DGClOCv8DLg1W_BSFPbIKwSvqwQ=&h=529&w=700&sz=530&hl=en&start=0&zoom=1&tbnid=l1KncJVH0zl3XM:&tbnh=122&tbnw=161&ei=FhWBTar6F9K5tgeZwOjRCA&prev=/images%3Fq%3Dchris%2Bpotter%2Bboise%2Bstate%26um%3D1%26hl%3Den%26client%3Dsafari%26rls%3Den%26biw%3D1280%26bih%3D552%26tbs%3Disch:1&um=1&itbs=1&iact=hc&vpx=405&vpy=86&dur=418&hovh=195&hovw=258&tx=158&ty=113&oei=FhWBTar6F9K5tgeZwOjRCA&page=1&ndsp=23&ved=1t:429,r:2,s:0
Boise State has posted some solid special teams number in the past and look for Chris Potter to get a bulk of the returns and stun the crowd in the process.
Taking 22 kicks in 2010, Potter went for 422 yards, a 13.2-yard average with one touchdown return against Idaho.
It was the first TD return of his career and the Broncos first punt return for a score since 2008, so look for Potter to continue his recent string of success.
8. LSU: Reuben Randle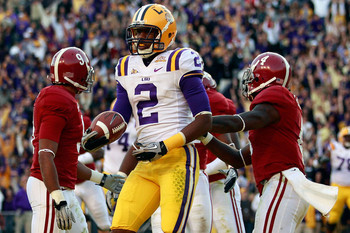 http://www.zimbio.com/pictures/OPnsBKxnKuv/Alabama+v+LSU/pHSor0DCdHM/Rueben+Randle
It's going to be almost impossible to replace the talent of Patrick Peterson to LSU's return game, but in the words of Kevin Garnett, "ANYTHING IS POSSIBLEEEE!"
Reuben Randle is the safe pick to be tabbed as Peterson's predecessor because he was his back up last year a returned two punts for 10 yards, five yards each.
Randle will have to show his consistency early on however, as Ron Brooks, Mo Claiborne and Tyrann Mathieu will also be getting reps during spring practice.
7. Wisconsin: James White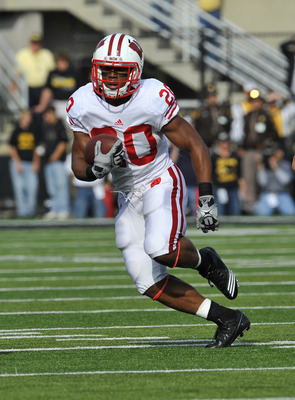 David Purdy/Getty Images
As David Gilreath and his opening kickoff for a touchdown against Ohio State depart Wisconsin for the NFL draft, a few names will have to step up to replace his productivity.
The first to be tabbed is James White, but close behind him is Jared Abbrederis.
Mainly a running back, White got some looks on special teams in 2010 when he returned 17 kicks and averaged 19.4 yards.
He's going to need to be consistent if he wants to keep his return job, as incoming freshman Kenzel Doe is supposedly a phenomenal return specialist.
6. Oklahoma: Ryan Broyles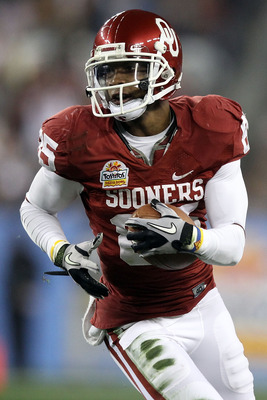 Christian Petersen/Getty Images
Deciding to return to Oklahoma for his senior season, receiver and returner Ryan Broyles will strengthen the Sooners all-around game in many ways.
He is an elite receiver, but an even more explosive returner on the special teams side of the ball.
Leading the nation with 34 returns in 2010, Broyles accumulated 268 yards while also adding two TD returns to his resume.
"We've got a chance to have a very good team next season and I really want to be part of that," Broyles recently said at an OU press conference.
Head Coach Bob Stoops added, "His return obviously strengthens us in many ways."
5. Ohio State: Jaamal Berry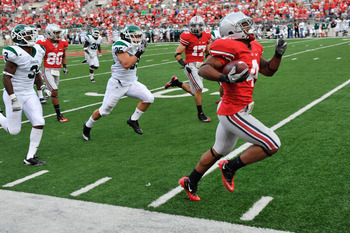 Jamie Sabau/Getty Images
Splitting return duties with Jordan Hall, Jaamal Berry saw his fair share of returns in 2010 receiving 21 kicks and averaging 25.4 yards a carry.
On a special teams unit that showcased a number of different names, Berry was the most consistent of the bunch and was an important fixture in establishing good field position.
Not making many mistakes when the ball was in his hands, Berry should be poised for a solid 2011 in which he will make few mistakes and will rarely turn the ball over.
4. Stanford: Chris Owusu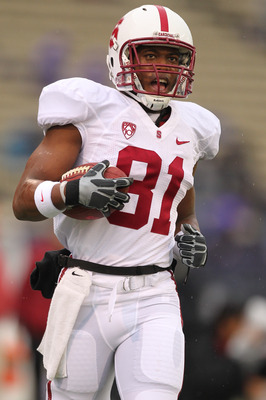 Otto Greule Jr/Getty Images
A solid returner for the Stanford Cardinals averaging 27.9 yards per return on 70 career returns, Chris Owusu will be looking to capitalize on his All-Pac-10 season a year ago.
Coming off a stellar 2009 in which Owusu returned three kicks for touchdowns, 2010 could be seen as a down year for Owusu as he only returned 19 kicks for 462 yards.
As Coach Harbaugh is set to leave the program, look for Owusu to break out in 2011 under the new leadership.
3. Oregon: Kenjon Barner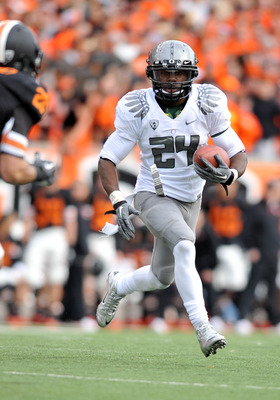 Steve Dykes/Getty Images
Primed for a great 2011, Oregon's Kenjon Barner will be taking a bulk of the Ducks return duties.
Returning 13 kicks for 236 yards in 2010, Harris doubled as a running back while also having a huge impact on special teams.
Averaging 23.3 yards per return in his two years at Oregon, Barner has returned a kick for a touchdown and is prepped for a solid 2011 junior season.
2. Texas Christian University: Greg McCoy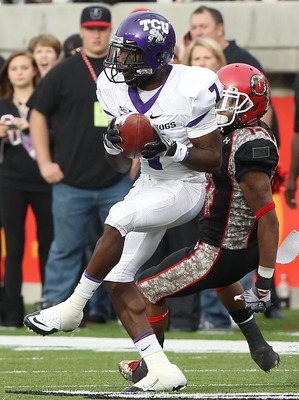 George Frey/Getty Images
As TCU All-American wide receiver and returner Jeremy Kerley takes his talents to the NFL, Greg McCoy will now be able to step up and take over the Horned Frog's return game.
The 5'10", 180-pound McCoy has made an impact on special teams in the past, returning 15 kicks for 526 yards in his career and one 81-yard touchdown return in a game against Wyoming.
As Kerley heads out, expect McCoy to step up big in his place.
1. Auburn: Quindarius Carr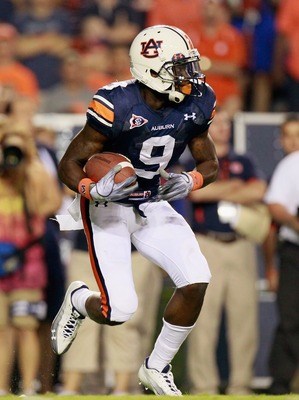 Kevin C. Cox/Getty Images
As the reigning National Champs, the Auburn Tigers aren't expecting many newcomers to their special teams and that includes the return of Quindarius Carr.
Taking over return duties during his 2010 junior season, Carr returned 16 kicks for 123 yards and has secured the 2011 starting returner job already.
Said Auburn assistant head coach Trooper Taylor of Carr's hard-working return game, "He just worked at it and he hasn't put the ball on the ground. You've got to have the trust factor…he has worked on that. Even during the summer, he was out there catching punts."
Keep Reading