Big 12 Football 2011: How Much Will Nebraska Be Missed Next Season?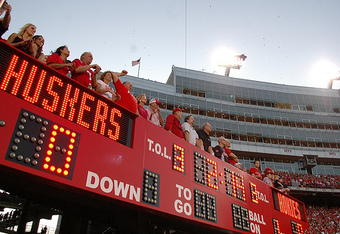 The Nebraska Cornhuskers officially become part of an expanding Big Ten conference as of July 1, leaving the Big 12 in the dust—and their departure may be the first step towards the league's collapse.
Nebraska brought a rich culture of tradition and consistently competitive teams when the Big Eight and the remnants of the Southwestern Conference fused to form the Big 12.
Charles Martin Dobbs, who served as interim Big 12 commissioner upon its creation, had to have been thrilled at the prospect of getting both teams from a nationally-recognized rivalry (Nebraska and Oklahoma) as a part of his project.
The Cornhuskers also helped bring more credibility to the conference once the Bowl Championship Series came about.
Regardless of out-of-conference scheduling, the Big 12 usually had a measure of difficulty high enough to claim a difficult road to hoe. Let alone making it past another crucial contest in the Big 12 Championship Game.
If a team could claim a win over Nebraska, Missouri, and a couple of Big 12 South teams such as Texas, Oklahoma, Oklahoma State, or Texas A&M, they would likely be looked upon favorably by those that mattered when it came to post-season fortunes.
It may seem egocentric, but teams simply loved to beat Nebraska. Plenty will deny this, but if fans from just about any, if not all, Big 12 schools are alerted to the thought of an automatic win over the Cornhuskers, there has been quite a bit of visually-documented happiness.
Tom Pennington/Getty Images
As painful as it may be for Nebraska fans to admit, Texas loved to play the Cornhuskers and not simply because the Longhorns won most of the time. Texas found ways to win, much like the Cornhuskers' former annual rival, Oklahoma. Now, the Longhorns still get to spit in the Sooners' eye, but that's been done to death.
Nebraska's move marks the first step on the road to league instability. With Colorado's departure, the Big 12's tower sways dangerously in legitimate concern for its future survival—with only 10 teams and no conference title game.
The Big Ten stood solidly with 11 teams, and it has been taken as a respectable conference, due in large part to its members' traditional statuses. But the Big 12 still was able to make that final tilt between the best of the North and South worth so much.
Now claiming a twelfth member and hosting a conference championship itself, the Big Ten yet again enjoys a luxury that the Cornhuskers' former league had just one season ago.
Perhaps the key factor in Nebraska's departure is money.
Cornhusker fans pour money into football contests like it's going out of style. The Big Ten now gets to enjoy those spoils, along with any that Nebraska should pick up due to a bowl appearance.
When it comes to the Big 12, Texas was always considered king when it came to cash. Now, there's no debate.
Perhaps one man who can sum up the blow to the league is a man who defines much of its culture: former Oklahoma Sooners head coach Barry Switzer.
"What makes (the Big 12) attractive? All the other schools?" Switzer told the Columbia Missourian. "You're losing the gem of the North."
Switzer seems as skeptical of the conference's future as anyone else.
"I know this: Without Nebraska in the league, I just don't know how they can sell it anymore," Switzer said. "Losing Nebraska is a hell of a blow."
When a legendary head coach who often stood on the opposing sideline of classic games gives his old rival that kind of acknowledgment, it might cause one to stop and wonder just why current Big 12 commissioner Dan Beebe was given a contract extension.
Beebe may have very well signed the conference's death warrant by letting the Cornhuskers walk out the door.
Success in the near future is crucial to conference survival.
The Big Ten isn't concerned in the least bit.
Thanks to the loss of Nebraska—and now Colorado—the Big 12 cannot afford a poor showing over the next couple of seasons; especially should conference expansion renew.
Join the Anti-Offseason Crew!
Football news, reviews and much more awaits! Follow Brandon on Twitter (@eightlaces) for the all the latest and other general football goodness.
This article is
What is the duplicate article?
Why is this article offensive?
Where is this article plagiarized from?
Why is this article poorly edited?

Nebraska Huskers Football: Like this team?