SEC Football 2011: Top 25 Questions Heading into Next Season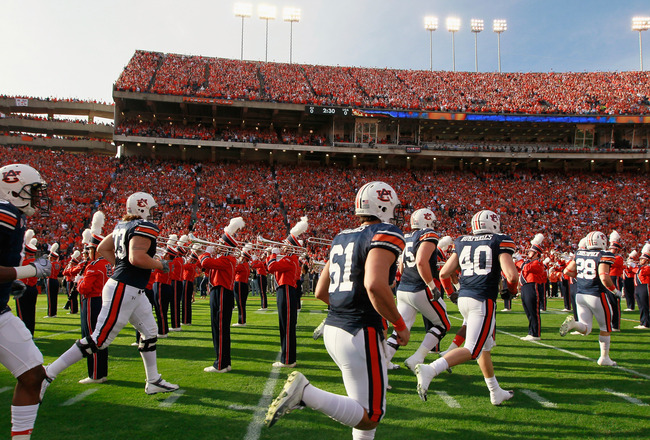 Kevin C. Cox/Getty Images
The SEC is the best conference in college football—period. This isn't up for debate, end of story.
Winning the last five championships will give you all the ammunition you need to win this argument.
With that being said, there are plenty of storylines and questions heading into the 2011 season.
The 2010 season was very exciting, full of great games, players and plays. When the book closed on the 2010 season, the Auburn Tigers were named national champions.
Looking ahead to 2011, I expect another great year in the heart of college football, the SEC.
Even though it is only February, it is never too early to look at the 2011 season; what else are we supposed to do? Basketball, Hockey, Baseball?
No one else in the country loves football as a collective whole more than the SEC, and I can say that with 100-percent certainty.
With that being said, here are the top 25 questions heading into the 2011 season.
--
Follow me on Twitter @sportswithmike
Can Auburn and South Carolina Make It Back to Atlanta?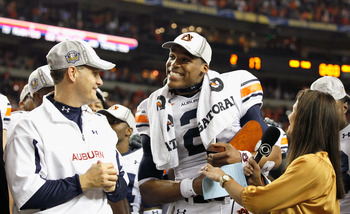 Kevin C. Cox/Getty Images
This is the first question that has to come to mind when thinking about the 2011 season.
Auburn defeated South Carolina to advance to the NCAA championship game.
The winner of the SEC championship has gone on to win the BCS National Championship game in each of the last five years.
The ultimate goal of every team starting at the conclusion of last season was how do we reach Atlanta?
Will Auburn and South Carolina meet again in this game? Probably not, but in the SEC, you never know what will happen.
Who Are Potential Heisman Trophy Candidates?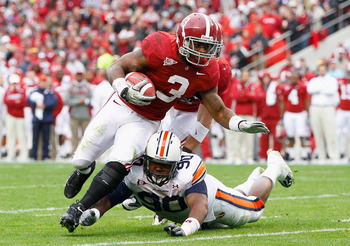 Kevin C. Cox/Getty Images
The Heisman Trophy winner came from the SEC conference the last two years and three of the last four.
Auburn and Cam Newton, Alabama and Mark Ingram and Florida and Tim Tebow have all earned college football's most prestigious award.
Looking ahead to 2011, the chances the SEC makes it four in five years are very slim with LaMichael James and Andrew Luck returning to their respective schools.
However, there are a couple SEC players who could end up with the trophy or at least a trip to New York.
Here is an early list:
RB Marcus Lattimore, Soph., South Carolina
RB Trent Richardson, Jr., Alabama
RB Knile Davis, Jr., Arkansas
WR Alshon Jeffery, Jr., South Carolina
QB Aaron Murray, So., Georgia
What Coaches Will Be on the Hot Seat Following 2011?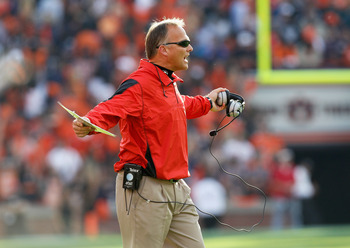 Kevin C. Cox/Getty Images
Two new head coaches joined the SEC following the 2010 season.
Will Muschamp replaced Urban Meyer, who left because of health reasons, at the University of Florida. James Franklin replaced Robbie Caldwell at Vanderbilt.
I don't see many coaches truly on the hot seat, with the exception of Mark Richt.
Georgia has had back-to-back disappointing seasons, as Georgia fans are getting fed up with the lack of success with the talent that is constantly coming in.
If Richt can't get to nine, or maybe even eight, wins, it might be the end of Mark Richt's tenure at Georgia.
Note: I am a Georgia fan and I personally don't want to get rid of Richt. However, the boosters might have a say if Georgia can't turn this thing around.
Can Ole Miss and Vanderbilt Leave the Basement of the SEC?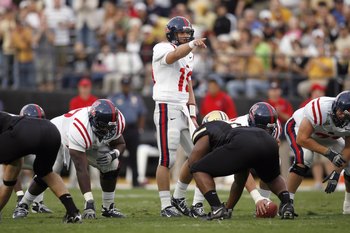 Chris Graythen/Getty Images
No.
The SEC is so dominant at the top that these programs will remain at the bottom.
They can look ahead and try to build for the future, but for 2011, look for them both to finish in the bottom of their division.
Yes, this slide is about as interesting as these two programs will be during the 2011 season.
What Teams Will Surprise Some People?
Streeter Lecka/Getty Images
There is one team that I believe will surprise some people and cause some upsets throughout the 2011 season.
They are the Tennessee Volunteers.
Tennessee will be better in Derek Dooley's second year and will have plenty of opportunities to surprise people with their schedule.
They have games against Georgia, South Carolina, Florida, LSU, Alabama and Auburn.
Now, when you look at their record at the end of the year, you won't be that impressed. However, they have a chance to win a couple of those games that they're not expected to win.
What Teams Will Disappoint?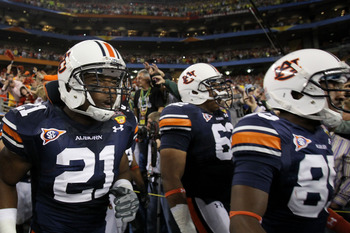 Ronald Martinez/Getty Images
The 2010 national champions, Auburn Tigers.
The Tigers had a magical 2010 season, but after looking at their schedule, that magical journey will come to a screeching halt.
Why do I think that?
Their schedule.
Enter road games against Clemson, South Carolina, Arkansas, LSU and Georgia.
Enter home games against Mississippi State, Florida and Alabama.
Subtract Cam Newton and Nick Fairley.
Sure the Tigers bring in one of the top classes in the nation, but that schedule is absolutely brutal.
Can Georgia Finally Get Past Florida?
Sam Greenwood/Getty Images
As a Georgia student, this is the one question that I want to be answered.
If Georgia went 1-11 and that one win was against Florida, I would feel relieved. The Bulldogs have lost 18 of the last 21 games in the World's Largest Outdoor Cocktail Party.
Aaron Murray had one of his worst games of his career, throwing three interceptions in the game last year. However, as a sophomore expect him to be even better and not fall apart.
I will admit that I am biased, but I will be in attendance for this game dressed in my finest gameday gear.
What Are Potential Gameday Locations Featuring SEC Games?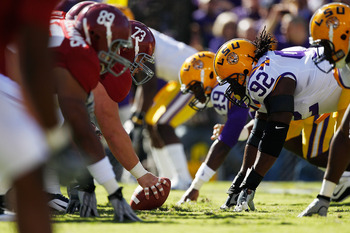 Chris Graythen/Getty Images
Here is a list of potential games Chris, Lee and Kirk could be at featuring SEC games. Bold indicates highly likely games considering the rest of the slate in college football as well as the importance of the SEC game.
Sept. 3: LSU vs. Oregon (Dallas)
Sept. 10: South Carolina at Georgia, Alabama at Penn State
Sept. 24: Arkansas at Alabama
Oct. 1: Alabama at Florida
Oct. 22: Auburn at LSU
Nov. 5: LSU at Alabama

Nov. 12: Auburn at Georgia, Florida at South Carolina
Nov. 26: Alabama at Auburn, Arkansas at LSU
Dec. 3: SEC Championship
Jan. 9: BCS Title Game
What Happens to Tennessee off the Field?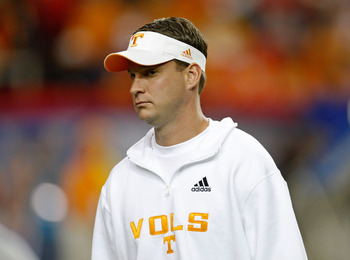 Mike Zarrilli/Getty Images
The NCAA has recently released findings following an investigation of the Tennessee football and basketball programs.
They are set to appear in front of the infractions committee in June to further talk about the allegations.
These allegations occurred during the short tenure of Lane Kiffin, so it will be interesting to see who the NCAA decides to punish, Lane Kiffin at USC or Tennessee.
It would seem fair to punish the party that was responsible for these violations, which would be Lane Kiffin.
However, you never know what the NCAA will do and chances are it won't make any sense.
Which Will Be the Next Team Under NCAA Investigation?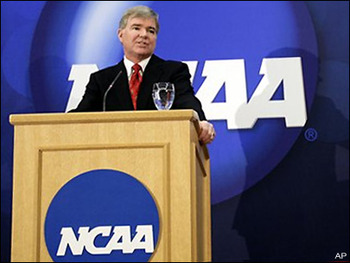 In the world of SEC football, it seems like there is always a school under investigation.
Although the SEC puts on the best display of talent on the actual football field, as a whole they are just as bad off the field.
I have no idea which will be the next school to come under attack, but chances are the next time it happens won't be too far into the future.
Who knows? The NCAA could be conducting investigations right now that we, as a general public, don't know about.
Does Arkansas Have the Best Receiver Group in the Nation?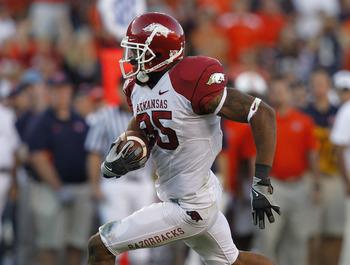 Mike Zarrilli/Getty Images
Does Arkansas have the best receiving corp in the SEC? Absolutely.
Does Arkansas have the best receiving corp in the nation? Probably, but we will have to wait to find out.
Jarius Wright, Joe Adams and Greg Childs make quite a compelling case for this argument. The one difference in 2011 will be who is throwing them the ball. Ryan Mallet has gone to the NFL.
Enter Tyler Wilson.
Wilson is a very good quarterback and the Razorbacks shouldn't expect to experience a drop off.
Even if he is not as good as Mallet, he will still be throwing to one of the best, if not the best, receiving group in the nation.
How Will Will Muschamp Perform in His First Year?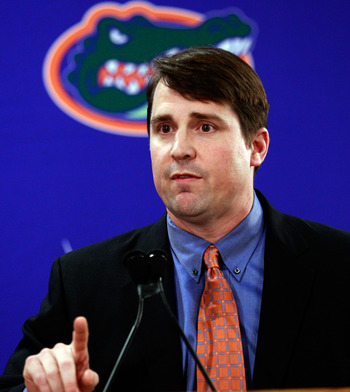 Sam Greenwood/Getty Images
Will Muschamp, former Texas defensive coordinator, takes over for Urban Meyer, who left for health reasons and to spend more time with his family.
Muschamp will be thrown into the gauntlet of the SEC in his first year at the helm of the Gators.
The Florida schedule is very difficult and includes games against Alabama, LSU, Auburn, Georgia, South Carolina and Florida State.
Given that schedule, an eight-win season should be considered a success.
Muschamp is a very good coach, but you probably won't see that in the win total in his first year with the Gators. You are more likely to see it further on down the line.
Who Will Be LSU's Quarterback in 2011?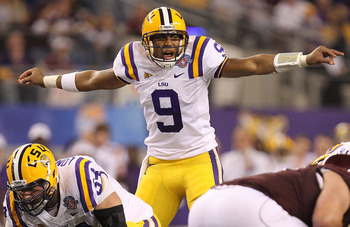 I want to be the quarterback next year by this much
Ronald Martinez/Getty Images
Returning starter Jordan Jefferson, senior Jarrett Lee and incoming junior-college transfer Zack Mettenberger will all compete to take control of the Tigers offense in 2011.
According to new offensive coordinator Steve Kragthorpe, the job is wide open and not guaranteed to anyone.
This will cause some very interesting spring football practices, as well as a closely-paid-attention-to spring game.
From an outsiders perspective, I have no idea what direction Kragthorpe and Miles will decide to go. All I can do is ask the question.
One thing I do know is that you can't go with a two-quarterback system. Only a select few have been able to run one successfully, and I don't think LSU will be the exception to the rule of "if you have two quarterbacks, you have no quarterback."
Will Jadeveon Clowney Live Up to the Hype?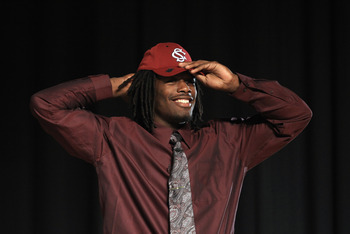 Streeter Lecka/Getty Images
Jadeveon Clowney was the most-hyped recruit of the 2011, and he decided to sign with the University of South Carolina.
Steve Spurrier and the Gamecocks received a game changer at the defensive end position for the next three years.
He is being heralded as the best recruit since Da'Quan Bowers committed to Clemson.
After watching his highlight tape, Clowney could be even better.
Granted it was against high school competition, but the guy just dominated the line of scrimmage, and I would expect him to do the same at the collegiate level.
I don't know how good he will be in 2011, but he has the opportunity to be something special from Day 1.
How Will Auburn Replace Cam Newton?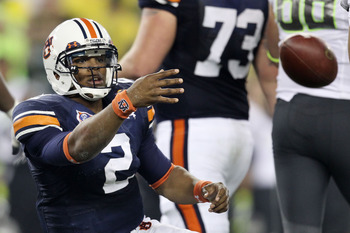 Christian Petersen/Getty Images
Cam Newton led Auburn to a national title in his only year with the Tigers, and he decided to enter the 2011 NFL Draft.
So how will Auburn replace Cam Newton?
To be frank, the Tigers can't. No one could replace the impact that he made on that football team. Auburn can only hope that the replacement can do half as much as he did.
The two candidates to replace Newton are Barrett Trotter or incoming 5-star freshman Kiehl Frazier.
I would give the upper hand to Trotter because of his familiarity with the offense, but Cam Newton proved that not to be a factor.
One thing is for certain: the Tigers will need to rely more on Michael Dyer next year, and you can't forget about the major questions regarding replacing multiple offensive linemen.
Will Todd Grantham's 3-4 Defense Be Better in Year 2?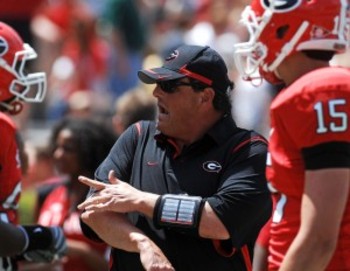 The success of the 2011 Georgia Bulldogs' season rests on the answer to this question.
Georgia's offense will be one of the best and highest-scoring offenses in the SEC next year with Aaron Murray returning.
Georgia's defense struggled in Grantham's first year and at times players didn't know what they were supposed to do.
With a year under their belts, that should change in 2011.
Incoming defensive tackle John Jenkins, a junior college transfer, could be the missing piece for this 3-4 defense.
Also expected to make an impact are newcomers Ray Drew and Jarvis Jones—a transfer from USC who sat last year out.
I expect Georgia's defense to be better and it should show against Kellen Moore and the Boise State offense in Week 1, as well as throughout the SEC gauntlet.
Tyler Wilson, Will Their Be a Drop Off With the Loss of Ryan Mallet?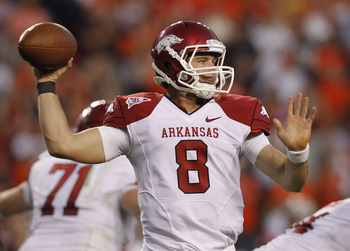 Mike Zarrilli/Getty Images
As I mentioned earlier, the Arkansas Razorbacks have one of the best receiving groups in the nation, but they will have to deal with the loss of their signal caller.
Enter Tyler Wilson.
Wilson is a redshirt junior who stands at 6'3'' and weighs 215 pounds.
He stepped in for an injured Ryan Mallet against Auburn last year, and the Razorbacks didn't miss a beat.
Wilson finished the game with 332 yards, four touchdowns and two interceptions.
With the receiving group the Hogs have, I don't expect Arkansas to be any less explosive on offense.
Sure they will miss Ryan Mallet, but they should do just fine on offense. Defense, on the other hand, is a major question mark for them.
Who Is the Top QB for Next Year?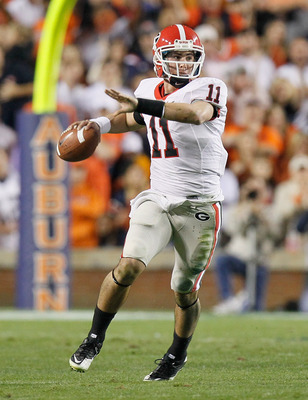 Kevin C. Cox/Getty Images
If Georgia wasn't a 6-7 team last year, Murray would have received more attention for his phenomenal year.
I know I am a Georgia fan and stats are for losers. However, these stats below do not lie, and they show how good Aaron Murray was last year.
Murray threw for 3,049 yards, 24 touchdowns and eight interceptions. He was named to the first team freshman All-SEC team.
However, Murray isn't the only very good quarterback in the SEC.
Other top names include the quarterback I just mentioned, Tyler Wilson, Stephen Garcia, Chris Relf and Tyler Bray.
The SEC is loaded at many positions across the board, and quarterback is one of those positions. I would expect a huge year for SEC quarterbacks in 2011 led by Aaron Murray.
Who Has the Hardest Schedule?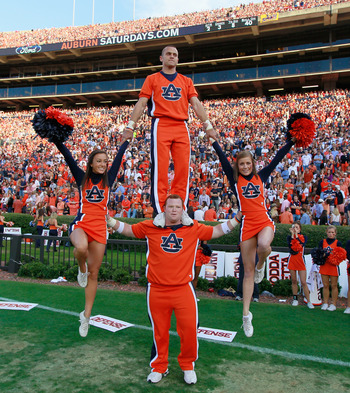 Kevin C. Cox/Getty Images
One of the things I like to look at in February are the schedules of all the teams because it gives you a better idea of how difficult their journey is.
After examining all of the SEC schedules, I can say it is clear who has the hardest schedule. It belongs to the Auburn Tigers.
They don't just have one tough stretch of games, but rather an entire season full of challenges. You could say this about every SEC team, but Auburn is in a different situation.
Their road games include Clemson, South Carolina, Arkansas, LSU and Georgia. At home they get to face Mississippi State, Florida and Alabama.
If that isn't murderer's row, I don't know what is.
Who Has the Easiest Schedule?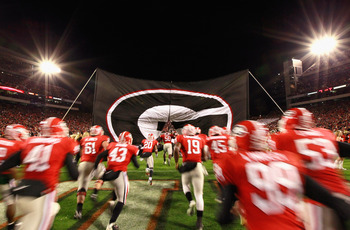 Kevin C. Cox/Getty Images
The easiest schedule belongs to the Georgia Bulldogs. They are the only school that doesn't have to face the best three teams in the SEC. That's right, they don't have to play Alabama, LSU or Arkansas. However, they could face one of those schools in the SEC Championship game.
Take a look at their actual schedule.
They open with a technical road game against Boise State, followed by a home game against South Carolina.
Other tough games include games against Mississippi State and Auburn. Georgia has the game against Florida down in Jacksonville. Outside of that they have four true road games—against Tennessee, Vanderbilt, Ole Miss and Georgia Tech.
Some might argue that the game against Georgia Tech is also a home game.
If you want to know why I am so high on Georgia coming into the season, their schedule is one of the main reasons.
Plain and simple, it is the easiest schedule in the SEC. I don't know how you could argue that.
What Are the Biggest Non-Conference Games?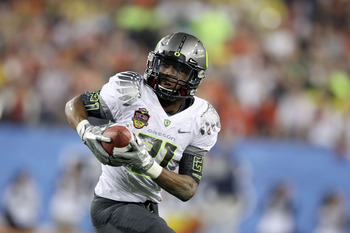 Christian Petersen/Getty Images
Earlier I outlined potential games College Gameday could be at, but now it's time to take a quick and closer look at the non-conference games the SEC will take part in.
The SEC will be thrown into the national spotlight in the first weekend of the year with two great neutral-site matchups.
They include Oregon versus LSU in Dallas and Georgia versus Boise State in Atlanta.
Oregon will be anxious to get revenge on the SEC following the loss to Auburn last January. The Ducks return many starters, including LaMichael James. LSU will have to figure out who their quarterback will be and he will be thrown into the fire in Week 1.
Georgia versus Boise State, on the other hand, features a team coming off of a 6-7 year. The Bulldogs struggled in 2011 and they are looking forward to changing the trend in 2011 under the direction of Aaron Murray.
Boise State loses quite a few players, but returns their signal caller in Kellen Moore. It will be interesting if the Broncos can keep up with the Bulldogs in the opening week of the season.
And that's only the first week.
Other top games for the rest of the year include Alabama at Penn State on Sept. 10, Auburn at Clemson on Sept. 17 and Arkansas versus Texas A&M in Dallas on Oct. 1.
Don't forget the last weekend of the year when South Carolina plays Clemson, Florida plays Florida State and Georgia plays Georgia Tech.
What Are the Biggest Conference Games?
Chris Graythen/Getty Images
I could write an entire article about this subject, but instead I will focus on the two biggest games of the year, one that will decide each division.
In the West, it is simple. It is the Nov. 5 matchup in Tuscaloosa featuring the Alabama Crimson Tide and LSU Tigers.
Auburn and Arkansas both play these teams, but the division will come down to the matchup featuring Nick Saban and Les Miles.
These are the two best teams in the Western Division and the winner will most likely advance to the SEC championship and possibly the BCS title game.
On the other hand, I predict the Eastern Division race to be all but decided in the first conference game of the 2011 season between the Georgia Bulldogs and South Carolina Gamecocks.
Write that down.
Stephen Garcia, Marcus Lattimore and company will travel to Athens on Sept. 10 to face the Georgia Bulldogs.
Here is why this is the biggest game for that division, and it has everything to do with the schedules:
First off, Tennessee and Florida will play themselves out of the race because of their schedules. Both of them have to face Alabama and LSU. South Carolina and Georgia do not.
It's as simple as that. A Georgia or South Carolina win in that game would give them an essential two-game lead on every team in that division.
Add on the fact that neither team truly has that hard of a schedule in comparison to the others and the winner of this game will go to Atlanta.
You can hold me to that statement in early September.
Who Can Come Out of the East?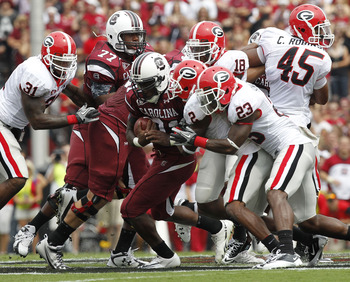 Mike Zarrilli/Getty Images
As I just got finished saying, the East will be decided by Aaron Murray and Stephen Garcia, Isaiah Crowell and Marcus Lattimore, Mark Richt and Steve Spurrier, and Ray Drew and Jadeveon Clowney.
Georgia versus South Carolina.
The game will have a major impact on who comes out of the division. However, there are two more teams that will have the final say in this matter—the Tennessee Volunteers and Florida Gators.
Now, as I said earlier, I think their schedules will play them out of the Eastern Division.
However, keep one thing in mind.
If Georgia or South Carolina had the schedule of Tennessee and Florida, I would be saying the exact opposite. Then the division would come down to the game between Florida and Tennessee on Sept. 17 in Gainesville.
But the schedules are what they are and we can't change them.
All four of those teams have the talent to make it to Atlanta, but I think at the end of the day, it will be decided in the first conference game of the year in the game between the Bulldogs and Gamecocks.
Who Can Come Out of the West?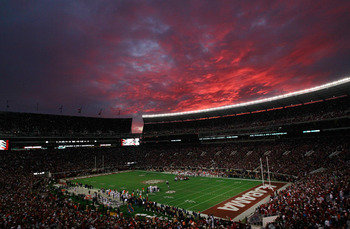 Kevin C. Cox/Getty Images
I also will state that the West will come down to two teams—the Alabama Crimson Tide and the LSU Tigers.
They will meet in the biggest game of the SEC West slate in Tuscaloosa on Nov. 5.
However, just like the East there are two other teams that will have a say in who makes it to Atlanta.
LSU and Alabama are not only two of the best teams in the SEC West, but two of the better teams in the entire country.
They both will be tested early in the out-of-conference schedule, with LSU playing Oregon and Alabama playing at Penn State.
The other teams that will be in the mix will be the defending national champions, the Auburn Tigers, and the Arkansas Razorbacks.
However, just like Florida and Tennessee, their schedules will play them out of the SEC West, especially Auburn.
Who Will Play in Atlanta?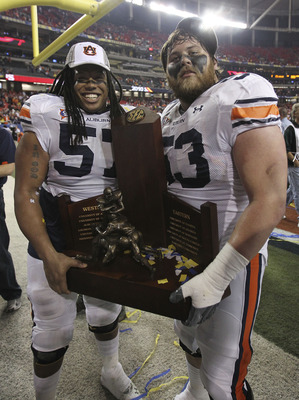 Mike Zarrilli/Getty Images
The final question and the only question that people in SEC country care about coming into the season.
This is Atlanta.
We settle things on the field.
There are approximately eight teams that have a chance to play on the ultimate stage, but I would narrow it down to four legitimate contenders.
Georgia and South Carolina from the East, and LSU and Alabama from the West.
Arkansas, Auburn, Tennessee and Florida could also make the trip to Atlanta in early December, but I think the previous four have the better chance.
But it's the SEC, and anything can happen.
I expect a lot of people to disagree, but this is just one man's opinion. What are your thoughts on the upcoming SEC season? What questions did I fail to cover in this slideshow?
Keep Reading