Arkansas Razorbacks 2011 Schedule: How Many Wins Can The Hogs Pull Out?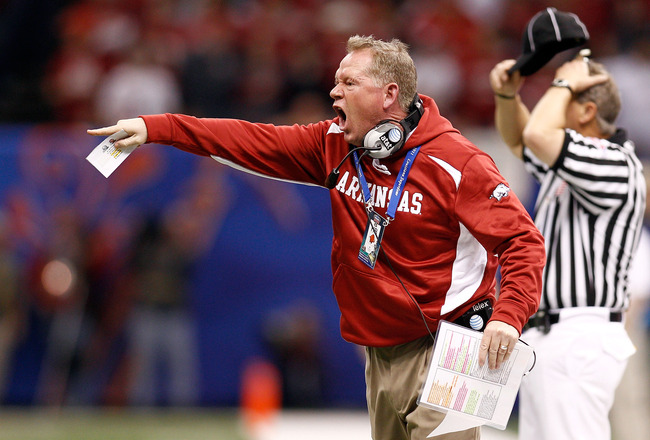 Chris Graythen/Getty Images
Another season has come and gone, but it's certainly not too early to speculate about next year!
The loss in the Sugar Bowl for the Hogs was disappointing and it's painful to see Ryan Mallett and his Howitzer of an arm leave to play on Sunday, but the schedule of the Hogs, coupled with their returning talent, has this writer thinking that a 10-12 win season is a definite possibility.
The following are individual slides dedicated to each game of the upcoming season, with a predicted result for each one.
Woo pig!
Game One: Missouri State at Arkansas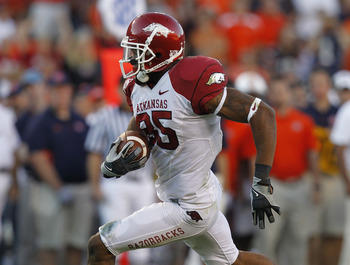 Mike Zarrilli/Getty Images
No offense to Missouri State, but this will be a paycheck game.
Tyler Wilson, eager to flex the muscles of the Arkansas offensive machine, will tear up the Missouri State defense.
The two-headed monster formed by Knile Davis and Dennis Johnson will smash the front four into pancakes and leave them behind as they go steaming into the season.
Final Score:
Arkansas 45, Missouri State, 17
Game Two: New Mexico at Arkansas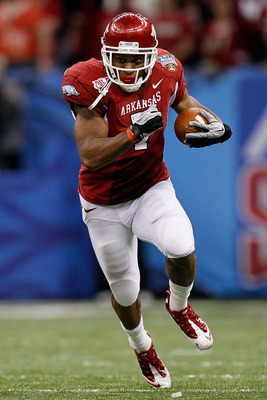 Kevin C. Cox/Getty Images
This game will be played and won in Little Rock.
Razorback teams traditionally play better at War Memorial Stadium and this one will be no different.
Again, no offense to the opposing team, but this is just another warm-up game for Petrino's Hogs before the SEC gauntlet opens its hungry maw for the Razorbacks to try to run through.
We'll probably see some third-stringers in by the end of this game and hopefully the two wins will put a little confidence under Tyler Wilson's belt as he prepares for the long haul.
Final Score:
Arkansas 38, New Mexico 13
Game Three: Troy at Arkansas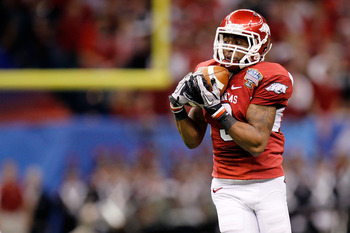 Kevin C. Cox/Getty Images
In the last of a series of veritable warm-up games, the Sun Belt leading Troy Trojans will roll into Fayetteville.
Traditionally, Troy has been one of the strongest teams in the Sun Belt, and has even given LSU a run for their money a time or two.
Unfortunately for them, however, they'll leave Fayetteville with an added number in the loss column and a roster of very sore players.
Troy's air-raid offense will not be able to crack Arkansas' seasoned secondary, and Tyler Wilson will have his chance to pick apart a physically inferior defense.
Hopefully, this last warm-up will have him ready for the ultimate test the following week at Tuscaloosa.
Final Score:
Arkansas 42, Troy 21
Game Four: Arkansas at Alabama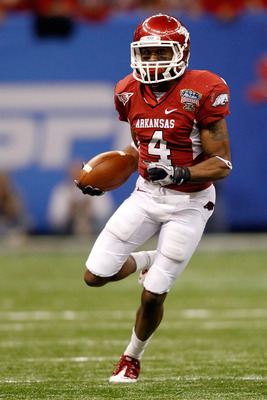 Matthew Stockman/Getty Images
This will be the ultimate test on the Razorbacks' 2011 football schedule and unfortunately, it is the first game to be played in-conference. Even worse, it's to be played at Tuscaloosa.
This game poses an interesting hypothetical, especially this many months ahead of time. Will the Alabama Crimson Tide, who struggled towards the end of the 2010 season, be ready to try for another run at the BCS National Title Game?
Unfortunately for the Hogs, I believe the answer to that question is yes. I'm not saying it's a certainty, or that it'll be a blowout, but I think the Tide will probably end up winning this game. This is not a good first SEC game for Tyler Wilson to start in, and although he did swimmingly against Auburn at Auburn, Alabama's defense is significantly stouter.
This will be a low scoring game that the Tide pull out.
Final Score:
Alabama 21, Arkansas 17
Game Five: Arkansas Vs. Texas A&M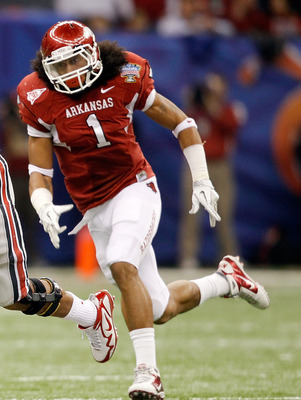 Matthew Stockman/Getty Images
A trip to Jerry-world to play against the surging Texas A&M Aggies will be one of the marquee games of the Razorbacks' season.
And, in consistency with the last two years, the Hogs will walk away winners and improve to 4-1.
The Razorbacks simply compete very well in non-conference games during the regular season, and Texas A&M seems to choke against SEC teams in some cases.
A Tyler Wilson and Knile Davis duo eager to redeem themselves after a losing effort in Tuscaloosa will take their vengeance out on the Aggies and will reboot the confidence needed to plunge right back into SEC play.
Final Score:
Arkansas 28, Texas A&M 17
Game Six: Auburn at Arkansas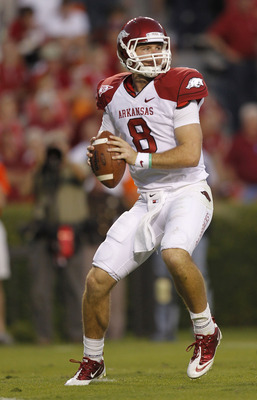 Mike Zarrilli/Getty Images
Defending champions or not, the Auburn Tigers will leave Fayetteville as losers after this game.
With Nick Fairley and Cam Newton gone, the Auburn roster lacks pinch hitters and although they were able to scrape out wins last season despite giving up huge numbers of points, that pattern will not be able to continue in Fairley and Newton's absence.
Auburn will shore up its secondary, but Arkansas' experienced receiving corps will prove to be too much.
Plus, it's not too difficult to remember Wilson's dazzling performance last season after Mallett went down.
This time, he'll come out with a W.
Final Score:
Arkansas 27, Auburn 14
Game Seven: Arkansas at Ole Miss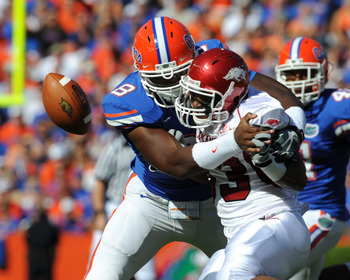 Al Messerschmidt/Getty Images
Ole Miss was just plain horrible last season and I don't expect that trend to change soon.
Blockbuster quarterback and fraternity house burglar Jeremiah Masoli was not enough to ignite a stagnant Ole Miss offense last year and the replacement squads simply don't look to have the power to get it done yet either.
Having said this, Houston Nutt is the master of the upset and the Hogs will have to be careful when going down to Oxford.
In the end, though, I just don't see Houston being able to outfox Petrino, especially with the staggering discrepancies between the talent levels of the rosters.
Final Score:
Arkansas 28, Ole Miss 21
Game Eight: Arkansas at Vanderbilt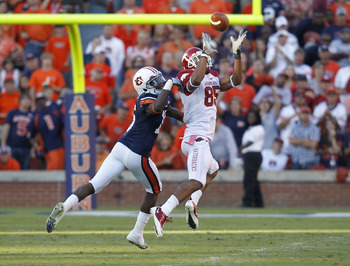 Mike Zarrilli/Getty Images
Vanderbilt is the best academic school in the SEC, but they just can't seem to get their stuff together when it comes to football.
Arkansas will come into this game 6-1 and will leave 7-1. Although the game is at Vanderbilt, Arkansas' superior athletes will run all up and down the field in Nashville.
Tyler Wilson will be at the peak of his form for the season and there will be whispers of a dark horse run at the Heisman for Knile Davis.
Final Score:
Arkansas 38, Vanderbilt, 13
Game Nine: South Carolina at Arkansas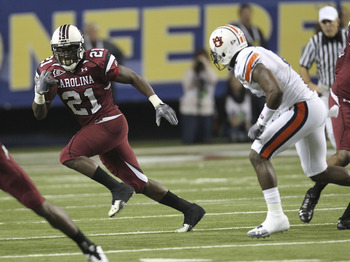 Mike Zarrilli/Getty Images
Marcus Lattimore is a phenomenal athlete and will be extremely productive in the pros one day.
Despite his performance, however, the probable SEC East leaders will head back to Columbia with a new loss under their belt.
Steve Spurrier is one of the greatest coaches in the game, but he has traditionally had trouble winning when he comes to Fayetteville as a Gamecock.
This will be a high scoring affair for both teams, but expect the Hogs' veteran receiving corps to do what it takes to pull ahead. After that, watch Knile Davis pound out the clock for a Razorback win.
Final Score:
Arkansas 38, South Carolina 31
Game Ten: Tennessee at Arkansas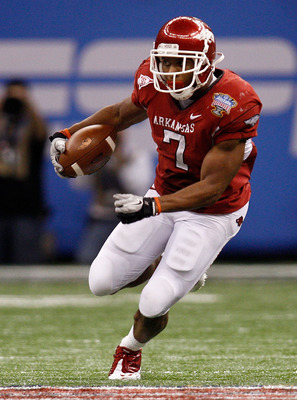 Chris Graythen/Getty Images
Tennessee has a young team and a young coach and they are certainly going to be a force to reckon with in years to come.
Next year, however, I just don't see them having all the kinks worked out in time to allow them to pull out a win at Fayetteville.
This will be a great game, as all SEC match-ups are, but the Hogs will be eyeing a possible BCS berth, and will once again prove the current dominance of the SEC West over the SEC East
Final Score:
Arkansas 31, Tennessee 21
Game Eleven: Mississippi State at Arkansas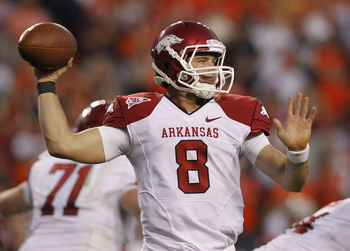 Mike Zarrilli/Getty Images
Dan Mullen is doing a fantastic job with the Mississippi State Bulldogs and his dominance will continue through 2011.
Arkansas will be coming into this game with nine wins and will still be hoping to snatch up a Sugar Bowl berth. I've no doubt that this will be a matchup of Top 15 teams at the time.
Mississippi State's defensive strategy can be summed up in one sentence: "Play the run on your way to the quarterback."
That strategy will work well enough to slow Tyler Wilson down, but the combined onslaught provided by Dennis Johnson and Knile Davis will end up being just too much for the Mississippi State front four.
I expect a nail-biting end, not unlike the result we had last year.
Final Score:
Arkansas 28, Mississippi State 27
Game Twelve: Arkansas at LSU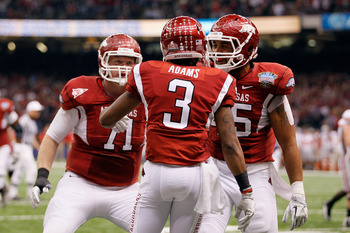 Kevin C. Cox/Getty Images
The Battle for the Golden Boot this year will be nothing less than we've come to expect.
We'll have two top SEC West teams vying either for the SEC Championship berth or a long-shot BCS bid.
Unfortunately for the Hogs, I see this one going LSU's way.
LSU's defense, even without star cornerback Patrick Peterson, is a monstrosity. They stop the run, their secondary is fast as blazes and their linebackers hit like an M1 tank.
The Hogs will fight hard for this one, but I expect to see LSU overthrow the Hogs seven-game winning streak, and end up winning this one.
Final Score:
Arkansas 17, LSU 27
So What Happens Now?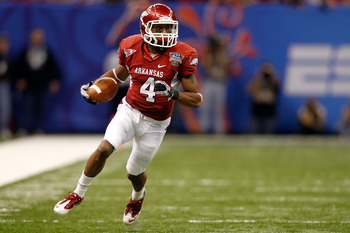 Matthew Stockman/Getty Images
It's still extremely early, but I expect the Hogs to land in a decent bowl game, and have an 11-2 final showing at the end of the season.
Knile Davis will be a first-round prospect and Tyler Wilson will be one of the premier quarterbacks in the SEC.
Clearly this is all speculation and there's a reason some of us call the Hogs the Cardiac Razorbacks.
The beautiful thing about college football is that anything could happen on any given Saturday. We could see Arkansas go 7-5 and go to a cruddy bowl game or we could see them unilaterally sweep their schedule and step into New Orleans as the No. 1 team in the nation come National Championship day.
Who knows?
Woo pig!
Keep Reading

Arkansas Razorbacks Football: Like this team?