College Football 2011: The 10 Biggest Trap Games of Next Season
Andy Lyons/Getty Images
It can't be said enough that in America there are two seasons: football season and waiting for football season.
One of the more unique ways to look at the college football season is to look at potential trap games.
I consider trap games to be one of three things.
First, a game against a decent opponent before a "big game." Second, a game against a decent opponent following a "big game." Finally, a combination of the first two, a game against a decent team sandwiched between two "big games."
Throughout this slideshow all of those examples are used, and many are used more than once.
Some of this games appear on the outside to be considered locks. However, in college football nothing is guaranteed and here are some games that top tier teams need to pay special attention too.
Clemson: Sept. 24 vs. Florida State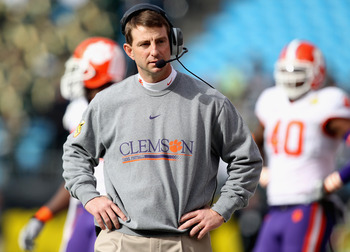 Streeter Lecka/Getty Images
This game is sandwiched between a home game against Auburn and a road game against the Hokies.
Chances are, Clemson will be emotionally drained following their game against the Tigers.
Clemson took Auburn into overtime last year, and this year Auburn makes the return trip to Clemson.
Even though Florida State might be the better team next year, Clemson has the game against the Auburn Tigers circled on its calendar already.
They open with Troy and Wofford and should easily beat them.
Don't forget that after the Florida State game, the Tigers will have to make a road trip to Blacksburg, Virginia to take on the Hokies. This is another difficult task.
Notre Dame: Sept. 24 at Pittsburgh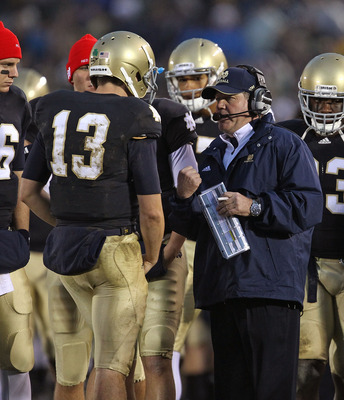 Jonathan Daniel/Getty Images
This game doesn't precede a big game, but it rather follows two extremely big games for the Fighting Irish.
When the Irish play the Panthers, they will be coming off of a road game against Michigan and a home game against Michigan State.
The Irish should be a much improved team in Brian Kelly's second year at the helm. The game against Pittsburgh in the fourth weekend of the football season will be a test of how good the Irish team is.
This is a game they could win or lose, but the Irish can't be emotionally drained from the previous two matchups when they travel to Pittsburgh
Arkansas: Oct. 1 vs. Texas A&M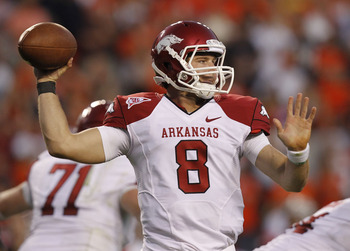 Mike Zarrilli/Getty Images
This game against the Aggies is sandwiched in between games at Alabama and against Auburn at home.
The Razorbacks will be in the thick of the SEC West picture, and their main focus will be on the games against Auburn and Alabama.
However, they can't overlook the non-conference game against Texas A&M.
The Aggies will be a talented team next year along with the Razorbacks.
Tyler Wilson, the quarterback that will replace Ryan Mallet, will be thrown into the college football gauntlet after a fairly easy start to the 2011 season.
Alabama: Oct. 1 vs Tennessee
Mike Ehrmann/Getty Images
Alabama is one of the contenders for a 2011 national championship, and it will most likely be the favorite for every game.
The biggest game of their season will be the Nov. 5 matchup against LSU. This game will most likely decide who plays in Atlanta come early December.
In the SEC every game is a tough game, and you can't overlook anyone.
Tennessee will contend in the SEC East, but they will be heavy underdogs when they travel to Tuscaloosa.
The Crimson Tide do have a bye week in between this game and the LSU game, but they can't look ahead to the game against the Tigers when they play Tennessee Oct. 22.
Ohio State: Oct. 1 vs. Michigan State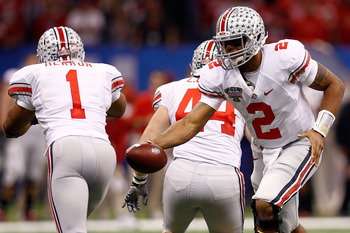 Chris Graythen/Getty Images
This will be the Buckeyes fifth game, meaning that this will be the last game they will be without Terelle Pryor and four others when they play host to the Spartans.
The Spartans went 11-2 last year, but they did not face the Buckeyes.
Ohio State will have to deal with the fact that it doesn't have Pryor as well as the fact that they will play at Nebraska the following weekend.
The rest of the Buckeyes team hopes to lead them to a 5-0 record when the players return, and the game against Michigan State will be the final test. However, their next game won't get any easier.
Auburn: Oct. 15 vs. Florida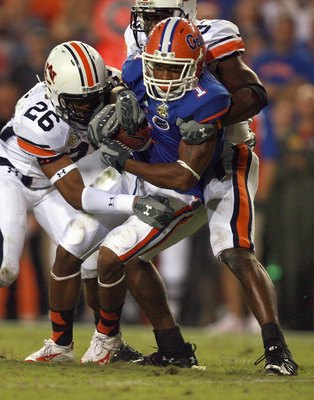 Doug Benc/Getty Images
Normally a game against Florida, wouldn't be considered a trap game, but this game is sandwiched between road games at Arkansas and at LSU.
Coming into this game, the Tigers will be coming off of a road trip from Arkansas. The following week they will be playing at LSU.
This home game will be very important for the success of the Tigers' 2011 season.
Auburn's schedule is extremely difficult with games against South Carolina, Clemson, Arkansas, LSU, Georgia and Alabama.
Florida is one game that will be very important to them, and it could be a trap game with the positioning of the game.
LSU: Oct. 15 at Tennessee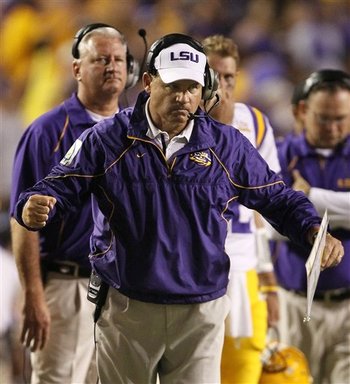 LSU is one of the favorites to win the SEC, but they have a very difficult schedule and can't overlook anyone.
The last part of that statement could be said about anyone in the SEC.
The reason that this is a trap game is because before the game at Tennessee the Tigers will play host to Florida, and after the game they will play Auburn at home.
The Tigers have two dates in particular circled on their calendar, and they include Auburn and Alabama, two of their bigger games of the year.
The road trip to Knoxville will be tough, and the Tigers can't be looking ahead to Auburn when they play Tennessee.
Stanford: Nov. 5 at Oregon State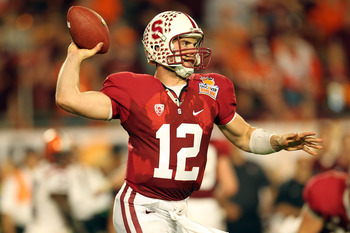 Mike Ehrmann/Getty Images
Most of these games that I mentioned here are sandwiched between two big games, and the game against Oregon State is that for the Stanford Cardinal.
It's hard to imagine that Andrew Luck and the Cardinal team could overlook a game, but if they do, this is the one.
The game against the Beavers is sandwiched between games at USC and against Oregon at home.
The game against the Ducks will most likely determine who plays in the Pac-12 championship, but the Cardinals can't overlook that enormous game when they face Oregon State.
Stanford should win this game, but it can't be looking ahead to Oregon when playing the Beavers.
Oklahoma: Nov. 19 at Baylor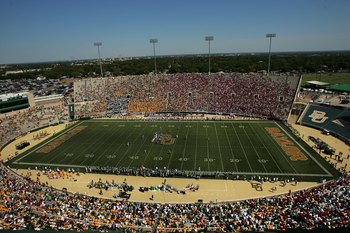 Ronald Martinez/Getty Images
Oklahoma is another team that will contend for a title in 2011, and it should be picked to win in almost every game.
The Sooners will travel to play at Baylor the weekend before they play at Oklahoma State.
Oklahoma State will be one of the biggest tests for Oklahoma this season, and the Sooners can not look ahead at that game when they go on the road against Baylor.
The Sooners are the better team, and it really isn't close. However, if they want a chance to play in the national championship they will need to win this game.
They will be clear favorites in this game, but they can't overlook the Bears.
College Football Fans Until Sept. 1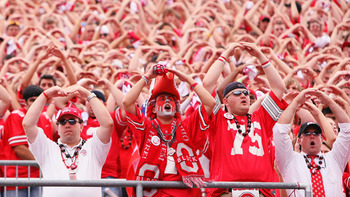 What are we all going to do with our lives until college football starts?
The void that we all feel right now will take a slight break when spring practice starts, but our teams won't take the field until that first weekend in September.
It is 192 days away, which is 192 days too long.
This wait is a trap game to us all. Baseball, basketball and hockey just don't create the same excitement.
Hopefully we can deal with it, and get past this obstacle. However, for a fan that lives in the heart of SEC country, it is a very difficult thing to do.
Keep Reading