A Saturday Tradition: Predicting Every SEC Football Game Aired By CBS In 2011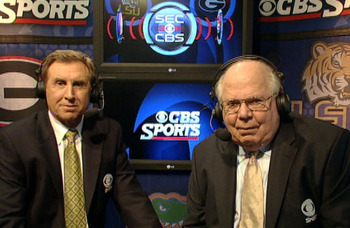 The afternoon kickoff.
The widely known theme music.
More than likely, two of the SEC's best football programs will be battling on the field.
The knowledge that Verne Lundquist, the "Golden Voice", will probably say some names wrong and fall halfway asleep during the game. Yet he is still loved.
All of these things are synonymous with the SEC on CBS.
The decades-old program is running strong as viewership reached an all-time high in 2010.
Certain programs seem to attract CBS more than others. CBS would rather have Tennessee than Ole Miss or Auburn than Kentucky or Alabama than Mississippi State. But then again, I think a game between Auburn and LSU would attract more viewers than a game between Vanderbilt and Ole Miss.
Where will Verne and Gary be headed this season? Here are my predictions.
Week Three: Tennessee Volunteers at Florida Gators (3:30 ET)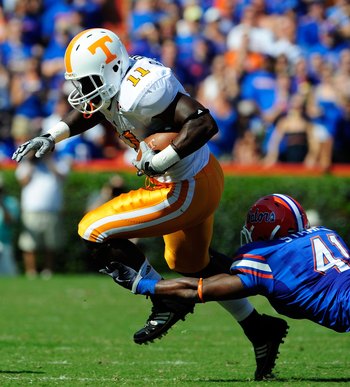 Sam Greenwood/Getty Images
The first game aired by the SEC on CBS, as usual, pits the Tennessee Volunteers against the Florida Gators.
Florida leads the all-time series against Tennessee 21-19. They have won the last six against the Vols.
Tennessee's football program is on the upswing in Derek Dooley's second year and could be the SEC's dark horse team.
Florida is going through changes after an 8-5 season that saw Urban Meyer retire (again) and Will Muschamp step in.
This looks to be a very close game with Florida breaking in a new style and Tennessee looking to make a name for itself in the SEC East race.
Week Four: Arkansas Razorbacks at Alabama Crimson Tide (3:30 ET)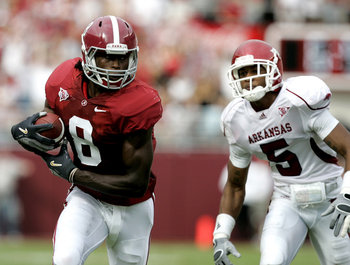 Former Alabama WR Julio Jones makes a catch against Arkansas in 2009.
Usually one of the marque games in the SEC West every year, the Hogs make the trek from Fayetteville, Arkansas to Tuscaloosa to take on the Crimson Tide, who will likely be unbeaten and highly-ranked coming in.
Arkansas must replace some key players, including QB Ryan Mallett, but Tyler Wilson has shown flashes of brilliance in limited action.
Alabama has home field advantage at Bryant-Denny Stadium, where they're 20-1 in their last 21 games.
The Crimson Tide has some major holes to fill, but they are definitely not short on talent, especially at running back, where junior Trent Richardson is finally a full-time starter.
The coaching battle is between two of the most hated but maybe the smartest coaches in the SEC, Alabama's Nick Saban and Arkansas' Bobby Petrino.
However, Saban and Petrino have met thrice at their current gig, and Saban and the Tide is 3-0 against the Razorbacks. Since 2008 (the year Petrino was hired by Arkansas and Nick Saban was in his second year at Alabama), the Tide has whipped the Razorbacks, beating them by an average score of 36-14.
Arkansas can hold their own, but an Alabama loss here would be an upset. But, hey.... it is the SEC.
Week Five: Alabama Crimson Tide at Florida Gators (3:30 ET)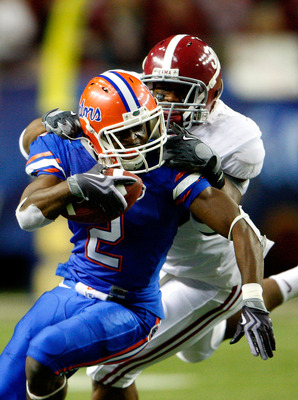 Kevin C. Cox/Getty Images
My, how this mighty rivalry has... well, toned it down a bit.
From 2008 to 2009, this was THE rivalry in the SEC.
In 2008, No. 1 Alabama (12-0) fell victim to No. 2 Florida (11-1) in the SEC Championship Game, 31-20.
Immediately, 2009 was projected to be a year dominated by the Tide and the Gators. It was.
Both Alabama and Florida went 12-0 in the regular season. However, this time, No. 2 Alabama took out 17 years of frustration on the top-ranked Gators, 32-13, in a game that wasn't even as close as the score.
Now, when people mention the SEC title game, Alabama-Florida isn't even what immediately comes to mind.
Don't blame Alabama for it. They've continued to win for Nick Saban. However, Florida had an 8-5 season in 2010 and an entirely new staff was reeled in to Gainesville.
Last year, the Tide creamed Florida 31-6 in Tuscaloosa.
You would think that, in a year where Alabama will once again be a power and Florida is rebuilding under new head man Will Muschamp, this game would completely favor Alabama.
Maybe it does. But don't tell the 90,000+ fans in Ben Hill Griffin Stadium in Gainesville that.
Week Six: Florida Gators at LSU Tigers (3:30 ET)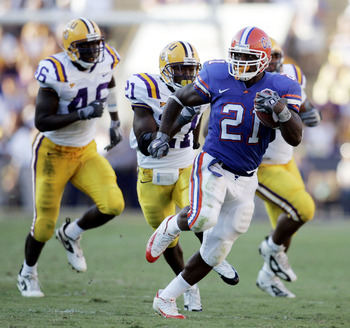 Chris Graythen/Getty Images
What? This isn't a night game?
Unfortunately for LSU fans, no.
Fortunately for LSU fans, they might not need the moon for this one.
Florida comes in likely licking their wounds from the Alabama game, whether that was a win or a loss. LSU likely comes in healthy.
It's in Death Valley as well.
CBS chooses this game simply because it's between two SEC powers that are household names and play good contests.
This year's contest might not live up to the hype that CBS will surely try to give it.
I could be wrong, and I'm not predicting these games on this article, but a win by Florida in Baton Rouge in Will Muschamp's first year is doubtful.
Week Seven: LSU Tigers at Tennessee Volunteers (3:30 ET)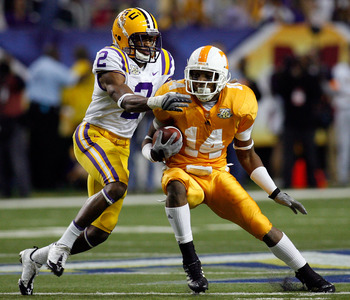 Chris Graythen/Getty Images
"Five seconds... down to four, three....."
A call that originally would haunt LSU fans has actually turned out to haunt Tennessee fans.
Of course, I'm referring to the finish between the two teams in Death Valley in 2010.
Les Miles butchered the clock again, and LSU fumbled near the goal line on the last play of the game..... or so we thought.
However, it was revealed Tennessee had 13 men on the field during LSU's disaster, and LSU was given an untimed play at the goal line.
LSU scored and won the game in typical Les Miles fashion.
This year, Tennessee fields a much more talented team and has its starting QB problem already figured out (Tyler Bray).
LSU will likely be a better team as well.
LSU seems to have the upper hand in most categories.... but the game is in Knoxville, Tennessee, home of the Vols.
This game could go either way. Les Miles should just remember to bring his watch.
Week Eight: Tennessee Volunteers at Alabama Crimson Tide (3:30 ET)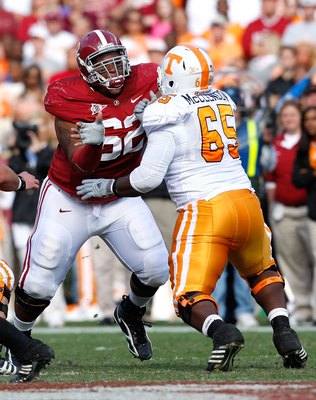 Kevin C. Cox/Getty Images
The Third Saturday in October (though it's the fourth) is the first game of the CBS doubleheader in week eight.
Tennessee will have a much improved squad in 2011, but winning at Alabama is a tough task.
The Volunteers almost pulled it off in 2009, however, when they were three missed field goals (two blocked by Alabama's Terrance Cody) from an upset of Alabama, which could have ended their BCS title run.
Alabama is an extremely tough team at Bryant-Denny, but Derek Dooley has done an excellent job with the Vols, turning what was an awful situation in 2010 into a pretty good situation in 2011.
Alabama will be favored in this game and it could be close, but the Crimson Tide has a better chance of prevailing in this game than the Volunteers do.
Week Eight: Auburn Tigers at LSU Tigers (7:00 ET)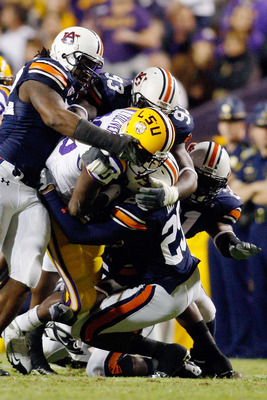 Chris Graythen/Getty Images
The second game of the doubleheader is a Death Valley showdown between two SEC Tigers who have both won BCS national championships recently.
The defending national champions, Auburn, visit Baton Rouge to take on LSU.
The game has had many great contests, including:
"The Night the Barn Burned Down": Near the end of a thrilling game between Auburn and LSU at Jordan-Hare Stadium, the old basketball arena behind Jordan-Hare Stadium, nicknamed "The Barn", burned to the ground. LSU won 19-15.
"The Interception Game": Auburn intercepted five LSU passes in the fourth quarter, returning three for touchdowns, to rally from a 23-9 deficit to win 30-26 in Auburn.
"Earthquake Game": In Baton Rouge, LSU scored late in the game to go up 7-6 on highly-ranked Auburn. The crowd went into a frenzy. The frenzy was so gigantic that it registered as a minor earthquake.
"One-Second Left Game": Down 24-23 to No. 17 Auburn late in the game, No. 4 LSU moved down the field. QB Matt Flynn threw a 22 yard touchdown pass in the corner of the end zone with just one second left. LSU won, 30-24, and they went on to win the BCS National Championship.
"Hurricane Game": No. 5 LSU and No. 13 Auburn met on the Plains in a game that had been scheduled around hurricane weather. The threat of a hurricane scared ESPN's College GameDay away. Auburn won, 10-9, and the orange and blue Tigers went 13-0.
This game could be another instant classic in Baton Rouge between two great teams. Auburn has to replace QB Cam Newton, DT Nick Fairley and 24 seniors. But Auburn might be even MORE talented than they were last year.
LSU is tough to beat at home, though, as Auburn has lost their past five in Baton Rouge.
This should be a very close game, but as of right now the slight edge goes to Louisiana State.
Week Nine: Florida Gators Vs. Georgia Bulldogs (3:30 ET) (Jacksonville, Florida)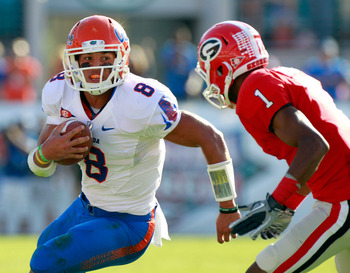 Sam Greenwood/Getty Images
Ahh... the World's Largest Outdoor..... football game.
Darned technicalities.
The past 21 years, however, it's been the World's Largest Outdoor Dog-Slaying (No Mike Vick jokes, please). The Gators are 18-3 against Georgia in the past 21 years.
Florida and Georgia are both mysteries entering 2011.
Florida has a new scheme offensively and Georgia is wanting to improve after a 6-7 season that left Mark Richt on a scorching hot seat.
Once again, CBS will think that Jacksonville is the place to be between two equal (equally mediocre?) SEC East teams.
Week 10: LSU Tigers at Alabama Crimson Tide (3:30 ET)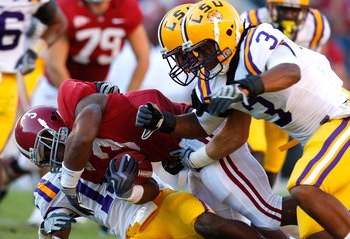 Kevin C. Cox/Getty Images
This is the circled game on the calendar at CBS for sure.
LSU-Alabama has produced classics in recent years, as the Saban-Miles matchup never fails to deliver.
There's a lot of bad blood in Baton Rouge for Nick Saban, currently Alabama's coach. Saban left LSU after 2004 to take a job with the Dolphins, but ultimately he shocked Tiger fans by signing with Alabama, an elite program that had hit the skids.
LSU replaced him with Les Miles, who has been nothing but a winner.
The first time Miles and Saban met on the field, LSU beat Alabama 41-34 in a memorable shootout in Tuscaloosa in 2007.
The next year was an instant classic, as No. 1 Alabama rallied to beat No. 16 LSU in Death Valley in OT, 27-21.
The next year, Alabama owned the second half and beat LSU 24-15 in route to the national title.
Last year, underdog LSU had an offensive explosion in the second half, rallying to beat the Crimson Tide in Baton Rouge, 24-21.
This is an evenly matched game between arguably two of the SEC's best teams in 2011.
A key factor, though? It's in Tuscaloosa.
Week 11: Florida Gators at South Carolina Gamecocks (3:30 ET)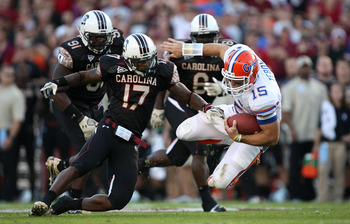 Streeter Lecka/Getty Images
The beasts of the East collide as the Florida Gators face off with the South Carolina Gamecocks in the Palmetto State.
South Carolina accomplished a lot in 2010, winning nine games and going to their first SEC Championship Game.
The Gamecocks also won 36-14 in the Swamp last year.
Florida will likely be an improved team, but they might face growing pains in 2011.
South Carolina, on the other hand, is only getting better. Stars RB Macrus Lattimore, QB Stephen Garcia and WR Alshon Jeffrey return for the Gamecocks offensively. Defensively they have stars like S Stephon Gilmore.
The Gamecocks also have star freshman Jadaveon Clowney at DE.
It's also in Columbia.
If this game goes as expected, South Carolina fans will be waving white towels and dancing to "Sandstorm" all day/night.
Week 12: LSU Tigers at Ole Miss Rebels (3:30 ET)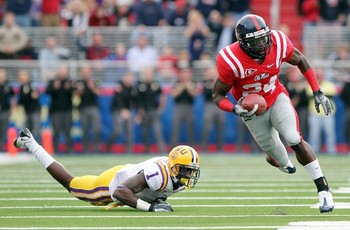 The "Magnolia Bowl" featuring Louisiana State and Mississippi is the featured SEC game this week.
Year after year, LSU has the coaching and talent edge, and yet they never seem to pull away from the Rebels.
In the last three years, the Rebels are 2-1 against the Tigers. LSU won last year, but by only a touchdown against an inferior team.
Vaught Hemingway is a very tricky place to play in the SEC. It's by no means intimidating, but there is a certain essence about it where opponents struggle.
LSU will likely be highly ranked coming in, but as we've known for a while, Rebels coach Houston Nutt doesn't really care.
All signs point to LSU in the Magnolia Bowl...... but then again, they always do.
Week 13: Arkansas Razorbacks at LSU Tigers (2:30 ET) (Friday)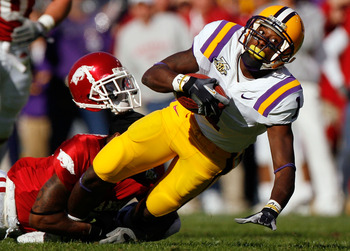 Oh my God, his head!
Chris Graythen/Getty Images
The Tigers and Razorbacks battle in Death Valley on the day after Thanksgiving.
After two years of iron-clad classics between Auburn and Alabama, the Battle for the Golden Boot is back in the Friday-after-Thanksgiving slot.
These teams have played very close games in recent years. Since 2007, the average score of this game is Arkansas 36, LSU 34.
This year, the game returns to Death Valley. The Tigers have a far more talented team than the Razorbacks, but that hasn't stopped Arkansas before.
This could go either way, but the early favorite is LSU.
Week 13: Florida State Seminoles at Florida Gators (12:00 ET)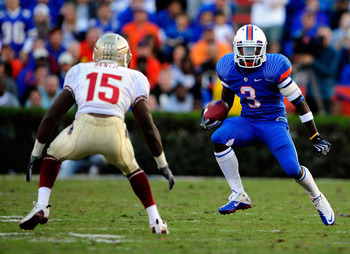 Sam Greenwood/Getty Images
The first game of this CBS doubleheader pits the Florida State Seminoles, an ACC team, against the rival Florida Gators in Gainesville.
The Seminoles are riding momentum into 2011 after reaching the ACC title game and bringing in one of the best recruiting classes in the nation.
The game is in Gainesville, where the Seminoles often find themselves on the losing end.
Florida is looking to rebound from a 31-7 loss to Florida State in 2010, and the folks at the Swamp could give them a hand. Could.
Week 13: Alabama Crimson Tide at Auburn Tigers (3:30 ET)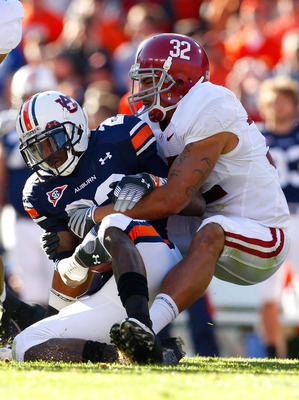 Kevin C. Cox/Getty Images
The second game of the CBS doubleheader pits the two most hated rivals in all of sports, Auburn and Alabama, in the "Iron Bowl."
The Tigers won last season's meeting in Tuscaloosa, 28-27, after rallying from a 24-0 deficit.
This is the one college football game where you can never change the channel. The last two years, the winner has actually trailed in the game by an average of 19 points.
Auburn and Alabama have both snagged top five recruiting classes the past two seasons.
Auburn and Alabama will be without some key players in 2011, but this game should have all the intensity the past few have, especially after the Toomer's Corner incident.
Alabama will probably be more talented than Auburn in 2011 (by a slim margin), but Auburn has home field advantage in this game at Jordan-Hare.
This game could go either way.
Keep Reading

Auburn Football: Like this team?