College Football 2011: The 10 Biggest Games That Will Affect the BCS Standings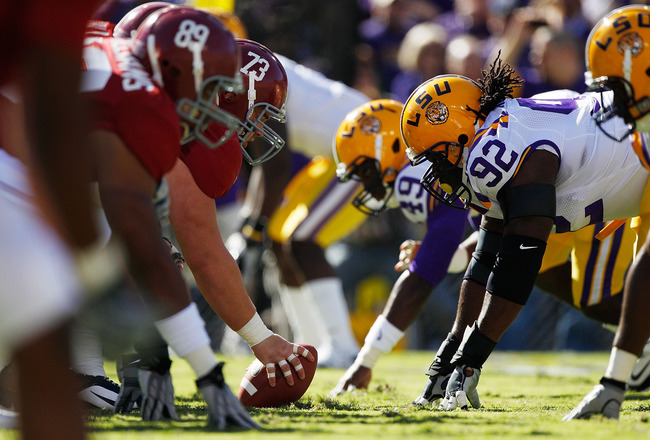 Chris Graythen/Getty Images
One can only watch Jadeveon Clowney highlights for so long before it's time to get down to business.
You see, as an advanced metrics analyst for several notable mafia gangsters*, it falls well within the confines of my job description to know college football. More specifically, to know which games to keep an eye on to make sure our "investments" pay off.
The following are the games I will be attending with a briefcase of cash.
*denotes a falsified truth.
10. October 29th: Wisconsin at Ohio State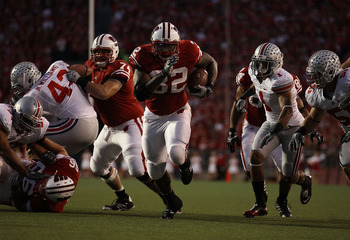 Jonathan Daniel/Getty Images
OSU is seeking its eighth consecutive Big Ten title, but the Buckeyes will have some hurdles to navigate through if their aspirations extend beyond the conference.
As has occasionally been noted, the Buckeyes will be sans a number of key players for the first five games of the season—including quarterback Terrelle Pryor—who were suspended for exchanging tattoos for autographs.
Should they somehow find themselves able to fend off MSU, Nebraska and Illinois, the Buckeyes would find themselves squaring off against a Wisconsin team that handed them a crushing 31-18 defeat in 2010.
9. September 10th: Alabama at Penn State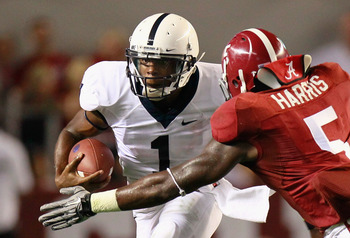 Kevin C. Cox/Getty Images
You know, life's not easy for Alabama.
The Tide tempers legitimate title hopes with the challenge of replacing one of the most successful quarterbacks in school history—not to mention Julio Jones, Mark Ingram and future Cleveland Brown Marcell Dareus.
The schedule isn't helping them either.
Alabama will also be playing at Auburn on November 26th, which would have been next on the list had I not felt overtly conscious of its CTH (Crimson Tide Heaviness).
8. October 22nd: Wisconsin at Michigan State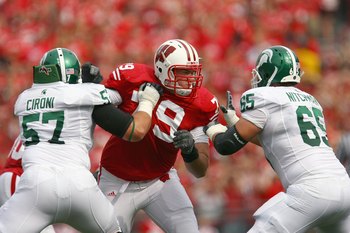 Jonathan Daniel/Getty Images
Those aforementioned Badgers are back, and this time they are making their way to Spartan Stadium to face off against Kirk Cousins, Edwin Baker and one of the best offenses in the Big Ten.
Courtesy of Rivals.com: "The Badgers have some big holes to fill on offense and defense, but a big offensive line and a productive rushing attack seem to be constants in Madison."
The Big Ten is back, baby.
7. November 26th – Florida State at Florida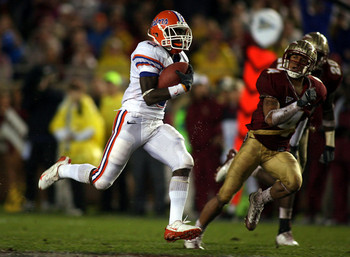 The Seminoles are returning to prominence, the Gators seem poised to rebound from a disappointing season, and the fact that this game matters gives me a lovely sense of nostalgia.
FSU is a legitimate title hopeful. Jermaine Thomas and Chris Thompson lead a potent Seminole ground attack, and their defense is fast, aggressive, and primed for improvement. For Florida, the only impactful loss figures to be Mike Pouncey, likely a top pick in the NFL Draft.
The Gators had won six straight over FSU before enduring a 31-7 beating in Tallahassee last year. This one will be more competitive--and more important.
6. TCU at Boise State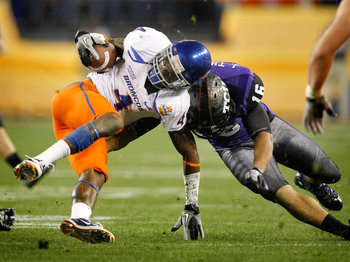 This one is here for symbolism as much as anything; these two were made for each other.
The Horned Frogs and the incoming Broncos are now Mountain West rivals—at least until TCU leaves for the Big East in 2012—and TCU will be aiming to depart on a positive note.
To do that, they'll have to reload across the board. Only Boise returns relatively intact, (though sans receivers) having retained the services of Heisman Trophy finalist Kellen Moore.
5. November 12th: Oregon at Stanford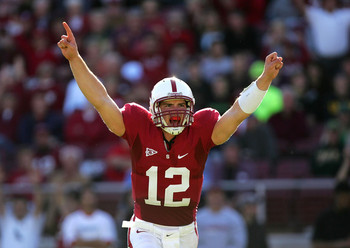 Andrew Luck did not come back to school for the camaraderie, adoration and women.
Okay, maybe he did--but I'm sure he'd like it if the Cardinal could win some too. This game will have major Pac-10 championship implications and quite probably some significant BCS impact as well.
Both offenses are dynamic: the Cardinal behind Luck, the Ducks behind LaMichael James.
I think the biggest question to consider is…what will the Ducks be wearing?
4. September 3rd: LSU at Oregon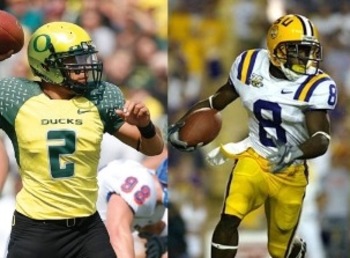 LSU's BCS invitation was lost in the mail last season, and a win over Oregon would go a long way toward rectifying that.
Also going a long way toward rectification? Jordan Jefferson.
Or so the Bayou Nation, and new offensive coordinator Steve Kragthorpe, will be hoping. If Jefferson can manage this game, the Tigers defense could win it.
This one will be played at Cowboys Stadium.
3. September 17th: Oklahoma at Florida State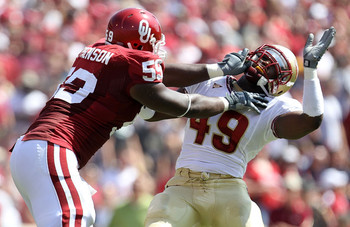 The Sooners return nine starters, including WR Ryan Broyles, who passed up the NFL draft after recording 131 receptions for 1,622 years and 14 TDs. (his second consecutive uber-productive year)
And there's only one reason he came back to what will probably be the consensus number one team in the nation:
"Everyone wants a championship."
To accomplish that goal, the Seminoles are one of the first hurdles he'll have to clear, and FSU will have their expectations set equally high.
One of the first top ten matchups of the season, the only reason this game isn't higher is because it's so early. We may see the loser again.
2. November 26th: Oklahoma at Oklahoma State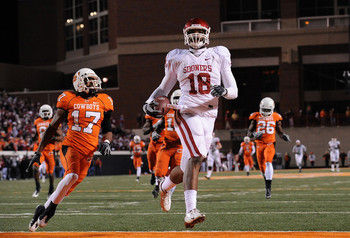 Justin Blackmon and Brandon Weeden are back for Oklahoma State, and they'll continue looking to outpace the rest of college football with perhaps the most dynamic offense in the nation.
How the Cowboys rebound from the loss of offensive coordinator Dana Holgorsen (now at West Virginia) will be key. He will be replaced by Todd Monken, incoming from the Jacksonville Jaguars.
This is as tough a game as Oklahoma will play.
1. November 5th: LSU at Alabama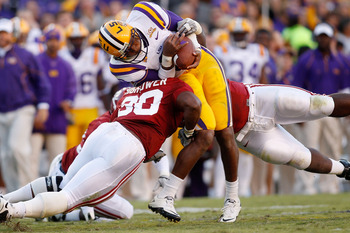 Chris Graythen/Getty Images
The granddaddy of this list—it has all the components we're looking for in a BCS-influencing game.
Two of the top teams in the nation (both veritable top-3's at this point), and at November 5th, it takes place late enough in the season that its implications will last through the new year.
The Crimson Tide still sport a wealth of talent, and this season have something to prove.
After seeing their 2010 title hopes slip away in a loss to LSU last year, Alabama figures to be as motivated as anybody come this season, and come this game.
Keep Reading

Oklahoma Sooners Football: Like this team?