College Football Recruiting: Worst 5-Star Recruiting Busts Of The Last Decade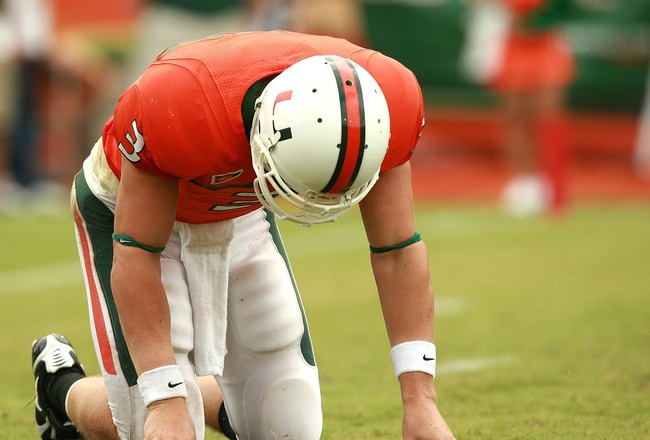 Doug Benc/Getty Images
There have been a number of five-star recruits that have came to campus who all of the hype, acclaim and merit of a Hall of Famer, only to flame out and bust. Busts are always disappointing and leave us scratching our heads. Whether it be a bad fit, an injury, personal problems or just a mis-elvaluation, busts have happened and will continue to happen.
Again, as I said earlier, there have been numerous busts among five-stars, the following players are the absolute worst busts. All are considered busts for different reasons, but they never lived up to their hype over recent years.
Here are the worst five-star recruiting busts of the decade.
Mitch Mustain, QB: USC/Arkansas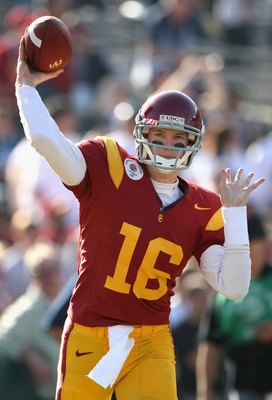 Christian Petersen/Getty Images
Mustain went through some drama in his recruitment. He was an Arkansas boy through and through, yet was hesitant to become a Hog due to playing in Houston Nutt's run dominant offense. He really wanted to go to Notre Dame, but Charlie Weis was holding out hope in order to get Jimmy Clausen the following year.
6'3" 210 pounds Mustain was a top two QB prospect in the 2006 recruiting class. He finally went on to Arkansas and won eight games as a true freshman, starting in the mighty SEC. Yet after the season, he announced he was not comfortable at Arkansas, and ended up transferring o USC.
Mustain never saw the field much in Los Angeles, as he was repeatedly overlooked for Mark Sanchez, Aaron Corp ad Matt Barkley. He was arrested recently on drug charges. I'm not sure if Mustain was a bust in the sense that he was over hyped, or he just never got his chance.
Willie Williams, LB
Williams was a linebacker who committed to Miami, yet was discovered to have a very dark and disturbing past. He had been arrested over a dozen times in his life and was also going to be unable to qualify to get into Miami. He was then arrested during a recruiting visit to Florida.
6'2", 225 pounds he had the potential to become an all-world linebacker but never did. He did get into Miami, but ended up transferring to West Los Angeles CC. Then he went to Louisville, got arrested for drug possession, tried unsuccessfully to transfer to Glenville State before landing at an NAIA school Union College.
He had the size, speed, quickness and strength to become a great outside 'backer, but he never had the stability and focus to put it all together.
Ben Olson, QB UCLA/BYU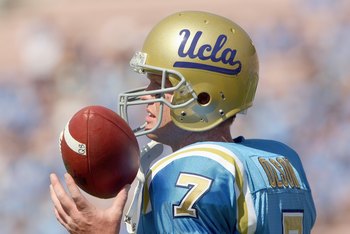 Stephen Dunn/Getty Images
Olson shot up recruiting boards during the spring evaluation period going into his senior year. He is a 6'5", 225-pound lefty with a cannon for an arm who could move well in the pocket. He had offers from every major program in college football.
Olson, of Mormon faith, chose to head to BYU where he took his Mission. Upon returning back from his religious work, he decided that he wanted transfer and ended up at UCLA. Bruin nation was beaming with hope as Olson was destined to be the next big thing in Westwood. It never happened.
If he wasn't battling injuries, Olson was battling rust and poor play. The years he took off for his Mission hindered his development, and he never came close to materializing his potential from high school at UCLA.
Darrell Scott, RB: South Florida/Colorado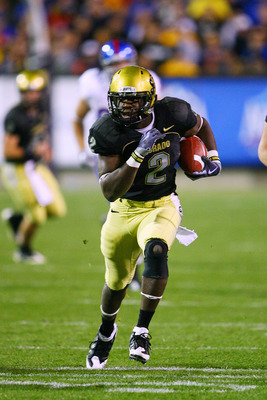 Garrett Ellwood/Getty Images
Scott is a relatively young bust, but a bust anyway you slice it. He had all the hype in high school and was the No.1 rated high school running back in 2008 and had more than 40 offers. 6'1", 200 pounds at the time, he had a combo of size, speed and strength to be a elite runner. He committed to Texas, only to back out when Longhorn running backs coach Ken Rucker was replaced. He announced for Colorado on NSD.
Yet when he arrived Boulder, he never really produced. He had 343 yards on 87 totes in his freshman year. When he did get in the game, you didn't see anything that wowed you. He complained for carries and playing time and announced a transfer in the middle of his sophomore season. He wanted to go to UCLA, but the Bruins didn't want him.
He's now at South Florida and has two more years of eligibility left to revive his career.
Whitney Lewis, WR: USC/Northern Iowa
Lewis was a monster in high school and stood 6'1", 220 pounds and I personally watched him run a 4.34 40 (I had just popped off a high 4.6 myself at The LA NIKE Camp, thank you very much). It was down right disturbing to see him play as he was a vicious route runner and could also play running back. He was the first California player to ever rush and receive for a 1000 yards in one season.
He wanted to go to Florida State, and play with best friend Lorenzo Booker, but his parents literally forced him to go to USC. They wouldn't even sign his LOI to go to FSU, which made Whitney, only 17-years old, almost obliged to go to USC where his parents would sign his LOI too.
Lewis rarely to never saw the field at USC. Pete Carroll and Norm Chow wanted to use him as a jack of all trades player on offense to factor as a receiver and running back, but Lewis only wanted to play receiver. He ended up transferring to Northern Iowa after two years and didn't make much noise there either.
Kyle Wright, QB: Miami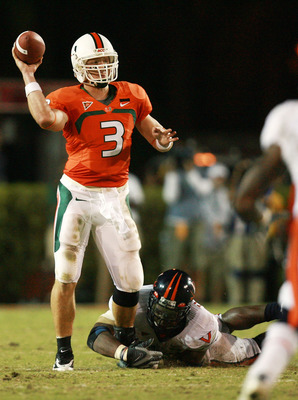 Doug Benc/Getty Images
Wright came to Miami as a new and improved version of Ken Dorsey. He was a better athlete, had a stronger arm and ran faster than Dorsey. But everyone overlooked the fact that he lacked Dorsey's smarts and instincts. At 6'3", 220 pounds, Wright was a sure-fire bust in Coral Gables.
He was even booed at times at home games and never came close to playing like evaluators thought he would. Speculation has it where he was distracted by many off the field problems, while others claim he had poor coaching.
Anyway you look at it, Wright goes down as one the biggest recruiting busts of the 2000s.
Fred Rouse, WR: Florida State/UTEP/Concordia College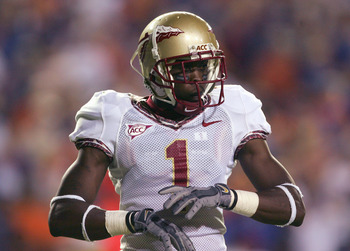 Streeter Lecka/Getty Images
Rouse was a receiver that was supposed to be the next Randy Moss. Blessed with a 6'5" frame and 4.4 speed, there was nothing that Rouse couldn't do on the field. He was rumored to have felt that he was ready for the NFL out of high school.
He arrived on Florida State's campus with a sense of entitlement and infuriated Bobby Bowden with his lack of focus. He played one season as a 'Nole through the Orange Bowl in 2006. Rouse then transferred to UTEP after the season, ran into off the field problems and ended up at Concordia College, an extremely small school with an enrollment of less than 500.
He's one of the biggest flame-outs of the decade as we never got to see what he could do on the big stage.
Ryan Perrilloux, QB: LSU/Jacksonville State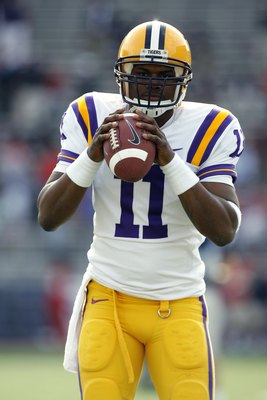 Joe Murphy/Getty Images
Perrilloux had a high school career to remember, totaling nearly13,000 yards of offense. At 6'2", 220 pounds, he was considered the next Donovan McNabb. He could throw, he could run and he claimed he'd win the Heisman as a true freshman.
I remember him saying "LSU needs a QB, and I'm the guy," when the Tigers had JaMarcus Russell and Matt Flynn on the roster. His arrogance proved to be his downfall. Perrilloux routinely broke team rules, rubbed teammates the wrong way and lacked focus and drive to get better. Then he even became involved in a federal investigation and a fight at a nightclub.
He was finally dismissed from the team by Les Miles in 2008 and transferred to Jacksonville State, where he was suspended again for breaking team rules. He went undrafted in 2010, signed with the Hartford Colonials of the UFL and signed as a reserve/futre player for the New York Giants.
At the time of this being written, there is no word on whether he's been suspended by the Giants, yet...
Keep Reading

Miami Hurricanes Football: Like this team?