Notre Dame Football: A Look At 2012 Recruiting Cycle: Wide Receivers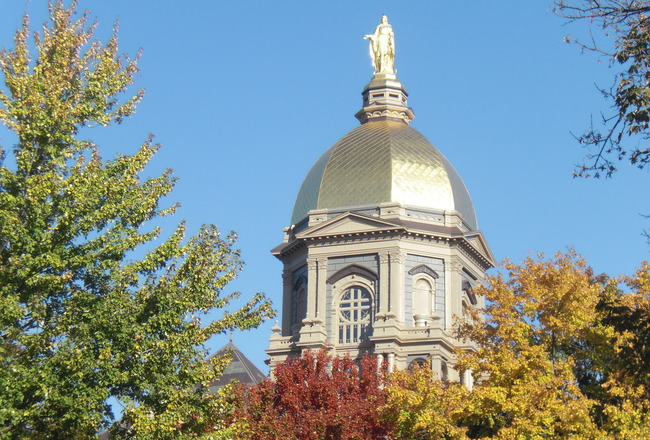 (photo by Jim Sheridan)

This is part two in a continuing series breaking down the 2012 recruiting cycle, by position.
When the young men mentioned in this list sign their letters of intent, Coach Brian Kelly will have had his second season in the books and Michael Floyd will be preparing for the NFL Draft. A position that seems deep one moment suddenly looks shallow.
With the announcement that Bennett Jackson would make the move to the defensive secondary, the need for future receivers instantly increased.
Some of these receivers have received offers, others are on the Notre Dame radar.
Dorial Green-Beckham: Springfield, MO
Dorial Green-Beckham (photo courtesy of espn-go.com)
Height: 6'6"

Weight: 215
GPA: 3.1
Speed: 4.43

Offers: Notre Dame, Alabama, Florida State, Michigan, Miami and USC among others.
Preview: Dorial Green Beckham has no downside. Strong, fast and tough on the field, he seems even stronger off the field. Green-Beckham overcame an extremely unstable living situation as a child only to continually do the next right thing.
On the field, Beckham has the ability to distance himself from defenders, and seems to have vise-grip hands. He can go up high on sideline routes but is not afraid to leave his feet across the middle.
Beckham is a pure athlete, with basketball and track on his resume as well. The sky is the limit with him.
Durron Neal: St. Louis, MO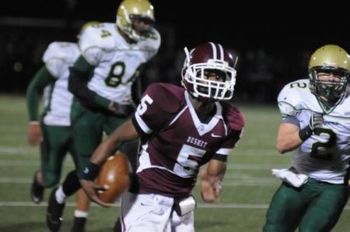 Durron Neal (photo courtesy of stltoday.com)
Height: 6'1"

Weight: 185
Speed: 4.5

Offers: Notre Dame, Arkansas, Iowa, Kansas, Minnesota and Indiana among others.

Preview: Durron Neal is listed as a wide receiver but lines up at wildcat and in the slot as well. On defense he returned three of his five interceptions for touchdowns. Neal is listed as having 4.57 speed but this seems to be a non-factor as he bursts through holes on punt returns.
Neal runs crisp, precise routes, and uses the entire field. He can change direction and make defenders grab air.
If anyone is hung up on his 40 time it seems to be irrelevant. This kid makes people miss.
Gehrig Dieter: South Bend, IN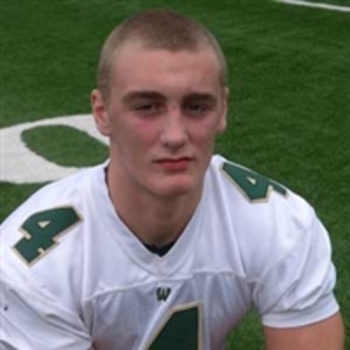 Gehrig Dieter (photo courtesy of maxpreps.com)
Height: 6'3"
Weight: 210

GPA: 3.4

Speed: 4.5

Offers: Bowling Green
Preview: Gehrig Dieter has an offer from Bowling Green so far, but it would be foolish for Notre Dame not to take a close look right in its own backyard. Dieter is coached by former Irish players Antwon Jones, Jay Johnson and Jarvis Edison.
Dieter makes plays after the catch and seems to have a good feel for where he is on the field in regards to the sidelines.
With his closeness to Notre Dame, there is no reason that someone shouldn't be at every one of his games next season to see the things that you won't see on a highlight tape, his interaction with coaches and teammates, how he handles adverse situations.
Gehrig Dieter might be worth a look.
Sterling Shepard: Oklahoma City, OK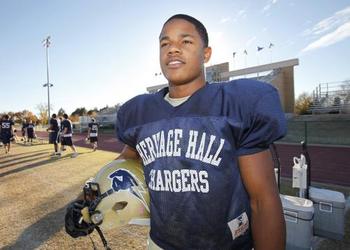 Sterling Shepard (photo courtesy of newsok.com)
Height: 5'11"
Weight: 180
Offers: Notre Dame, Kansas State, Missouri, Oklahoma State
Preview: Sterling Shepard did a little bit of everything last season. Listed as a wide receiver, Shepard had 56 catches for 1,015 yards and 18 scores, rushed for 575 yards with 10 touchdowns, tossed for three more and six of his eight interceptions were returned for touchdowns.
He also found the end zone via punt return. This young man knows how to put points on the board. He lines up wide, in the slot and also in the wildcat, making him a throw/run threat.
Shepard is a teammate of highly coveted running back recruit Barry Sanders, Jr. This in itself should be enough for any scout to make a trip to Oklahoma.
Every now and again, a high school star has one of his buddies come along as an "add-on." Not the case here. Shepard is a star in the making, he is exciting to watch and is nobody's "add-on."
Jordan Payton: Westlake Village, CA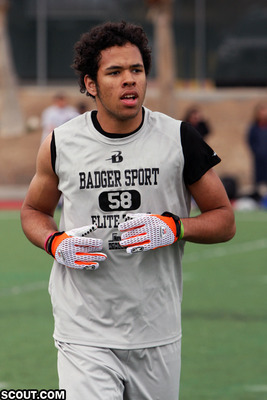 Jordan Payton (photo courtesy of uscscout.com)
Height: 6'2"
Weight: 200
Speed: 4.49
Offers: USC, Arizona State, Washington, LSU and UCLA
Preview: The video that I found on Jordan Payton was from 8th grade and I won't break it down for you. Payton has verbally committed to USC, but is interested in other schools including Notre Dame.
In 2009 Payton caught 45 passes for 1,008 yards and 18 touchdowns, with an average of 24.2 yards per catch.
Stefon Diggs: Olney, MD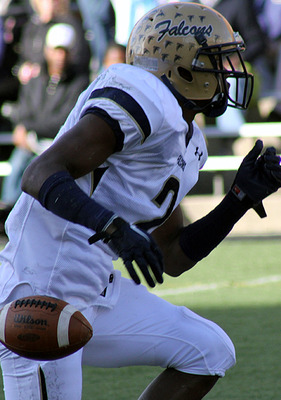 Stefon Diggs (photo courtesy of gamedaymagazine.com)
Height: 6'1"
Weight: 185
Speed: 4.4
Rankings: Scout 4-Stars
Offers: Miami, Michigan, UCLA, Georgia Tech, Pittsburgh among others.
Preview: Stefon Diggs makes it look easy, almost effortless. Diggs appears to see the whole field in front of him and glide to the exact spot that a seam will open up. While he also plays defense, it's his ability to get open that makes you look twice.
Diggs has been selected to participate in the 2012 U.S. Army All-American Bowl, making him one of the first juniors to be extended an offer.
Dwayne Stanford: Cincinnati, OH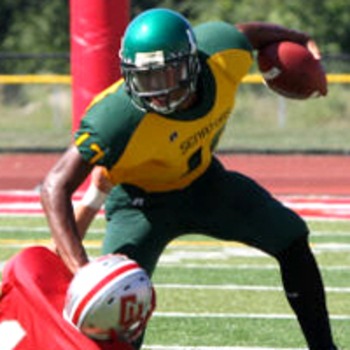 Dwayne Stanford (photo courtesy of jhuddle.com)
Height: 6'4"
Weight: 200
GPA: 3.6
Speed: 4.5
Offers: Notre Dame, Alabama, Ohio State, Kentucky and Michigan State among others.
Preview: With his 3.6 GPA Dwayne Stanford is in the top 5 percent of his class. Strong legs that never stop pumping, able to squeeze out extra yardage after a pile up.
Looks to be sure handed when going up high, and on swing outs in the flat as well. Not afraid to go over the middle and seems eager to throw a block.
The only drawbacks I saw watching film on Stanford were that his yards after contact could be a little better, and he has some Golden Tate in him—not in a good way. Too much posing in the end zone.
Bryce Treggs: Bellflower, CA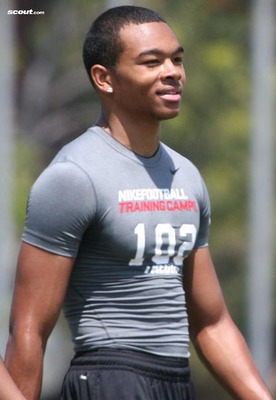 Bryce Treggs (photo courtesy of scout.com)
Height: 5'10"
Weight: 157
Offers: Notre Dame, Stanford and Arizona State
Preview: Wide receiver Bryce Treggs caught 56 passes for 1,010 yards and 12 touchdowns in 2010, Treggs adjusts well to poorly thrown and underthrown passes. He has very quick hands that snag seemingly overthrown balls right out of the air.
Treggs can also line up in the slot and is not afraid of contact. He has no problem laying his body out for a catch.
Bryce Treggs is extremely athletic and plays defense also, his father Brian played for the Seattle Seahawks. He averaged 18 yards per catch in 2010.
Cayleb Jones: Austin, TX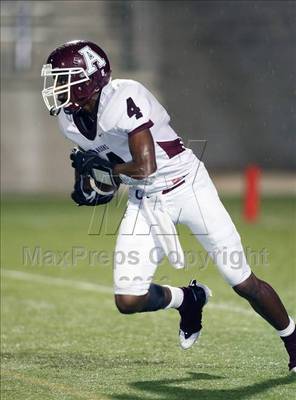 Cayleb Jones (photo courtesy of maxpreps)
Height: 6'2"
Weight: 185
Speed: 4.5
Offers: Notre Dame, Miami, Tulsa, North Carolina, Texas Tech and Texas A&M among others.
Preview: Cayleb Jones caught 91 passes as a sophomore in 2009 for 1,140 yards and nine touchdowns. He was hampered by an elbow injury in 2010 but still managed to secure a second team All-State selection.
Jones has very long strides yet he doesn't seem to separate from defenders easily. He sometimes lines up in the wildcat, and shows great balance. Yards after initial contact are above average.
Jones is the son of former Dallas Cowboys linebacker Robert Jones.
Amara Darboh: West Des Moines, IA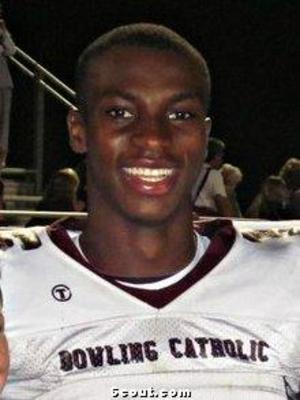 Amara Darboh (photo courtesy of nebraskascout.com)
Height: 6'2"
Weight: 190
GPA: 3.1
Speed: 4.42
Offers: Notre Dame, Iowa, Iowa State
Preview: Amara Darboh was a first team All-State selection as a junior in 2010. Darboh keeps his balance well and shows a good knowledge of where he is on the field in regards to the sidelines. As a sophomore in 2009 he had 25 catches for 371 yards and a touchdown.
Darboh moved to the United States from the African nation of Sierra Leone as a seven-year-old and is also a talented basketball player.
Thomas Johnson: Dallas, TX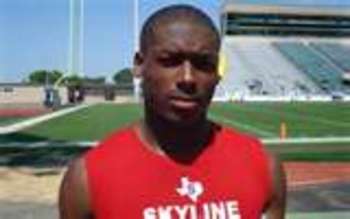 Thomas Johnson (photo courtesy of insidetheu.com)
Height: 5'11"
Weight: 180
Speed: 4.5
Offers: Notre Dame, Auburn, Miami, UCLA and USC among others.
Preview: With an impressive list of offers Thomas Johnson is another talented athlete out of Texas. Johnson is extremely elusive and can throw the ball as well as catch it.
Johnson has great hands and comes down with the ball well, meaning he knows where he is and where he needs to get to.
In 2009, he was a running back and gathered 1,626 yards on 125 carries with 25 touchdowns, with an average of 13 yards per carry. In 2010, he caught the ball 20 times for 360 yards and two touchdowns.
Keep Reading

Notre Dame Football: Like this team?