Top 10 Sports Road Trip Destinations In The Southwest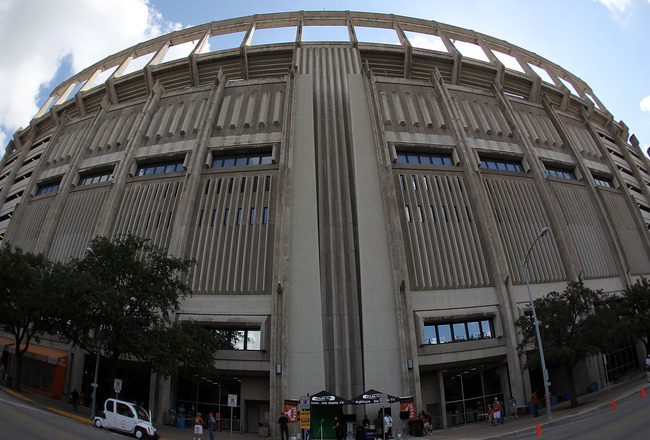 Ronald Martinez/Getty Images
"Road trippin', road trippin', we're not happy unless we're road trippin'."
The above should be the official anthem for any adventurous sports fanatic.
Yeah, spectating at games locally is a delight, but there's a whole nation out there, filled with wildly entertaining and historically significant venues that dot the landscape from coast to coast and everywhere in-between.
So, get out there and find them. But before departure, use the following as your guide.
There are any number of great sports road trip destinations that await you, but we had to draw the line somewhere.
For us, 100 seemed like a nice, round number, including 10 apiece from 10 distinct regions around the U.S.
We've traversed up and down the West Coast, so now it's time to dip downward and thoroughly mine the Southwest, in particular New Mexico, Arizona, and Texas.
10. Amon G. Carter Stadium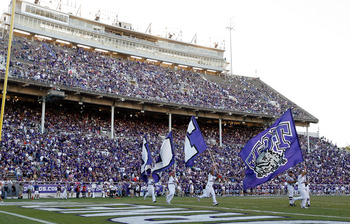 Tom Pennington/Getty Images
Experiencing unprecedented success under current head coach Gary Patterson, the TCU Horned Frogs are no less involved in the rat race that is college athletics than any other school.
Winning breeds expectations, but the "W"s also accrue resources, which school officials are investing back into Patterson's program with an impressive $105 million renovation of Amon G. Carter through the same company that designed Cowboys Stadium.
When completed in 2012, the improvements will keep Amon G. Carter's seating capacity roughly at the same number it is now, but the project includes a new press box, better sightlines from a new seating bowl, and host of swanky club seats and suites on the stadium's west side.
9. Reliant Stadium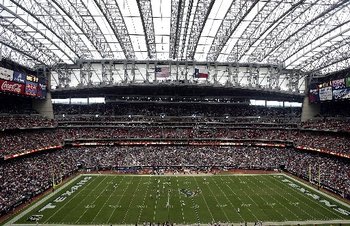 Getty Images
In 1997, the Houston NFL Holdings Group came to what was then known as HOK Sport — now called Populous, the leading designer of professional sports arenas and stadiums — looking to plan something spectacular.
Schematics were hatched, and five years later, the Houston Texans played the Dallas Cowboys in the NFL's first facility with a retractable roof.
If the nearby Astrodome really is the "Eighth Wonder of the World," Reliant Stadium may be the ninth. Its famous roof consists of two bi-parting panels that meet at the 50-yard line and can be completely opened or closed in seven minutes flat.
8. Sun Devil Stadium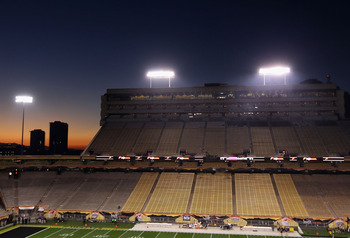 Christian Petersen/Getty Images
A nondescript assembly of steel and concrete set against the rugged Tempe, Ariz., terrain, Sun Devil has been put to good use in its 53 years, serving as the home field to the Arizona Cardinals, Fiesta and Insight Bowls, and Super Bowl XXX. But none of that matters.
Take in an Arizona State game at any point in the football season and you'll see what makes Sun Devil truly spectacular: Thousands of peroxide-haired desert coeds treating the aluminum bleachers like their own personal tanning beds.
7. The Pit Arena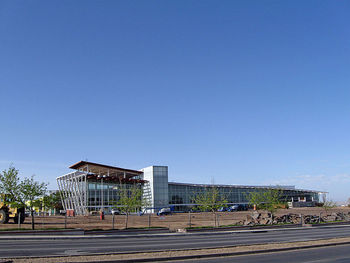 Photo: Wikimedia Commons
Perhaps the only place on the planet where senior citizens will join pre-twentysomethings in mimicking the howling of a wolf, the Pit Arena has been home to University of New Mexico basketball since 1966.
The name of the building is derived from the fact it was constructed 37 feet below grade, allowing the ear-shattering decibel levels to ascend more rapidly and make worse for opponents the effects of the altitude of Albuquerque, which is a mile above sea level.
Recent hoops struggles notwithstanding, the Lobos have historically dominated at The Pit, winning 82 percent of their home games through the 2009-10 season.
6. Minute Maid Park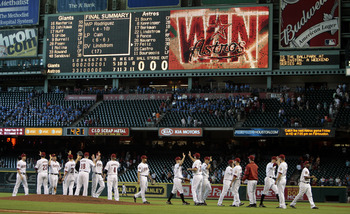 Bob Levey/Getty Images
A foul pole in fair territory. A locomotive in left center. An outfield wall that stands barely 300 feet from home plate.
These are the not-so-subtle quirks that make up the odd functionality of Minute Maid Park, formerly Enron Field. But the home of the Astros isn't all pomp and no substance.
Amenities include Wi-Fi access, and Minute Maid was the first ballpark in the league to incorporate a closed-captioning board for the hearing impaired. Best of all? Any time an Astros batter hits the "Fowl Pole," every fan in attendance is treated to a free chicken sandwich from Chick-fil-A.
5. McKale Center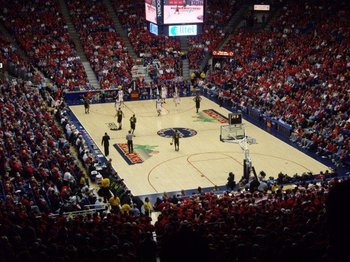 Photo: Wikimedia Commons
Located at 1 National Championship Drive, the McKale Center has been the setting for many a hardwood success in its 37 years and the winning began immediately.
The Arizona Wildcats won 67 of their first 70 games in the arena, sparking a reputation McKale holds today as one of college basketball's toughest places to play. The jubilation that typically fills its confines recently gave way to mourning, though, as President Barack Obama last month led a memorial service at McKale for those lost in the Tucson shootings.
4. Darrell K. Royal — Texas Memorial Stadium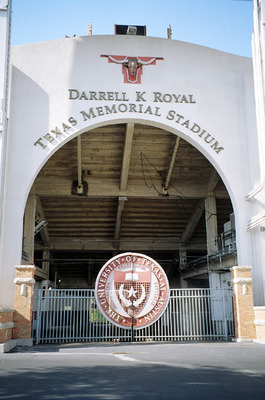 Photo © 2005 Larry D. Moore (CC-BY-SA)
Everything's bigger in Texas, and achieving such size is spared no expense at the state's flagship university, where a recent expansion raised the capacity of Darrell K. Royal to over 100,000 as one of the largest stadiums in college athletics.
Longhorn fanatic or not, make the trip to Austin in the fall for no other reason than the experience that is witnessing Godzillatron, a 7.300-square foot high-definition LED board added in 2006 that is surpassed only by its multi-dimensional peer in Dallas.
3. TPC Scottsdale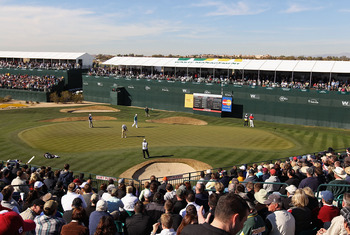 Christian Petersen/Getty Images
The atmosphere at TPC Scottsdale's Stadium Course came be summed up in one word: barbaric. But in a good, golf-like, gentlemanly sort of way, of course.
Home to the annual Phoenix Open since 1987, this 7,200-yard masterpiece of designers Tom Weiskopf and Jay Morrish is credited with having the PGA Tour's only completely enclosed hole, making it a breeding ground for crazies and misfits.
Both of which were immortalized thanks to Tiger Woods' memorable hole-in-one in 1997.
2. Cotton Bowl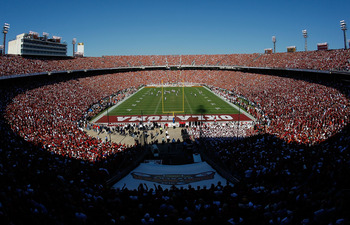 Ronald Martinez/Getty Images
Sadly, the Cotton Bowl no longer hosts the game bearing its name. The Cotton Bowl Classic was moved this past season to Cowboys Stadium, marking the first time in the bowl game's history it was played somewhere other than this iconic building.
Luckily for us, Oklahoma and Texas haven't broken tradition. As synonymous with the Texas State Fair as deep-fried butter, the Cotton Bowl houses the annual Red River Rivalry between the Sooners and Longhorns, a game that acts as the main attraction amid the fair's plethora of activities every year.
1. Cowboys Stadium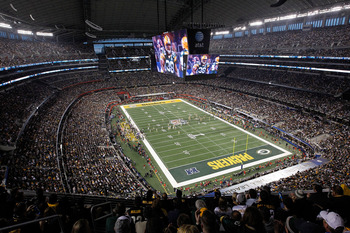 Tom Pennington/Getty Images
A mash of sorts between modern architecture, a billion dollars, and the outlandish aspirations of Dallas owner Jerry Jones, Cowboys Stadium is something to behold, I'm sure.The state of Texas would have it no other way.
Neither would Jones, whose pride-and-joy exceeded estimated construction costs by more than $400 million, making it worth more than the gross domestic product of several second-world nations combined.
But if you want cage dancers and an 11,520-square foot videoboard inside the largest domed stadium in the world, you gotta splurge.
Keep Reading