College Football's Top 100 Players for 2011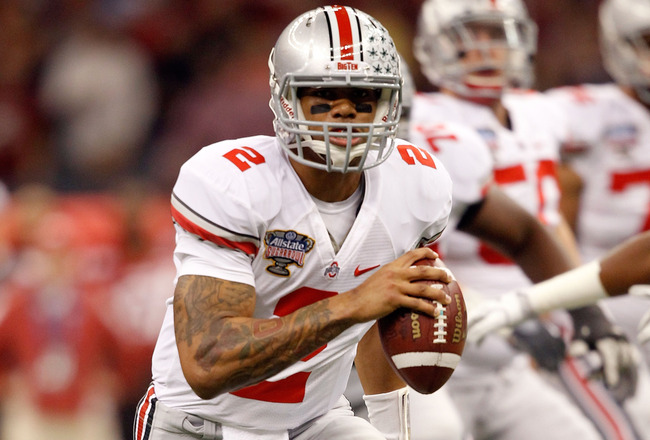 Matthew Stockman/Getty Images
Let the countdown to Sept. 1 begin.
With the recruiting phase of the college football year now behind us, it's time to get ready for spring ball and then inevitably a summer's worth of debate and speculation as we continue to prepare for the 2011 season.
This season has a good number of developing storylines, and it's another year that seems to have a few more twists and turns planned for us fans.
Once again, the sport of college football lost a lot of talented young players to the NFL draft, but it also secured some mighty big returnees.
Let's have a look at 100 college football players with whom fans need to get properly acquainted.
100. RB Ed Wesley, TCU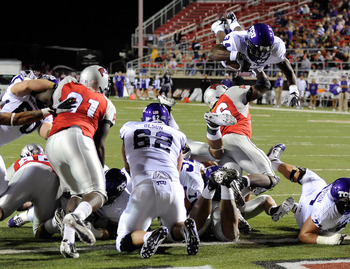 TCU RB Ed Wesley
Ethan Miller/Getty Images
Now that longtime QB Andy Dalton has graduated, you'd have to expect the Horned Frogs to make the running game a focal point in 2011.

TCU returns three quality running backs in Ed Wesley, Matthew Tucker and Waymon James, but it should be Wesley, a 5'9", 200-pound junior, who will once again be the star of the show.

The powerful Wesley rushed for over 1,000 yards last season, and he should top that number once again.
99. QB B.J. Daniels, South Florida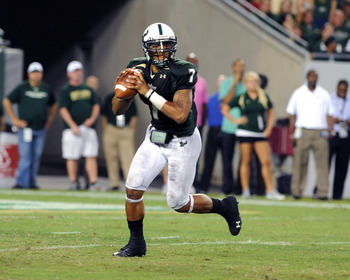 South Florida QB B.J. Daniels
Al Messerschmidt/Getty Images
Most people believed B.J. Daniels to be the best quarterback in the Big East before the start of last season, but South Florida's slow 3-3 start quieted those thoughts rather quickly.

Well, Daniels and the Bulls rebounded to finish the year strong, culminating in a win over Clemson in the Meineke Car Care Bowl, a game in which Daniels completed 75 percent of his passes and won the game's MVP award.

Now that head coach Skip Holtz is entering his second season in Tampa, expect South Florida to be contenders for a Big East title with Daniels running the offense.
98. WR Mohamed Sanu, Rutgers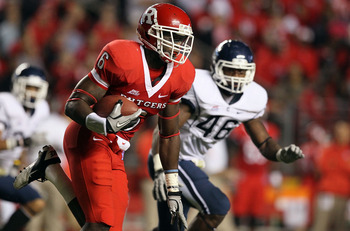 Rutgers WR Mohamed Sanu
Jim McIsaac/Getty Images
Much was expected from Mohamed Sanu in 2010 after the 6'2'' receiver's strong showing as a true freshman.
In his first season as a Scarlet Knight, Sanu accounted for over 1,000 yards of total offense and scored nine touchdowns. However, he was unable to keep the momentum going in his second go-around.

Because of the inconsistency at the quarterback position and the lack of cohesion on offense, Sanu's output dropped.

So now we're left to wonder which player we'll see in 2011.
When the explosive Sanu is used properly, he can be the ultimate offensive threat, either as a true receiver or out of the backfield as a runner.
But that's the key. It's up to the Rutgers offensive staff to actually use him properly and get him involved this season.
97. S Harrison Smith, Notre Dame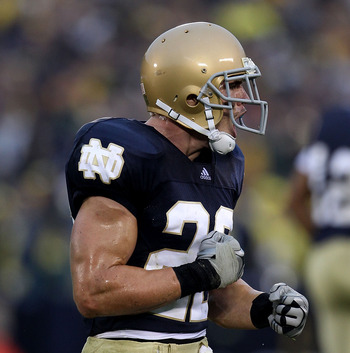 Notre Dame S Harrison Smith
Jonathan Daniel/Getty Images
Last year, safety Harrison Smith served as the figurative captain of the Notre Dame defense by playing a hard-nosed brand of football reminiscent of former Irish safety Tom Zbikowski.

Smith performed so well, picking off seven passes and finishing second on the team with 91 tackles, that second-year head coach Brian Kelly decided to make his captaincy legit by bestowing the honors on him and returning WR Michael Floyd.

Smith sure has what it takes to handle the role.
The 6'2'', 215-pound safety has improved every season and now looks to take the next step and become an elite defensive player.
96. QB Jake Heaps, BYU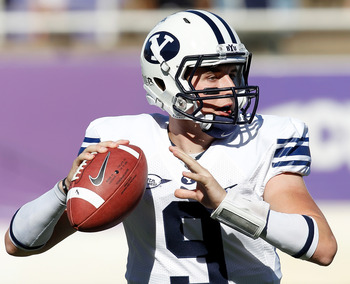 BYU QB Jake Heaps
Tom Pennington/Getty Images
Flashes, that's all we saw from QB Jake Heaps during his freshman season in Provo.

Heaps, one of the most highly touted high school prospects ever to sign with the Cougars, had his ups and downs in 2010 and started the season off shaky as BYU stumbled out of the gate at 2-6.
But the former five-star recruit rallied to finish strong, topping things off with a terrific performance in the New Mexico Bowl against UTEP.

As BYU makes the move to independence, they'll rely on Heaps to be the face of the team. The 6'1''sophomore has star potential and could help turn the Cougars into a BCS contender.
95. TE Ladarius Green, Louisiana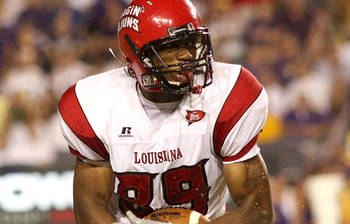 Louisiana TE Ladarius Green
It's hard to find many elite tight ends in the college game these days because, let's be honest, it's a dying position. But one player who has the chance to keep the pulse pumping is Louisiana's Ladarius Green.

Because he plays out of the national spotlight in the Sun Belt Conference, the 6'6'' athletic freak doesn't receive the attention his talent warrants, though that could change this year.

Green, who finished with 44 catches for 794 yards last season, led all tight ends in receiving yards per game in 2010 and has a good chance to repeat that accomplishment as a senior.
94. DT Josh Boyd, Mississippi State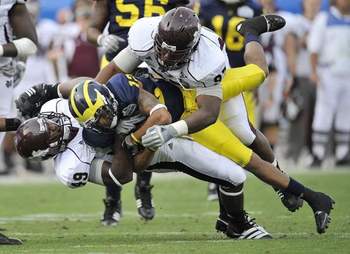 Photo Courtesy of John T. Greilick/The Detroit News
This year's Nick Fairley?

Maybe.

The Bulldogs should be in great shape along the defensive front with talented tackles Josh Boyd and Fletcher Cox returning. The two juniors were a big reason why Mississippi State was able to finish fourth in the SEC in rush defense in 2010.

Boyd, a 6'3'', 295-pound junior, has the potential to be the SEC's next great defensive tackle.

Expect the former high school All-American to challenge for the conference's top spot in the tackles for loss category.
93. S Delano Howell, Stanford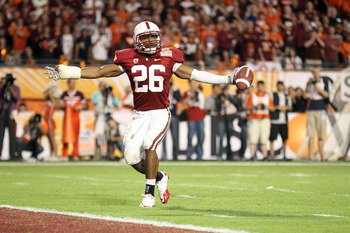 Stanford S Delano Howell
Streeter Lecka/Getty Images
It's hard to make a name for yourself when you just happen to play on the same team as one of the most hyped collegiate quarterback prospects in years, but something tells me safety Delano Howell is going to stamp his name on the college football map this season.

Howell will now assume a leadership role on the Cardinal defense after the departures of DT Sione Fua, LB Thomas Keiser and CB Richard Sherman.

The 5'11'', 200-pound senior, who started his college career as a running back, has made a seamless transition to the defensive side of the ball.
92. WR Nick Toon, Wisconsin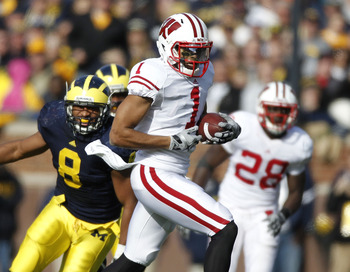 Wisconsin WR Nick Toon
Gregory Shamus/Getty Images
It's no fun for an experienced receiver to have to spend his senior season breaking in a new quarterback and dealing with all the growing pains that go along with the change, but Wisconsin's Nick Toon has enough pure skill to overcome such a predicament.

Toon represents a great No. 1 target for new starting quarterback Jon Budmayr, or whoever ends up winning the starting job.

The son of former New York Jets receiver Al Toon has 107 catches in his Wisconsin career and has added a great deal of diversity to a Badger offense mainly known for running the ball.
91. LB C.J. Mosley, Alabama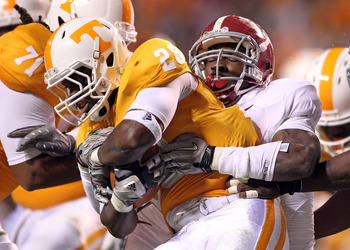 Alabama LB C.J. Mosley
Andy Lyons/Getty Images
As a true freshman, C.J. Mosley was the young gun of the talented and deep Alabama linebacking corps last season, but his youth and inexperience didn't stop him from making an immediate impact on a defense that started nine new faces.

Mosley, one of the top linebacker prospects from the 2010 recruiting class, made his presence known right away. The 6'2'', 225-pound middle linebacker successfully clogged up the middle, game after game, and ended up finishing third on the team with 67 tackles.

With backers like Courtney Upshaw and Dont'a Hightower flanking him, Mosley should continue to wreak havoc for the talented Tide defense in 2011.
90. DT Billy Winn, Boise State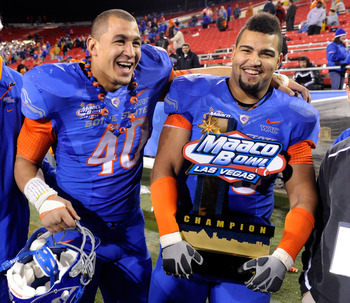 Boise State DT Billy Winn
Ethan Miller/Getty Images
It's usually QB Kellen Moore and the high scoring Boise State offense that receive so much of the credit for the Bronco uprising that's taken place over the past few seasons, but don't forget about Boise's underappreciated defense, which ranked second in the country last year.

The success of the defense, which held opponents to just 2.9 yards a carry, is predicated on the play of the defensive line.
Up front, the Broncos rely on disruptive defensive ends Tyrone Crawford and Shea McClellin to make big plays in the backfield, but it's up to tackle Billy Winn to do all the dirty work inside.

The 6'4'', 290-pound Winn is an athletic interior defender who can pose blocking scheme nightmares for the opposing offense.
89. WR Marquis Maze, Alabama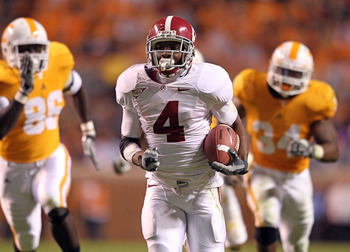 Alabama WR Marquis Maze
Andy Lyons/Getty Images
Goodbye, Julio Jones. Hello, Marquis Maze.
Now that Jones, who accounted for 30 percent of the team's passing offense last season, is off to the NFL, someone will have to take on the burden of replicating his production.
Jones finished with more than double the amount of catches (78) and receiving yards (1,113) as the second Alabama receiver. But luckily for the Tide, that second guy is a pretty talented player.
The 5'10'' Marquis Maze may have only caught 38 passes in 2010, but his speed really opened things up for Jones by keeping opposing secondaries occupied and on their heels.
Maze may not have Jones' sheer size but he can still be a dangerous No. 1 option for new starting QB A.J. McCarron.
88. QB Kirk Cousins, Michigan State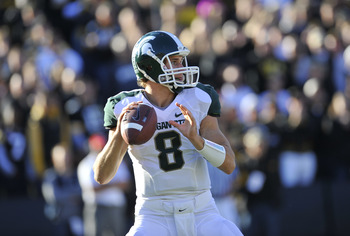 Michigan State QB Kirk Cousins
David Purdy/Getty Images
One of the real unsung heroes of Michigan State's breakout 2010 season was quarterback Kirk Cousins.
Cousins, a 6'3'' senior, threw for over 2,800 yards and 20 TDs last year as the Spartans rolled through their schedule, finishing the regular season 11-1. Still, the quarterback wasn't able to distinguish himself among the nation's elite at the position.
Well, now Cousins will have the opportunity to show the college football world that he belongs in the conversation with other notable Big Ten quarterbacks such as Michigan's Denard Robinson and Ohio State's Terrelle Pryor.
87. CB Coryell Judie, Texas A&M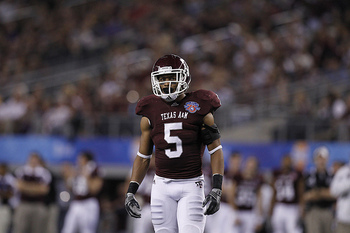 Texas A+M CB Coryell Judie
Coryell Judie came to College Station oozing with potential after an All-American season at Fort Scott Community College in 2008. However, a shoulder injury ended up robbing Aggie fans of the opportunity to watch him compete in 2009.
Once healthy, Judie proved that he was as good as advertised by locking down opposing wide receivers.
The 5'11'', 190-pound senior made quarterbacks pay for being foolish enough to throw in his direction, picking off four passes and breaking up countless others.
86. OT Morgan Moses, Virginia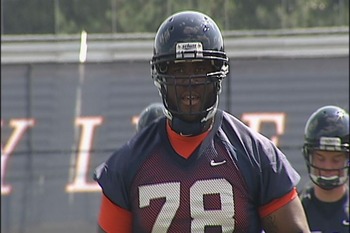 Virginia OG Morgan Moses
It's not difficult to understand why the Virginia offensive line all of a sudden became a whole lot better once mammoth offensive tackle Morgan Moses was injected into the starting lineup.

Moses, who started seven games and saw action in four others during his freshman season, is one of the key building blocks for head coach Mike London as he attempts to restore credibility to the program.

The 6'6'', 335-pound Freshman All-American is equally adept at pass blocking and run blocking and is a true tone-setter down in the trenches.
85. DE Jake Bequette, Arkansas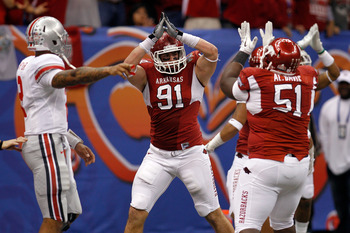 Arkansas DE Jake Bequette
Chris Graythen/Getty Images
Arkansas DE Jake Bequette is a similar type of player to former Purdue DE Ryan Kerrigan. While neither Kerrigan nor Bequette was born with great athletic gifts, the two haven't let that stop them from causing havoc in in the opponent's backfield.
The 6'5'', 270-pound Bequette was especially disruptive in 2010, finishing the season with seven sacks and 8.5 tackles for loss.
Now a senior, Bequette should be one of the SEC's most feared defensive linemen this season.
Quarterbacks, watch out.
84. RB Rodney Stewart, Colorado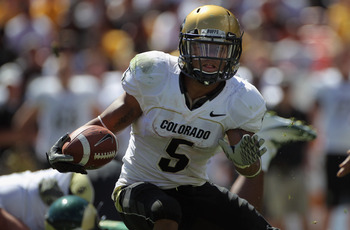 Colorado RB Rodney Stewart
Doug Pensinger/Getty Images
It was highly touted five-star running back recruit Darrell Scott who was supposed to be Colorado's future star, but little Rodney Stewart, an overlooked two-star recruit from the same class, stole away all of Scott's thunder.
It was clear right from the beginning that Stewart was the more valuable of the two, leading the Buffaloes in rushing as a true freshman. It's something he's done every year since.
The 5'6'' Stewart has compiled over 2,700 yards on the ground and scored 21 TDs in his three seasons in Boulder, and he doesn't show any signs of slowing down as a senior.
83. DT Kheeston Randall, Texas
Texas DT Kheeston Randall
Aaron M. Sprecher/Getty Images
It seems like in recent years we've seen plenty of Texas defensive linemen enter their senior seasons with great expectations only to end up disappointing. Yes, Frank Okam and Tim Crowder, I'm looking at you.
But one player who should buck that trend is big defensive tackle Kheeston Randall.
Randall, a 6'5',' 295-pound senior, has shown flashes of dominance throughout his career and could be ready to step up and become one of the Big 12's premier defensive players in his final season in Austin.
.
82. QB E.J. Manuel, Florida State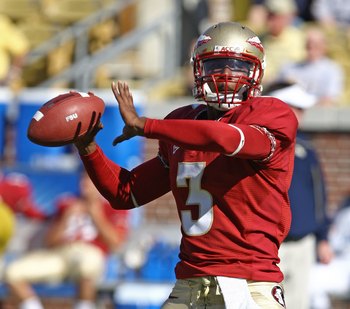 Florida State QB E.J. Manuel
Mike Zarrilli/Getty Images
When you watch some highlights of quarterback E.J. Manuel, it's easy to see a few shades of last year's Heisman winner Cam Newton. Both players are cut from the same mold.
Manuel, a 6'4'', 225-pound lb. junior, has been forced to wait behind Christian Ponder these last two years, but Ponder's injury troubles have given Manuel the opportunity to get his feet wet on more than a few occasions.
The dual-threat QB has tantalized Seminole fans with his potential when he does get spot duty, most recently in a victory over South Carolina in the Chick-Fil-A Bowl.
With the type of team Jimbo Fisher is fielding down there in Tallahassee, the Seminoles are going to be a darkhorse national title contender this season.
How quickly Manuel can adapt to being the starter will be the key to Florida State's ultimate success.
81. LB Jelani Jenkins, Florida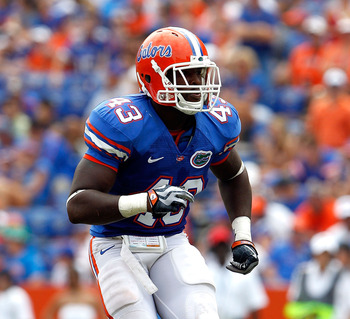 Florida LB Jelani Jenkins
Sam Greenwood/Getty Images
Florida has two of the best linebackers in the SEC in Jelani Jenkins and Jon Bostic, but sadly for Gator fans, they may only have one more year of watching them in The Swamp.
Jenkins, a redshirt sophomore, has evident pro potential and if he can put together the type of year he's capable of, it wouldn't be surprising to see him test the NFL waters early.
The 6'1'', 220-pound Jenkins finished second on the team with 76 tackles in 2010, earning him Freshman All-American honors.
There's no doubt that Jenkins will be the Florida defense's most valuable player this season.
80. WR Tavon Austin, West Virginia
West Virginia WR Tavon Austin
Dana Holgorsen's offensive system definitely allows wide receivers to shine, which should be great news for Tavon Austin, one of the Big East's most dangerous weapons.
Austin, a running back/wide receiver tweener, has the ability to shine in many different roles, and his versatility has been a great asset for the Mountaineers these past two years.
The 5'9'' junior amassed over 1,100 all-purpose yards in 2010, and that total should only increase now that Holgorsen is running the offensive show.
79. RB Silas Redd, Penn State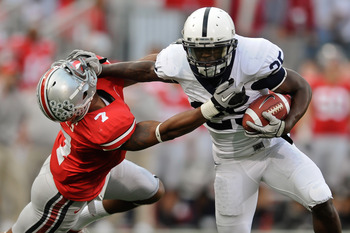 Penn State RB Silas Redd
Jamie Sabau/Getty Images
Because he was the new kid on the block last year, RB Silas Redd was forced to defer carries to the elder statesman of the Penn State running back committee, Evan Royster, even though it was evident Redd was the more talented of the two.
Redd, one of the top running back recruits from the 2010 class, may have only touched the ball 77 times in his freshman season, but he still made a considerable impact for the Lions, averaging 5.7 yards per carry.
The 5'10',' 200-pound sophomore will now team with the speedy Stephfon Green to give Penn State one of the best 1-2 punches in the country.
78. CB Brandon Boykin, Georgia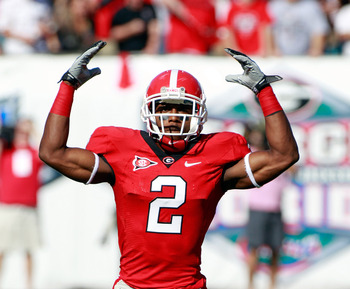 Georgia CB Brandon Boykin
Sam Greenwood/Getty Images
Brandon Boykin made the smart decision to return to school for his senior season, considering he probably wasn't valued as anything more than a third-rounder in this upcoming draft.

That doesn't mean Boykin is an average player, it just means he didn't have the junior season he was hoping for.

It's a win-win situation for both Boykin and Georgia as the Bulldogs secondary, which also includes talented juniors Bacarri Rambo and Sanders Commings, will now be one of the strongest in the SEC, and the 5'10'', 180-pound Boykin will have one more season to prove his worth to NFL scouts.
77. RB Jeff Demps, Florida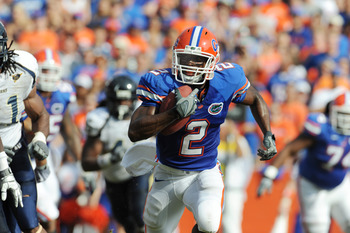 Florida RB Jeff Demps
Al Messerschmidt/Getty Images
If you're searching for the fastest player in all of college football, then you better book a plane ticket down to Gainesville, Fla.

RB Jeff Demps may not be the biggest player on the field at just 5'8'', 180 pounds. but it's not his size that really matters.
Demps, a college track star who runs the 60-meter dash in 6.57 seconds, is one of the fastest players to ever put on a Florida uniform.

Even though the senior was slowed by a foot injury in 2010, he was still able to average six yards per carry.
We'll have to see how Demps fits in with the pro-style offense Charlie Weis is installing.
76. DT Jamarkus McFarland, Oklahoma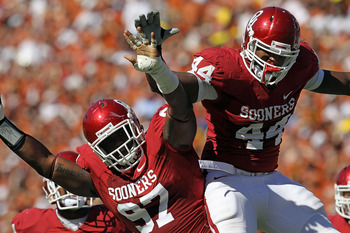 Oklahoma DT Jamarkus McFarland
Ronald Martinez/Getty Images
It's never easy trying to replace a top five pick, but Jamarkus McFarland managed to do a serviceable job filling in for defensive tackle Gerald McCoy in 2010.

The 6'2'', 295 -pound McFarland, a former five-star recruit, didn't have the breakout season that some were expecting, but he was able to flash his enormous potential on more than a few occasions.

Can the big junior be as good his predecessor, McCoy?

Sooner fans sure hope so.
75. RB Doug Martin, Boise State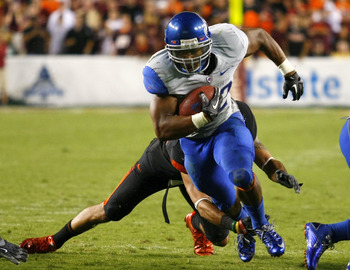 Boise State RB Doug Martin
Geoff Burke/Getty Images
There was one play last year that defined who Doug Martin is as a ball carrier. If you watched the Boise State-Nevada game, you know which one I'm talking about.

Knotted up at 24 with five minutes remaining, Martin took a Kellen Moore screen pass 79 yards to give the Broncos the lead. Too bad Kyle Brotzman had to ruin the fun.

To put it simply, the 5'9'', 200-pound Martin runs like a bull in shoulder pads. As a junior, he totaled over 1,500 yards of offense.

Expect Martin to be an even bigger offensive factor in 2011.
74. WR Juron Criner, Arizona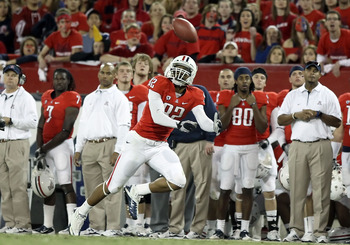 Arizona WR Juron Criner
Christian Petersen/Getty Images
We saw glimpses of how good Juron Criner could be back in 2009, when Criner caught 45 passes and scored nine touchdowns as just a sophomore.

Even though Arizona fans were expecting Criner to be a big contributor in 2010, no one could have foreseen the type of smash season he put together.

The 6'4'' senior hauled in 82 passes for over 1,200 yards and 11 TDs.

Criner could have left for the NFL, but he chose to come back and make some more magic with QB Nick Foles.
73. CB Cliff Harris, Oregon
Oregon CB Cliff Harris
Steve Dykes/Getty Images
So much is made of Oregon's powerful, rapid-scoring offense that sometimes the Ducks on the other side of the ball can get lost in the shuffle.

Such was the case for cornerback Cliff Harris.

Harris was one of the Pac-10's top defensive backs in 2010, finishing the season with six interceptions. But he was rarely given much publicity even though he performed at an All-American level.

Harris, a 5'11'' 180-pound junior, is one of the top covermen in the country and is also a dangerous returner.
72. DE Devin Taylor, South Carolina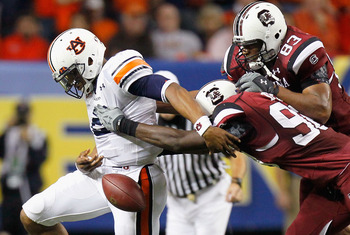 South Carolina DE Devin Taylor
Kevin C. Cox/Getty Images
All the talk around Columbia this offseason will revolve around the impending arrival of the nation's top recruit, defensive end Jadeveon Clowney.
But what many fail to realize is that the Gamecocks already have a star in the making at the defensive end position in Devin Taylor.

Taylor, a 6'7'', 250-pound junior, is a tremendous athlete and one of the best pure pass rushers in the SEC.

The South Carolina native had to wait his turn behind Clifton Geathers, but once he got his shot, he made the most of it. Taylor finished the 2010 season with 7.5 sacks and 13 tackles for loss.

Taylor teams up with tackles Melvin Ingram and Travian Robertson, along with the incoming Clowney, to give South Carolina a very imposing defensive front four.


71. QB Geno Smith, West Virginia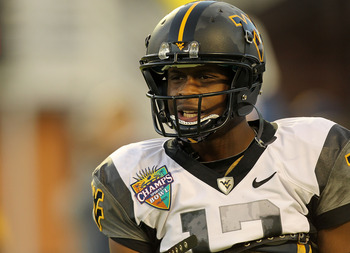 West Virginia QB Geno Smith
Mike Ehrmann/Getty Images
Geno Smith's first season as a starter for West Virginia was a bit shaky. One week, Smith looked like a star; the next, he would look every bit a rookie.

Smith's play sums up West Virginia's season as a whole: solid, but leaving us wanting more.

Well, we're sure to get more of Smith now that Dana Holgorsen is in town.

Smith, who has a rocket attached to his shoulder, could flourish if given the opportunity to sling the ball around more often, but he also may take some time to adapt to the pass-heavy scheme.
70. LB Nigel Bradham, Florida State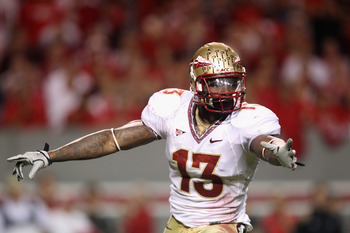 Florida State LB Nigel Bradham
Streeter Lecka/Getty Images
There's no sugarcoating it, Florida State's run defense was horrible in 2009, ranking last in the ACC and giving up an average of over 200 yards on the ground per game.

There was one shining light for the Seminoles though, linebacker Nigel Bradham.

After finishing as the team's leading tackler in 2009, Bradham helped tighten up Florida State's defense and bring it back to respectability this past season.

Bradham, who has totaled over 200 tackles during his time in Tallahassee, is a difference-making defender who can make plays on every down.
69. WR Damaris Johnson, Tulsa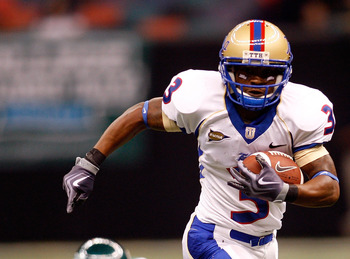 Tulsa WR Damaris Johnson
Chris Graythen/Getty Images
You can say Tulsa's Damaris Johnson has inflated stats because he plays in a pass-heavy offense, but when you're able to break the NCAA's all-purpose yardage record in three years, you deserve a good amount of accolades no matter what.

Johnson has totaled 7,780 yards in his career. And yes, that is a lot for just three years of work.

The 5'8''senior is a favorite of new head coach Bill Blankenship, who was Tulsa's wide receivers coach before being promoted, so Johnson should continue to see plenty of action and balls thrown his way in 2011.


68. QB Darron Thomas, Oregon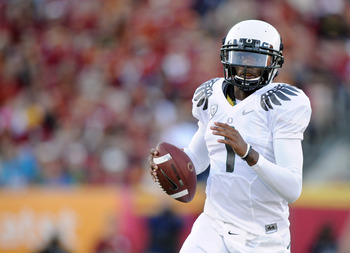 Oregon QB Darron Thomas
Harry How/Getty Images
Jeremiah who?
Last summer, there were a few people around college football who wondered just how Oregon was going to handle the abrupt dismissal of talented QB Jeremiah Masoli, who had led the Ducks to a Rose Bowl the season before.
Their questions were quickly answered when Darron Thomas stepped onto the field in the first game of the season and guided the Ducks to a 72-0 victory.
They never slowed down after that. With Thomas under center, Oregon led the country in both scoring and total offense and went on to finish the regular season undefeated before coming up short in the BCS Title Game.
Thomas, who accounted for 35 TDs in 2010, should be ready to have the Ducks challenging for a conference championship in the new Pac-12.
67. OT Kelechi Osemele, Iowa State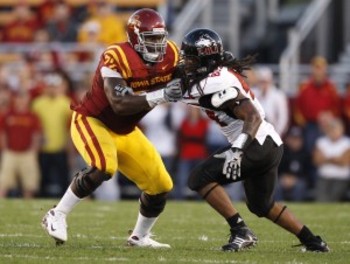 Iowa State OT Kelechi Osemele
Iowa State isn't necessarily known for their rich history of producing pro prospects, but that won't stop the NFL scouts from making their way down to Ames during the 2011 season.
The player they'll want to see is offensive tackle Kelechi Osemele.
Osemele, a 6'5'', pound senior, certainly looks the part physically and his intriguing athleticism should have the scouts taking notice.
The big tackle has made the All-Big 12 second team the past two seasons and it now looks like he's ready to take the next step and become one of the elite linemen in the conference.
66. CB Josh Robinson, Central Florida
UCF CB Josh Robinson
Janoris Jenkins isn't the only cornerback in the state of Florida with NFL potential. Central Florida's Josh Robinson, a 5'10'', 195-pound junior, also has what it takes to play on Sundays.
Robinson, a first-team All-Conference USA selection last year, was a big reason the Golden Knights were able to go 11-3 last season. The corner finished the year with 59 tackles and 13 pass breakups.
Robinson proved his worth when he matched up with Georgia's A.J. Green in the Liberty Bowl and kept him largely in check throughout the game.
65. DE Donte Paige-Moss, North Carolina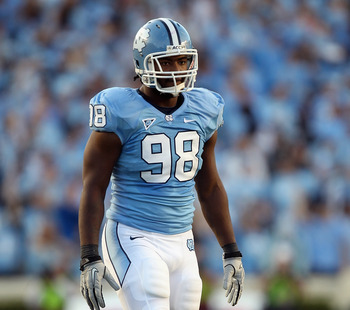 North Carolina DE Donte Paige-Moss
Streeter Lecka/Getty Images
I'll say it now, North Carolina has a chance to be scary next season.
Yes, I know we said the same thing last year and I know that they lost a lot to the NFL, but with the type of recruits Butch Davis has been bringing in since he's arrived, you better believe this team has what it takes to reload.
One of those big recruits who should pay dividends this season is Donte Paige-Moss, a former five-star recruit from North Carolina's Northside High School.
At this point, Paige-Moss may be most well known for his daring helmetless tackle in the 2010 Music City Bowl, a highlight that demonstrates the type of reckless abandon with which he plays the game.
The 6'4'', 260-pound junior finished the 2010 season with 49 tackles and seven sacks.
64. LB Keenan Robinson, Texas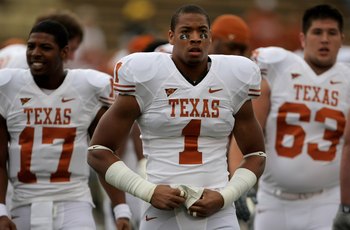 Texas OLB Keenan Robinson
Doug Pensinger/Getty Images
Say what you will about Texas and the effort they put forth last year; however, you certainly can't blame the woeful 2010 campaign on the defense.
Texas finished as the top defense in the Big 12, allowing just 300 yards per game, and arguably the most important player on the unit was LB Keenan Robinson, the team's leading tackler.
The 6'3'', 240-pound senior stepped up his play in 2010 after the departures of S Earl Thomas, DE Sergio Kindle and LB Roddrick Muckelroy.
Robinson will once again be the leader of what looks to be another intimidating defense.
63. WR Kendall Wright, Baylor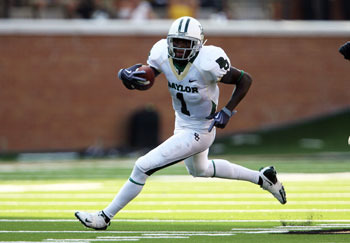 Baylor WR Kendall Wright
Speed: it's what Kendall Wright does best.
The lightning-fast Wright has led Baylor in receiving the past three seasons, totaling 194 catches for his career.
Wright is a threat to go the distance any time he gets the ball in his hands, and he adds another dangerous element to a Baylor offense that already has one of the scariest quarterbacks in the country in Robert Griffin III.
The Griffin-to-Wright combination could cause headaches for a lot of Big 12 fans in 2011.
62. RB Stepfan Taylor, Stanford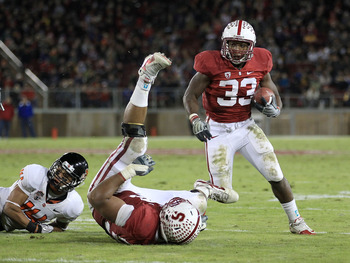 Stanford RB Stepfan Taylor
Ezra Shaw/Getty Images
Andrew Luck isn't the only piece of the Stanford backfield that opponents have to be afraid of.
RB Stepfan Taylor, a 5'11',' 205-pound junior, is a strong, compact runner who thrived for Jim Harbaugh and the Cardinal last season.
Taylor ran for over 1,100 yards and finished second in the Pac-10 with 15 rushing touchdowns in 2010.
With teams trying to key on Luck and shut down the passing game, there should definitely be lanes open for Taylor to continue exposing.
61. LB Courtney Upshaw, Alabama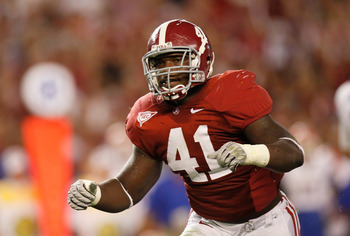 Alabama LB Courtney Upshaw
Kevin C. Cox/Getty Images
Let's be honest: this Alabama linebacking group is absolutely stacked. No other team in the country can boast the type of talent and depth at the position that the Tide can.
Alabama's "Jack" linebacker, Courtney Upshaw, could be the best of the bunch. Upshaw, a 6'2''. 260-pound senior, helped ease the loss of Top 10 pick Rolando McClain by becoming an instant impact player.
Upshaw made his living in opponents' backfields in 2010, leading the team with seven sacks and 14.5 tackles for loss.
Even though there is so much talent around him, Upshaw has still been able to shine and make a name for himself.
60. QB Taylor Martinez, Nebraska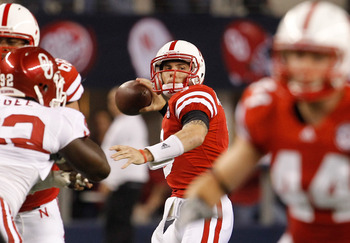 Nebraska QB Taylor Martinez
Tom Pennington/Getty Images
I admit it, I was one of the suckers who thought Nebraska had a shot at making a title run in 2010. The odd part about it is that the quarterback position, which was my biggest concern, actually turned out to be a strength. Well at least for a little while, anyways.

QB Taylor Martinez burst onto the Big 12 scene as a freshman, running his way through defenses with perfect precision. Then, somewhere along the way, Martinez turned into an immature freshman.

After a wild sideline confrontation with coach Bo Pelini during a late-season game at Texas A&M, some wondered if Martinez's Nebraska career would be over before it got the chance to really get going.
Cooler heads seemed to have prevailed in the whole matter, though, and it now looks like Martinez is ready to lead Nebraska through their first journey in the Big Ten conference.


59. DT Kawann Short, Purdue
Purdue DT Kawann Short
Jonathan Daniel/Getty Images
When you play for a team that wins only four games and you just so happen to be lining up right next to a future NFL first-rounder, you're most likely not going to receive a good amount of attention.
Purdue defensive tackle Kawann Short found that out this past year.
Short, a 6'3'', 305-pound junior, came into the 2010 season riding the momentum of a Freshman All-American campaign in '09, and even though he was one of the hardest defenders to block in the Big Ten, all anyone wanted to talk about was teammate, defensive end Ryan Kerrigan.
Short finished second on the team behind Kerrigan with 4.5 sacks and 12.5 tackles for loss, but he'll get his chance to step out of his former teammate's shadow in 2011.
58. CB Chase Minnifield, Virginia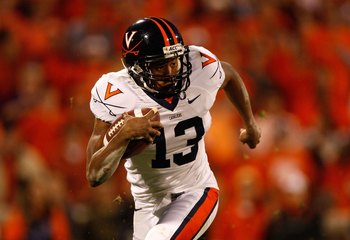 Chase Minnifield
Streeter Lecka/Getty Images
It was Ras-I Dowling, an NFL-caliber cornerback prospect, who was supposed to be the star of the Virginia secondary in 2010, but Dowling's injury troubles opened up the door for fellow corner Chase Minnifield to enjoy a breakout season.
Minnifield, a 6'0'', 180-pound senior, quickly earned a reputation as a guy you shouldn't throw at by picking off six passes in the team's first eight games.
There was talk that Chase could have bolted for the pros a year early, but luckily for Coach Mike London and the Cavaliers, he made the decision to stay.
That's not good news for ACC wide receivers.
57. WR Marquess Wilson, Washington State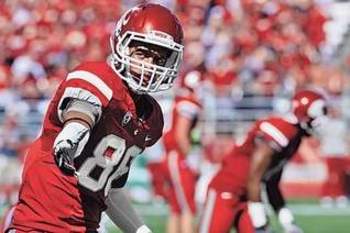 Washington State WR Marquess Wilson
There's just no getting around the fact that Washington State is an awful football program right now. The Cougars have a combined five wins over the last three seasons.
It's easy to see that the talent level in Pullman just isn't that great right now.
There is one player, though, who has legitimate star potential. That's wide receiver Marquess Wilson.
The 6'3'' Wilson came to Washington State after being lightly recruited by other BCS schools due to his perceived lack of long speed and stood out from the crowd immediately.
As a freshman, Wilson caught 55 passes for over 1,000 yards, which earned him Freshman All-American honors.
Now that he's gotten his feet wet, it should interesting to see what Wilson has in store for an encore.
56. QB Nick Foles, Arizona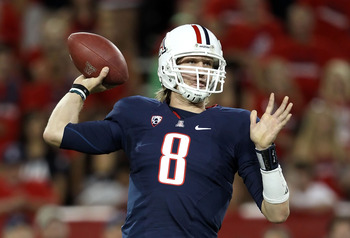 Arizona QB Nick Foles
Christian Petersen/Getty Images
If the college football season were only two months long, the Arizona Wildcats would be set.

Over the past two seasons, Arizona is 12-3 in the months of September and October, but as last season's disastrous late-season collapse shows, this team just doesn't know how to finish.

When a team can't finish games and can't finish seasons, you have to take a look at the quarterback.

Nick Foles, a 6'5'', 245-pound senior who threw for over 3,000 yards last year, possesses an NFL skill set and can throw the ball with the best of them.

What Foles has to prove now is that he is a finisher. If he can do that, he'll earn his due.
55. RB Isaiah Pead, Cincinnati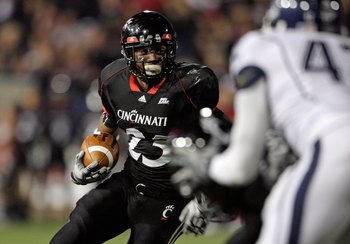 Cincinnati RB Isaiah Pead
Andy Lyons/Getty Images
If you're a Big East fan wondering who will be this year's Jordan Todman, you might want to take a look at Cincinnati RB Isaiah Pead.
Pead, a track star with tremendous speed, could be in store for a huge year this season.
The 5'10'', 200-pound senior, doesn't get the true number of carries as other featured backs, but when Pead has the ball in his hands, he knows how to pick up yardage, averaging a whopping 6.6 yards per carry for his career.
The Bearcats will be looking to have a bounce-back year in 2011, and they'll need their veteran rusher to be on the top of his game this season.
54. DT Jaye Howard, Florida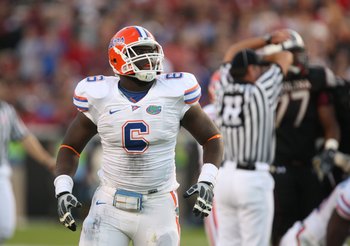 Florida DT Jaye Howard
Streeter Lecka/Getty Images
Florida may have signed two five-star defensive-tackle recruits in 2010, but neither Shariff Floyd nor Dominique Easley were able to outplay veteran Jaye Howard.

Howard, a 6'3'', 300-pound senior, played the best out the defensive tackle group in 2010, tallying 10 tackles for loss and being just a pain to block in general.

The Gators have enough talent with Floyd, Easley and Omar Hunter all returning to have a solid, steady rotation, so Howard may not get as many snaps as other top-shelf tackles.
But when he's on the field, he's sure to be a nuisance for offenses.
53. LB Sean Spence, Miami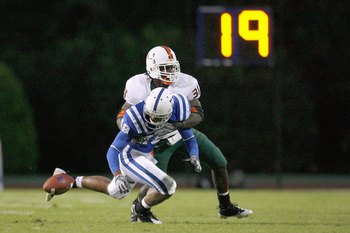 Miami LB Sean Spence
Kevin C. Cox/Getty Images
Someone has to tell Sean Spence that this isn't the early 2000s, he's not supposed to be playing this crazy.

Miami may have lost a bit of their edge since the days when Ed Reed and Sean Taylor turned Dade County into a hunting zone, but one player who still plays with the old Canes swagger is linebacker Sean Spence.

Spence is hardly the biggest linebacker out there size-wise, but nobody seems to come up with as many huge plays as the 6'0'', 220-pound senior.

Spence had 111 stops last season, and he should challenge for the ACC's tackle crown in 2011.
52. DT Mike Martin, Michigan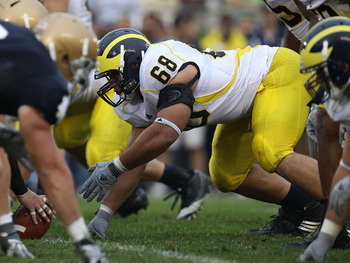 Michigan DT Mike Martin
Jonathan Daniel/Getty Images
It's difficult to explain to people how good Michigan DT Mike Martin really is, because most of the time when you say "Hey, you should check out this Michigan DT, he's pretty good," the person you're talking to looks puzzled and responds, "Michigan has a defense?"

It's true the Wolverine defense was disgustingly awful last year, but the main culprit was the young secondary. Up front, guys like Martin and DE Ryan Van Bergen caused some trouble.

Were their efforts enough to save the defense from playing at a calamity-like level the entire season? Obviously not. But the surrounding parts are a little older and a little more polished now.

The 6'2'', 300-pound senior now has the support around him to shine.
51. WR Jeff Fuller, Texas A&M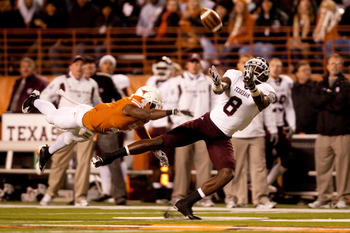 Texas A&M WR Jeff Fuller
Darren Carroll/Getty Images
Can someone start an investigation to uncover why Jeff Fuller disappeared after last year's Texas Tech game?

Fuller had 55 catches and 11 TDs in the first eight games of the year, then went missing for the last month of the regular season.

What happened, and more importantly, what type of receiver are we going to see this year?

If Fuller plays up to his talent level, he could be an All-American. We still haven't seen that for a full season, though.
50. CB Stephon Gilmore, South Carolina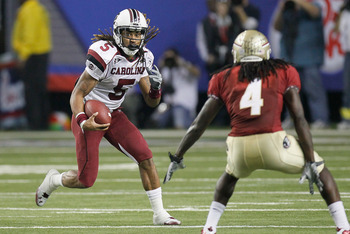 South Carolina CB Stephon Gilmore
Kevin C. Cox/Getty Images
I'll do a quick, basic, Mark Schlereth-type of analysis on South Carolina's Stephon Gilmore.

He's a cornerback who can tackle.

Gilmore, a 6'1'', 190-pound junior, has 135 tackles in his two-year career and has a knack for stopping ball carriers right in their tracks.

Gilmore and safety DeVonte Holloman are two of the top defensive backs in the SEC. They should be two important leaders for a South Carolina defense that could be one of the best the conference has to offer this season.
49. LB Tank Carder, TCU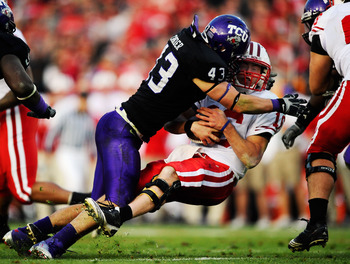 TCU LB Tank Carder
Kevork Djansezian/Getty Images
I'm setting the over/under for how many times we hear announcers say "Tank Carder is a Patriot type of guy" at 116.

Carder is the type of player who routinely refuses to be outworked by anyone else out on the field. He's definitely a player who could play for Bill Belichick.

Does he have some James Laurinaitis in him? Oh yeah.

The 6'3'', 235-pound ball-tracker is a perfect fit in Gary Patterson's 4-2-5 defensive scheme.
He's thrived during his TCU career, racking up 150 tackles over the past two seasons.



48. WR Robert Woods, USC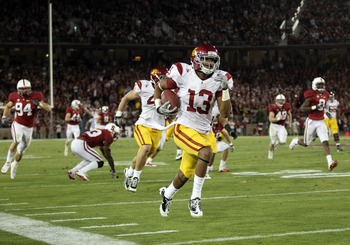 USC WR Robert Woods
Ezra Shaw/Getty Images
I'd like an explanation as to why Robert Woods failed to make the All Pac-10 team in 2010. Please, anyone?

Was it because he was a true freshman? Because I thought at this point, we learned to be age-blind when it comes to evaluating how talented a certain player is.

Woods, a former five-star recruit, came in and immediately became a go-to passing option for QB Matt Barkley and a perfect complement to fellow Trojan receiver Ronald Johnson.

The 6'1'', 185-pound sophomore finished his first season in Los Angeles with 64 catches for 786 yards and six touchdowns.
47. DE Brandon Lindsey, Pitt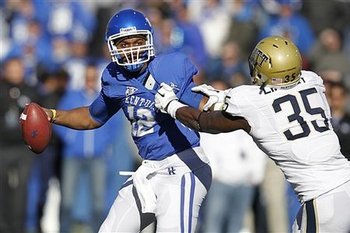 Pitt DE Brandon Lindsey
Greg Romeus and Jabaal Sheard may be departing from the Pittsburgh program, but that doesn't mean Big East offensive lines can rest easy.

In the place of an injured Romeus, the undersized yet crafty Brandon Lindsey came in and established himself as a pass rusher to be feared last season, finishing second in the Big East with 10 sacks.

Now Lindsey, a 6'2'', 250-pound senior, will have the stage to himself, but he'll also be without the services of Sheard on the other side.
46. LB Shayne Skov, Stanford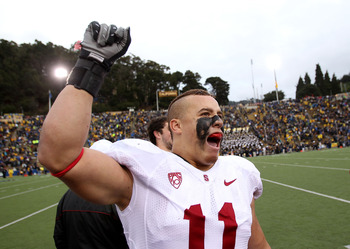 Stanford LB Shayne Skov
Ezra Shaw/Getty Images
Brian Cushing all over again?

Shayne Skov shares a striking resemblance to the former USC linebacker, and with the way he's performed, he's had a similar type of impact on the Pac-10 conference.

Skov led the Cardinal with 83 tackles in 2010 and played a brand of football that any true fan would love.

The 6'3", 245-pound junior is mean, instinctive, athletic and strong. Basically, he's a deadly combination of linebacker traits.
45. QB Robert Griffin, Baylor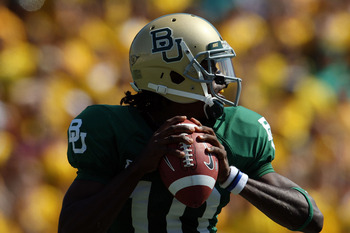 Baylor QB Robert Griffin
Ronald Martinez/Getty Images
He's electric.
He's exciting.
He's the reason Baylor fans still have any interest in football.
He's Robert Griffin III, and he looks ready to challenge for a Heisman Trophy in 2011.
Griffin has been the centerpiece of the recent Baylor football revival, carrying the team to its first bowl appearance in over 15 years.
Griffin's name is at a buzz level right now, but if the 6'2", 215-lb. junior continues to progress in 2011, his notoriety should skyrocket.
44. S T.J. McDonald, USC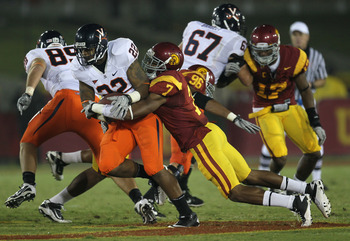 USC S T.J. McDonald
Stephen Dunn/Getty Images
Let's face it: Taylor Mays was a disappointment as a college football player.
Instead of three years of the next Sean Taylor, we got three years of occasional big hits, out of place coverages and poor tackling.
It's safeties like Mays who make you appreciate players like T.J. McDonald even more.
McDonald, a highly regarded high school All-American, was the bright spot of the USC secondary in his first year as a starter, finishing first on the team with 89 tackles.
The 6'3", 205-lb. junior has a chance to be the player Taylor Mays never was.
43. S Robert Lester, Alabama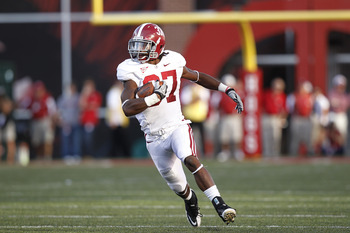 Alabama S Robert Lester
Joe Robbins/Getty Images
Speaking of safeties who made a big impact in their first year as a starter, did you happen to take a look at Alabama's Robert Lester this past season?

Phenomenal player.

The 6'2", 205-lb. junior ended up the year tied for second in the country with eight interceptions. He has the look of the next Nick Saban defensive prodigy.

Lester and senior Mark Barron can challenge any other duo in the country for the title of best safety tandem in college football.
42. QB Denard Robinson, Michigan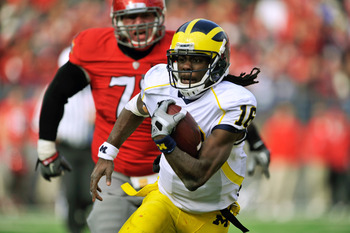 Michigan QB Denard Robinson
Jamie Sabau/Getty Images
After an explosive start to the 2010 season, the shoelace became untied as the year wore on, and QB Denard Robinson, once the early favorite for the Heisman, faded down the stretch.

Robinson was the most talked about player in college football for the first month of the season, but after a pounding by Michigan State, it just never seemed like he could get back his momentum.
The 6'0", 190-lb. junior accounted for over 4,200 total yards of offense last season, but it should be interesting to see how Robinson looks outside of Rich Rodriguez's spread offense.
41. LB Kevin Reddick, North Carolina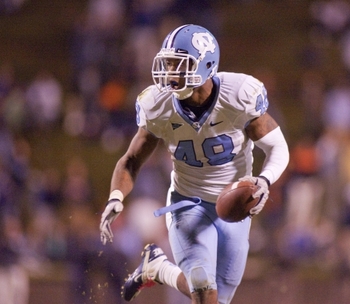 Photo Courtesy of WIll Cooper/Daily Tar Heel
North Carolina is losing a tremendous linebacker duo in Bruce Carter and Quan Sturdivant, but the cupboard is hardly bare.

Returning 'backers Kevin Reddick and Zach Brown are ready to step in and continue causing some carnage.

Reddick and Brown were actually the two leading tacklers for the Tar Heels in 2010, with Reddick taking top honors with 74 stops.

Distinguishing yourself in a group comprised of four future NFL players is no easy feat, but the 6'3", 230-lb. junior still managed to stand out.
40. RB Chris Polk, Washington
Washington RB Chris Polk
Christian Petersen/Getty Images
The Jake Locker era is over in Washington, and you know what that means—time to run the football.

Keith Price and Nate Montana will battle it out to replace Locker, but considering the two have thrown a combined 37 passes in their careers, it's safe to assume coach Steve Sarkisian will want to ease them into the flow of things.

That's good news for fans of RB Chris Polk, who should see a lot of touches this year.

Polk, a redshirt junior who contemplated entering the NFL draft, has shown he can carry a heavy load by toting the rock a combined 486 times the past two seasons.

Expect Polk to battle it out with Oregon's LaMichael James for the Pac-12 rushing title.
39. LB Dont'a Hightower, Alabama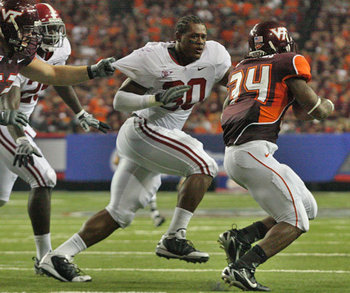 Alabama LB Dont'a Hightower
When Alabama LB Dont'a Hightower steps on a football field, he means business.
Once the mild-mannered Hightower puts the pads on his shoulders and flips his switch on, it's usually lights out for opponents.
Hightower, who finished with 69 tackles in 2010, is one of the most important players returning to Alabama this year.
The 6'4", 260-lb. junior, who made a successful return from a torn ACL, became a defensive leader for the Tide after the departure of fellow linebacker Rolando McClain.
38. TE Michael Egnew, Missouri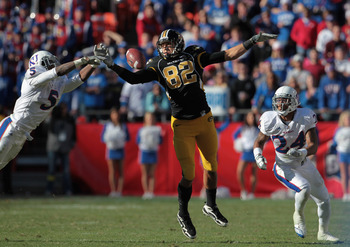 Missouri TE Michael Egnew
Jamie Squire/Getty Images
If you're looking for a tight end to come in, push people around and look like a star in blocking contests, you might want to shy away from Missouri's Michael Egnew. Blocking isn't his specialty.

Egnew's true worth is as a hybrid receiver in the passing game.

Last season, the 6'6", 235-lb. senior had 90 catches in Missouri's pass-heavy attack, the best number in the country for a tight end. He also added five scores as a valuable red zone threat.
He isn't a pure tight end in the truest sense, but that hasn't decreased his value to the Tigers.
37. RB Cyrus Gray, Texas A&M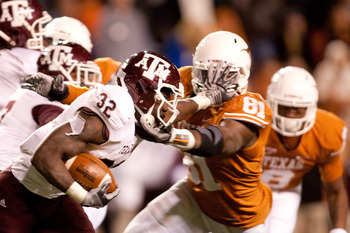 Texas A&M RB Cyrus Gray
Darren Carroll/Getty Images
Texas A&M, we're waiting, and we're starting to grow impatient. Can you finally have a breakout season already?

The Aggies are like the Houston Texans of college football. Every year we keep waiting for them to take the next step, but they always seem to end up tripping up.
Will this season be any different?

If A&M running back Cyrus Gray has any say, it just might.

Gray, a 5'10", 195-lb. senior, has totaled over 2,700 yards of offense and scored 21 touchdowns while playing in College Station.

He should challenge for the Big 12 rushing crown in 2011.
36. WR Greg Childs, Arkansas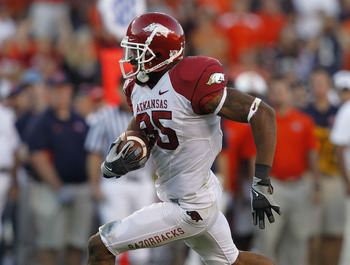 Arkansas WR Greg Childs
Mike Zarrilli/Getty Images
Arkansas will be without big-armed quarterback Ryan Mallett in 2011, but the passing game may not take that big of a hit.

Mallett's replacement, Tyler Wilson, is an intriguing passer, and he'll have one of the most talented receiving groups in the country as his targets. The senior trio of Greg Childs, Joe Adams and Jarius Wright is scary-looking on paper.

The 6'3", 215-lb. Childs only played in the first eight games of the season last year, but he was still able to finish with 46 catches for 659 yards and six TDs.

If Childs can stay healthy, he should be one of the SEC's most productive wideouts.
35. QB Landry Jones, Oklahoma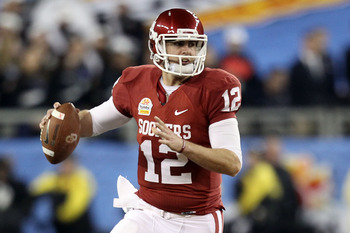 Oklahoma QB Landry Jones
Christian Petersen/Getty Images
Replacing a Heisman Trophy winner is never an easy task, but luckily for Landry Jones, he got a learning season under his belt before having to step into Sam Bradford's shoes full-time.

After filling in for the injured Bradford in 2009, Jones shined in his first year as a true starter, finishing second in the country with 4,700 passing yards and guiding the Sooners to a 12-2 season and a victory in the Fiesta Bowl.

Oklahoma has the makings of a national title contender this season, but it will be up to Jones to carry them to the promised land.
34. DT Marcus Forston, Miami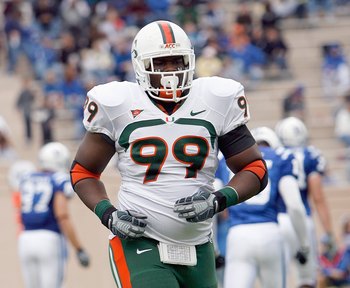 Miami DT Marcus Forston
Kevin C. Cox/Getty Images
Potential can be a scary word for a college football player. A lot of times, it seems like we're left waiting and wondering when certain players will reach their potential, and by the time their careers are up, they end up falling short.

One player who we're still waiting on is Miami DT Marcus Forston.

Forston, a 6'3", 305-lb. junior, gave us a glimpse of his potential in 2008, when he played his way onto the Freshman All-American team, but since then, he hasn't grown and developed like many thought he would.

An injury in 2009 may have been the culprit, but there's no time for excuses anymore.
Forston has a chance to be the next great Miami defensive lineman; he just needs somebody like new head coach Al Golden, who helped put Muhammad Wilkerson on a path to the NFL last year at Temple, to coax it out of him.
33. CB Jayron Hosley, Virginia Tech
Virginia Tech CB Jayron Hosley
Streeter Lecka/Getty Images
If I had let you make a list of the top 10 candidates to lead the country in interceptions in 2010, I have a pretty strong hunch none of you would have included Virginia Tech CB Jayron Hosley.

It makes sense considering Hosley entered his sophomore season with zero interceptions to his credit.

The 5'10", 170-lb. corner sure made up for it by picking off nine throws and breaking up eight passes in 2010.

Hosley now has a reputation as a corner you should be wary of throwing at.
32. OT Nate Potter, Boise State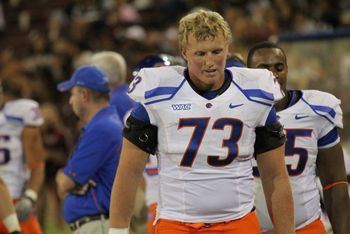 Boise State OT Nate Potter
Boise State coaches usually have to look outside the state of Idaho to find their diamond in the rough recruits, but Bronco coaches got lucky when they snagged Boise native Nate Potter, a former 2-star lineman from Timberline High School.

Potter has turned out to be a steady player on the offensive line since stepping foot on the blue turf.

The 6'6", 300-lb. tackle isn't the athlete that former Bronco Ryan Clady was, but he does have evident NFL potential.
31. WR Chris Owusu, Stanford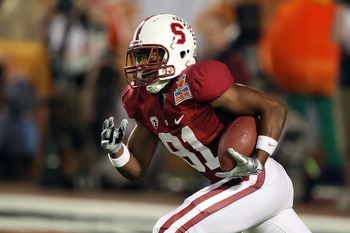 Stanford WR Chris Owusu
Streeter Lecka/Getty Images
Introducing QB Andrew Luck's new No. 1 target, wide receiver Chris Owusu.

Owusu suffered through an injury-plagued junior season in 2010, but now that he's healthy, he should be a versatile weapon for Stanford on both offense and special teams.

The speedy 6'2" senior will make an impact as both a receiver and a returner and will be one of those players that opponents won't want to have to deal with.
30. DE Brandon Jenkins, Florida State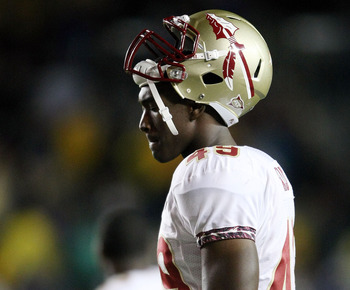 Florida State DE Brandon Jenkins
Elsa/Getty Images
The Florida State defense improved dramatically this past season, and one of the big reasons why was the play of defensive end Brandon Jenkins.

Jenkins, a 6'3", 245-lb. junior, abused opposing offensive tackles in 2010, racking up 13.5 sacks and 21.5 tackles for loss.

Jenkins could be one of the most coveted 3-4 outside linebacker prospects for the 2012 NFL draft if he decides to leave school early.
29. CB Omar Bolden, Arizona State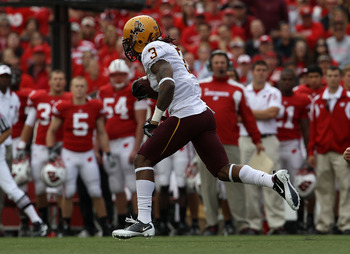 Arizona State CB Brandon Bolden
Jonathan Daniel/Getty Images
Is it too early to hop on the Arizona State bandwagon?

Let me know, because I'm tempted.

The Sun Devils are one of those semi-off the radar teams that could really shock some folks this year.

Head coach Dennis Erickson has pretty much all of his important offensive pieces returning, and the defense is home to two of the top defensive players in the country, CB Omar Bolden and LB Vontaze Burfict.

Bolden, a 5'10", 195-lb. senior, is one of the best pure athletes at his position, and he should be playing at a near shutdown level in 2011.
28. RB Ronnie Hillman, San Diego State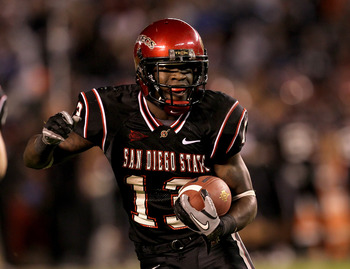 San Diego State RB Ronnie Hillman
Stephen Dunn/Getty Images
After just one season at San Diego State, Ronnie Hillman is already starting to hear his name mentioned in the same sentence as former Aztec great Marshall Faulk.

Hillman, a 5'10", 175-lb. sophomore, certainly looked Faulkesque in 2010, rushing for over 1,500 yards.

Hillman had 18 total touchdowns and turned out to be San Diego State's most valuable contributor.

If the Aztecs want to contend in the Mountain West this year, they're going to need another big campaign from their star running back.
27. LB Luke Kuechly, Boston College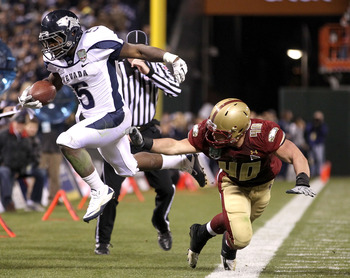 Boston College LB Bruce Kuechly
Ezra Shaw/Getty Images
341.
That's the number of total tackles linebacker Luke Kuechly has in his first two seasons at Boston College.
Pretty remarkable number, right?
Kuechly, a 6'3", 235-lb. junior, is a tackling machine who has a radar for ball carriers unlike any other player in college football.
He'll never be the best pure athlete on the field, but Kuechly has astounding instincts and intelligence for the linebacker position and is one of the best defensive players in the nation.
26. DE Bruce Irvin, West Virginia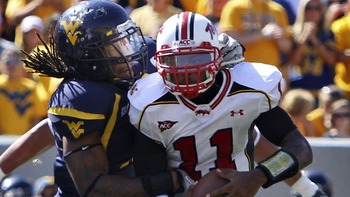 West Virginia DE Bruce Irvin
Players like Bruce Irvin make me sad that I graduated from West Virginia right before the 2010 football season.

I would have loved to wake up on Saturday mornings, take the stroll from my apartment down the road to Milan Puskar Stadium and watch Irvin blow by helpless offensive linemen, snap after snap.

Irvin, a 6'3", 235-lb. senior, lived up to his junior college hype by recording 14 sacks and 14 tackles for loss in his first season with the team.
25. DT Jared Crick, Nebraska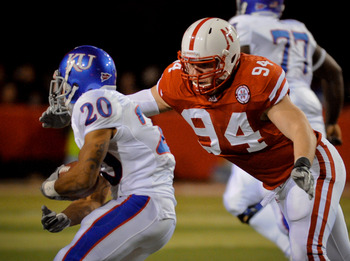 Nebraska DT Jared Crick
Eric Francis/Getty Images
There really isn't anyone in this world who is properly equipped to replace a player the caliber of Ndamukong Suh, but let's at least give credit to Jared Crick for giving it a shot.
Crick, a 6'6", 285-lb. senior, was considered a first-round prospect entering the 2010 season. Even though he came up with 9.5 sacks and 14.5 tackles for loss, Crick knew he was capable of more.

Crick's return, along with that of his fellow classmates CB Alfonzo Dennard and LB Lavonte David, is a huge boost for Nebraska's title hopes.

It should be fun to watch the the huge Cornhusker clash with Big Ten offensive linemen this year.
24. RB Knile Davis, Arkansas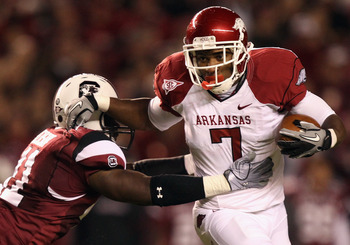 Arkansas RB Knile Davis
Streeter Lecka/Getty Images
Apparently Arkansas can run the ball a little bit too.

There weren't a lot of people expecting running back Knile Davis to finish his sophomore season as the most productive running back in the SEC, yet he did just that.

Davis, a 6'0", 220-lb. junior, rushed for over 1,300 yards and scored 14 touchdowns for an offense that enjoyed throwing the ball.

The powerfully built back looks like he could be the next Rashard Mendenhall.
23. S Kenny Tate, Maryland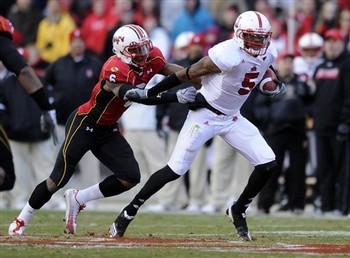 Maryland S Kenny Tate
Great safeties are hard to come by these days. Just look at this year's NFL draft. UCLA's Rahim Moore is the only real first round safety prospect.
With the lack of premier safeties at the college level, it's become easier to pinpoint who the truly great ones really are. One of them is Maryland's Kenny Tate.
It was a bit of a surprise that Tate chose to come back to school, as he likely had a strong chance to be a second or third-round pick in the 2011 NFL draft.
Tate, a 6'4", 220-lb. senior, is a physical DB with range who can make plays all over the field.
22. LB Travis Lewis, Oklahoma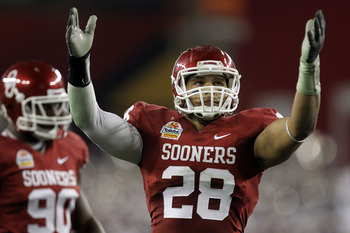 Oklahoma LB Travis Lewis
Ronald Martinez/Getty Images
Travis Lewis weighed his options carefully when making a decision about leaving school early for the NFL, but in the end, the upside to coming back to Oklahoma seemed too good to be true.

Play for a national title contender, be the star of the defense and have a good chance at playing yourself into the first round. Hmm, doesn't sound too bad.

Lewis, a 6'2", 230-lb. senior, has led the Sooners in tackles the past three seasons, compiling over 300 stops for his career.

Don't expect that to change in 2011.
21. CB Janoris Jenkins, Florida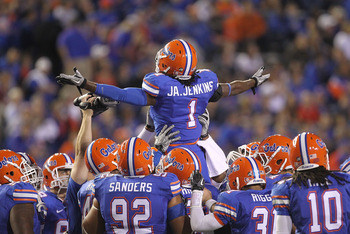 Florida CB Janoris Jenkins
Mike Ehrmann/Getty Images
Many were surprised when Florida CB Janoris Jenkins announced his intention to return to school for his senior season. They were even more surprised when Jenkins was arrested for marijuana possession just two weeks later.

Hopefully, the incident won't deter Jenkins' blossoming football career.

The 5'11", 185-lb. senior is one of the best cornerbacks we have in college football, but he will need to stay out of trouble from here on out if he wants to make it into the first round of the draft next year.
20. RB Trent Richardson, Alabama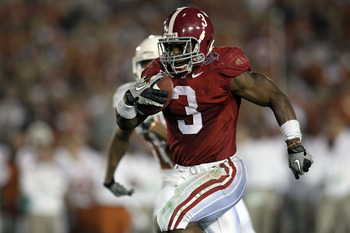 Alabama RB Trent Richardson
Stephen Dunn/Getty Images
Some believed Heisman Trophy winner Mark Ingram wasn't even the best back in his own backfield in 2009. It was young Trent Richardson who had caught people's eyes as a freshman, even though Richardson had to defer most of the workload to the more experienced Ingram.

Richardson, a 5'11", 220-lb. junior, has rushed for over 700 yards in each of his first two seasons, and he's shown that he's more than capable of being a workhorse back for the Tide.

Now, with Ingram gone, Richardson is the main man in the Alabama backfield.
19. CB Alfonzo Dennard, Nebraska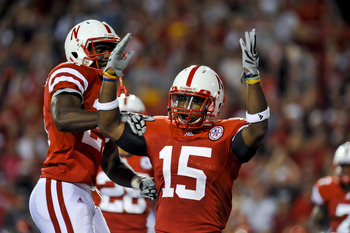 Nebraska CB Alfonzo Dennard
Eric Francis/Getty Images
How often do you see a school produce first-round cornerbacks in back-to-back years?

It doesn't happen often, but Nebraska is in position to do it, this year with Prince Amukamara and next year with Alfonzo Dennard.

Dennard, a 5'10", 195-lb. senior, could have entered the NFL draft as a junior, but I guess he wanted to let Amukamara have his moment in the sun after outshining him throughout the 2010 season.

The athletic Dennard finished the year with four interceptions, returning one for a touchdown, and generally outperformed his counterpart Amukamara on a regular basis.
18. RB Marcus Lattimore, South Carolina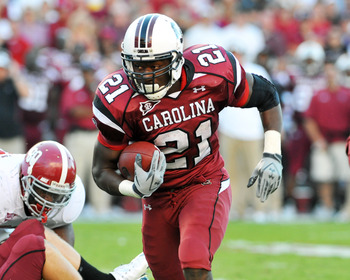 South Carolina RB Marcus Lattimore
Al Messerschmidt/Getty Images
We probably should have expected a breakout freshman campaign from 5-star running back Marcus Lattimore. All you had to do was look at his high school highlights to see that he had the talent.

Still, it was a bit surprising to see Lattimore come in right away and dominate against high-level SEC competition.

Lattimore either juked or ran over any defender silly enough to cross his path. The 6'0", 220-lb. sophomore rushed for nearly 1,200 yards and scored 19 total touchdowns in 2010 and played a major role in South Carolina's run to the SEC Championship Game.
17. LB Manti Te'o, Notre Dame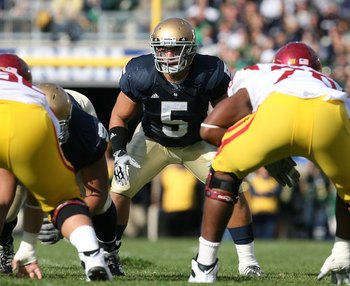 Notre Dame LB Manti Te'o
Jonathan Daniel/Getty Images
I can only imagine how terrifying it must be for a running back to line up and look straight across the line into the waiting eyes of LB Manti Te'o.

It's something I don't ever need to experience for myself.

Te'o is a frightening player who brings a lot of toughness to a Notre Dame defense that has been accused of being soft in recent years.
The 6'2", 245-lb. junior is a stone-cold tackler who has lived up to his 5-star billing from his time as an elite Hawaii high school recruit.
16. OT Jonathan Martin, Stanford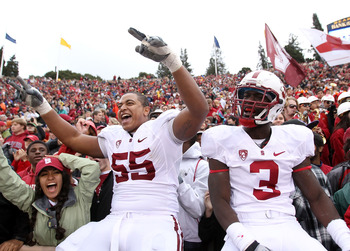 Stanford OT Jonathan Martin
Ezra Shaw/Getty Images
Stanford isn't enlisting just anybody to protect quarterback Andrew Luck. They're lining up one of the best offensive linemen in the country, Jonathan Martin, to make sure Luck stays upright.
Martin, a 6'6", 305-lb. junior, has incredible footwork and athleticism for his size and will be one of the anchors of a Stanford offensive line that is shaping up to be one of the best in the country.
15. LB Lavonte David, Nebraska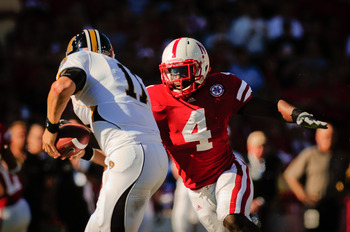 Nebraska LB Lavonte David
Eric Francis/Getty Images
Lavonte David is another member of the Nebraska defense who doesn't seem to get as much credit and publicity as he deserves.

David, a 6'1", 210-lb. senior, stepped fresh out of junior college and became Nebraska's top performer on defense right from the start of the season.

David took over the Big 12, leading the conference with 152 tackles in just his first year on the job. His performance earned him spots on numerous All-American and All-Conference teams, as well as the award for Big 12 Defensive Newcomer of the Year.
14. QB Matt Barkley, USC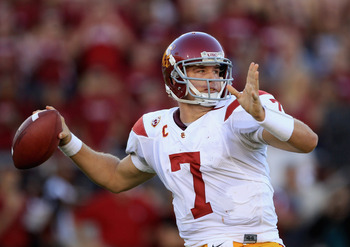 USC QB Matt Barkley
Ezra Shaw/Getty Images
It's shame we might not get to see Matt Barkley compete in another bowl game before he heads off to the NFL. Thanks a lot, Reggie Bush.

Barkley is the golden boy of the program, captivating fans since the day he came to USC. The 6'2", 220-lb. junior, who threw 26 TDs last year, could have the Trojans primed for a big bounce-back season in 2011.

Barkley has first round potential, and it wouldn't be surprising if 2011 turns out to be his swan song, so expect a big effort from him this year.
13. DT Jerel Worthy, Michigan State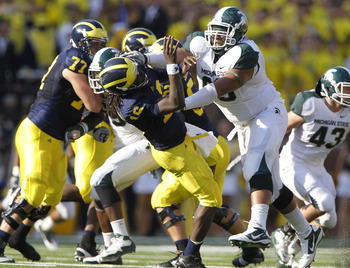 Michigan State DT Jerel Worthy
Leon Halip/Getty Images
Jerel Worthy certainly passes the eyeball test.
Worthy, a 6'3", 305-lb. ball of muscle, looks like the type of interior defensive player that it just hurts to try to block.
The junior already looks like an NFL defensive tackle. Now if he starts to fully play like one, the Spartans will really start to cause opponents trouble.
12. WR Ryan Broyles, Oklahoma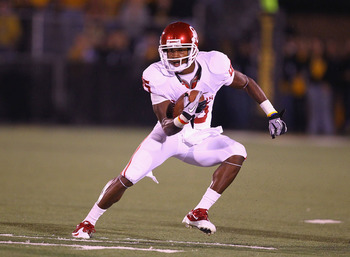 Oklahoma WR Ryan Broyles
Dilip Vishwanat/Getty Images
If we learned one thing from last year, it's that Ryan Broyles knows how to catch. The Oklahoma wide receiver finished the 2010 season with 131 receptions, the top number in the country.

What makes Broyles so frustrating is that he can either burn you with the big play or wear you down over time with underneath catches.

The 5'11", 185-lb. senior is a cunning and skillful tactician, and he will be Oklahoma's most valuable piece once again this season.

Broyles is sure to have a big say in Oklahoma's quest for a national title.
11. RB Michael Dyer, Auburn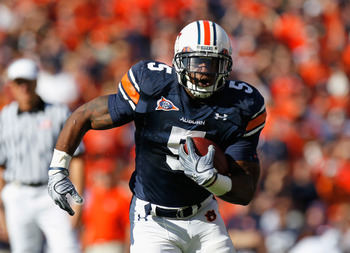 Auburn RB Michael Dyer
Kevin C. Cox/Getty Images
Well, Auburn fans, you've got the championship to savor, but are you really ready for life without Cam Newton?

Oh, and Nick Fairley, Darvin Adams, Lee Ziemba, Josh Bynes and all the other key players you're losing.

There sure is going to be a lot of turnover from the 2010 season, but the Tigers look equipped with the talent to handle all the losses.

The new star of the team will be running back Michael Dyer, a 5'9", 215-lb. sophomore who ran for over 1,000 yards and came up with the biggest play of the season.

Dyer is a rumbling runner who can beat you with his power or his speed.

With Dyer in the backfield, the Tigers may not fall as far as some of their enemies would like.
10. S Mark Barron, Alabama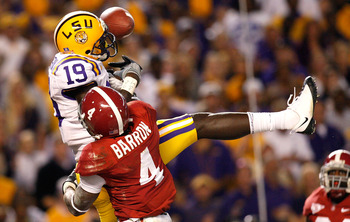 Alabama S Mark Barron
Kevin C. Cox/Getty Images
2010 was Mark Barron's year to show us had the leadership ability. 2011 is the year he has to show us he's a game-changer.

We already know Barron is one of the most skilled defensive backs in the entire country, but we also witnessed him whiff on some big plays at inopportune times last season.

Barron missed game-altering plays in losses to South Carolina and Auburn, coming up inches short when he was most counted on.

Barron is an All-American-caliber player who has to start making the All-American-caliber plays.

If he does that, the Alabama defense will reclaim its spot atop the SEC.
9. LB Vontaze Burfict, Arizona State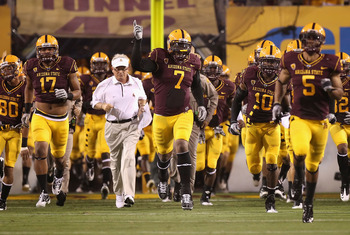 Arizona State LB Vontaze Burfict
Christian Petersen/Getty Images
Jeopardy! answer: This team quietly led the Pac-10 in rush defense in 2010.

Question: Who is Arizona State?

The Sun Devils were stingy in the defensive front seven last year, allowing only 120 rushing yards per game. The one player who was most important all year was the team's leading tackler, linebacker Vontaze Burfict.

Burfict, a 6'3", 245-lb. junior, has been a game-changer since the first day he stepped foot in Tempe.
With Burfict back in the middle, Arizona State's defense will be among the best in the new Pac-12.
8. QB Kellen Moore, Boise State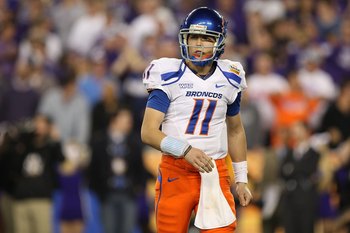 Boise State QB Kellen Moore
Jed Jacobsohn/Getty Images
Kellen Moore has been the perfect face for the Boise State renaissance: He's the underdog who exemplifies his entire team.

Moore—who wasn't a flashy 5-star recruit coming out of high school, who wasn't rained on with scholarship offers from BCS schools, who is continually doubted because of his small size—is still an underdog, which sounds weird to say when you think about all he's done over the last few years.

Moore's 38-2 record as a starting QB gives him the distinction of being college football's ultimate winner.

The 6'0" senior has thrown for over 10,000 yards during his time at Boise.

His numbers may take a hit without receivers Titus Young and Austin Pettis, but don't expect Moore to forget how to win. He'll still do plenty of that.
7. WR Alshon Jeffery, South Carolina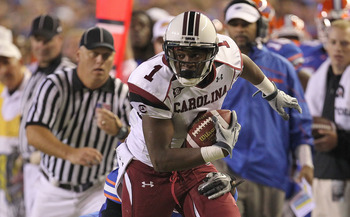 South Carolina WR Alshon Jeffery
Mike Ehrmann/Getty Images
Steve Spurrier has done a good job keeping talented South Carolina high school recruits in-state recently. One of those in-state kids is WR Alshon Jeffery, South Carolina's key offensive player last year.

Jeffery, a 6'4", 230-lb. junior, followed up a Freshman All-American season in 2009 with an even better showing last year. Jeffery was the go-to Gamecock on offense, catching 88 balls for over 1,500 yards.

If there's consistency at the quarterback position, the big receiver is capable of putting up a third straight monster year.
6. QB Terrelle Pryor, Ohio State
Ohio State QB Terrelle Pryor
Chris Graythen/Getty Images
The résumé: two BCS bowl game MVPs, two Big Ten Conference championships and a 33-3 overall record over the last two seasons.

The hate?

Still there.

Terrelle Pryor could be the most despised man in all of college football, and I'm still not really sure why.
Was the recruiting hype a little over the top? Sure, but isn't it always? Is Pryor the only big recruit who got shoved too far down our throats? Nope, it happens every year.

With my apologies to Cam Newton fans, Pryor is the best athlete we've seen at the quarterback position in college football since Mike Vick played at Virginia Tech.

Can we appreciate the guy a little?

Yes, his personality leaves a bit to be desired, but isn't that case with most star players?

We could have done without the tattoo parlor hoopla, and we didn't need the fake limping and wincing after the Sugar Bowl. But you take the bad with the good.

Terrelle Pryor is a star. When he said he would be a star in the spread offense, he wasn't exaggerating. If Pryor played for Oregon, they would have won the national championship last season.

Don't panic and count Ohio State out of the title race just yet.
5. WR Justin Blackmon, Oklahoma State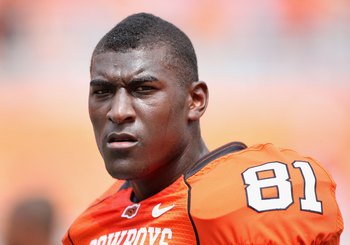 Oklahoma State WR Justin Blackmon
Christian Petersen/Getty Images
Who is Justin Blackmon? That's a question I asked myself on the first Saturday of the season when I saw Blackmon's 125-yard, three-TD performance in the Oklahoma State-Washington State box score.
We would all find out soon enough who this Blackmon fellow was.
The 6'1", 205-lb. junior went nuts in Dana Holgorsen's system last year, finishing the season with 111 catches for over 1,700 yards while adding 21 TDs.
For his efforts, Blackmon was rewarded with the Biletnikoff Award, given to the nation's top receiver.
We now know the talent is there, but it's still fair to wonder how Blackmon will perform outside of Holgorsen's high-flying attack.
4. DT Quinton Coples, North Carolina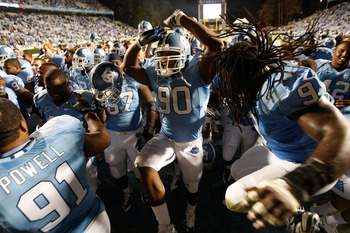 North Carolina DT Quinton Coples
Streeter Lecka/Getty Images
The Tar Heels were supposed to miss star defensive linemen Robert Quinn and Marvin Austin, weren't they?

Well, they did for a little while, right up until Quinton Coples made the decision it was time for him to come into his own.

Coples, who can play anywhere along the defensive line, was a revelation for Butch Davis and the depleted North Carolina defense, starting inside for the suspended Austin.

The 6'6", 245-lb. junior finished the 2010 season with 15.5 tackles for loss and 10 sacks.

The scary thing about Coples is that he's only just tapped into his potential. He can become even better as he continues to mature.

This North Carolina team took some major hits in some spots, but with the type of talent they're returning, I wouldn't count the Tar Heels out of the ACC championship hunt just yet.
3. RB LaMichael James, Oregon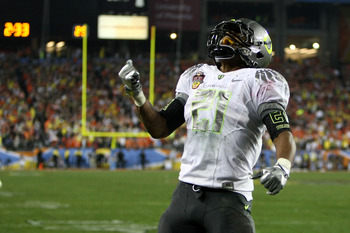 Oregon RB LaMichael James
Jonathan Ferrey/Getty Images
If I were to make a list of my favorite players to watch highlights of on YouTube, I'd probably have to put Oregon RB LaMichael James somewhere in the top five.

James is just a fun player to watch.

If you were to build a perfect running back for the spread offense from scratch, the finished product would probably look remarkably similar to James—maybe with one or two inches added on for good measure.

It's true that he doesn't have the size, but he has everything else—speed, vision, agility, you name it.

With James back in the fold and backup Kenjon Barner there to help out, Oregon should be just as explosive on the ground as it was in 2010.

The question is, will we see LaMichael back in New York for the Heisman ceremony?
2. WR Michael Floyd, Notre Dame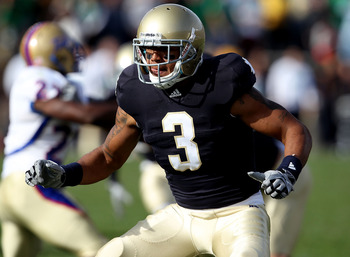 Notre Dame WR Michael Floyd
Jonathan Daniel/Getty Images
Is there a pass out there that Michael Floyd can't catch?

Floyd, a 6'3", 225-lb. senior, is one of the best receivers at adjusting to the pass that we've seen in college football in quite some time.

If you throw the ball in Floyd's general direction, good things will probably come of it.

Floyd has the chance to put up some remarkable numbers playing in Brian Kelly's offensive system. In his first year trying to adapt to Kelly's playbook, Floyd hauled in 79 passes for over 1,000 yards and 12 scores.

Are you ready for the Michael Floyd show?

Set your TiVos to NBC.
1. QB Andrew Luck, Stanford
Stanford QB Andrew Luck
Ezra Shaw/Getty Images
What's left to say about Andrew Luck that hasn't already been said?

He's here. He's a star. He's the guy.

Luck made the decision to return to Stanford and be the star of college football this year instead of going to the miserable-looking situation with the Carolina Panthers.

To me, it wasn't that bad of a choice.

With the type of talent they have coming back, Stanford is on the short list of national title contenders right now.

A national championship? A Heisman? Andrew Luck has it all right in front of him.

Luckily for us, we get to watch him try to chase it for one more year.
10 Quarterbacks Who Missed the Cut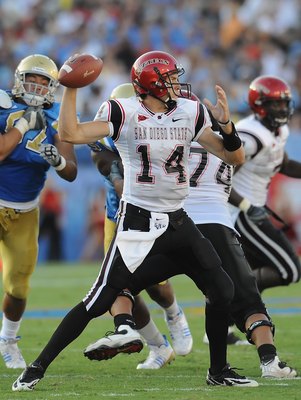 San Diego State QB Ryan Lindley
Lisa Blumenfeld/Getty Images
1. Ryan Lindley, San Diego State
2. Tyler Bray, Tennessee
3. Brandon Weeden, Oklahoma State
4. G.J. Kinne, Tulsa
5. Corey Robinson, Troy
6. Dan Persa, Northwestern
7. Bryant Moniz, Hawaii
8. Stephen Garcia, South Carolina
9. Kyle Padron, Southern Methodist
10. Zach Collaros, Cincinnati
10 Running Backs Who Missed the Cut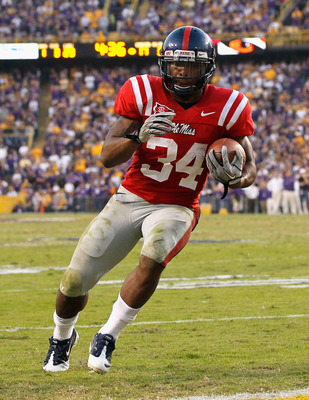 Mississippi RB Brandon Bolden
Kevin C. Cox/Getty Images
1. Brandon Bolden, Ole Miss
2. Bobby Rainey, Western Kentucky
3. Edwin Baker, Michigan State
4. Montel Harris, Boston College
5. Vick Ballard, Mississippi State
6. Rex Burkhead, Nebraska
7. Bernard Pierce, Temple
8. Andre Ellington, Clemson
9. Eric Stephens, Texas Tech
10. Cierre Wood, Notre Dame
10 Wide Receivers Who Missed the Cut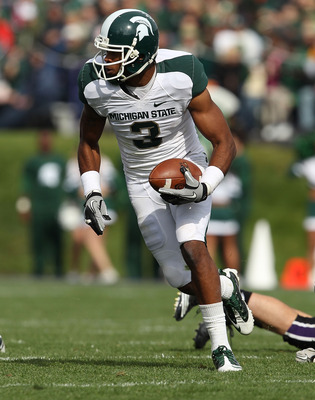 Michigan State WR B.J. Cunningham
Jonathan Daniel/Getty Images
1. B.J. Cunningham, Michigan State
2. Dwight Jones, North Carolina
3. Patrick Edwards, Houston
4. T.Y. Hilton, Florida International
5. Marvin McNutt, Iowa
6. Jarrett Boykin, Virginia Tech
7. Damarlo Belcher, Indiana
8. DeVier Posey, Ohio State
9. Travis Benjamin, Miami
10. Lance Lewis, East Carolina
10 Tight Ends Who Missed the Cut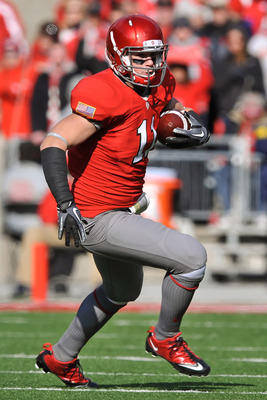 Ohio State TE Jake Stoneburner
Jamie Sabau/Getty Images
1. Jake Stoneburner, Ohio State
2. George Bryan, North Carolina State
3. Coby Fleener, Stanford
4. Dwayne Allen, Clemson
5. Deangelo Peterson, LSU
6. Kevin Koger, Michigan
7. D.C. Jefferson, Rutgers
8. Phillip Lutzenkirchen, Auburn
9. David Paulson, Oregon
10. Nehemiah Hicks, Texas A&M
10 Offensive Tackles Who Missed the Cut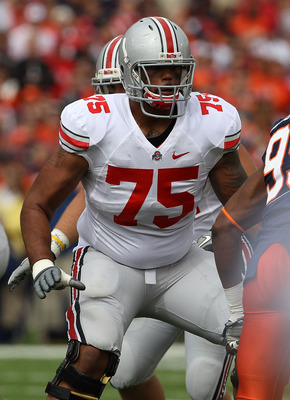 Ohio State OT Mike Adams
Jonathan Daniel/Getty Images
1. Mike Adams, Ohio State
2. Levy Adcock, Oklahoma State
3. Al Netter, Northwestern
4. Matt Kalil, USC
5. Riley Reiff, Iowa
6. D.J. Fluker, Alabama
7. Matt Reynolds, BYU
8. Seantrel Henderson, Miami
9. Luke Joeckel, Texas A&M
10. Tanner Hawkinson, Kansas
10 Interior Linemen Who Missed the Cut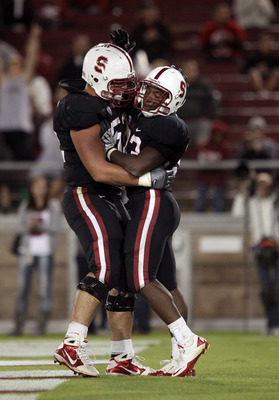 Stanford OG David DeCastro
Ezra Shaw/Getty Images
1. David DeCastro, Stanford
2. Cordy Glenn, Georgia
3. Barrett Jones, Alabama
4. Omoregie Uzzi, Georgia Tech
5. Brandon Washington, Miami
6. Mike Brewster, Ohio State
7. Jonathan Cooper, North Carolina
8. Carson York, Oregon
9. Josh Jenkins, West Virginia
10. A.J. Wallerstein, Air Force
10 Defensive Tackles Who Missed the Cut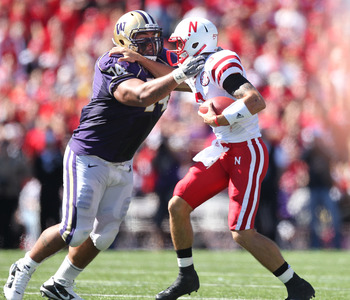 Washington DT Alameda Ta'amu
Otto Greule Jr/Getty Images
1. Alameda Ta'amu, Washington
2. Melvin Ingram, South Carolina
3. Logan Harrell, Fresno State
4. Nick Jenkins, Virginia
5. John Simon, Ohio State
6. Jacobbi McDaniel, Florida State
7. Josh Chapman, Alabama
8. Tydreke Powell, North Carolina
9. Derek Wolfe, Cincinnati
10. Roosevelt Nix, Kent State
10 Defensive Ends Who Missed the Cut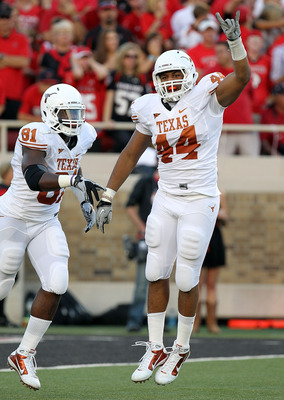 Texas DE Jackson Jeffcoat
Ronald Martinez/Getty Images
1. Jackson Jeffcoat, Texas
2. Barkevious Mingo, LSU
3. Jonathan Massaquoi, Troy
4. Frank Alexander, Oklahoma
5. Vinny Curry, Marshall
6. Armond Armstead, USC
7. Ryne Giddins, South Florida
8. Kendall Reyes, UConn
9. Julian Miller, West Virginia
10. Jack Crawford, Penn State
10 Linebackers Who Missed the Cut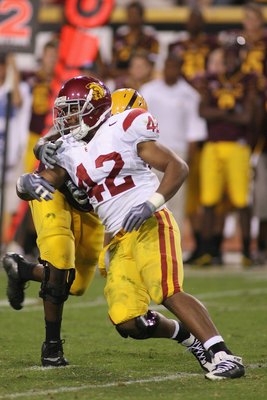 USC LB Devon Kennard
Jeff Golden/Getty Images
1. Devon Kennard, USC
2. Emmanuel Acho, Texas
3. Zaviar Gooden, Missouri
4. Danny Trevathan, Kentucky
5. Audie Cole, North Carolina State
6. Zach Brown, North Carolina
7. Demetrius Hartsfield, Maryland
8. Ryan Baker, LSU
9. Cornelius Washington, Georgia
10. Jerry Franklin, Arkansas
10 Cornerbacks Who Missed the Cut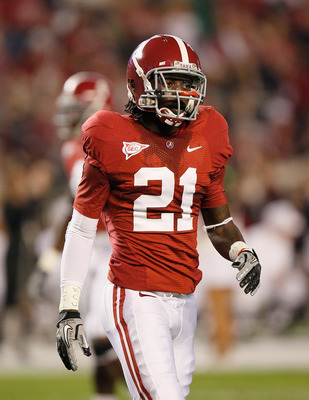 Alabama CB Dre Kirkpatrick
Kevin C. Cox/Getty Images
1. Dre Kirkpatrick, Alabama
2. D'Anton Lynn, Penn State
3. Casey Hayward, Vanderbilt
4. Donnie Fletcher, Boston College
5. Morris Claiborne, LSU
6. Shaun Prater, Iowa
7. Blidi Wreh-Wilson, UConn
8. Emanuel Davis, East Carolina
9. Keith Tandy, West Virginia
10. Greg Reid, Florida State
10 Safeties Who Missed the Cut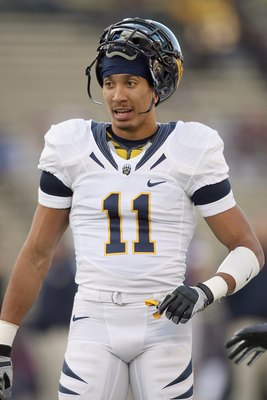 Cal S Sean Cattouse
Otto Greule Jr/Getty Images
1. Sean Cattouse, Cal
2. DeVonte Holloman, South Carolina
3. Ray Ray Armstrong, Miami
4. Jordan Kovacs, Michigan
5. Rashard Hall, Clemson
6. Brandon Taylor, LSU
7. Orhian Johnson, Ohio State
8. Bacari Rambo, Georgia
9. George Iloka, Boise State
10. Tony Jefferson, Oklahoma


Keep Reading