Georgia Football: An Early Preview of the Georgia Tailbacks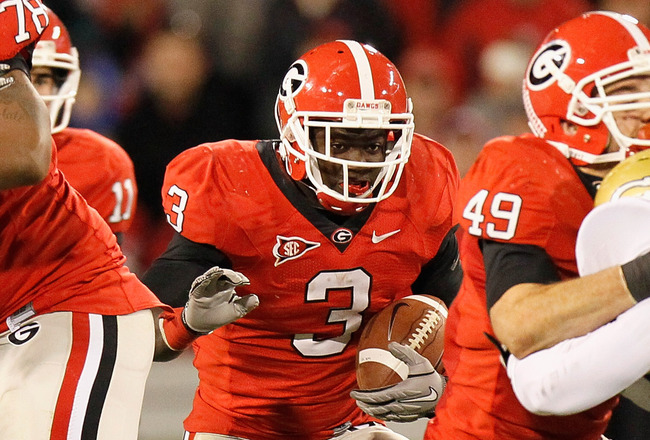 Kevin C. Cox/Getty Images
Isaiah Crowell announced today that he would be playing football for the University of Georgia and a shockwave has been sent throughout the Bulldog Nation. Crowell has been considered the most important recruit for Mark Richt during his time in Athens, so you can certainly expect him to play all year.
Crowell joins Washaun Ealey, a junior who has led the Bulldogs in rushing the last two years, and Caleb King, a disappointment over his career but is still a solid player, in the Bulldog's backfield in 2011. Carlton Thomas and Ken Malcome seem to be the guys that are left out in this situation, but you never know.
Georgia's run game was inconsistent last year, but there were signs of brilliance still, particularly for Ealey. Crowell's commitment will only push these guys forward.
Here's a close look at each of Georgia's tailbacks for 2011, and will include my predictions on how stats will shake up.
Carlton Thomas and Ken Malcome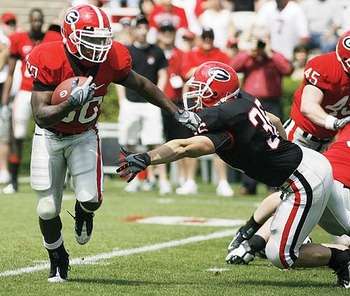 Thomas has always been the scatback during his time in Georgia, and there is no question about speed and quickness. His size, however, limits him a great deal.
Thomas stands at a generous 5'7" and weighing just 170 pounds. Georgia hasn't used him very consistently in the running game, as he has only picked up 86 carries for 364 yards and two touchdowns in his two years in Athens.
Malcome was being called on by fans to play last year after the early running game struggles, but never came to fruition. Malcome is the biggest running back of the five at six feet tall and 218 pounds. Malcome may see some time as a goal line back, but I'm not expecting any carries for him as of right now.
2011 Stats Prediction
Thomas: 30 carries, 135 yards, touchdown
Malcome: 10 carries, 45 yards
Caleb King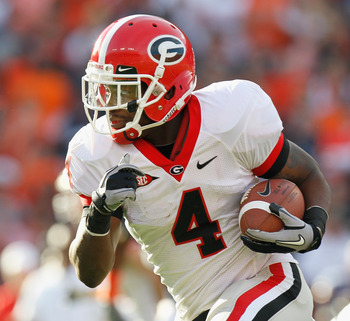 Kevin C. Cox/Getty Images
King, a former five star recruit who had a universe-worth of expectations on his shoulders, has been great at times and average at best in others. King possesses a ton of physical talent, but has had his own demons with holding on to the ball (more so than Ealey) and now has more problems to deal with.
King decided not to go to five mandatory academic meetings, which most Georgia fans know is why he didn't play against Central Florida. This has put King in a bad spot with Richt, and his future is uncertain in Athens. I still expect him to see the field a decent amount this year, but his carries should get hindered a good bit with Crowell's commitment.
King picked up 430 yards last year on 80 carries, posting a very healthy 5.4 per carry average, to go along with four touchdowns scored. This followed up a pretty good sophomore year in which he picked up594 yards and seven touchdowns on 114 carries.
If King can bounce back from his injuries and academic struggles in 2010, we may see him finally fulfill the expectations, I just wouldn't be counting on it.
2011 Stats Prediction
75 carries, 360 yards, 2 touchdowns
Isaiah Crowell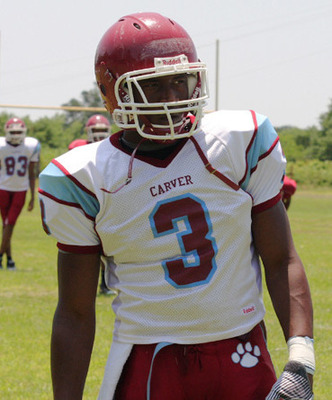 Crowell is the guy Georgia fans have been wanting since he was eligible to be recruited by Richt and the staff, and he finally decided to come join the party in Athens.
Crowell possesses a very unique blend of size and speed, and looks like a sure star in the future. Learning the blocking scheme and getting into the rhythm with the offensive line and playbook seem to be the only thing heeding him at this point.
How much will it heed him though? That seems to be the million dollar question for most Georgia fans, but I wouldn't worry about that too much. Richt and company will be sure to not put Crowell in a position to hurt the team.
This means that you will see him taking a hand-off or a screen pass the majority of the year as he gets used to the SEC speed and playbook. Crowell should end up as the team's second leading rusher.
2011 Stats Prediction
120 carries, 612 yards, five touchdowns
Washaun Ealey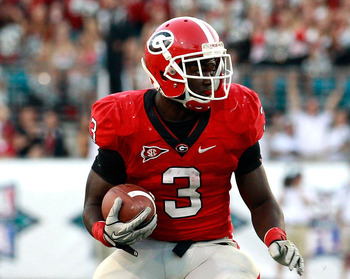 Sam Greenwood/Getty Images
Ealey came into the 2010 season with expectations of 1,000-yard season. However, a suspension, two tough early fumbles, and some lasting effects from them held Ealey from getting off to the start we all expected. After a few games to get back into the rhythm of not focusing more on holding onto ball instead of running hard and hitting the holes, Ealey showed flashes of why he could be a great tailback in Athens.
Ealey's sophomore season ended with him leading the team for the second straight year with 811 rushing yards and eleven touchdowns, five of which came in a record-breaking performance on the road against the Kentucky Wildcats. Not exactly mind-blowing numbers, but when you look closer into them, there is still a very good chance that Ealey can live up to everyone's expectations.
In his career, Ealey has been given at least thirteen carries eleven times, and in those games, he's at least been able to pick up 70 yards in ten of them, the only time he didn't was the Liberty Bowl game against Central Florida. In his two career games with at least twenty carries, he has picked up 340 yards on 48 carries with six touchdowns.
When you look farther into it on a game by game basis, you look at games that he missed, or didn't receive a great amount of carries in: zero against Louisiana-Lafayette(suspension), one against Colorado, six against Idaho State, and six against Auburn. You are looking at a guy that could have picked up 1,000 yards this past season, which most would consider a disappointment.
Also, despite what most people would think because of the fumbles, Washaun is very good with the game is close and he gets the ball. When both teams are within seven points of each other in 2010, Ealey averaged 5.6 yards per carry, and 5.5 on carries while games that were tied. Ealey has also showed that he gets better deeper in the season, when Georgia is playing their toughest competition. Ealey has a career 4.7 yards per carry average in October, and an outstanding 7.1 average in November. A faster start to his season would greatly help him, as he has been greatly successful later in the year in his first two seasons.
2011 Stats Prediction
175 carries, 945 yards, 10 touchdowns
Keep Reading

Georgia Bulldogs Football: Like this team?