College Football 2011: How Big Ten Realignment Should Have Looked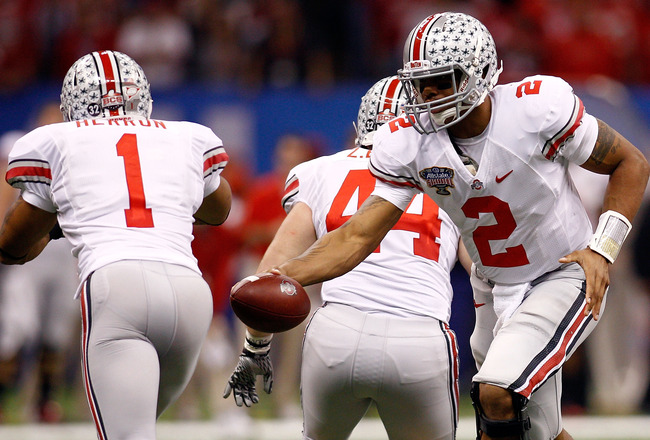 Chris Graythen/Getty Images
Perhaps no other move by a league was more widely ridiculed (with perhaps the exception of the NHL's Guardian Project, whatever that turned into) than when the Big Ten rolled out its new logo and division names:
Legends and Leaders.
It's bad enough the new logo looks like something designed by The Gap, but Legends and Leaders? Really? Were Division A and B not available?
Then there are the actual divisions themselves, which while they were interesting, left a lot to be desired. It was pretty obvious the league sold out in a chance to get a Michigan-Ohio State championship game and all the benefits that would come with it. I can somewhat understand the move, the league didn't want one division overpowering the other like the old Big 12. But it was still interesting
So with that in mind, here's how I would realign the Big Ten.
Division 1: Butkus Division
Jonathan Daniel/Getty Images
Since the divisions are not a geographical split (although I very much thought about an East-West split), I tried to make them as competitive as possible. And since there had to be new division names, I thought about which Big Ten legends would be worthy.
Dick Butkus was one of the first who came to mind.
There may not be another player that defines Big Ten football more than Butkus. The hard-nosed linebacker out of Illinois defined tough football. Consistently named as one of the best college football players of all time and someone you'd want to model yourself after as a football player. The best linebacker in the country still gets awarded the Butkus award, don't they?
Division 2: Nagurski Division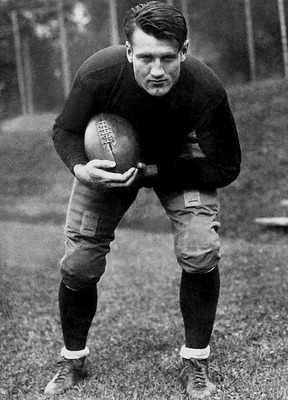 A Pro Football Hall-of-Famer and another one of the best college football players of all-time, Nagurski became a star at Minnesota on both offense and defense. Like Butkus, he's considered one of the greatest college football players of all time and his toughness is a perfect example and metaphor of Big Ten football.
Now I know, how can I be talking about Big Ten football and not have at least one of the divisions be somehow tied into Michigan and Ohio State.
I just felt that if you were going to go this direction with the Division names, then it needed to be two players who really defined the conference. Plus "Nagurski Division: just sounds a lot cooler than the "Griffin Division."
Butkus Division No. 6: Illinois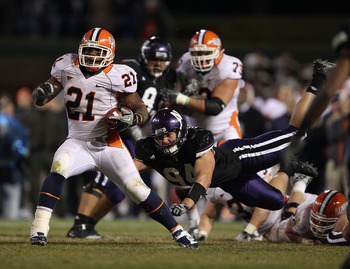 Jonathan Daniel/Getty Images
It only makes sense to put Illinois in the Butkus division, considering he is an Illinois alum. Plus Illinois will add balance to to the bottom of this division, as well as be competitive for the division title every few years.
It also makes sense considering next-door neighbor Indiana is also in the division.
Nagurski Division No. 6: Northwestern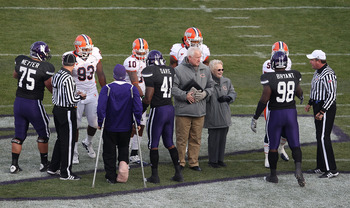 Jonathan Daniel/Getty Images
Northwestern being in the Nagurski division makes Illinois the protected crossover game and also protects some of the rivalries the Wildcats have with their division mates.
It also makes sense with some of the other schools in the division, especially geographically-speaking.
Butkus Division No. 5: Indiana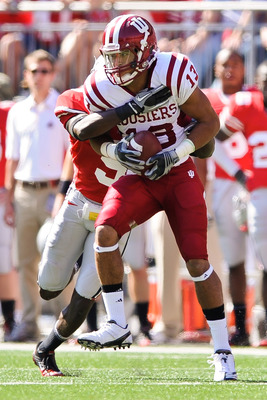 Jamie Sabau/Getty Images
Indiana and Illinois have history, and it makes geographical sense for Indiana to be in this division.
The Hoosiers also are a program trying to build something, and this division will give them chances to build their program. I know they'll probably be near the bottom of the division to start, but the Hoosiers are getting better and could make the bottom of the division competitive.
Nagurski Division No. 5: Purdue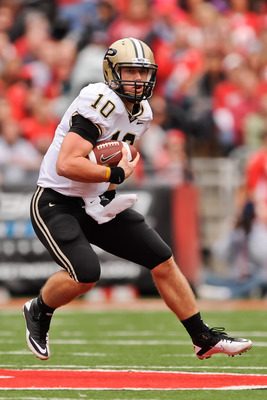 Jamie Sabau/Getty Images
Purdue can create new rivalries with the rest of the teams in their division, although the school already has history with a couple of teams in the division.
It also makes rival Indiana the Boilermakers' protected crossover game, which would ensure the two schools meet every year.
Butkus Division No. 4: Minnesota
Jamie Squire/Getty Images
I know what you're all saying, "How can Illinois be in the Butkus Division and Minnesota's not in the Nagurski division?"
The answer is Minnesota is one of the programs that could've really fit anywhere, especially because the Golden Gophers haven't been a strong program recently. But they have at least one rivalry game in this division, and their protected crossover game will be one as well.
Nagurski Division No. 4: Iowa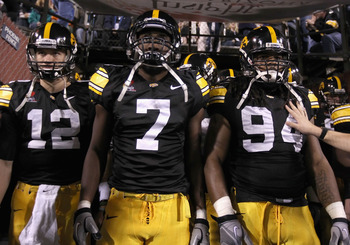 Christian Petersen/Getty Images
Iowa has been extremely competitive under Kirk Ferentz and would always be in consideration for the division title.
Keeping ties with some of their older conference rivals, especially with either Minnesota or Ohio State as the protected crossover game, also keeps the Hawkeyes relevant.
Another consideration is how well the Hawkeyes travel, which will be a big deal should they make it to the Conference Championship.
Butkus Division No. 3: Michigan
Rick Dole/Getty Images
One thing I thought never made sense for Michigan was, with the exception of Michigan State, they were really taken away from some of their old rivalries.
Even though the Wolverines wouldn't be in the same division as Wisconsin in this alignment, they retain some of their older rivalries, including the one with Minnesota and possibly that other one that doesn't need to be named.
Nagurski Division No. 3: Michigan State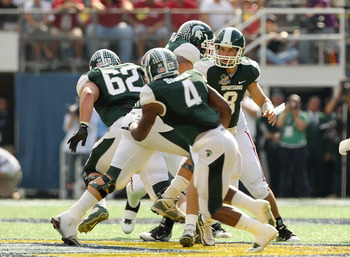 Mike Ehrmann/Getty Images
Michigan State keeps Purdue in their own division, and gets Michigan as its protected crossover game.
I know some people will go crazy that the Spartans and Wolverines aren't in the same division. But if Indiana and Purdue and Illinois and Northwestern can be separated, then these two schools can be too.
Plus, Michigan State keeps both divisions more balanced than an East-West split could.
Butkus Division No. 2: Penn State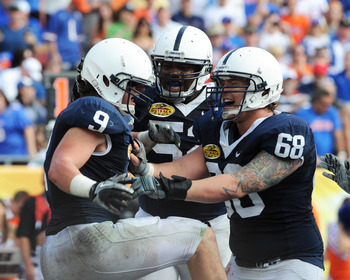 Al Messerschmidt/Getty Images
The Nittany Lions were kind of the odd one out in some of the proposed divisions I saw.
They don't really have a true geographical rival in conference, and the Land Grant Game with Michigan State never really brought any fire to the fan base. This way, the travel isn't too bad for the Nittany Lions, and they stay in the same division as the Wolverines, which is one of the two games the students and fans really care about.
Nagurski Division No. 2: Wisconsin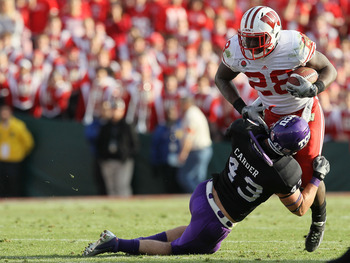 Stephen Dunn/Getty Images
In my alignment, the Badgers could have one of two options as a protected crossover game, but the one that makes the most sense is Minnesota. That way, the Badgers can keep their rivalry with the Golden Gophers and also keep rivalries with Iowa and Northwestern.
I can see why playing Ohio State is very enticing every year, but Wisconsin is the best fit here geographically, economically and competitively.
Butkus Division No. 1: Ohio State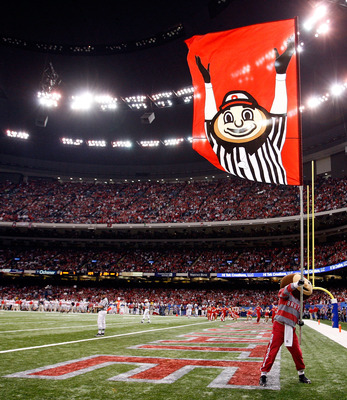 Kevin C. Cox/Getty Images
Really, who else would it be?
I know the motivation with the current alignment, but Ohio State and Michigan have to be in the same division as do Ohio State and Penn State. This way, those rivalries are protected as are the ones with Illinois and Indiana.
The Buckeyes could very well have a crossover with Wisconsin, but Iowa would be the open partner and make a lot of sense, considering both schools are usually fighting for the conference title anyway.
Nagurski Division No. 1: Nebraska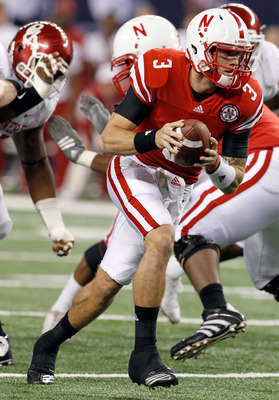 Tom Pennington/Getty Images
The new kid on the block gets the top spot in the Nagurski division.
Nebraska could have a new rivalry with Iowa, and even though the Cornhuskers wouldn't get to play Michigan or Ohio State regularly, the division is extremely competitive and the protected crossover game with Penn State could be a huge moneymaker for the conference.
Keep Reading