Senior Bowl 2011: 10 Players Who Can't Afford to Struggle in the Senior Bowl
Otto Greule Jr/Getty Images
The 2011 Senior Bowl is upon us. And as always, all eyes will be focused on the players who come into the game with major NFL Draft implications.
Some of these players will help their stock. But there will be others who will not, to their peril.
We don't want to drop any names quite yet, but suffice it to say that there are plenty of players in this year's Senior Bowl who have already seen their draft stock slowly erode, whether over a matter of weeks or the entire course of the 2010 college football season.
Of the dozens of players who will grace the field on Saturday, ahead is a list of 10 players in particular who can't afford to struggle in the Senior Bowl.
10. DeMarco Murray, RB, Oklahoma (North)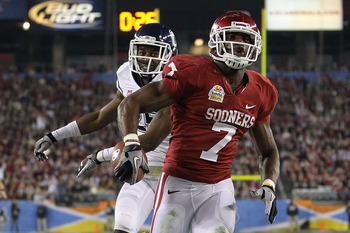 Ronald Martinez/Getty Images
Oklahoma running back DeMarco Murray really doesn't have anything to be ashamed of as far as his Sooners tenure is concerned.
Nevertheless, a guy with Murray's size (6-foot-1, 217 pounds) should be better between the tackles than he is, and right now scouts only really see him as an asset in the passing game.
As things stand right now, ESPN has Murray as the No. 7 running back, and he probably projects as a third- or fourth-round pick.
However, if he has a poor showing in the Senior Bowl, some teams might consider taking players like Oklahoma State's Kendall Hunter or Connecticut's Jordan Todman over Murray.
9. Colin Kaepernick, QB, Nevada (North)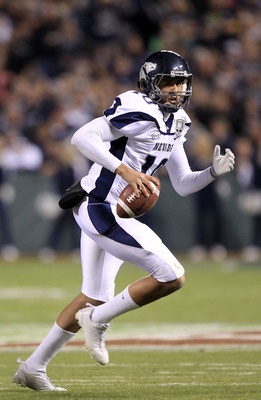 Ezra Shaw/Getty Images
A month ago, Nevada quarterback Colin Kaepernick was on absolutely nobody's draft radar. Everybody knew he was a great athlete, no mistake about that, but there were serious doubts about his slow delivery and his ability to transition from the pistol into a pro-style offense.
After a full week of Senior Bowl practices, Kaepernick is suddenly a first-round pick and a can't-miss prospect.
First of all, good for him. I know that I for one loved watching him every time I got a chance.
However, there is a danger of all this hype deflating completely this afternoon when Kaepernick squares off against the best of the best.
And let's not forget that the last time we saw Kaepernick, in the Kraft Fight Hunger Bowl against Boston College, he really wasn't all that special.
So I suppose you might say that Kaepernick is perhaps the best "back down to earth candidate" on either side today.
8. Curtis Brown, CB, Texas (South)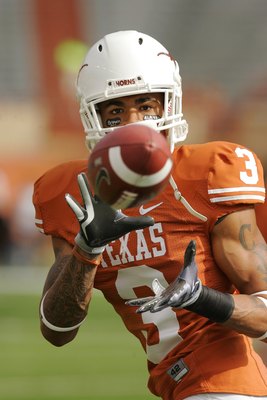 Brian Bahr/Getty Images
One of the things that has come out of all the national coverage of the Senior Bowl practices is that the crop of defensive backs hasn't been all that impressive.
Among the players who has the size and the speed to be effective at the next level (which sets him apart from players like DeMarcus Van Dyke and Shareece Wright) is Texas cornerback Curtis Brown.
Nevertheless, Brown has shown an apparent lack of mental awareness during practice, being overly aggressive and often times too grabby with receivers.
If he gets burned during the game, scouts are obviously going to take note.
7. Noel Devine, RB, West Virginia (South)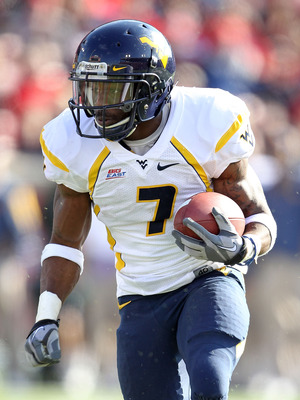 Andy Lyons/Getty Images
West Virginia running back Noel Devine probably wishes he had DeMarco Murray's problems, which is to say size but no ability to use it.
Devine measured out at 5-foot-7 and about 160 pounds, and he repeatedly went to the ground on first contact during practice this week. And worse, the word is that he was spared pass blocking drills altogether.
There is at least one team interested in Devine, as SB Nation Pittsburgh reported a couple days ago that the Kansas City Chiefs have made contact with him. One supposes that they see him as a Darren Sproles type, which is a fine complement.
However, if Devine continues to get hammered when things ramp up to full speed on Saturday, he may find himself completely devoid of suitors.
6. Dwayne Harris, WR, East Carolina (North)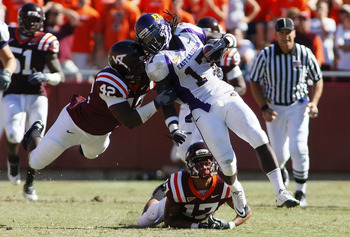 Geoff Burke/Getty Images
By no means does East Carolina wide receiver Dwayne Harris project as a primary option at the next level, but the consensus has been that he would make a nice option in the slot if a team were so inclined.
However, there were already serious concerns about his ability to separate coming into the Senior Bowl, and the word is that he looked pretty sluggish running his routes during practice. And then he started dropping balls.
The word from SB Nation St. Louis is that the Rams have talked to Harris in recent days, which basically means they're interested in giving him the honor of being a target for Sam Bradford.
If he plays well, Harris would probably get this golden opportunity. If not, well, who knows?
5. Anthony Castonzo, OT, Boston College (North)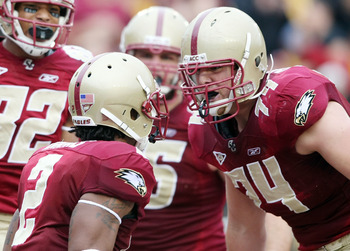 Elsa/Getty Images
Boston College offensive tackle Anthony Castonzo was once considered by many to be the top offensive lineman in the 2011 draft class.
In recent months, that title has been challenged by people like Colorado's Nate Solder, Wisconsin's Gabe Carimi, and USC's Tryon Smith.
Heading into this week's practices, Castonzo's stock had already fallen significantly, and he could very well end up falling out of the first round if he struggles against the likes of Miami's Allen Bailey and Arizona's Brooks Reed.
4. Jeremy Beal, OLB, Oklahoma (North)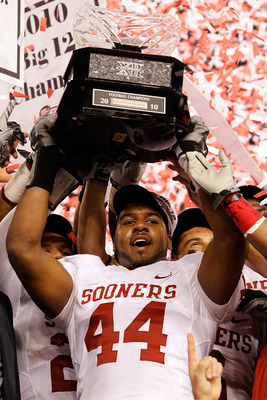 Tom Pennington/Getty Images
Unless my memory has at long last become totally inept, there was a time when Oklahoma linebacker Jeremy Beal was viewed as one of the top linebackers in the 2011 draft class, if not the top linebacker.
This is no longer the case. He's been dropped to No. 5 among ESPN's OLB rankings, and the word from Todd McShay is that he just doesn't look like the kind of athlete that's on the same level as Texas A&M's Von Miller or UCLA's Akeem Ayers.
If Beal struggles on Saturday, we could end up seeing this one-time first-rounder slip to the third round, and maybe beyond.
By the way, I'm not intentionally trying to pick on the Sooners. It just so happens that a couple of their players have some question marks.
3. Ricky Stanzi, QB, Iowa (North)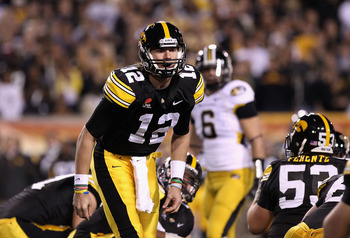 Christian Petersen/Getty Images
Among the players who have looked like shells of their former selves in practice this past week is Iowa quarterback Ricky Stanzi.
Stanzi was, of course, a very good quarterback during his tenure with the Hawkeyes, throwing for over 7,300 yards and 56 touchdowns in three seasons worth of work. He also led the team to an Orange Bowl win in 2009.
In this week's practices, however, Stanzi's throws have left a lot to be desired, and the word is that whatever arm strength he had has disappeared completely.
Stanzi is projected as a mid-rounder, but he could kill any remaining notions of him being an eventual starter at the next level once and for all if he plays poorly on Saturday.
2. Derrek Sherrod, OT, Mississippi State (South)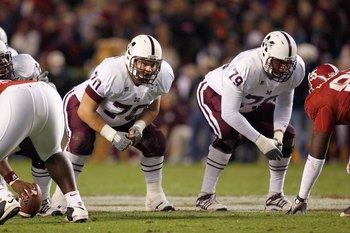 Kevin C. Cox/Getty Images
As much as Castonzo has to prove along the offensive line, there's even more pressure on Mississippi State tackle Derrek Sherrod.
For one, his footwork during practice this past week was reportedly pretty mediocre, and he really doesn't have much of a case to be a first-round pick at this point.
Secondly, he has to go up against Cal's Cameron Jordan, who has cemented himself as one of the elite defensive end prospects in this year's class (which is a very good one).
If he has a bad game, his stock could plummet.
1. Jake Locker, QB, Washington (North)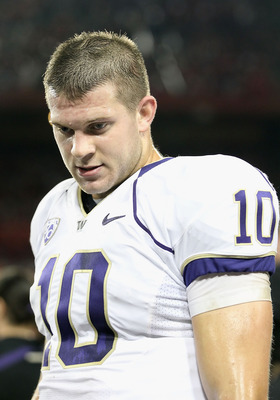 Christian Petersen/Getty Images
By now, I suspect that we're all pretty well aware of Jake Locker's situation. He came into the season as the consensus No. 1 overall pick in the 2011 NFL Draft, and then injuries and ineffectiveness slowly chipped away at his draft stock.
At the moment, most draft pundits have him going late in the first round; maybe in the middle if a given team is desperate enough.
The good news for Locker, on the other hand, is that he is probably the best quarterback on either team, and he shouldn't worry about any of the other QBs (i.e. Ricky Stanzi) stealing his thunder.
However, he is perfectly capable of doing that himself if he plays poorly. And if he does, there's really not going to be much ammo with which to defend his status as a first-rounder any more.
Keep Reading