College Football 2011: Five Programs On The Rise Heading Into 2011-2012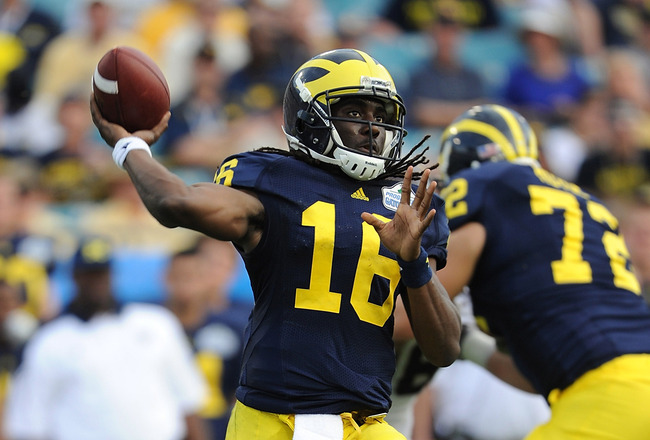 Rick Dole/Getty Images
The College football offseason is a great time of speculation and hope for fans around the country. Recruiting classes are finally being filled and teams are waiting on Spring's sunshine to begin their work towards a 2012 National Championship.
This slideshow will highlight five teams that can may finally have the pieces in place to make a significant National Championship run in 2012 and even have successful seasons long after.
First up, the Oregon State Beavers...
No. 5: Oregon State Beavers: What Happened In 2010?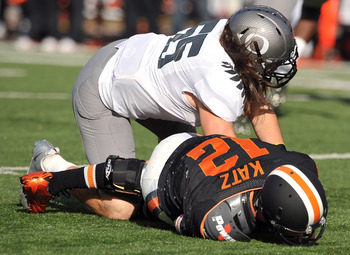 Steve Dykes/Getty Images
The Oregon State Beavers ended their 2010 campaign with an overall record of 5-7 and an injured list full from head to toe.
Key team members such as quarterback Ryan Katz were forced to the sideline for extended periods of time and Oregon never seemed to find a way to gain much consistency.
Katz would eventually require surgery to fix his broken right wrist and has been rehabiing since early october.
Oregon State had promise during the 2010 season but lost games to some quality teams down the stretch which affected their bowl eligibility.
Why The Future Is Looking Bright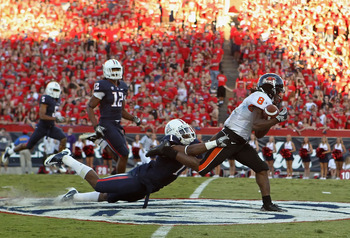 Christian Petersen/Getty Images
The Beavers will be returning many of their key starters from last season as a good portion of them will be returning from injury.
Halfback Markus Wheaton will be returning to school and will take over for the recently departed Jacquizz Rodgers.
Ryan Katz should also return in full form and hopefully provide some consistency among the Oregon State offense.
Oregon State will open their 2011 slate of games as they host Sacramento State on September 3. Oregon State will then play Wisconsin, UCLA and Arizona State over the next four weeks.
No. 4: Michigan Wolverines: What Happend In 2010?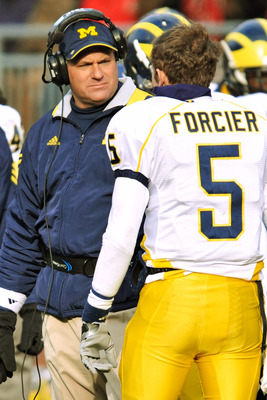 Jamie Sabau/Getty Images
The Rich Rodriguez era is officially over in Michigan as the Wolverines had yet another disappointing season in 2010.
All-purpose quarterback Denard Robinson was a lone star in the backfield for the Wolverines as "Shoelace" passed for nearly 3,000 yards and surpassed the 100-yard rushing mark in nine different games.
The biggest let-down for Big Blue had to be the defense in 2010.
Michigan surrendered more than 21 points in nine occasions which included a 67-65 victory over Illinois and a 52-14 beat down in the Gator Bowl by Mississippi State.
Why 2011 Could Be Different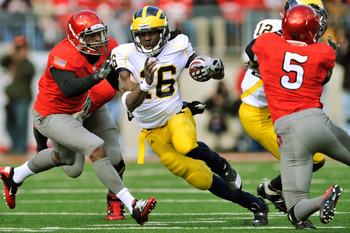 Jamie Sabau/Getty Images
Brady Hoke officially takes over for the Wolverines in 2011 as the replacement for Rich Rodriguez.
Over his head coaching tenure, Hoke led San Diego State to a 9-4 record in his second season and also recorded a 35-15 victory over Navy in the Poinsettia Bowl.
Denard Robinson will again be the key factor to the Wolverines success in 2011 as backup quarterback Tate Forcier has been quoted as stating that he is considering a transfer from Michigan University.
Good feelings seem to be sprouting everywhere among the Michigan faithful as Hoke has now become synonymous with hope.
No. 3: Arizona State Sun Devils: What Happened In 2010?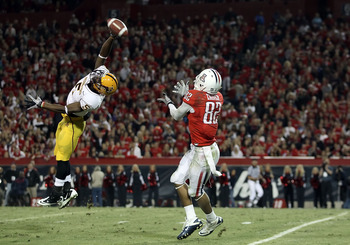 Christian Petersen/Getty Images
The Arizona Sun Devils resembled the Oregon State Beavers very closely in 2010 as they scratched and clawed their way close to the brink of a winning record.
Arizona State, which often started only one senior on offense and defense, finished 6-6 overall and 4-5 in the Pac-10.
The Sun Devils were not bowl eligible because two of their victories were against Football Championship Subdivision teams.
2010 was not all bad for the Sun Devils though as the team managed to build some quality young talent in the form of sophomore (now junior) linebacker Vontaze Burfict.
Burfict led Arizona State with a team-high 90 tackles and two fumble recoveries.
Why The Sun Devils Could Be Hot In 2011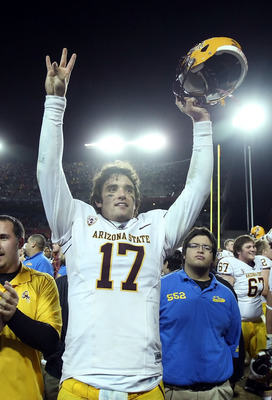 Christian Petersen/Getty Images
The Sun Devils have 19 starters returning to the ranks next season as only one member from each side of the ball will depart due to graduation.
Brock Osweiler is probably the most intriguing player to be retained as the 6'8", 242 pound sophomore will return as the starting quarterback.
In 2010, Osweiler threw for 757 yards and five touchdowns while playing in a limited role until the last two games of the season.
Arizona State will open the 2011 season against UC Davis, Illinois and The University of Southern California.
No. 2: Texas Longhorns: What Happened In 2010?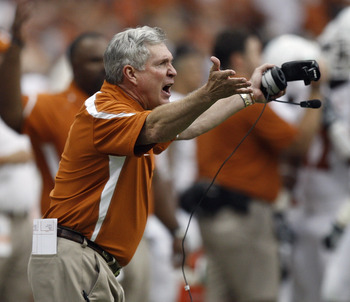 Bob Levey/Getty Images
Mack Brown and the Texas Longhorns experienced some growing pains in 2010 as the team looked to recover from losing key starters in the NFL Draft.
Former Longhorns, Colt McCoy and Earl Thomas were both honored by the Horns in 2010 but Texas did little on the field to entertain.
Garret Gilbert was called upon to take over for McCoy and fared well despite some issues with inconsistency. The Longhorns managed to finish 2010 with a record of 5-7 and just missed making it to a bowl game.
Gilbert threw for 2,733 yards and 10 touchdowns as the Horns focused more on a balanced rushing attack rather than their former "air it out" style.
Will The Horns Hook 'Em In 2011?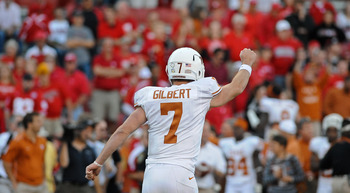 Eric Francis/Getty Images
Garret Gilbert will be returning as a starter for his second season and the rest of the Longhorn team should be anything but gun shy.
Cody Johnson is expected to carry most of the load again in 2011 as the junior running back from Waller, Texas will look to build on his 30 career touchdowns at UT.
Texas will also be to avenge some key loses in 2011 as coach Mack Brown stated "2010 was sort of a rebuilding process, I expect more out of my players and this program in the future."
No. 1: Nebraska Cornhuskers: What Happened In 2010?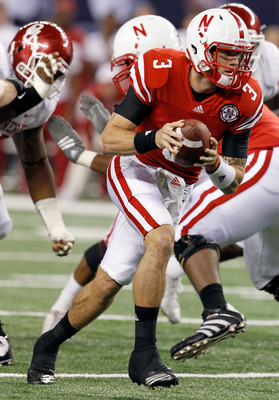 Tom Pennington/Getty Images
Taylor Martinez and the Nebraska Cornhuskers looked to be ready for a National Championship berth before they entered the final four weeks of the 2010 season.
The worst game of the year for the Huskers came at the very end as they fell to Washington in the 2010 Holiday Bowl.
Nebraska's head coach Bo Pelini finished out his second season at the helm of the Huskers and now posts an overall record of 19-8 despite being said to be on the hot seat after this season.
Is 2011 The Cornhuskers Year?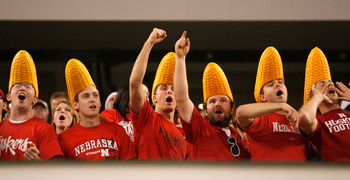 Tom Pennington/Getty Images
The Cornhuskers will enter the the Big Ten conference and the same Big Ten division as Iowa, Michigan, Michigan State, Minnesota and Northwestern next season.
With many of those teams in rebuilding processes as well as just not having very strong programs, it is easy to see how Nebraska could very well breeze through their schedule next season.
Nebraska should be ranked near the top if they are still undefeated at the time of the first BCS top 25 release.
If Nebraska can manage to play solid football and win out all of their games, it would not be surprising to see them in the National Championship.
Keep Reading

Nebraska Huskers Football: Like this team?