2011 College Football: 10 Teams That Have The Best Shot at Winning The BCS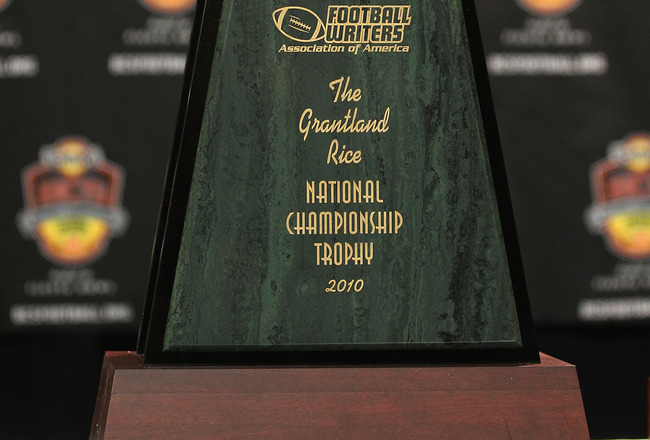 Christian Petersen/Getty Images
Even though the 2010 season just concluded, the hype about this fall 2011 has already begun. Expectations and high standards have already been raised. There are some surprise teams that have already thrown their name into the mix as being elite enough to reach a BCS bowl.
But who will finish on top? Controversies, coaching moves, and high profile commitments highlight much of the upcoming season. Although there is a current lull in college football, fans and enthusiasts alike refuse to it stop them.
Let's take a look at the 10 teams who have the best chance at winning the big game.
10: Oklahoma State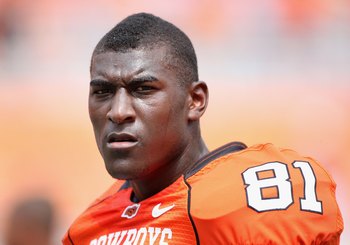 Justin Blackmon
Christian Petersen/Getty Images
The Cowboys are on here for the simple fact that quarterback Brandon Weeden, and wide receiver Justin Blackmon return as the nation's reigning passing champions.
Although the defense is shaky at times, they have great coaches, and the entire Big 12 will be uncertain. This team will undoubtedly contend.
9: Notre Dame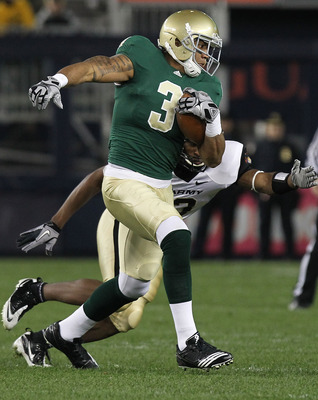 Michael Floyd
Nick Laham/Getty Images
This is my surprise pick. Fact of the matter is: The team that everyone loves to hate on is returning 10 starters on offense and 9 on defense... Including soon to be preseason All-American's Manti Te'o and Michael Floyd, a recruiting class ranked in #10 by ESPN. Brian Kelly's second year at the helm will prove to be one to look forward to.
8: LSU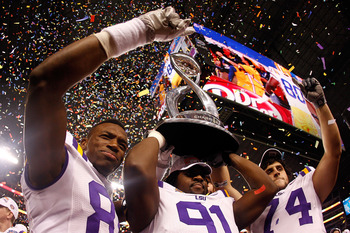 Chris Graythen/Getty Images
Once again, playing in the SEC is never easy... your road is that much harder. They have a tough schedule including Oregon in Dallas and at Alabama. But their coaching, strong defense, and ESPN #8 ranked recruiting class keep this team a contender at all times.
7: Florida State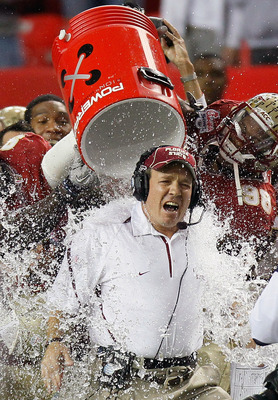 Head coach Jimbo Fischer
Kevin C. Cox/Getty Images
ESPN ranks the Seminoles 2011 recruiting class at the #1 in the country. They will join up and coming coach Jimbo Fischer, who takes over a team fresh off a Gator Bowl upset against a West Virginia team. In addition to their talented offense, their studs on defense make them the ACC's best. All of their ACC road games are against the bottom feeders of the conference.
6: Texas A&M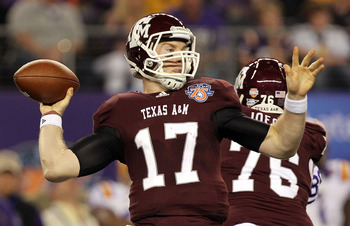 Ronald Martinez/Getty Images
The Aggies are the Cotton Bowl runner-ups, returning 18 starters from last year's team, including seniors at quarterback, running back, and wide receiver. This team can play exceptionally well and will contend with Oklahoma for the Big 12 Title.
5: Oregon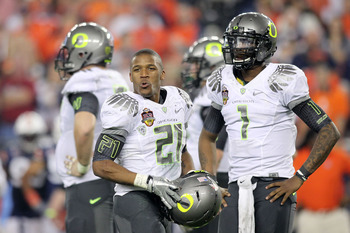 LaMichael James and Darron Thomas
Jonathan Ferrey/Getty Images
Ducks star quarterback Darron Thomas and Heisman favorite LaMichael James headline 9 returning starters from the nation's number one offense from last year. AP Coach of the Year Chip Kelly already has the experience of the BCS bowl on his resume, which will allow him to guide his team in a way different from last year. If they get past LSU in week one, this team will be dangerous.
4: Alabama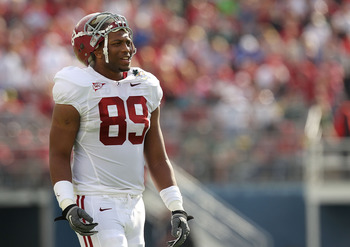 TE Michael Williams
Mike Ehrmann/Getty Images
The Crimson Tide may be losing running back and Heisman Trophy winner Mark Ingram, quarterback Greg McElroy, and wide receiver Julio Jones, but they will have very talented replacements: ESPN and Rivals.com ranked their recruiting class as the #2 in the country. The only thing holding them back is the same thing as every year: playing in the SEC.
3: Ohio State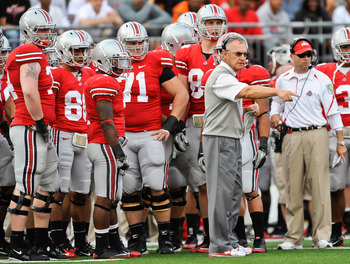 Jamie Sabau/Getty Images
The suspensions to quarterback Terrelle Pryor, running back Daniel Herron, and wide receiver DeVier Posey won't have the negative impact people think because they will be 5-0 when they return. They have too much talent on both sides of the ball, and the Big 10 is fairly weak. Jim Tressel is too much of a powerful coach to let these suspensions hamper the possibilities of this team.
2: Stanford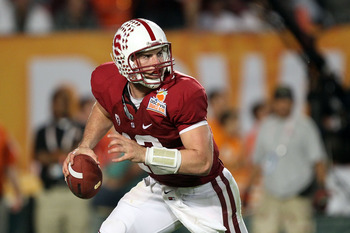 Andrew Luck
Streeter Lecka/Getty Images
Two Words: Andrew Luck. In addition, their former offensive coordinator, who was just promoted to coach after Jim Harbaugh departed for the NFL, has already won the hearts and minds of his fellow Cardinals with experience. He was recently quoted as saying, "Two years of good football is not enough," which is a good sign for this football program. Despite having home games against teams such as Oregon and Notre Dame, they do have a deep offensive and defensive units which will help carry them.
1: Oklahoma Sooners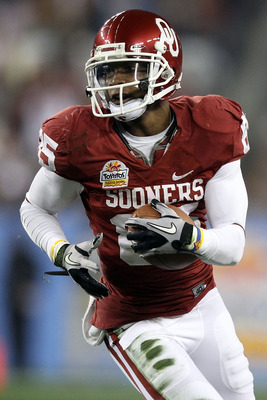 RB Ryan Broyles
Christian Petersen/Getty Images
The Sooners have the talent to win, returning 17 starters from last season. Linebacker Travis Lewis and wide receiver Ryan Broyles both are staying for their senior season, helping to show their strong defensive and offensive lines. In addition, redshirt sophomore running back Jonathan Miller and junior quarterback Landry Jones both highlight a very strong offensive unit. Although they will face challenges with Florida State, Texas A&M, and Missouri, look Bob Stoops to lead his time and return them to the top. They undoubtedly have the best shot at going all the way.
Keep Reading