2011 College Football Predictions: First-Year Win Total For Every New Head Coach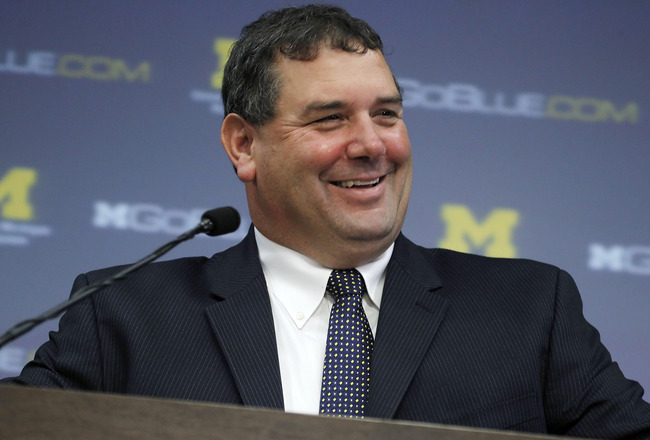 Gregory Shamus/Getty Images
New coaching hires bring about hope of greater things.
They provide a chance to brush off the old, dreary days of the past and dream of what could be.
In some cases, that is.
21 coaches will make their debuts with new schools during the 2011-2012 college football season.
Just what can that plethora of fan bases expect from the new big men on campus?
Jerry Kill, Minnesota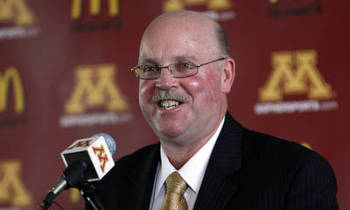 Where to start?
Jerry Kill takes over the reins of the Golden Gopher program after three seasons at Northern Illinois.
While an incredibly unpopular hire, surely the Minnesota faithful will give Kill the opportunity to prove his worth, right?
Let's analyze just how big the rock is that stands between Kill and the hard place that he now calls home.
The Minnesota program is part of a 12-team league and gets the pleasure of playing Iowa, Nebraska, Northwestern, Michigan and Michigan State on a yearly basis.
The Golden Gophers will begin the Jerry Kill era in Los Angeles against the Southern California Trojans.
Adam Weber, Minnesota's best athlete from 2010's team, is gone.
Of course, the Golden Gophers did manage to beat then-No. 24 Iowa last season for some odd and yet-to-be-determined reason.
There is a very real possibility that Kill's first team could lose every contest.
Yes, that includes New Mexico State and North Dakota State.
For the sake of expectations, it seems wise to predict the 2011 Minnesota season to be a winless one and be happily-surprised with better results.
Best of luck, Jerry.
You're going to need it.
James Franklin, Vanderbilt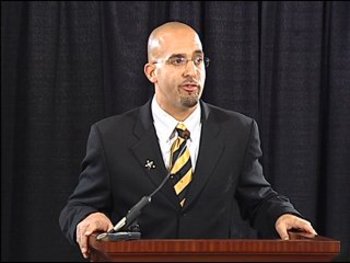 James Franklin inherits a Vanderbilt Commodore team that boasted the No. 48 rushing offense and No. 46 scoring defense in the nation in 2010.
Considering that the Commodores are locked in the SEC cellar, that's actually somewhat impressive.
Statistics aren't going to win Vanderbilt any more football games and unfortunately, the Commodores' travels are going to get even more rocky before they improve.
Running backs Zac Stacy and Warren Norman return as does starting quarterback Larry Smith.
Smith's reappearance under center may seem like excellent news, but he only accounted for about 1,200 passing yards and a 6-5 TD-INT ratio in 2010.
Welcome to the SEC, coach Franklin.
One of the worst records in the nation will be your reward as the Commodores notch just a single win.
Mark Hudspeth, Louisiana-Lafayette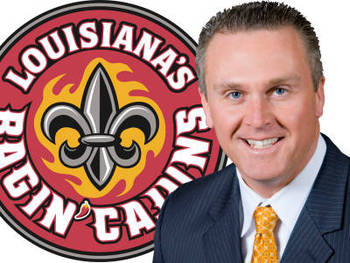 The Ragin' Cajuns don't have much to be proud of heading into 2011.
Their three wins in 2010 were by a combined 15 points.
The top two running backs rushed for a total of 619 yards and seven TDs.
The good news, if any, is that starting quarterback Chris Masson returns.
Masson managed over 1,800 passing yards for the Ragin' Cajuns along with a 116.80 quarterback rating.
Non-conference games at Oklahoma State and Arizona have been finalized, both clear losses.
If Louisiana-Lafayette can match last season's three-win total, 2011 should be considered a success.
One to two wins is a more likely scenario.
Dan McCarney, North Texas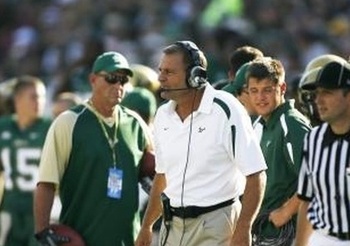 The North Texas head coaching job seems like a familiar position for Dan McCarney.
The former Iowa State head coach takes over a program that, much like Rodney Dangerfield, "can't get no respect."
Taking over the Mean Green may actually be a more prosperous endeavor than the Cyclones, specifically due to conference strength.
North Texas sported the No. 28 rushing offense in 2010 and Lance Dunbar, their star running back who racked up 1,553 yards and 13 TDs, returns.
While the Mean Green should be able to put up yards on the ground, their biggest problem will be keeping the opposition from putting points on the scoreboard.
In 2010, North Texas ranked near the bottom of the FBS in scoring defense at No. 112.
Case Keenum's Houston Cougars visit as do the Indiana Hoosiers and a trip to Tuscaloosa looms.
McCarney should be able to claim two wins in his initial go as the head coach of the Mean Green.
Kevin Wilson, Indiana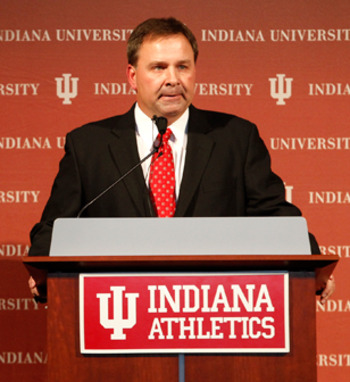 Oklahoma Sooners offensive coordinator Kevin Wilson's first season with the Hoosiers doesn't look to be very kind.
Indiana loses most of its firepower as quarterback Ben Chappell graduates, taking his 3,295 passing yards and ever-improving quarterback rating with him.
Chappell's 2010 backup, freshman Edward Wright-Baker attempted only 12 passes last season, completing five for 80 yards and one TD.
The Hoosiers' horrific running game and non-existent scoring defense doesn't help matters.
A non-conference slate featuring Ball State, Virginia, North Texas and FCS foe South Carolina State appear to be some of the best opportunities for wins on Indiana's schedule.
All carry legitimate potential for losses as well.
In Big Ten play, the Hoosiers must travel to Iowa, Ohio State, Wisconsin and Michigan State.
A three to four-win season is the best Wilson can hope for in 2011.
Pete Lembo, Ball State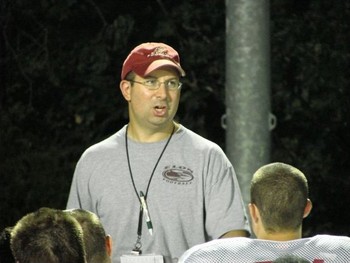 Pete Lembo spent the past five seasons coaching the Elon Phoenix of the FCS.
He takes over a Cardinal team that returns its leading passer in Keith Wenning.
Two of Ball State's leading rushers, Eric Williams and David Brown, return as well in an effort to make life a little easier for their new head coach.
Lembo's initial season as head coach of the Cardinals looks to be a bumpy one even with his returning starters' assistance.
While their MAC schedule has yet to be set in stone, the non-conference schedule doesn't bode well.
The Cardinals open the season versus Indiana in Muncie before travelling to face the South Florida Bulls.
They then welcome an always-scrappy Army bunch before facing 2011 national championship contender Oklahoma in Norman.
Ball State doesn't run through that gauntlet with a record better than 2-2.
In conference play, the Cardinals have a history of playing teams tough and with their returning leadership, that doesn't look to change.
Slight improvement over last season comes in the form of five wins.
Darrell Hazell, Kent State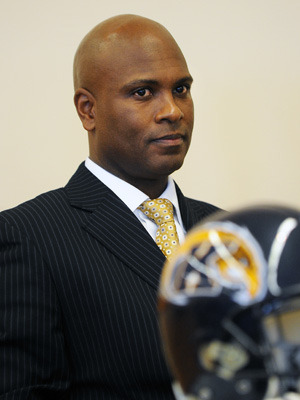 Darrell Hazell comes to Kent State after serving as Ohio State's assistant head coach.
He also spent time working with the Ohio State Buckeyes' receivers.
The Golden Flashes' head coaching job is no easy task seeing as how Kent State hasn't posted a winning record in nearly a decade.
If Hazell can take solace in anything, it's that Kent State's starting quarterback, top running back and leading receiver all return for the 2011 season.
The Golden Flashes currently only have two non-conference slots filled with a probable loss at Alabama and hopeful win at home versus the FCS' Southern Alabama.
Depending on who fills the remaining non-conference dates, it's likely that Kent State matches its five-win mark from last season.
Paul Pasqualoni, Connecticut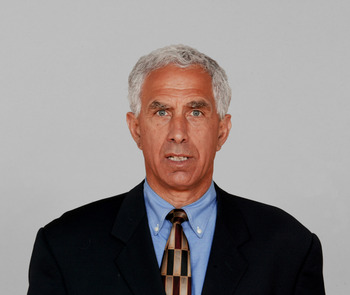 NFL Photos/Getty Images /Getty Images
Paul Pasqualoni returns to the college game after a six-year stint in the NFL with the Miami Dolphins and the Dallas Cowboys.
He takes over a team in Connecticut that proved if you have a squad that can compete on an above average level in the Big East, you can win the conference.
Unfortunately, Pasqualoni won't have stud running back Jordan Todman to take some of the pressure off of his shoulders.
He also loses the services of quarterback Zach Frazer.
It looks like the Huskies will be falling from BCS participant to a five-win team in a hurry.
Hugh Freeze, Arkansas State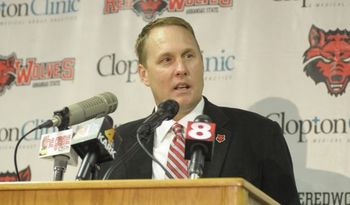 The Red Wolves managed to stay competitive during the 2010 season.
Prolific passer Ryan Aplin, who threw for nearly 3,000 yards and rushed for nearly 500 more last season, returns as do his top two receivers, Dwayne Frampton and Allen Muse.
The Red Wolves face a stout non-conference schedule travelling to Champaign, Illinois to take on the Fighting Illini.
They then welcome Memphis before a trip to Virginia Tech.
Hosting the FCS' University of Central Arkansas rounds out pre-conference play.
Arkansas State should be able to open with a 2-2 record with likely losses to Illinois and Virginia Tech.
Look for the Red Wolves to stay in the hunt for the Sun Belt title as they came within a whisker of beating Troy (35-28) and conference bowl representative Florida International (31-24) last season.
Former ASU offensive coordinator Hugh Freeze will take his team to a six-win record and set the tone for future Sun Belt conference titles.
Steve Addazio, Temple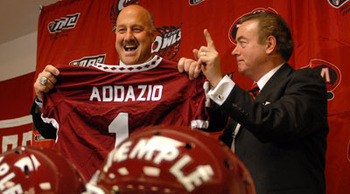 Florida Gator fans got their wish and Steve Addazio landed his first FBS head coaching gig.
Before last year, many may have rolled their eyes at the Temple job.
As the bowl selection process concluded for the 2010 season, there was wide-spread outrage that the Owls didn't receive a post-season berth following an 8-4 season.
While Temple didn't boast an amazing offense, the Owls surprisingly claimed the No. 39 scoring defense in the FBS.
Unfortunately, defensive leaders Jaiquawn Jarrett, Elisha Joseph and Muhammad Wilkerson won't be around for the 2011 season.
Temple begins its initial season as part of the MAC conference inviting Villanova and Penn State to Philadelphia before traveling to take on Maryland and new Terrapin head coach Randy Edsall.
It's hard to imagine that Addazio will match 2010's success, but a six-win season is still within reach.
Jon Embree, Colorado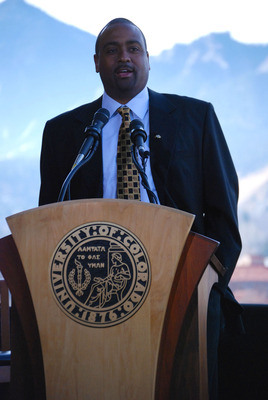 Goodbye Big 12 and hello Pac-12.
Following the debacle that was the Dan Hawkins era, Jon Embree has Colorado fans giddy about the Buffaloes' future.
Colorado's new head man has assembled a team of energetic coaches ready to put a severe dent into hopes and dreams of the newly-remodeled conference.
Quarterback Tyler Hansen takes over for the departed Cody Hawkins and running back Rodney Stewart, who ran for 1,318 yards and 10 TDs as a junior returns.
The Buffaloes will likely take a few lumps in their initial Pac-12 season as not only will they be facing their most powerful conference-mates, but they also travel to Columbus, Ohio to take on the Ohio State Buckeyes.
Colorado will notch six wins in 2011 improving on the previous year's total, but the Buffaloes are poised for big things with Embree.
Al Golden, Miami Of Florida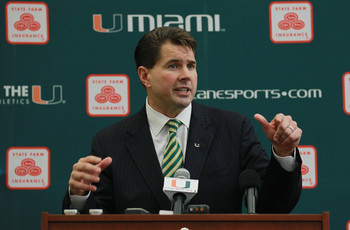 Randy Shannon simply didn't cut it at "Da U," and one has to think that Al Golden needs to step in and show immediate progress.
He's has an uphill climb in year one, but proving his worth right away isn't impossible.
Both Jacory Harris and Stephen Morris return to duke it out for the Hurricanes' starting quarterback spot.
Recruits Kevin Grooms and Dallas Crawford will likely see the field right away.
Grooms may very well be utilized in various offensive capacities, while Crawford will do his best to fill in for Brandon Harris who declared early for the NFL draft.
Golden needs to find a way to use the players on hand to continue the above average defense that kept the Hurricanes in several games last season.
Without a solid defensive performance every game, the Hurricanes will return to a slight breeze.
A loss to Ohio State is a near-given.
Wins over Kansas State and South Florida will be tough to come by.
The Hurricanes still have the tools to go bowling and end up with seven or eight wins thanks to the weak ACC.
Randy Edsall, Maryland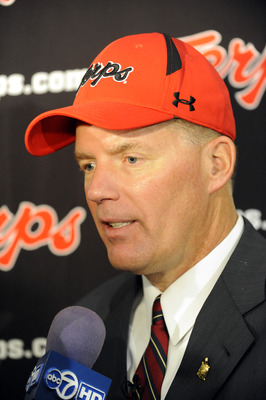 Mitchell Layton/Getty Images
After watching him take the Connecticut Huskies to a BCS bowl, the Terrapins were ready to ditch The Fridge and get a known quantity in Randy Edsall.
Maryland was able to put up a fair number of points in 2010 (32.2 per game) and fortunately for Edsall, a solid nucleus returns.
Sensational freshman Danny O'Brien threw for nearly 2,500 yards and 22 touchdowns last season.
His favorite target, wide receiver Torrey Smith, declared for the NFL draft, however.
The Terrapins are bringing in some quality freshman in Tyrek Cheeseboro, Nigel King and Marcus Leak in an attempt to substitute for the loss of Smith.
Maryland does lose defensive cornerstone Alex Wujack, but luckily retain standout defensive back Kenny Tate.
The Terrapins should be able to easily knock off Towson and Temple.
The Notre Dame contest at FedEx Field could go either way.
In typical ACC fashion, many of Maryland's games are toss-ups, but they should be able to reach a bowl and score a minimum of eight wins.
Brady Hoke, Michigan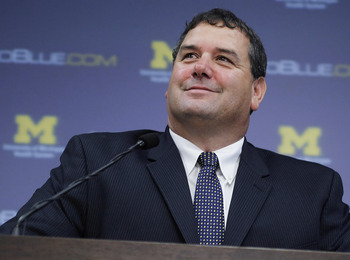 Gregory Shamus/Getty Images
While some Wolverine fans are still on the fence regarding Hoke, the Michigan administration has made some quality hires this offseason.
The good news continues in that Denard Robinson will be sticking around.
Tate Forcier may be talking to anyone who will listen about a transfer, but his actions seem to be drawing more apathy than anything.
The Michigan offense should still be potent with Robinson, running back Vincent Smith and wide receiver Roy Roundtree.
The key for the Wolverines is stitching together their defensive backfield.
Incoming recruits Blake Countess and Delonte Hollowell should do wonders in that area.
Michigan has another opportunity to begin their season on a tear.
Western Michigan, Notre Dame, Eastern Michigan, Minnesota, and all too-awkward reunion with San Diego State begin their Wolverines' season.
All five of those games are in Ann Arbor.
Hoke should be well received with an eight-win season.
Todd Graham, Pittsburgh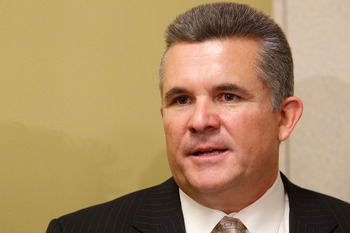 Jared Wickerham/Getty Images
The boosters were sick of Dave Wannstedt.
Steve Pederson almost suffered the same fate as he did at Nebraska a few years ago.
Enter Todd Graham.
He loses star running back Dion Lewis and leading wide receiver Jon Baldwin to the draft, but quarterback Tino Sunseri remains.
The key to the Panthers' 2011 success isn't offense, however.
Their bread and butter last season was defense and so it must remain for Graham to have any measure of success out of the gate.
Star safety Dom DeCicco departs, but linebacker Max Gruder remains to hold down the fort.
Pittsburgh should be able to handle Buffalo and Maine while Notre Dame and Utah are toss-ups. Iowa will be a probable loss especially played in Iowa City.
Look for Graham to satiate the boosters and save Pederson's hide for now with an eight-win campaign.
Rocky Long, San Diego State
Another program that saw unexpected success in 2010, Rocky Long has to fill the rather large shoes that Brady Hoke left.
Long spent three years under Hoke as the Aztecs' defensive coordinator, but San Diego State's ability to win was due to its offense in 2010, not its No. 98-ranked scoring defense.
The best news for Long is the return of quarterback Ryan Lindsey, who helped SDSU to the nation's No. 30 ranked passing offense.
Lindsey's 3,830 yards through the air and 28-14 TD-INT ratio in 2010 should give Aztec fans hope.
Running back Ronnie Hillman posted 1,532 yards and 17 TDs on the ground while garnering comparisons to SDSU alum Marshall Faulk.
It's doubtful that many are expecting Long to duplicate Hoke's previous success, but if San Diego State can get its offense rolling once more, eight or nine wins and a second berth in the Poinsettia Bowl aren't out of the question.
Dave Doeren, Northern Illinois
Dave Doeren comes to coach the Huskies after spending five years as Wisconsin's defensive coordinator.
The Huskies lose a vital cog from 2010's No. 19 rushing attack in Chad Spann, who totaled almost 1,400 yards and 21 TDs.
Quarterback Chandler Harnish, who contributed 3,366 total yards and 28 combined touchdowns, returns to lend his services.
The Huskies' No. 30 scoring defense helped win games, but they will need to find a replacement for linebacker Alex Kube, a key leader of the 2010 squad.
The losses of Spann and Kube will take their toll, but Northern Illinois has a manageable non-conference schedule for the most part.
Army, Cal Poly and Wisconsin visit the Huskies with the Wisconsin Badgers being the only likely loss.
A trip to Lawrence, Kansas rounds out the non-conference slate which should leave NIU at 3-1 entering conference play.
The Huskies may not win the MAC, but a nine-win season is a safe bet for coach Doeren given the weakness of the conference.
Bill Blankenship, Tulsa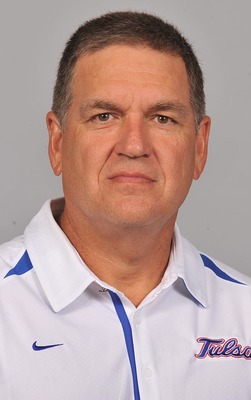 The bad news for Blankenship is that he loses offensive coordinator Chad Morris.
To put this loss into perspective, imagine an Auburn fan's dismay if Gus Malzahn decided to head elsewhere.
The good news is that Tulsa's do-it-all quarterback G.J. Kinne and his favorite target Damaris Johnson return in an attempt to keep the Golden Hurricane's offense ticking.
Two of Tulsa's out-of-conference spots are filled with likely losses.
All Big-12 quarterback Brandon Weeden and All-American wide receiver Justin Blackmon return for the Oklahoma State Cowboys who visit Tulsa in a rematch of last year's 65-28 loss.
The Golden Hurricane then travel to meet Boise State on the smurf turf.
If Tulsa can find the mojo that they did under the tutelage of Morris, expect nine wins and a bowl game in Blankenship's inaugural year.
Will Muschamp, Florida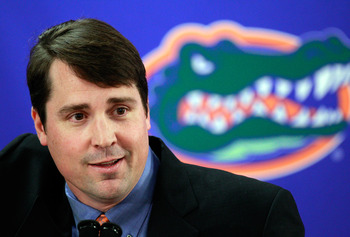 Sam Greenwood/Getty Images
The whole "head coach-in waiting" thing just wasn't cutting it at Texas.
Muschamp decided to up and take one of the most desirable jobs in the country and why not?
Quarterback John Brantley returns along with running backs Jeffery Demps and Trey Burton.
The Gators are sewing up a solid recruiting class yet again.
Defense-minded coaches can make a quick impact and Florida's 2011 season demands one.
The Gators face an October Murderer's Row, hosting Alabama before travelling to LSU and Auburn in consecutive weeks.
Florida will once again represent the SEC East and find themselves finishing out the season with nine wins.
Don Treadwell, Miami Of Ohio
Don Treadwell's coaching career began 25 years ago.
With the opportunity to finally take over a head coaching job, he hit the jackpot.
The 2010 MAC Champion RedHawks feature returning quarterbacks Zac Dysert and Austin Boucher.
The two combined for 3,526 passing yards, giving Miami the No. 22-ranked passing offense in the country.
One would think that with such statistics the RedHawks would have well-surpassed their No. 116-ranked scoring offense.
Even with the No. 108-ranked scoring defense, Miami managed 10 wins in 2010, and there's no reason to think that the RedHawks can't repeat as conference champions.
The Missouri Tigers will provide an early test in Columbia, but Miami should be able to travel to the MAC Championship once more and finish with a nine or 10-win season.
David Shaw, Stanford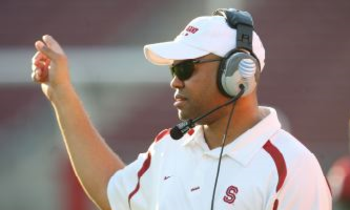 To say that David Shaw has some serious credibility due to overseeing an offense that produced two Heisman trophy candidates in the past two years is an understatement.
Plus, there's the fact that a potential No. 1 NFL draft pick decided to return for his senior year.
Quarterback Andrew Luck isn't done cementing his collegiate legacy and his former offensive coordinator is now running the whole show.
There's nothing to suggest that Stanford can't make a run for the BCS National Championship Game once again.
Keep an eye on the Stanford/Oregon tilt on November 12th.
It likely decides the Pac-12 North and quite possibly a shot at the Coaches' Trophy.
Stanford walks home with at least 12 wins in 2011.
National Signing Day is coming. Don't be out of the loop!
Football news, reviews and much more awaits! Follow Brandon on Twitter (@eightlaces) for the all the latest and other general football goodness.
Keep Reading