College Football Predictions: 10 Darkhorse Candidates To Win BCS Title In 2011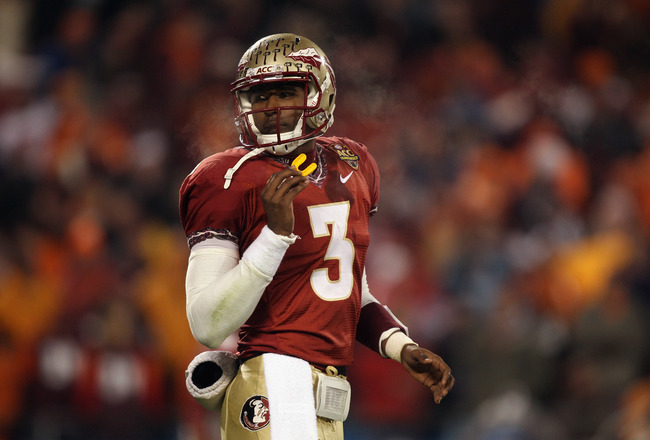 Streeter Lecka/Getty Images
The great thing about college football is its unpredictability.
This past season Auburn came seemingly out of nowhere to take the nation by storm with an undefeated season and a Heisman Trophy winner.
So counting out any team—OK, not any team—is probably not the smartest of decisions.
If 2010 taught us anything, it's that you don't have to be a national title contender one year to be in the running the next.
Here are 10 darkhorse candidates that could win the BCS title in 2011.
10. Mississippi State Bulldogs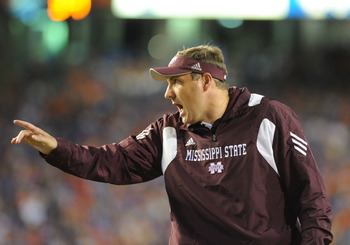 Al Messerschmidt/Getty Images
It's hard to know what to think of Mississippi State's 2010 season, as the Bulldogs finished at 9-4—capped off by a big 52-14 win over Michigan in the Gator Bowl—but lost their four toughest games (LSU, Alabama, Auburn and Arkansas).
Still, Mississippi State ranked 15th in the nation with 215 rushing yards per game last season, ranked 21st in points allowed (19.8 per game) and returns one of the SEC's best defenses for 2011.
Dan Mullen has truly done wonderful things in just two years at Starkville, but it remains to be seen whether or not the Bulldogs can take another step in a jam-packed SEC.
Here's a good sign, though: The Bulldogs have eight offensive starters coming back, including dual-threat quarterback Chris Relf, who rushed for more than 700 yards last season and really matured as a passer by season's end.
9. UCF Knights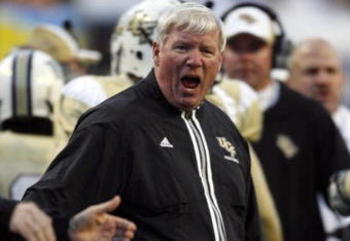 I know what you're thinking: What kind of reefer is this dude smoking?
Well, hear me out.
Central Florida has all kinds of similarities to the South Florida team that was at one point positioned to play for a national championship a few years ago—from the small school mentality to a good coach to a team that is loaded with in-state products (from one football's richest recruiting states).
The Knights' 12th-ranked scoring defense only returns four starters, but George O'Leary is building a heck of a program despite having to compete for talent with a boatload of other big-time Florida schools.
UCF is clearly a huge long shot, but the Knights could run the table in Conference USA and be in position to steal a spot in the title game if no AQ school finishes undefeated.
Then again, they'd probably just be left out of the game, huh?
8. Penn State Nittany Lions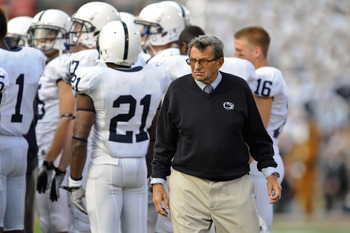 Jamie Sabau/Getty Images
Penn State isn't going to have very much pizazz in 2011, but Joe Paterno's bunch could be a sleeper pick in the Big Ten.
The Nittany Lions allowed just 22.6 points per game last season in a conference that had some pretty loaded offenses, and they should be in good hands on offense now that Matthew McGloin has some experience at quarterback under his belt.
Penn State also returns most of its talent on both sides of the ball, with 16 starters coming back next season.
Though the Nittany Lions were far from an offensive juggernaut nor even had a great defense, Penn State could take advantage of the suspensions at Ohio State.
With Terrelle Pryor, DeVier Posey and others out for five games, Paterno's team could become the team to beat in their half of the new Big Ten.
7. South Carolina Gamecocks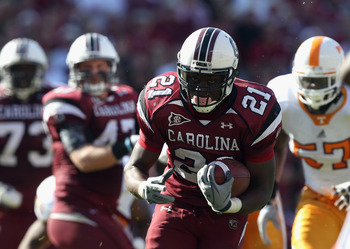 Streeter Lecka/Getty Images
The biggest strength for South Carolina last season was the team's ability stop the run—the Gamecocks ranked ninth against the run nationally and first in the SEC.
However, South Carolina lost a ton of talent from its defensive front seven that was so critical to that success, and no one knows how the new starters will fare in 2011.
Another unknown for next season is whether the Gamecocks will make the transition full-time to Connor Show, stay with Stephen Garcia or stick with whoever has the hotter hand.
Garcia did improve drastically in 2010, though, as he moved up to 18th in the nation in passing efficiency after ranking 84th in 2009.
If he can stay on course, it'll be hard for opposing defenses to stop a South Carolina offense that scored 31 points per game last season and features arguably the best running back in the country in Marcus Lattimore.
6. West Virginia Mountaineers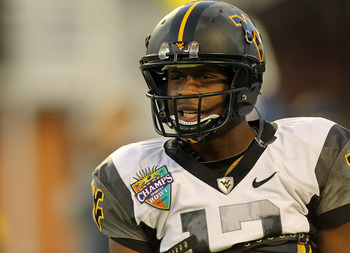 Mike Ehrmann/Getty Images
Coming off a bit of disappointing 9-4 season in 2010, West Virginia is looking to make a run at another Big East title in 2011.
The Mountaineers, which allowed 12.8 points per game last season, do have a bit of problem, though—they only return four starters on defense.
Although those losses can't be minimized, it's worth noting that West Virginia should get a huge boost in 2011 when former Oklahoma State offensive coordinator Dana Holgorsen takes his prolific passing attack to WVU.
That guy worked magic for the Cowboys last season and he should be able to lift a Mountaineers offense that really struggled in 2010.
If Holgorsen can do that, West Virginia might very well be able to run the table in the Big East in 2011, because that conference will probably be down in the dumps once again.
5. Notre Dame Fighting Irish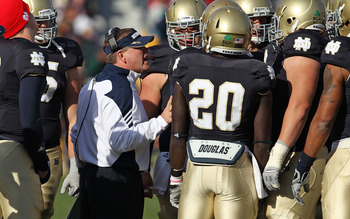 Jonathan Daniel/Getty Images
This list wouldn't be any fun without a few controversial teams on here, now would it (See UCF)?
But Brian Kelly is one heck of a football coach and Notre Dame draws recruits like very few schools in the country.
The Fighting Irish have the No. 10 recruiting class for 2011 (according to ESPN), had the No. 21 class in 2010 and the No. 14 class in 2009.
With plenty of those guys maturing into more complete football players at Notre Dame, Kelly has more to work with than he ever did at Cincinnati.
And Notre Dame also returns a huge playmaker in Michael Floyd as well as Dayne Christ at quarterback.
The Fighting Irish do have a rough schedule, however, which could either be a blessing or a back breaker.
4. Missouri Tigers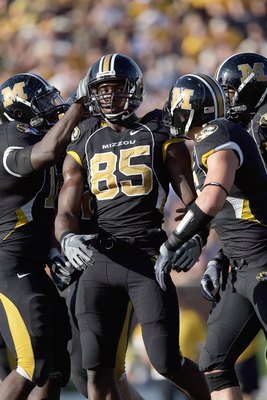 Jamie Squire/Getty Images
If you listen to Todd McShay talk, it's like Blaine Gabbert is the second coming of the Lord himself, but we'll find out in 2011 just how good Gabbert really was for the Tigers.
Missouri will be making the switch to a new gunslinger—either James Franklin or Tyler Gabbert (Blaine's brother)—who will actually be taking over an offense that returns nine offensive starters, including every wide receiver.
When the Tigers do eventually hit the field, though, they'll be looking to replace three fourths of their secondary (both starting cornerbacks and free safety Jarrell Harrison) as well as defensive end Aldon Smith.
However, Jacquies Smith and Brad Madison should have no problem making up for Smith's production as far as sacks are concerned, and the Tigers did have the nation's No. 6 scoring defense last season.
If Smith and Madison pick up the slack and either Franklin or the younger Gabbert can play well in that very experienced offense, then Missouri could make a whole lot of noise next season.
3. LSU Tigers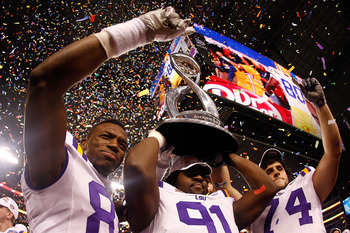 Chris Graythen/Getty Images
I hesitated about putting LSU on this list—because the school is a national powerhouse—but decided to go with the Tigers here since they've been lost in the shuffle in the SEC over the past two seasons.
LSU is coming off a very solid 11-2 season, but one that was marked by mediocrity (or worse) pretty much across the board.
The Tigers offense ranked 97th in passing yards, 90th in rushing yards and 76th in points scored in 2010, but they will have a new offensive coordinator in Steve Kragthorpe next season.
After a 2010 season marred by awful quarterback play, Kragthrope could choose to go with highly-touted junior college recruit Zach Mettenger at quarterback in 2011.
If Mettenberger can live up to his hype—and trust me, there's a ton of it—LSU could be a legit national title threat.
The Tigers lose just three key starters this year—Drake Nevis and Patrick Peterson on defense and Steven Ridley on offense—and consistently have one of the nation's top recruiting classes.
2. Texas A&M Aggies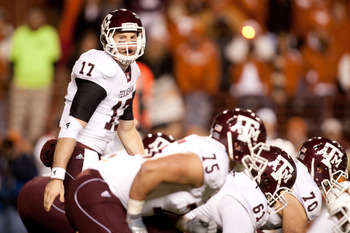 Darren Carroll/Getty Images
So many people have jumped on the Texas A&M "under the radar" bandwagon that the Aggies will probably be over the radar in 2011.
But Mike Sherman's team will pose a huge threat in the Big 12 next season, as the Aggies finished 9-4 in 2010 and won six of their final seven games.
Texas A&M's defense—which ranked 105th in points allowed last season—has to improve in 2011, but the offense will be among the nation's best.
The Aggies return All-Big 12 rusher Cyrus Gray, and Ryan Tannehill will be spending this offseason improving upon what was an already a good start to his career as a converted receiver-to-quarterback.
All in all, Texas A&M returns 18 starters from a team that beat Texas, Texas Tech, Oklahoma and Nebraska last season.
1. Florida State Seminoles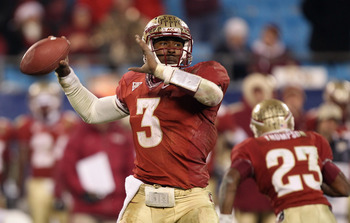 Streeter Lecka/Getty Images
Florida State's 2010 season had its ups (winning the Chick-fil-A bowl) and its downs (a 47-17 loss to Oklahoma), but the Seminoles should be optimistic about their chances of success in 2011.
Jimbo Fisher's team has 16 starters (eight on each side of the ball) coming back, and the Seminoles currently have the nation's No. 1 overall recruiting class according to ESPN.
The 2011 class, which features a whopping 11 recruits in the ESPNU 150, is loaded with guys who can step in and contribute immediately.
The biggest question mark surrounding this team, though, will be E.J. Manuel and whether or not he can step in and replace Christian Ponder's production.
However, it's worth noting that Manuel completed at least 73.3 percent of his passes in three of the four games in which he saw a considerable amount of action in 2010.
Keep Reading