OSU Football: Why The Buckeyes Could Contend For National Title Next Season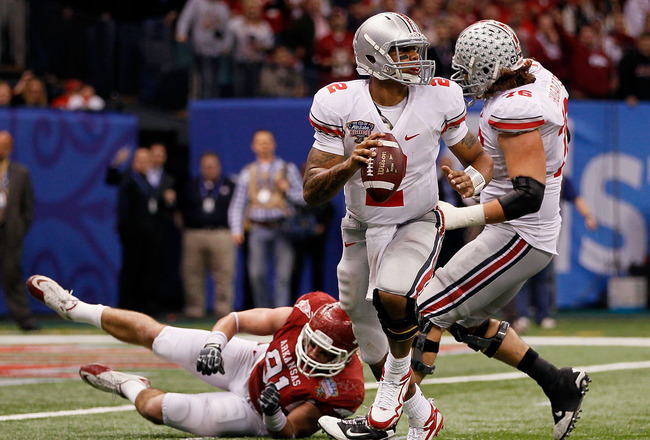 Kevin C. Cox/Getty Images
The Ohio State Buckeyes had one of the more unusual seasons in school history in 2010. The Buckeyes started out a preseason top five team, quickly jumping to No. 1, before losing to Wisconsin.
The loss to Wisconsin not only put a damper on their national title hopes but also meant they weren't going to the Rose Bowl, either.
As the Buckeyes finished the season 11-1, and earned a trip to the Sugar Bowl, the idea that the Buckeyes would have a chance to defeat an SEC school in a BCS game was something they relished.
Then, after it was revealed five players would be suspended next year for selling memorabilia and accepting discounts on tattoos, a victory over Arkansas seemed somewhat tainted.
The five players facing suspension next year were more than likely all going to be starters, and one, quarterback Terrelle Pryor, was likely to be among the favorites for the Heisman Memorial Trophy.
That the five will miss the first five games of next season more than likely takes Ohio State out of contention for not only the national title but also the Big Ten Championship as well..
Or does it?
Here are five reasons why we could possibly see the Buckeyes in the BCS National Championship next season:
1. Buckeyes Have Depth at Both Quarterback and Running Back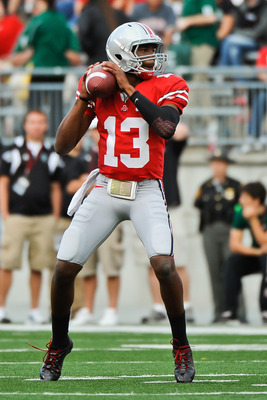 Jamie Sabau/Getty Images
That Terrelle Pryor will miss the first five games of next season is supposed to be a huge blow for the Buckeyes.
Behind Pryor, none of the four quarterbacks who will vie for the starting job have all that much experience.
Yet, the Buckeyes do have some very talented individuals ready to step up and take the reins, including redshirt sophomore Ken Guiton or incoming freshman Braxton Miller.
And at running back, the Buckeyes should do well without Herron, as Jordan Hall and Jamal Berry look more than ready to pick up the slack.
With all of this inexperience at key positions in the offense, how can the Buckeyes be expected to go 5-0?
It should not be forgotten that when Ohio State won it all back in 2002, they did so with a first-year starter under center, junior Craig Krenzel, and a true freshman running back, Maurice Clarett.
2. The Defense, Hurt By Departure Of Several Seniors, Reloads With Recruits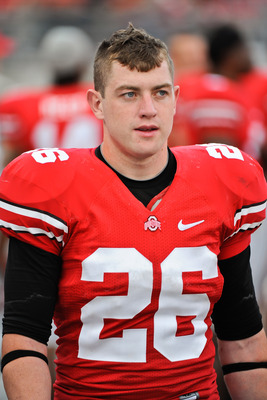 Jamie Sabau/Getty Images
The next hurdle that many point to in the Buckeyes' quest to contend for a national title is the defense, which loses several seniors, including Ross Homan, Brian Rolle, Chimdi Chekwa and Cameron Heyward.
While those losses are significant, none of those players are irreplaceable. In fact, head coach Jim Tressel went on the offensive before the start of the season and landed several key recruits.
The additions of blue-chip prospects Doran Grant, Steve Miller, Ryan Shazier, combined with returning Buckeyes Andrew Sweat, Storm Klein, Etienne Sabino, and Tyler Moeller mean that Ohio State will not be rebuilding on defense next year, just reloading.
3. Corey Brown Will Have an Impact on Both Sides Of The Ball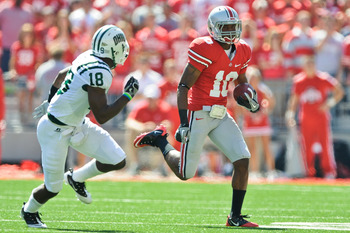 Jamie Sabau/Getty Images
When did coach Tressel decide to make 'Philly' Brown a two-way player?
The answer is he didn't. Yet Tressel did recruit two players named Corey Brown last season, one who plays wide receiver, and one who is a defensive back.
While many know the exploits of Corey 'Philly' Brown, wide receiver, not much is known about Corey 'Pitt' Brown, the defensive back.
But by the time the suspended five hit the field next season, people will know who 'the other Corey Brown' is.
4. The Offense Will Be Firing on All Cylinders When Pryor and Company Return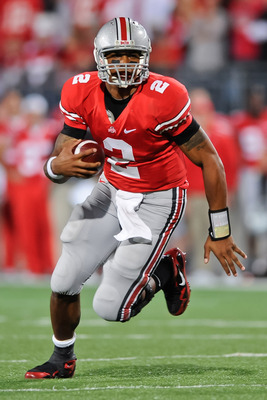 Jamie Sabau/Getty Images
The big question in Columbus, now, is what happens to the suspended players should the team go 5-0 without them.
While it doesn't seem fair that the players lose their job should they do well, head coach Jim Tressel will do what is best for the offense.
Whether that means benching Joe Bauserman, Ken Guiton, Braxton Miller (or whomever the starter is) in favor of Pryor is anyone's guess.
It would be safe to say, that however the scenario plays out, if the offense is clicking, it will continue to do so once Pryor and Co. return.
5. Head Coach Jim Tressel Finds a Way to Win...Period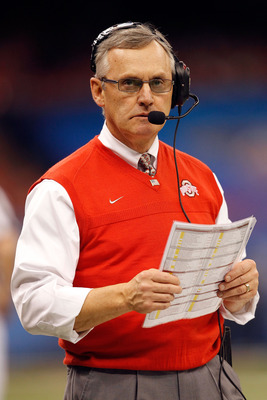 Matthew Stockman/Getty Images
Despite what anyone may say about the man, Jim Tressel keeps on winning. He has been the fastest to win 100 games as Buckeyes head coach.
He won a national championship in only his second season, and led the Buckeyes to two more BCS National Championship games. And he led the Buckeyes to a 12-1 record last season.
The critics say Tressel needs to hire an offensive coordinator, that he is too much of a control freak. Tressel just lets the Buckeyes' record do all the talking for him.
The last three seasons, the Buckeyes have finished 10-3, 11-2 and now 12-1.
Still don't think 13-0 is possible?
Keep Reading

Ohio State Football: Like this team?