Florida State Football: Top 10 Recruiting Targets for the Seminoles in 2011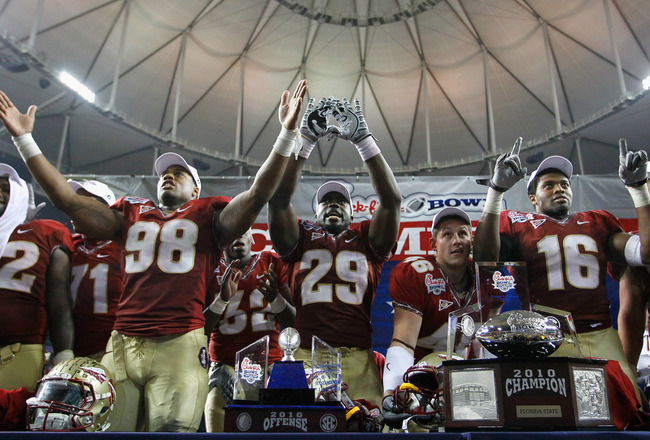 Kevin C. Cox/Getty Images
National Signing Day is only a few weeks away, and for Florida State it couldn't come any quicker.
After finishing strong in their 26-17 Chick-fil-A Bowl victory over South Carolina, they are set to take center stage and claim the No. 1 spot in the recruiting rankings. They currently have the third-ranked and second-ranked recruiting class in two different rankings.
There are still a few top-echelon recruits they would love to have, and there is a good chance they land most of them.
Jimbo Fisher and his staff have been doing a phenomenal job in the recruiting department, so I fully expect to see a strong finish from Florida State yet again when National Signing Day is all said and done.
10. Ha'Sean Clinton-Dix, Safety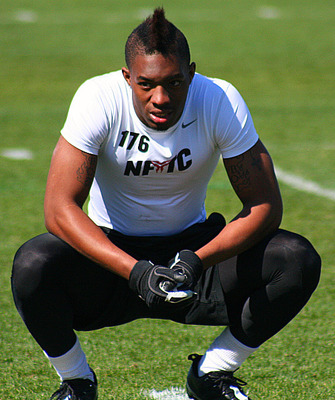 This name may raise a few eyebrows, but the sole reason I have him on this list is due to the commitments FSU already has that have been doing some recruiting in their spare time as well.
Karlos Williams, Bobby Hart, Nick Waisome and Keelin Smith made quite the impression on him at the Under Armour All-America Game.
It would be quite the dream if he decommitted from Alabama and joined Williams and FSU. Talk about a dynamic duo at the safety positions.
He is the type of player that won't shy away from anything. He loves to be physical and step up to help in the run defense whenever he is given the opportunity. The quickness to play man-to-man is there, along with the athleticism to become a dynamic special teams player.
However, it's unlikely he commits to FSU, especially after his high school teammate Demetrius Hart committed to Alabama.
9. Jacoby Brissett, QB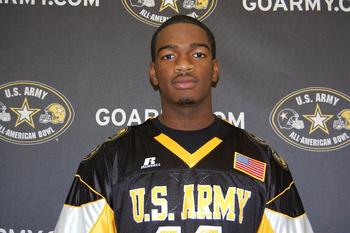 FSU already has a QB in its 2011 recruiting class, but it doesn't have a Brissett. This is exactly the type of QB Jimbo Fisher loves to have under center.
He is very similar in stature to E.J. Manuel and plays just like him. They are both quick, elusive, smart decision makers and can make plays with both their arms and feet. The style of offense that Fisher runs would suit his style of play even though he played in a spread offensive scheme back in high school.
Brissett isn't a must-have, but I guarantee you if he ends up committing to FSU, you won't hear any complaining from the coaches.
Right now it looks like it will be a two-team race with Wisconsin being the other team of consideration. If and when Nick O'Leary decides to sign his letter of intent to FSU may play a role in his decision-making.
8. Josue Matias, OT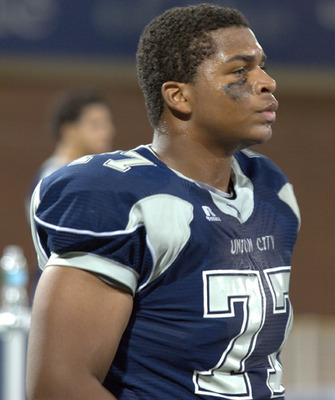 Now here is a guy that would be a perfect addition to the offensive line. He stands at 6'5", 290 and molds right into how Rick Trickett loves his offensive linemen.
He is a tough run blocker and has the strength to dominate almost any defensive lineman. The pass blocking needs a little polishing, but he makes up for that with his great size and athleticism.
His first year on campus probably wouldn't garner him much playing time, but after a year of preparation there is a very good chance you may see him starting when the season kicks off his sophomore year.
FSU, Rutgers and North Carolina seem to be standing strong, but Miami is getting a surprise visit from him this weekend.
7. Jermauria Rasco, DE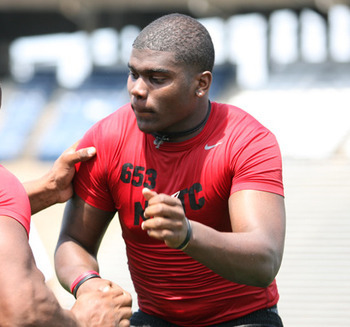 With the Aaron Lynch saga going on, this decision for Rasco will be a very interesting one to watch. Most say it looks like FSU will only being signing two more defensive ends but that they also may stretch it to three depending on what Jadeveon Clowney does.
Rasco poses a big presence at the defensive end position who can create havoc for the QB at any given moment. The only problem is he lacks the consistency that is needed to play at the next level.
There is definitely room for improvement, and after seeing the way FSU improved on the defensive line this year, I would go out on a limb and say the potential for him is through the roof.
The quickness is there, and the frame is something that he can add on to, so all in all if he decides to commit to FSU, then they would be getting a very solid recruit.
Currently it looks like it will come down to LSU and FSU with his decision more than likely coming closer to National Signing Day.
6. Anthony Chickillo, DE
Chickillo is currently committed to Miami, but after Randy Shannon was fired, he quickly reopened his recruitment.
While at the Under Armour All-America Game he was pursued heavily by some FSU commitments, specifically Karlos Williams and Keelin Smith. It looks as if they did a pretty good job of persuading his interest in the Garnet and Gold's favor.
He is the type of athlete that has no limit to how well he can play because the sky is the limit with him. His size is a little cause for concern, and he looks more like an outside linebacker than a traditional defensive end. However, he has great strength and is extremely quick off the ball.
There is no telling where he will end up, but whatever school lands him will be receiving one heck of a recruit.
5. Aaron Lynch, DE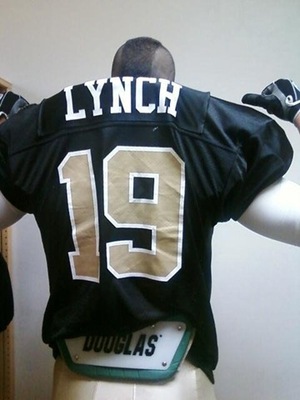 There is no argument when Aaron Lynch says that he considers himself the best defensive end in the country. I understand that Jadeveon Clowney is a natural-born athlete and a tremendous defensive end, but Lynch put on quite the performance in the U.S. Army All-American Bowl.
We all know about his little ongoing saga. He started off being committed to Notre Dame but then decommitted from them and committed to FSU. Then shortly after the U.S. Army All-American Bowl he decommitted from FSU and is now reconsidering Notre Dame.
A lot has been said about him being afraid of competition and that's why he is reconsidering Notre Dame, but certain sources of mine (Mario Pender) have mentioned that his parents are playing a huge role in his decision-making.
Most likely it will come down to the wire on when he makes his decision. If he signs with FSU, that would be a huge pick up for them, but if he doesn't, there is no need to panic when guys like Rasco, Chickillo and Clowney are still available.
4. Nick O'Leary, TE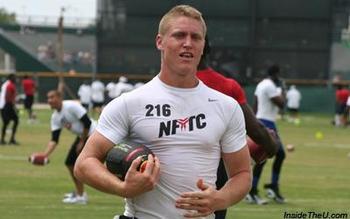 The question isn't whether or not O'Leary will be signing with FSU, but more of a when type question. His decision was reportedly coming during the U.S. Army All-American Bowl; however, he decided to hold off and ponder his thoughts further.
This left doubts in the minds of some FSU fans, but I can assure you he is a lock to be playing for FSU next year.
My only concern is just how much he will be used in the passing game. Understandably Beau Reliford is a completely different type of tight end than O'Leary, but he still rarely was given a chance to catch the ball. Hopefully Fisher uses O'Leary more often than not because he moves and catches the ball like a wide receiver.
There is a good chance he could be jumping from a 4-star recruit to a 5-star before National Signing Day too. Regardless of that happening, FSU will be getting an outstanding tight end and athlete.
3. Tim Jernigan, DT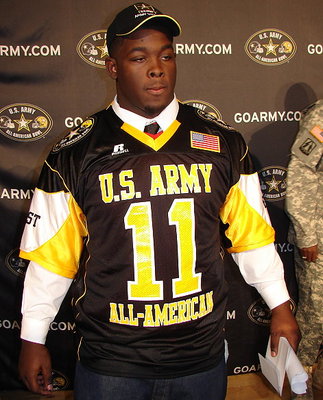 FSU was hanging in the balance with Jernigan until they made quite the impression on him at the U.S. Army All-American Bowl. Coach Odell Haggins has created a solid relationship with the young man and is hoping it pays dividends in his decision-making process.
He would be a great addition to an already talented defensive line but would add much-needed depth to the defensive tackle position.
In the trenches he is a disruptive force that will clog up those holes on 3rd-and-1 when the defense needs a big stop. For a defensive tackle he is a playmaker that FSU has to sign in my opinion.
It looks like his decision will come down to LSU, FSU or Alabama.
2. Tony Steward, LB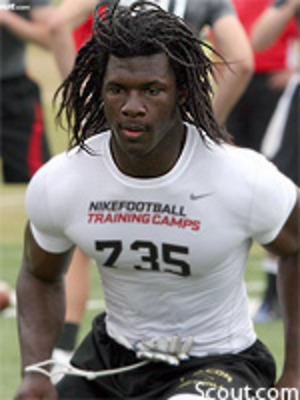 Some of you may have Steward at the top of your want list, and rightfully so. He is a freak of nature and may eventually be the best recruit to come out of the class of 2011, even with him tearing his ACL.
Signing day seems to be the day that he will be making his big announcement between FSU and Clemson. He would be making an instant impact no matter what team he decides to join.
I hope he does sign with FSU, and if he does, he could be looking at a starting position depending on how he recovers from his ACL tear. Right now he is slotted at middle linebacker, but he would have no problem playing either of the linebacker positions.
One concern I have is that Clemson may be in the lead, and that could be due in part to good friend Jeoffrey Pagan.
Pagan is a defensive end that was committed to Florida for a while but backed out of that commitment once Urban Meyer resigned. He is now leaning towards Clemson, and the word is Steward wants to play his college football with him. How that unfolds could be a huge deciding factor on where Steward ends up.
1. Jadeveon Clowney, DE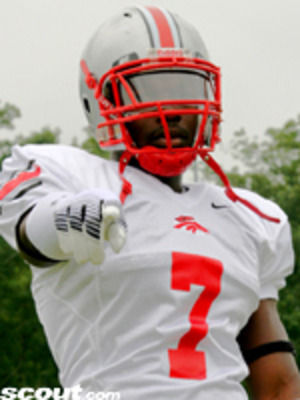 FSU can only dream of waking up and receiving a phone call that Clowney will be attending their school in the fall. I know he is a long shot to sign with FSU, but at least they are in his top three.
While attending the Under Armour All-America Game, he said that the FSU recruits made sure he was aware of FSU and what he would mean to their program and recruiting class.
"Those boys are crazy, but they are definitely going to make FSU better," Clowney said at a practice. "I like the way their defense plays, so they are definitely on my mind during my decision making."
One can only hope that they are at the top of his mind. South Carolina seems to be the team to beat, but Alabama is the only team right now that has an official visit set up with the nation's No. 1 recruit.
Adding a blue-chipper like this to an already star-studded recruiting class would surely put them over the top. His comparisons to Julius Peppers and Da'Quan Bowers are no joke. He has a massive frame, standing at 6'6", 240 pounds, and will be a force to reckon with when he lines up across from that offensive line.
Overall Consensus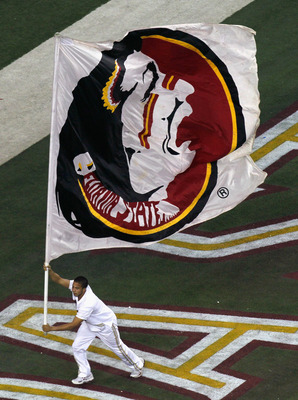 Kevin C. Cox/Getty Images
Obviously FSU would love to sign each and every one of these recruits on this list. However, only a handful will likely sign with them.
Jernigan, O'Leary, Rasco, Matias and Steward seem to be the most promising to sign with FSU, but as we all know, anything can happen when it comes to FSU recruiting.
When everything is all said and done, FSU will finish in the top three in the nation for recruiting. If a few of these top recruits fall into their lap, then they will almost certainly find themselves at the top spot for the 2011 top recruiting class.
Regardless of what the final outcome is, Jimbo Fisher has shown just how good he is as the head coach. The promised land is just ahead, and it looks like FSU may be on that track quicker than expected.
Keep Reading

Florida State Football: Like this team?