Huskers We Will Miss: Top Husker Position Losses and Their Replacements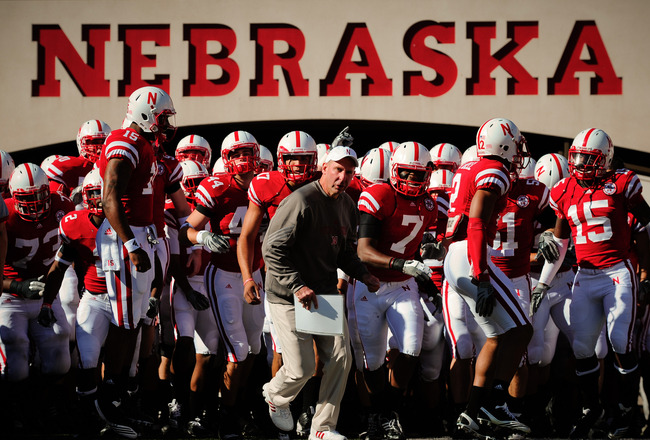 Eric Francis/Getty Images
The 2010 season is over, and while you can always look to the next season, we also have to stop and recognize the talent that we will lose to graduation. Nebraska will lose 20 seniors to graduation, as well as two medical leaves that are quitting, and one transfer. The Huskers lose 12 starters on both sides of the ball, six on offense and four on defense, as well as the two kicking specialists. Who are Nebraska's biggest losses and the top choices for their replacements?
Defensive End Pierre Allen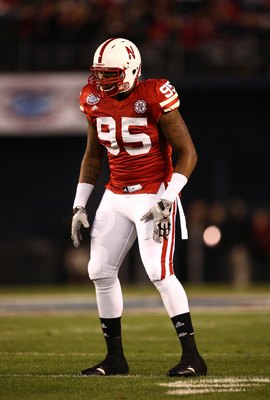 Donald Miralle/Getty Images
Pierre Allen was a three year starter at right defensive end, and he also played in 11 games as a redshirt freshman in 2007. He was a backup in 2008 to Barry Turner, and then took over when Turner broke his leg. He was a dominant force on the defensive line, and helped anchor the Blackshirts revival as a dominant defensive force. Allen was selected for the Senior Bowl.
Stats:
181 tackles
1 forced fumble
13 sacks
Replacement:
I believe that Allen's replacement will be Jason Ankrah. Ankrah is a redshirt freshman and was a four star recruit out of high school. He played as a backup on the defensive line this season, and will most likely compete with Josh Williams, the other backup for the spot, but I will give the spot to Ankrah.
Defensive Back Eric Hagg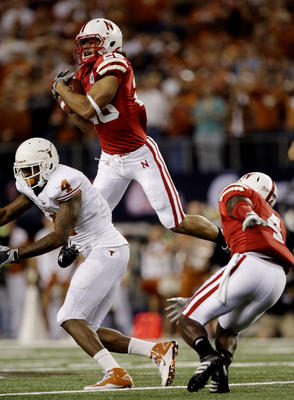 Jamie Squire/Getty Images
Eric Hagg had a breakout year as the key component of the Peso defense. As the Peso back, Hagg played a hybrid linebacker/safety spot. Hagg has been on the team since 2007, he played on special teams his freshman season, and then began playing in the backfield when Pelini took over. He played in all of the games from 2008 on. In 2009 he recorded his first interception against Texas in the Big 12 title game. In 2010 he led the team with five interceptions.
Stats:
128 tackles
three forced fumbles
six interceptions
four sacks
Replacement:
Hagg's replacement is kindof confusing. We have no idea if the Peso position will exist next season. If its another defensive back hybrid, then I have no idea, it might be Corey Cooper who was raved about by the coaches on the scout team. If its a linebacker, then it will probably be Sean Fisher.
Safety Dejon Gomes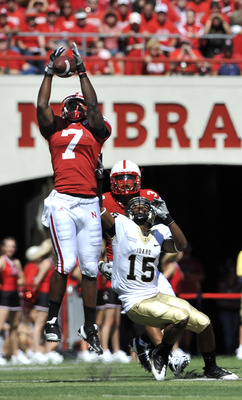 Eric Francis/Getty Images
Dejon Gomes was a JUCO from CC of San Francisco. Gomes played safety, and served as backup during the early part of the season in 2009, before starting six of the last nine games. He finished 2008 with four interceptions. In 2010 he was a part of one the best secondaries in the country, he picked off three passes including one returned for a touchdown against Idaho. He was named a first team All Big 12 selection in 2010.
Stats:
145 tackles
five forced fumbles
seven interceptions
one sack
Replacement:
Dejon Gomes was a force at safety and will most likely be replaced by Austin Cassidy, as Nebraska goes back to only using only two safeties. Cassidy has gotten plenty of experience playing safety when he replaced Rickey Thenarse/P J Smith at safety.
Cornerback Prince Amukamara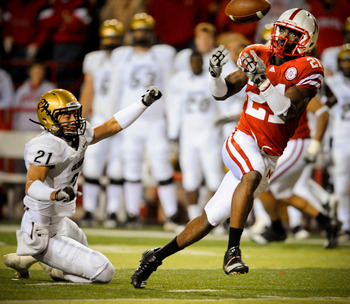 Eric Francis/Getty Images
Prince Amukamara led the Blackshirts secondary. Originally recruited as a running back, but moved to the secondary. He played in eight games his freshman season in 2007. In 2008 he started three games, and in 2009 he started all of the games. He picked off five passes in 2009. In 2010, he did not intercept any passes, but had 13 passes broken up and most of the time teams would not throw his way. He was named first team All Big 12 in 2009 and 2010, as well as being named the Big 12 defensive player of the year.
Stats:
155 tackles
three forced fumbles
five interceptions
four sacks
Replacement:
Ciante Evans got playing time when Alfonzo Dennard went down injured in the Missouri game. Ciante is a three star cornerback out of high school, and played in his freshman year. He showed he could hold his own against more veteran receivers.
Place Kicker/Punter Alex Henry and Kickoff Specialist Adi Kunalic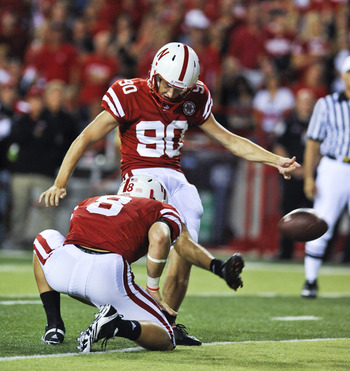 Eric Francis/Getty Images
Sorry, I could not find any photos on Adi Kunalic, so him and Alex Henrey will have to share a page. Nebraska's kicking duo will leave in 2010. Kunalic was a kickoff machine, with 119 touchbacks on kickoffs. Alex Henrey was the most reliable kicker in NCAA history. He is the most accurate kicker from the 40-49 yard, and 50-59 yard range. Alex also served as the team's punt specialist, and was good at that as well. He is also Nebraska's all time leading scorer. Too be perfectly honest, he deserved the Lou Groza Award.
Stats:
Alex Henery
68-76 field goals
193 PAT
Adi Kunalic
119 touchbacks
1-1 field goals
Replacements:
Ummm. I am going to go with either Brett Maher or Jason Dann. Maher is a sophomore and the backup punter. Dann is currently a freshman. Neither is well known, so we will have to wait and see.
Offensive Guard Keith WIlliams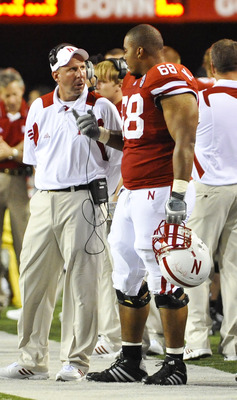 Eric Francis/Getty Images
Keith Williams played 50 games in his career at Nebraska, starting 34 of them. He was a powerful force on the offensive line. He helped pave the way for Nebraska's rushing attack, especially on Roy Helu's career and record breaking day against Missouri. Williams is an outstanding lineman and will be missed as a force up front.
Replacement:
Andrew Rodriguez is a freshman four star from Aurora, Nebraska. He was the first true freshman to play for Nebraska on the offensive line since 1999. The coaches must obviously see potential in him if they decided to have him play right away.
Offensive Guard Ricky Henry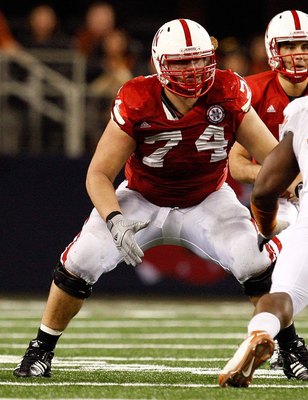 Ronald Martinez/Getty Images
Ricky Henry is a Nebraska native, but he did not play for Nebraska until two years after high school. He signed with Nebraska but spent two seasons at North Dakota State College of Science for two seasons, starting every game. In 2008 he redshirted, and in 2009 and 2010 he started all 14 games each season. Henry did a good job helping the Nebraska offense. He did have an issue with personal fouls at terrible times that killed drives.
Replacement:
Brent Qvale, looks to be the next starting guard. Qvale almost had playing time last season but had a hamstring injury, and redshirted, and then played backup this season.

Offensive Tackle D.J. Jones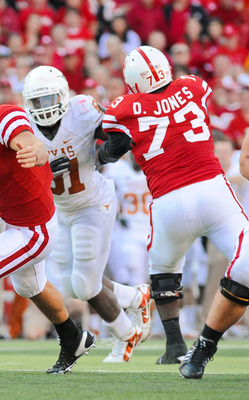 Eric Francis/Getty Images
D.J. Jones is a Nebraska native, that has helped the Nebraska offensive line, mostly as a backup. In 2009, due to Marcel Jones injury, he finished the last three games as the starting tackle. In 2010, due to Marcel Jones back injury, he started the rest of the season, and then split playing time late in the season. He played in 39 games and started 17 of them. Jones was a good lineman that was able to help the Nebraska offensive line.
Replacement:
Marcel Jones was the starter until he was sidelined by injuries. In 2009 he lost his starting job in the last three games, and then in 2010 he missed the first 10 games of the season with a back injury. It will be interesting to see if injuries once again sideline him.
WR Mike McNeil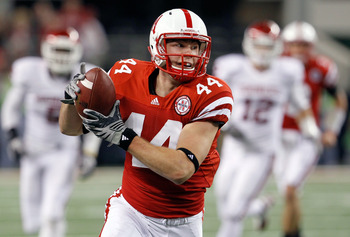 Tom Pennington/Getty Images
I seem to remember Shawn Watson saying that McNeill was being moved to slot receiver so he could be used more, what happened to that? McNeill's production dopped in 2010, but he was a great tight end, and should have been used more in the passing game. McNeill had 82 receptions for 1,072 yards and 11 touchdowns. He still owns the record for most receptions by a tight end in a season, with 32 set in 2008. McNeill is a great tight end and should be successful in the NFL, and will be able to prove it when he plays in the Senior Bowl.
Stats:
82 receptions
1,072 yards
11 touchdowns
Replacement:
Well, McNeill should have played tight end, and we already know that Kyler Redd was a breakout star this season at tight end. As a receiver, he will be replaced by Quincy Enunwa, who had gotten some work at the receiver position behind McNeill.
Wide Receiver Niles Paul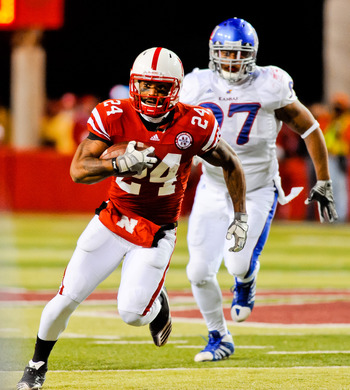 Eric Francis/Getty Images
Niles Paul had a down year in 2010. After hitting a career high 796 yards receiving on 40 receptions with four touchdowns, he caught 39 for only 516 and one touchdown, but he did managed to get second team All Big 12. Niles is one of the most interesting players for the Huskers, one minute you hate him because of a fumble, the next he breaks off a 101 yard kickoff TD and you love him again. At one point the criticism got so bad he shut down his facebook account. Piece of advice, the criticism will be a lot worse in the NFL. I really wish that Paul had a better career at Nebraska, he had the speed, but his hands were not always the greatest, and Nebraska shifted away from the pass game. I hope he can find success in the NFL, he'll get a chance to show what he can do in the Senior Bowl.
Stats:
103 receptions
1,532 yards
five touchdowns
Replacement:
I think it will be Kenny Bell. He redshirted this season, but the coaches raved about him on the scout team. Gilmore said he has great speed, and Pelini said he has all the tools to be a great receiver.
Running Back Roy Helu Jr.
Eric Francis/Getty Images
Roy Helu is one of the best running backs to come out of Nebraska, after playing four seasons, he number four on the all time leading rushing list, behind Nebraska legends Rozier, Green and Crouch. Helu is also the first running back to hit 300 yards for Nebraska. In his freshman season, he had 209 yards, then in 2008 he had 800 yards while serving technically as a backup to Marlon Lucky. Then in 2009 and 2010 he had back to back 1,000 yard rushing seasons. His efforts earned him Big 12 second team selections twice in 09 and 10. He will get a chance to show he can be great at the next level when he plays in the Senior Bowl.
Stats:
578 attempts
3,404 yards rushing
501 yards receiving
27 touchdowns
Replacement(s):
Rex Burkhead would be the first name to come up in Helu's replacement, but he is more of a jack of all trades and a power back, not our speed back. Instead Helu's replacement will likely be Aaron Green, or maybe even shared time with Ameer Abdullah if he signs with Nebraska.
Keep Reading

Nebraska Huskers Football: Like this team?