BCS Title Game: Lack Of Adjustments Cost Oregon Ducks National Title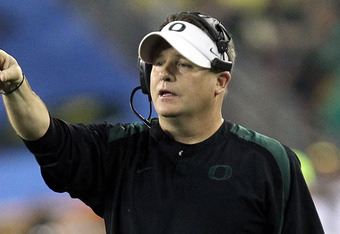 Chip Kelly's failure to make halftime adjustments doomed Oregon in the BCS Title game.
Ronald Martinez/Getty Images
One of the biggest reasons why Mike Singletary was fired by the San Francisco 49ers with one game left in the regular season, was his lack of adjustments. Over and over, players, writers, fans, and even the opposing team spoke of how the 49ers offense seem to make little to no adjustments, often times opposing teams already knew which plays were about to be run before they were in fact run.
Monday night, in the biggest game in college football, the Oregon Ducks pulled of a Mike Singletary, making little to no adjustments until their final possession of the game.
Case in point:
Third quarter, Oregon is trailing No. 1 Auburn 19-11, with the ball at their own 27 yard line with 6:17 left in the quarter, and goes the length of the field thanks in part to a fake punt and a 43 yard pass from Darron Thomas to Lavasier Tuinei. This put Oregon 1st and goal at the Auburn three yard line with 4:11 left in the quarter.
What happened over the next two minutes, cost Oregon the National Title.
1st and goal, and Oregon goes with a hand off up the middle and immediately loses three yards forcing a 2nd and goal from the six.
QB Darron Thomas take the ball and runs to the right side and is stuffed for a one yard gain.
3rd down and goal from the five, and this time, Oregon goes with motion by Kenjon Barner from left to right, takes the hand off, and is stopped one yard shy of the end zone, setting up a 4th and goal from the one.
Christian Petersen/Getty Images
Feeling good of the near touchdown run by Oregon on 3rd down and goal, Head Coach Chip Kelly and Oregon go for it on 4th down, calling the exact same play they did on 3rd and goal and get stuffed.
Result? Oregon still trails 19-11.
In the end, Oregon did drive the length of the field, converted successfully on a two-point conversion and tied the game with 2:33 left to play, but the bottom line is that, Oregon outplayed, and should have won last night's BCS Title game, or at least had a shot to force Auburn to win or tie the game.
The saying goes, "Hindsight is 20/20", but in the end, common sense, not hindsight is what cost Chip Kelly and the Oregon Ducks a National Title.
C.E. Stowe once said that common sense was a "knack of seeing things as they are and doing things as they ought to be done."
Chip Kelly should have seen that:
1. Oregon couldn't run up the middle on Auburn's stout defense lead by defensive tackle Nick Fairley. Oregon, which entered the BCS Title Game ranked No. 4 in the country in rushing yards at over 286 a game, only rushed for 75 yards on 32 carries. More importantly, they couldn't run up the middle, yet time and again, they tried to, only to keep getting stuffed for minus yards or no gains.
2. Oregon's Air Raid was lights out. Darron Thomas, not Heisman Trophy winner Cam Newton shone brightest last night between the two quarterbacks. Thomas finished 28 of 41 for 374 yards and 2 touchdown passes. He averaged nearly 9.1 yards a throw, yet...
3. On all four of Oregon's goal line plays in the 3rd quarter, Oregon never took one single shot into the end zone, instead choosing four running plays that totaled two total yards.
4. Take the points when you can get them. This isn't about hindsight, this is about common sense. When you can get the points, you take them. Oregon had not been this deep in Auburn territory since the 12 minute mark of the 2nd quarter. Knowing this, Chip Kelly should have taken the points to cut the Auburn lead to 19-14.
In the end, Oregon's final drive, which resulted in a touchdown and two-point conversion could have given the Ducks a 22-19 lead instead of a 19-19 tied ball game.
In the end, Auburn's toughness and experience of playing in the SEC was cancelled out by the finesse and quickness of the Ducks, which had the Auburn defense gasping for air and scrambling to substitute defenders. Instead, what decided the BCS National Title Game was execution and adjustments, which Oregon failed to do.
When they finally did make an adjustment, LaMichael James took a two-yard shovel pass from Darron Thomas into the end zone to pull the Ducks to within two-points of tying of the game late in the 4th quarter.
Two and a half minutes later, Auburn kicked the game winning field goal.
This article is
What is the duplicate article?
Why is this article offensive?
Where is this article plagiarized from?
Why is this article poorly edited?

Oregon Ducks Football: Like this team?