LaMichael James: 2011 Heisman Hopes With 2010 Retrospective
Steve Dykes/Getty Images

The 2011 Tostitos National Championship game featured Cam Newton, the current Heisman winner, and possibly the best Heisman candidate for next season sine he's staying in school, LaMichael James.
James has been an offensive leader for the Oregon Ducks all season, and is widely considered the best running back in college football, with NFL-bound Mark Ingram in the mix. The Ducks are third in the nation in rushing yards, compiling over 300 yards per game, while scoring more points than any other team in the FBS.
Oregon's star running back is only a sophomore, and things are only looking up from here. With this in mind, we take a look at the Ducks' schedule so far this season, and how each game stacks up towards a 2011 Heisman for LaMichael James.
Begin Slideshow

»
Steve Dykes/Getty Images

This one is easy as James didn't play. He was serving a one-game suspension for personal conduct violations during the off-season. However, he would make up the missed ground quickly against Tennessee and Portland State.
This game was a downer for James, who certainly could have used an extra game of stats to boost his Heisman stock.
+/- : Minus
The Ducks will begin the 2011 campaign at Cowboys Stadium against LSU, a program that just defeated Texas A&M in the AT&T Cotton Bowl. The Bayou Bengals will likely lose cornerback Patrick Peterson to the draft as a top-five pick. However, opening the season against a top-25 team like LSU will have a much different look than compared to the New Mexico Lobos. James will once again have to prove his candidacy, and maybe getting more involved in the passing game will help.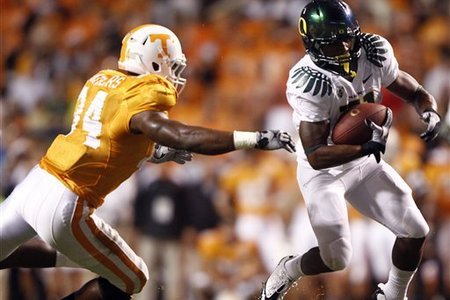 After serving his one-game suspension while his teammates beat up on the hapless Mew Mexico Lobos, James came back ready to play, showing no signs of rust. He had 16 carries for 134 yards, averaging over eight yards a carry, including a 72-yard run and a touchdown.
This game was touted as one of the toughest challenges for the Ducks in the early season, but proved to be an Oregon blowout win. James was instrumental in balancing the Ducks' offensive attack. His 134 yards against an established SEC team was noticeable, and began Heisman discussions.
Tennessee would go on to finish with a mediocre season, but the impression had been made.
+/- : Plus
The Nevada Wolf Pack will be losing QB standout Colin Kaepernick, and don't figure to be as nationally prominent as they were this season. Their defense doesn't seem to stack up well against the Ducks, who will likely be returning their key pieces on offense. This should be a huge game for James, and an easy win for the Ducks.
Steve Dykes/Getty Images

The easy victory over Oregon's intrastate neighbor would mark the first of three times LaMichael James would surpass the 200-yard mark on the ground. What made this game impressive for James was the limited amount of touches he needed to achieve the plateau.
James needed just 14 carries to amass 227 yards on the ground, and he also recorded his first reception of the season, a nine-yard gain.
The young running back had a 66-yard run with two TDs, and was pulled in the fourth quarter. This game's stats are obviously inflated against a small school like Portland State, but the ability to gain that kind of yardage in limited action shows James has superb talent.
This game actually increased his Heisman stock, although on a small level because of the opponent. Recording his first reception was a way to show his well-rounded skills, which is a key aspect of winning the award for the top college player.
+/- : Plus
While the team will change, the outcome will stay the same. Missouri State doesn't stand a chance in this one, and expect James to shred their defense. He will accumulate big numbers, just like he did with Portland State. Again, throwing in some other statistics like receiving yards and TDs, or kick/punt return yards would really help here.
While James was beginning to build up Heisman stock after the Ducks drubbing Tennessee and Portland State, he would suffer a major set-back against the Arizona State Sun Devils.
James was held under 100 yards for the first of only two times this season, and it wasn't because the Ducks gave up on handing him the ball. He took the ball 28 times, but managed just 94 yards and a touchdown. He had no receptions, and wasn't a deciding factor in Oregon's win.
However, the Ducks are talented enough to find other ways to score. Quarterback Darron Thomas stepped up to complete 19 passes for 260 yards, and the Ducks defense took advantage of Sun Devil miscues to claim the victory.
James faded slightly in this one, which would prove to be instrumental down the stretch.
+/- : Minus
Arizona will be coming into this game with some uncertainty. After a promising start to the 2010 campaign, the Wildcats were dismal down the stretch. James had an average game (for him) against Arizona, but look for him to improve here.
Steve Dykes/Getty Images

While we didn't know it at the time, the offensive outpouring of the Ducks and the stellar performance from James would be the most impressive win of the season.
The Stanford Cardinal would go on to win every game following their loss to Oregon, finishing the season 12-1 with a blowout win of Virginia Tech in the Discover Orange Bowl, and a top-five finish in the final polls.
That said, James ran for 257 yards on 31 carries, a 8.3 yard average, while adding three scores. No one could have drawn it up any better for James and the Ducks. After squeaking by the Sun Devils with poor defense and timely ASU turnovers, Oregon solidified their national status with this huge win over Stanford.
James was back on the Heisman scene, and "LaMichael James" was all over ESPN headlines and national commercials.
+/- : Plus
Cal was clearly the toughest opponent for the Ducks this season. Next season looks to be a better game for James. Oregon has solid researchers and scouts, and as evident with Stanford, they know where the weaknesses will be. Expect James to have a better game here.
While James' teammates didn't help him out much against the lowly Washington State Cougars, the sophomore provided his best performance of the season.
James ran for 136 yards on 25 carries, but also added 87 receiving yards and a touchdown. The only knock on his receiving yards in the game? He got 84 of them on the same play.
This game added some much-needed receiving yards for James, but the long reception would ultimately account for more than half of his total for the season.
+/- : Plus
ASU was a problem for James, and it doesn't seem like a fluke. The Sun Devils struggled mightily on offense this year, but their defense is stout, and returning for next season. This might be the first of a couple stumbles for Oregon's running back.
Jonathan Ferrey/Getty Images

This was an average performance for James. His 20 carries and 123 yards are impressive for an average running back, but for a Heisman candidate, there isn't much that stands out in Oregon's huge win over the Bruins. He also only had one reception for 25 yards.
The Ducks offense poured it on against UCLA at Autzen Stadium, but James was pulled early as the Ducks pulled away. While it is a sound idea to pull your starters when the game is no longer in doubt, it hurts your running back's chances of a Heisman when a large part of the voting is dependent upon solid statistics.
James still have plenty of time to win a Heisman, but this game is a minus for his chances.
+/- : Minus
Colorado will be entering the Pac-12 at a time when their program is going through severe changes. The Buffaloes will present an average challenge to James and the Ducks, and the RB will have a decent game here. He may get the bulk of his receptions in this one as well, since Oregon will be showing the Buffaloes many different looks (not referring to their uniforms).
Harry How/Getty Images

From Oregon's first drive from scrimmage, their game plan was clear: Get the ball to LaMichael James as often as possible, and let him tear up a soft USC rushing defense.
James would take the hand-off 36 times, the most touches he would see on the season. He tallied 239 yards and three TDs with a long of only 45 yards, which shows most of his yardage was a grind through defensive linemen and linebackers.
While gaining huge yardage on the ground, once again James didn't get receiving yardage. In fact, he went the opposite direction. He recorded only one reception, which netted -2 yards. Still, this game is an obvious plus, but could have been better with some receptions. It's just not a part of Oregon's offense, which means he misses out slightly.
+/- : Plus
Washington State was the place where James picked up more than half of his receiving yards, and it seemed the Ducks used the Cougars as an experiment to add James into the passing game in a limited role.
If 2010's successes in that experiment are an indication, maybe James will get more balanced looks with some receiving yards.
Steve Dykes/Getty Images

Back to the well-rounded, James hauled in three receptions in this win over the Washington Huskies.
While UW played spoiler this season for the Oregon State Beavers and eventually the Nebraska Cornhuskers, they were ineffective against the Ducks, who cruised to 53 points and the easy win.
James also tallied 121 yards and three more scores. This game was a solid plus for James, and rumors began to heat up for the Heisman after this week in college football.
+/- : Plus
At this point in the 2011 season, the Ducks will go to Seattle, likely with a full head of steam. While James didn't have a massive yardage day in 2010 against the Huskies, he may have an even worse day in 2011.
This will be another downer game for James, one of few he will experience. The Huskies showed they have the ability to switch up their defense in a stellar performance against Nebraska in their bowl game, and many of those players will be returning next season.
Ezra Shaw/Getty Images

Traveling to Berkeley would prove to be the most challenging contest for the Ducks this season, and it was the poorest performance turned in by James all year.
The Ducks just didn't have their A-game, and the Golden Bears seemed to have done their homework. However, the Ducks escaped on miscues from accident-prone Cal, with James being held under 100 yards for the second and final time to date.
James rushed 29 times for just 91 yards, and was held scoreless for the first and only time this season. His two receptions for 11 yards did little to offset his poor rushing performance, and this game is widely considered the most detrimental to his Heisman cause. The game had to be on voters' minds, since it was the only time all year Oregon seemed like they may not be as dominant as everyone believed.
However, the Ducks would put any doubts to rest down the stretch.
+/- : Minus
This one will not be as easy, but should still be a good game for LaMichael. The Ducks poured on the points against the Cardinal, and even a slightly less impressive game for James will be a satisfactory performance.
Steve Dykes/Getty Images

By the time Arizona stumbled into Eugene, they were on such a downward tailspin they proved to be little challenge to Oregon in Autzen Stadium.
The Ducks ran over the Wildcats with little trouble, putting Arizona's season in doubt and building the hype for the next week's Civil War with rival Oregon State.
James had a solid game, 126 yards on the ground and two more TDs. He chipped in three receptions, but for small yardage. The Ducks' spotty defense gave hope for the Wildcats, but ultimately shut the door while Darron Thomas led the offense to an easy win. This game was a small plus for James, but nothing major despite the receptions.
+/- : Plus
USC will be in its final year of bowl ineligibility. Recruiting will heat up following the season, but a large portion of the roster is returning, knowing they won't be participating in a bowl game. The Trojans had a downer year by their standards, and next season may be the same. James will have a good game, but nothing of record-breaking status.
Steve Dykes/Getty Images

The Civil War has been everything expected in the last few years. As both the Oregon State Beavers and Oregon Ducks build their programs to national heights, the Ducks have pulled ahead in the race in recent years.
Oregon State had a disappointing season, missing a bowl game after recent years brought higher expectations. Oregon took full advantage of Sean Canfield's (now with the New Orleans Saints) absence.
James rushed for 134 yards and two touchdowns on 28 carries, The Beavers avoided giving up a long run, but James beat the Beavers with steady runs and timely passes from teammate Darron Thomas.
The game wasn't a tremendous blowout, but still a convincing win for the Ducks that solidified their National Championship bid. James had a solid game, and receives a small plus for the effort.
+/- : Plus
The Civil War has been competitive over the last decade, and 2011 will be no different. The Beavers are returning QB Ryan Katz and both Rodgers brothers. With James Rodgers back and healthy, the rivalry will feature two powerful offenses, but the Ducks might still have this one with their offense also returning. James will get by in this one, and with his improvement from last season and the lack of Cam Newton, will be a much stronger Heisman candidate.
Andrew Luck still stands in his way, so James is not a lock for the award.
Jeff Zelevansky/Getty Images

LaMichael James is arguably the best rushing running back in the country. However, he didn't accumulate statistics that Heisman winners from the past used to cement their campaign. James lacked receiving yards and total yardage that is vindictive of the best player in college football.
Cam Newton is a dual threat: He has a solid arm, but also the ability to rush for major yardage, providing his team with versatility and balance. James is largely the victim of the other talent on his team. Darron Thomas is beginning to lead the team as a bonafide QB in a formidable offensive system.
If James is truly Heisman-worthy, he will need to expand his role in the offense beyond pure running. However, under no circumstances do the Ducks need to change up their offensive format. James is likely NFL-bound, but may not get a Heisman on his way out if he leaves after his junior season.