Florida Gators Football: Top 10 Recruiting Targets for the Gators in 2011
Sam Greenwood/Getty Images
It's that time of year: recruiting season. As always, the Florida Gators are in the thick of things, but this time they are working hard to maintain their top five ranking after Urban Meyer's second retirement in as many seasons.
So far, the prize of the 2011 class is QB Jeff Driskel, a 5-star recruit out of Oviedo, Fla. He was originally recruited for Meyer's spread offense, but now he will be tutored to learn Charlie Weis' pro-style offensive style in Gainesville.
The Gators have their eyes set on quite a few 5- and 4-star recruits who remain uncommitted. Perhaps they may be able to steal one or two from other schools as well.
Here is a review of 10 high school players that the Gators have their eyes on and may make a play for in the next few weeks.
James Walker is a National and Syndicated Writer for Bleacher Report. You can follow him on Twitter and like him on Facebook.
No. 1: Tony Steward, Inside Linebacker
Tony Steward is from St. Augustine, Fla. and played at Pedro Menendez High School. Steward has the athleticism to immediately play at the next level. Purportedly he is a lifelong fan of FSU but is still considering playing for Florida or Clemson.
If the Gators can lure Steward to Gainesville, it would be a huge victory for Will Muschamp. However, the odds are clearly in favor of FSU.
No. 2: Stephone Anthony, Outside Linebacker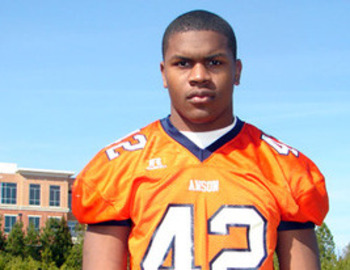 Stephone Anthony is a defensive player that likes to cause turnovers and possesses the size and athleticism to do the same at the college level. Perhaps even more important to Anthony is getting an education.
In a conversation with ESPN's Justin Hopkins, he stated "...education is the biggest thing, but playing time, along with team chemistry are some of the key factors."
Anthony is also considering Virginia Tech, Clemson, North Carolina, North Carolina State and Georgia. USC seems to have dropped out of contention. He is a smart kid; he realized that playing for Lane Kiffin will get him nowhere fast.
No. 3: Tim Jernigan, Defensive Tackle
Tim Jernigan is an atypical-looking defensive tackle, but he sure doesn't play like one. He has quick and violent hands and has quickness that will help him fight off blockers and get to the ball carrier fast.
In 2010, he recorded 77 tackles, of which 32 were for a loss, 14 sacks and one interception.
On Jernigan's list of possible schools are FSU, Alabama, LSU and Michigan along with Florida.
No. 4: Curtis Grant, Inside Linebacker
Curtis Grant has the ability to be a force in the pass and run defense game. He already has the size to play at the next level. His athleticism will be leveraged immediately on special teams while his skills quickly develop.
He hails from Richmond, Virg. and played at Hermitage High School, where he earned District Defensive Player of the Year in 2010.
Along with Florida, Grant is considering North Carolina, Virginia, Ohio State and Michigan as possible homes.
No. 5: Curt Maggitt, Outside Linebacker
Curt Maggitt hails from Palm Beach Gardens, Fla. and played ball at Dwyer High School. Not only is he a very fast and agile athlete, but he is also quite the student (see video).
Maggitt is 6'3" but weighs in at only 194 lbs. at this point in his career. He is going to need to add serious bulk if he is going to succeed at the next level. To what degree it affects his speed on the field is yet to be seen.
Schools that remain on Maggitt's radar are Alabama, LSU, Wisconsin and Miami (Fla.) along with Florida.
No. 6: Marqise Lee, Athlete
Marqise Lee is relatively new to football, having spent time playing on both offense and defense. When it comes time to play college ball, it will most likely be at safety, but he has the tools and upside to make it at wide receiver.
In 2010, Lee won league defensive MVP.
It's hard to believe that Lee will leave the state of California with USC and Cal pursuing him, but Oregon and Miami (Fla.), along with Florida, are also in pursuit.
No. 7: Junior Pome'e, Wide Receiver/Tight End
Junior Pome'e is a big and strong receiver who will most likely transform into some form of hybrid H-back or tight end at the next level. He has long arms and strong hands and has deceptive speed as he makes his way downfield.
However, his speed is still limited, and he may struggle to go deep down field against defensive backs at the next level.
Another California kid, he is being looked at by UCLA, USC and Arizona along with the Florida Gators.
No. 8: Marcus Roberson, Safety
Marcus Roberson will continue to represent South Florida well, being a product of St. Thomas Aquinas out of Lauderdale Lakes (Ft. Lauderdale), Fla. The 6'0", 170-lb. Roberson will continue to play at safety and could turn out to an incredibly gifted free safety at the next level.
He covers the pass and run well and is a very good tackler. If he has an opportunity for improvement, it is that he lacks man-to-man coverage experience. However, he has the talent and athleticism to quickly gain that knowledge and experience at the next level.
The only question that remains is where? Florida, Auburn, Georgia, USC and Texas Tech are his suitors.
No. 9: Delvon Simmons, Defensive Tackle
Delvon Simmons hails from McKeesport, Penn. where he played at McKeesport as an offensive and defensive player. However, at his current size of 6'4" and 265 lbs., he will most likely play defensive tackle at his next stop.
On defense he showed great ability to stop the run, but he will have to improve his pass defense ability. He is a great tackler and has good speed for his size, and as he adds bulk that speed will have to improve along with quickness.
The Gators have done well recruiting outside the state of Florida under Urban Meyer, but it remains to be seen how Will Muschamp does. Also attracted to Simmons are Penn State, Iowa, Oregon and Rutgers.
No. 10: Izauea Lanier, Athlete (JUCO Transfer)
Izaeua Lanier is currently a student of East Mississippi Community College, where he has played on both sides of the ball due to his athleticism. If he ends up on offense, he will most likely find himself as a slot receiver. He would need to improve his catching skills since he is more of a body catcher.
If he finds himself on defense, he could find himself at safety due to his long frame and breaking quickness. He is an all-around athlete with tremendous upside.
Tennessee, Ole Miss, Arkansas and Auburn are fighting for his services with the Gators.
Keep Reading

Florida Gators Football: Like this team?