Virginia Football 2011 Schedule: Game by Game Breakdown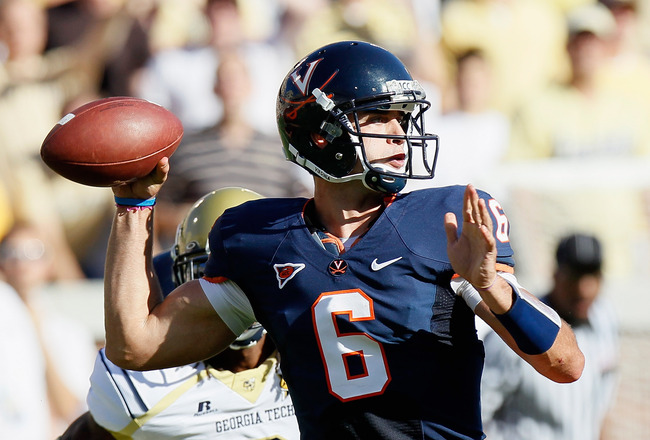 Kevin C. Cox/Getty Images
The 2011 schedule was finally released for the ACC and the Virginia Cavaliers.
In Mike London's second year as Virginia head coach, an opportunity has arisen. With a relatively easy non-conference schedule and an influx of young talent, can the Cavaliers make some noise in the ACC?
What games will provide opportunities?
Which games are must-wins?
Which games should Cavalier fans decide to take the weekend to clean the garage instead?
That is what this article intends to find out.
Here is an early look at the games Virginia will play in 2011 and predictions several months out.
Enjoy and let the debate begin!
Vs. William & Mary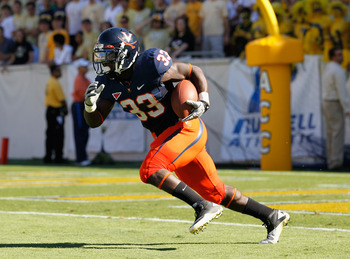 Kevin C. Cox/Getty Images
Virginia starts off with a chance to exorcise a few of the demons from 2009 against William & Mary.
The Tribe humiliated the Cavaliers at home the last time these two teams played. While quarterback R.J. Archer looked good with a 23-of-45 performance, the key number in the game was seven.
Seven turnovers from Virginia absolutely killed any chance they had at victory and all but ended the tenure of former coach Al Groh with the Cavaliers.
Coach Mike London knows just how devastating that loss was emotionally to the program and will most likely pound the rock with speedy running back Perry Jones and redshirt freshman K.P. Parks.
This is the kind of game where London can ease the transition of a new quarterback. Let the running backs do the work and pass in opportunistic downs and distances.
If Virginia eliminates costly turnovers, they should win this game comfortably. They have the talent edge and dispatched both of their FCS opponents last year. Admittedly though, both were too close for comfort heading into the second half.
The Tribe were beat up last year, but that means many players got experience, particularly under center. While that will help, it will not be enough.
Early Prediction: UVA 38 William & Mary 20
At Indiana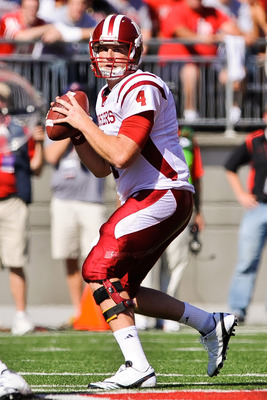 Jamie Sabau/Getty Images
Despite winning only three games in 2009, one of those was a 47-7 blowout victory over Indiana.
It was the best Virginia looked all season, racking up 536 yards of offense. The last time the Cavaliers had over 500 yards of offense at that point was 2004.
Well things have changed for both teams since then. Both teams have a different coach since then and both will need to replace their starting quarterbacks in 2011.
New Hoosier coach Kevin Wilson knows a thing or two about grooming quarterbacks. As the offensive coordinator at Oklahoma, he oversaw some of the best offenses in the country.
However, Indiana's problems go much deeper than replacing Ben Chappell as quarterback. The Hoosiers were also near the bottom in nearly every Big Ten defensive category. They had the lowest rated running game and their kickoff team produced the least amount of yards.
Indiana has problems, but then again Virginia has struggled to win on the road.
Over the past three seasons, the Cavaliers have won three road games total.
Losing at Indiana would be disappointing, but far from impossible, even with all their question marks heading into next season.
Virginia must get off to a good start or the wheels could come off early. It will be the first road start for our quarterback and things could get messy. Still, I predict Virginia will show some mental toughness and win this nail-biter.
Prediction: UVA 21 Indiana 17
At North Carolina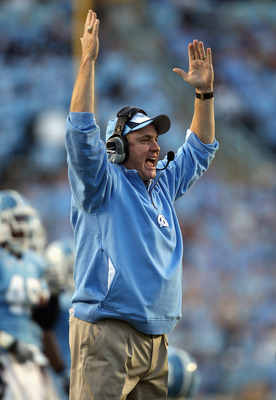 Streeter Lecka/Getty Images
So let's count the ways Virginia can win this game.
North Carolina coach Butch Davis may be one step ahead of the NCAA rules committee today, but everyone sees the axe hanging above the program.
He is losing nearly his entire defense.
His offense must replace T.J. Yates at quarterback, for better or worse.
Carolina has struggled as of late against Virginia, in fact Davis only got his first victory over the Cavaliers last season.
However, that victory was a beating that the Cavaliers could not have expected at the time. Virginia looks like it has lost it's mojo over their rival and it will show this time around.
The Tar Heels are more talented, they have home field advantage and they will win this one.
Fortunately, Virginia fans need only to wait a little while longer for the tide to turn back in their favor.
Prediction: UNC 35 UVA 17
Vs. Southern Miss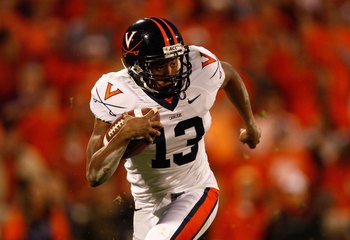 Streeter Lecka/Getty Images
Southern Miss may not exactly seem like an ominous opponent, but they certainly have been to the Cavaliers.
Virginia lost its last meeting with the Eagles in a 37-34 shootout. In fact, nine straight bowl appearances by Southern Miss far outshines the three straight losing seasons by the Cavaliers.
Will the change of venue result in a change of victor?
Perhaps, but the inexperience gap may play a bigger role. Southern Miss has several starting positions to fill, including almost the entire defensive secondary.
If Virginia's new quarterback cannot put up numbers in this game, it will be a scary sign for the future.
Still, expect the Cavaliers to control the tempo and make enough plays to win the game. Assuredly, Virginia will find a way to make it interesting as they too adjust to new players in new positions.
In the end though, Virginia's talent may just eke them across the finish line.
Prediction: UVA 28 Southern Miss 24
Vs. Idaho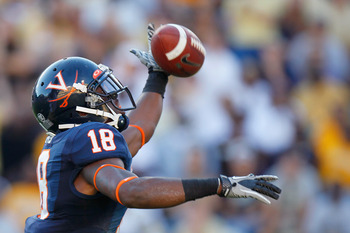 Kevin C. Cox/Getty Images
The Idaho Vandals have been a joke for most of the 2000s, but head coach Robb Akey appears to have turned a corner.
Idaho has only had one winning season since the turn of the century, but have gone 14-12 the past two seasons after winning only three games in the two years prior to that.
Still, even with an improved roster and program, they do not have what it takes to beat a team like Virginia on the road.
Now I know Virginia has had their struggles at home against teams like Western Michigan, William & Mary and Wyoming.
In fact, they really should just avoid teams that start with the letter "W".
Fortunately, Idaho starts with "I" and Virginia's overall talent edge mixed with home field should be enough to carry them. If Virginia does not give up the ball, they can simply outwork the Vandals.
Struggling here could really leave a bad taste in fans mouths.
Prediction: UVA 38 Idaho 14
Vs. Georgia Tech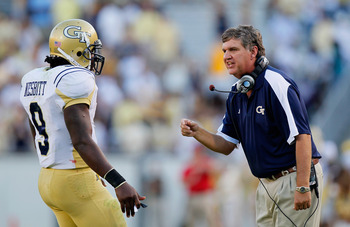 Kevin C. Cox/Getty Images
Coach Paul Johnson has been the streak-breaker at Georgia Tech.
Whenever the Yellow Jackets needed to reverse a curse, Johnson helped get it done.
In 2009, Virginia held a formidable home winning streak against Georgia Tech, only to see it snapped in convincing fashion, 34-9.
So will the Yellow Jackets make a streak of their own?
Al Groh certainly hopes so.
The former Virginia coach and current defensive coordinator would love to pour salt into the wounds of Cavalier fans. He would also like to make amends for a Yellow Jacket defense that gave up nearly 26 points per game.
However, Georgia Tech's success will depend on how well coach Johnson can keep the offensive juggernaut running. When Josh Nesbitt went down in the first half of the Virginia Tech game, so did the record.
Georgia Tech lost three of its final four games, including a 14-7 debacle against Air Force.
All of this leads to one thing, Virginia's big upset of the season.
Georgia Tech is vulnerable and while they certainly have advantages, Virginia will have the stars align on Saturday. If Virginia improves its tackling in the middle, they can contain the triple option.
The Cavaliers had flashes of brilliance last season and the pieces will finally come together.
Well, at least for one week they will.
Prediction: UVA 28 GT 21
Vs. North Carolina State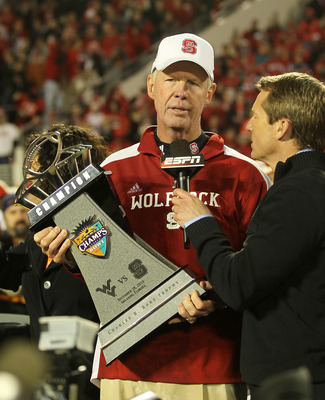 Mike Ehrmann/Getty Images
It appears the Mike Glennon era will begin in earnest next season with the North Carolina State Wolfpack.
The question marks appear as to what Russell Wilson's future entails, but it seems clear that coach Tom O'Brien is ready to move on. After finally breaking through from mediocrity in 2010 with a 9-4, the Wolfpack will not want to stumble against the Cavaliers.
Still, can the Wolfpack just easily replace nearly 4,000 yards of total offense?
North Carolina State will look to find better balance in 2011 and it will be a huge test for a Cavalier defense that was humiliated at points last season.
If Virginia can generate turnovers, they can probably score enough points to win this game. However, big plays are not always the strong suit of the Cavaliers.
Prediction: L NCSU 35 UVA 17
At Miami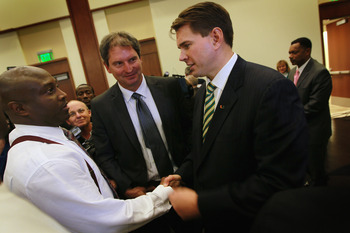 Joe Raedle/Getty Images
How many Virginia connections can the ACC have?
They got one more this off-season when former Cavalier coordinator Al Golden became head coach of the Miami Hurricanes.
Golden must know that it was most likely Miami's loss to Virginia last season that cost coach Randy Shannon his job with the 'Canes.
Will Golden repeat the mistake?
In a word, no.
Virginia has played the Hurricanes well since they joined the ACC. They even humiliated the Hurricanes in the final home game played at the Orange Bowl.
Still, despite the quarterback uncertainty, Miami showed that their talent level is just too much to handle.
Last year the Cavaliers took advantage of Jacory Harris' injury and subsequent team panic to build a big lead they almost threw away in the final quarter.
Barring a similar script, Virginia will not win this year either. Miami will have this game circled on their calendar, determined to exorcise some demons.
They will.
Prediction: Miami 38 UVA 12
At Maryland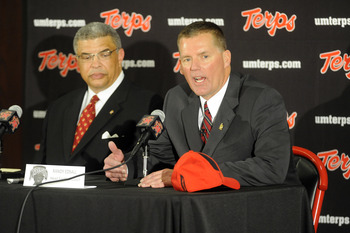 Mitchell Layton/Getty Images
A new coach in Randy Edsall and a tall task in front of him.
Maryland burst through the mediocrity of the ACC last season, yet Ralph Friedgen was unceremoniously shown the door. How will the regime change impact Maryland in the short term?
The Terrapins have struggled recently against the Cavaliers, losing three out of the last four. However, last year Maryland beat up on Virginia and now get them at College Park.
Freshman Danny O'Brien came into the forefront last season and ended the season with 22 touchdowns and eight interceptions. Against the Cavaliers he threw for over 60 percent and 289 yards.
Although Virginia has brought in some talent in the defensive backfield, they will need to be able to pressure the young man and force errors.
Easier said than done.
The Cavaliers will keep it close in the first half but Maryland will start to find holes in the secondary in the second half and pull away.
Prediction: Maryland 17 Virginia 7
Vs. Duke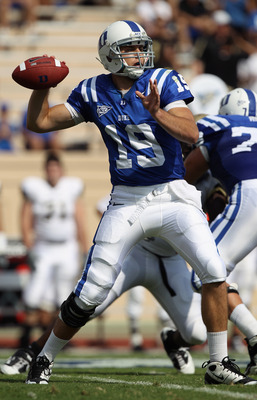 Streeter Lecka/Getty Images
(To the tune of Simon and Garfunkel's Sound of Silence)
Hello Duke, my old friend.
The time to play you comes again
And visions of you beating us makes me cry
A part of my soul always dies
And fourth and 20 is something that should never be converted
It's for certain
Don't make me echo the sounds...of losing
If Mike London is ever going to keep these recruits coming to Virginia, he has to actually win against the former cellar dweller of the ACC.
No time like the present, Virginia finally puts together a complete game and ends the pain.
Prediction: UVA 31 Duke 21
At Florida State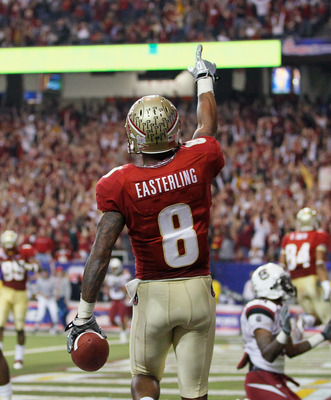 Kevin C. Cox/Getty Images
Let's keep this one short and sweet.
Virginia has beaten the Seminoles twice in school history (1995, 2005).
In four more years the Cavaliers will win, until then this will be an ugly game.
Virginia is not a good road team, they're an even worse team in the state of Florida. The Seminoles are on the upswing and certainly a heavy favorite to compete for the ACC crown next season.
The Cavaliers just want to get to a bowl game.
Prediction: FSU 48 UVA 10
Vs. Virginia Tech
Streeter Lecka/Getty Images
The recruiting war was fun for Virginia fans.
For the first time in awhile, the Cavaliers were the headline over their arch-rivals.
The gains clearly pestered Virginia Tech, they have made some staff changes to reinvigorate recruiting, but it matters little.
Recruiting will ultimately hinge on whether the Cavaliers can make this series competitive again.
The Hokies will have growing pains next season without question. They are not only replacing talent on both sides of the ball but leadership.
Tyrod Taylor has the charisma at quarterback that champions possess. It is hard to duplicate.
Still, Virginia knows that this is incredibly tall task.
At this point, a competitive game would at least give fans some hope. However, moral victories will not cut it for coach Mike London while he is with the Cavaliers.
Virginia has not won in this series since 2003, a home game and the last regular season game the Hokies played as a member of the Big East.
That streak will continue in 2012 but instead of a laughter it will turn into another heart-breaker for Cavalier fans.
There's always next year...right?
Prediction: VT 24 UVA 21
In Summary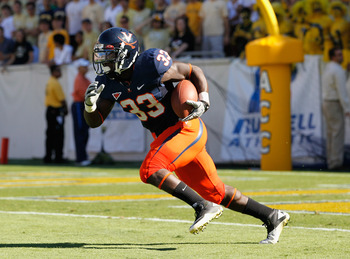 Kevin C. Cox/Getty Images
Virginia will finish the year 6-6 and make that elusive bowl game.
The Cavaliers looked awful in ACC play last season, there is no doubt about it. The tackling was poor, the offense could not make big plays and injuries cut into depth for a team struggling with new coaches and new gameplans.
In year number two under Mike London, the Cavaliers are going to improve. A year of experience and an influx of talent almost demands it.
We all know that quarterback is the most important position in football and it is one of the biggest question marks entering this season. However, regardless of which quarterback gets the nod, fans expect progress there as well.
If London can find a player to build around like the quarterback, Eric Ward, he inherited at Richmond, then the Cavaliers could prove to be a pesky team to deal with.
We all know that the ACC is full of mediocrity. The Cavaliers still lack the experience and overall talent though to make that jump.
Fans know this and will remain patient, but only if strides are made.
Another losing season will really be a let down for the Cavaliers. Unfortunately, given last year's struggles, it would not be a surprise.
Keep Reading