Oklahoma Sooners Football: Recapping The 2010 Season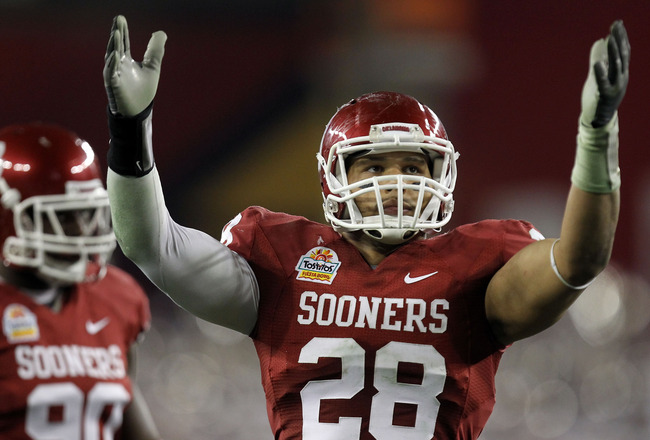 Ronald Martinez/Getty Images
When 2010 began, the goal of the Oklahoma Sooners was to wipe away every memory from a painful 2009 season. In 2009, the Sooners experienced a plethora of injuries and youthful mistakes, which led to an 8-5 campaign, the worst since Bob Stoops' first year in Norman. However, with plenty of starters returning, as well as a terrific freshman class, things were looking up for the Sooners.
Oklahoma didn't disappoint, finishing the year 12-2 with a conference championship and a BCS victory in the Fiesta Bowl. While it didn't match team expectations of a national championship, it was far from a letdown as the Sooners improved in many areas of their play.
There are many parties responsible for the well-being of a team and program. Great coaching, a great and enthusiastic fanbase, and terrific facilities are all great things, but ultimately it is the players themselves that are responsible for the team's success on the field. Here, we take a look back on 2010, yet another successful season for the Oklahoma Sooners.
Opening With Mixed Results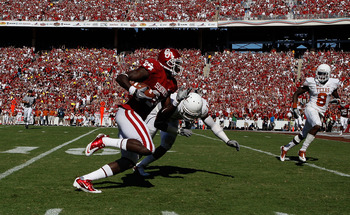 Ronald Martinez/Getty Images
Oklahoma began 2010 by winning their first six games against a good non-conference schedule headlined by Florida State and Air Force, and Big 12 opponents Texas and Iowa State. Although the Sooners won all of those games, they had a chance to lose in the fourth quarter in four of them after leading throughout most of the game. Most of the fanbase viewed that as a big-time negative, but others viewed it as a positive that this team was winning these close games because in 2009, they lost every single game that came down to the wire.
Among these six wins was a blowout of Florida State in Norman and a victory over Texas that everyone in crimson enjoyed thoroughly. However, the slight struggles to win big in all of those games seemed to be a sign of things to come.
Midseason Slump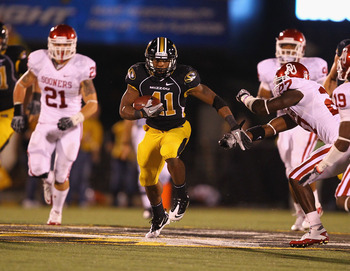 Dilip Vishwanat/Getty Images
As a reward for winning their first six games against some pretty tough competition, the Sooners were ranked No. 1 in the first BCS rankings on October 17th. However, the first major road test for the undefeated Sooners came at Missouri on national TV against the undefeated Tigers. Poor execution and turnovers in the red zone led to the Sooners' first defeat.
After a bounceback win over Colorado at home, the Sooners again took to the road, this time against Texas A&M. More bad execution and 12 failed chances to score from inside the five-yard line spelled another loss for Oklahoma.
It seemed that the road woes that plagued the Sooners in 2009 had not gone away. All of Sooner Nation cringed when looking at the two road games that ended the season for Oklahoma. It seemed that the season was not going to end in a positive way.
Finishing Strong
Tom Pennington/Getty Images
Another dominating home win against Texas Tech left the Sooners 6-0 at home for the year, running their national best home winning streak to 36 games. That's still a far cry from Miami's NCAA-record 54-game home winning streak, but impressive nonetheless. The Sooners' last two games of the regular season were a road trip to Waco to take on the upstart Baylor Bears and a Bedlam battle with Oklahoma State in Stillwater.
Against Baylor, the Sooners played perhaps their most complete game of the season in a dominating win. The Sooners rode the momentum from that win into Stillwater, where they won a sensational game over the Cowboys at Boone Pickens Stadium. The win clinched the Big 12 South title for the Sooners and set up a showdown in Arlington the next weekend with North division champion Nebraska for the Big 12 championship.
Another Big 12 Championship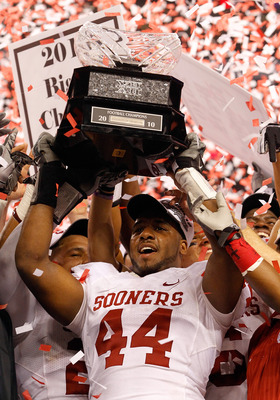 Tom Pennington/Getty Images
The Big 12 championship game was any football fan's dream, especially fans of Oklahoma and Nebraska. Two old rivals pitted against each other in the last championship game for the conference. You couldn't write a better script.
Nebraska dominated the first quarter and the first few minutes of the second en route to a 17-0 lead. Oklahoma slowly chipped away and by halftime, had pulled to within three at 20-17. A defensive struggle ensued in the second half with the Sooner defense harassing Nebraska quarterback Taylor Martinez to no end and the Blackshirts of Nebraska not allowing the Sooners a third-down conversion. Two Jimmy Stevens field goals were the difference in the game as Oklahoma won 23-20.
It was the Sooners' seventh Big 12 championship in 12 years under head coach Bob Stoops. With the win, the Sooners earned a trip to the Fiesta Bowl in Arizona.
Exorcising BCS Demons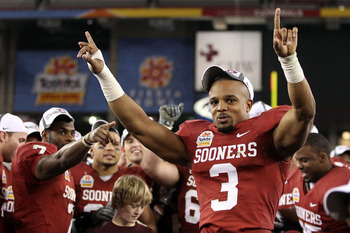 Christian Petersen/Getty Images
The Sooners' opponent in the Fiesta Bowl was the Connecticut Huskies, the champions of the Big East conference. Many felt that the 8-4 Huskies didn't deserve to be in the game and they did have a point. The Huskies were only there as a result of an imperfect system known as the BCS. Many felt that Oklahoma would annihilate UConn in the game and the Sooners opened as a 17-point favorite.
Oklahoma came into the game riding a five-game BCS losing streak, a statistic that every fan, coach, and player was well aware of and tired of hearing about. The Sooners got off to a hot start and rode talent and superior athleticism to a 48-20 victory. It wasn't a perfect performance, but then again it didn't have to be. The losing streak was over and the Sooners had wrapped up yet another great season.
Most Valuable Player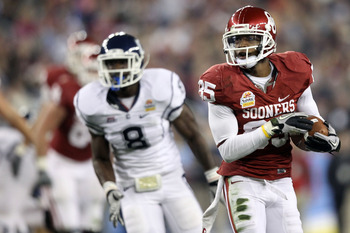 Christian Petersen/Getty Images
There were several players who could be considered for this recognition, but in reality, only one was truly deserving: receiver Ryan Broyles. Broyles had a great 2009, but it was nothing compared to his 2010. He was dynamic in leading the Sooners in every receiving category and setting several school records in the process.
While not the fastest player on the field and far from the biggest, Broyles still gave defenses fits all season long. Broyles caught 10-plus passes in six games, 100-plus yards in 10 games, and at least one touchdown in nine, finishing the year with an astounding 131 receptions for 1,622 yards and 14 touchdowns.
The big decision now for Broyles is whether or not to take his talent to the NFL or hang around Norman for his senior season. Rest assured, if he does, the OU offense has the potential to be 2008 good and Broyles will leave OU as the best receiver in school history.
Most Improved Player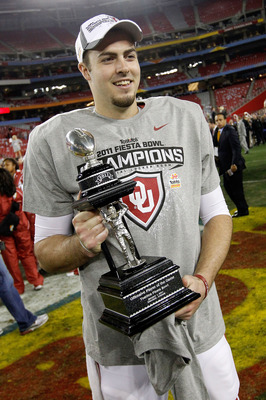 Tom Pennington/Getty Images
This was an easy one. No one on the Sooners' roster improved throughout the year or from last season than quarterback Landry Jones.
One year ago, Jones was a simple backup quarterback with no thoughts of being a starter anytime soon. Then Sam Bradford went down with an injury and was out for the year. Jones was thrust into the starting role and proceeded to play like a redshirt freshman at times, such as his five-interception debacle at Nebraska. However, down the stretch, Jones performed well and coming into 2010, expectations were high.
Jones did not disappoint, throwing for 4,718 yards, 38 touchdowns, and only 12 interceptions. While things weren't perfect by any means, no one can deny the improvement. The growing process is one that never ends, so with another offseason of work, Jones will be even better in 2011 and could be a Heisman Trophy contender.
Freshman Of The Year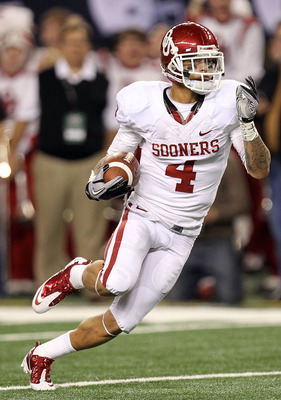 Ronald Martinez/Getty Images
This is another area where it's hard to pick out one great player. So many of the players from this class contributed in big ways. Bob Stoops said repeatedly throughout the year that this was his best freshman class and even had a meeting at the beginning of the season with just the freshmen to tell them so. Kenny Stills, Trey Millard, and Tony Jefferson started almost every game this season while other freshmen, such as Trey Franks, Roy Finch, and Aaron Colvin played significant time and added more weapons to an already potent team.
However, all things considered, no freshman was better for the Sooners than wide receiver Kenny Stills. Stills gave Sooner fans a sneak peek of what 2010 would bring back during the spring game in April. Even that great performance wasn't enough to showcase what Stills would bring to the field. Stills finished the year with 61 catches, third on the team, 786 yards, second on the team, and five touchdowns. Still will be Landry Jones' top receiving target should Ryan Broyles leave, but no matter happens with Broyles, Stills will be a huge part of the Sooners' passing game in 2011.
Looking Ahead to 2011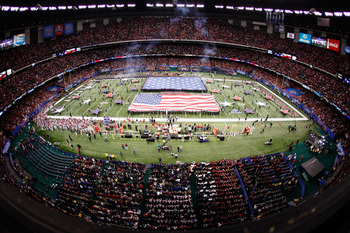 Chris Graythen/Getty Images
It's almost disappointing when a 12-2 season isn't greeted with a lot of fanfare, but that's just the case for a prestigious football program like Oklahoma. Anything but national titles is a bit substandard. However, the 2010 Sooners should be celebrated for their many accomplishments. They proved that they can win close games. They proved they can win on the road. They proved they can win a big bowl game. But most importantly, they laid the foundation for success in the future.
The Sooners will return up to 17 starters next season. Wide receiver Ryan Broyles' decision is all that this team is waiting on. Linebacker Travis Lewis is returning for his senior year to win a national championship and with him, Broyles, 15 other starters, and another top-five recruiting class, it's hard to not think that this team can do just that.
2010 was great for Oklahoma, but 2011 could be even better. Only time will tell.
Keep Reading

Oklahoma Sooners Football: Like this team?